The Darn Good Winemakers is an educational membership program for winemakers that was designed to build winemaker confidence in their cellar decisions. This is addressed through regular education in an applied and easy-to-understand format, and by having Denise as an available resource for winemaking questions. The Darn Good Winemakers membership offers two primary benefits:
Ongoing, current education on wine production, wine science, and crafting quality wines in the form of online webinars. A new webinar is released each month. Members are encouraged to provide topics they want to learn more about. Each webinar covers a pertinent topic and ends with "Action Steps" a winemaker can take to immediately apply the topic to their cellar.
Twice monthly virtual Q&A sessions with Denise, Winemaking Advice Hours, in which winemakers can bring their general or winery-specific questions to the session. For many members, these sessions offer wine consulting without the hourly consultation fee.
Where are the Webinars?
All of the Darn Good Winemakers content is conveniently located within the www.dgwinemaking.com/winemakers website on the "Darn Good Winemakers" page. This page is easily found from the "Learn" drop down menu.
All new members receive unlimited access to all of the past Darn Good Winemakers webinars. Plus, each webinar page contains a downloadable document that contains notes, key points, and links to various information that is presented in the webinar. These are available in case the winemaker needs a quick read and cannot take the time to immediately watch the webinar.
New to the Darn Good Winemakers Page
A new addition to the Darn Good Winemakers page are the written answers to questions asked during the month's Q&A Winemaking Advice Hour sessions. These pages act as quick references in case the winemaker was not able to attend the live Q&A sessions.
However, Darn Good Winemakers receive exclusive emails on the weeks blog posts are not distributed through DG Winemaking. Those emails contain any pertinent reminders or messages from Denise, as well as answers from questions that were submitted prior to the last Winemaking Advice Hour or discussed during the past session.
During the COVID-19 pandemic, Denise has been posting the Q&A summaries from the Open (free) Q&A sessions that have been attended by winemakers. You can find an example summary here. This is the format that is posted for those with a membership during current months. And, in case a topic was previously covered through an educational online webinar, Denise always provides a link back to the webinar in case the winemaker wants more information on the topic.
If reading through the entire summary at the link above is a lot of work, an excerpt from a past Winemaking Advice Hour is shown below at the end of this blog post.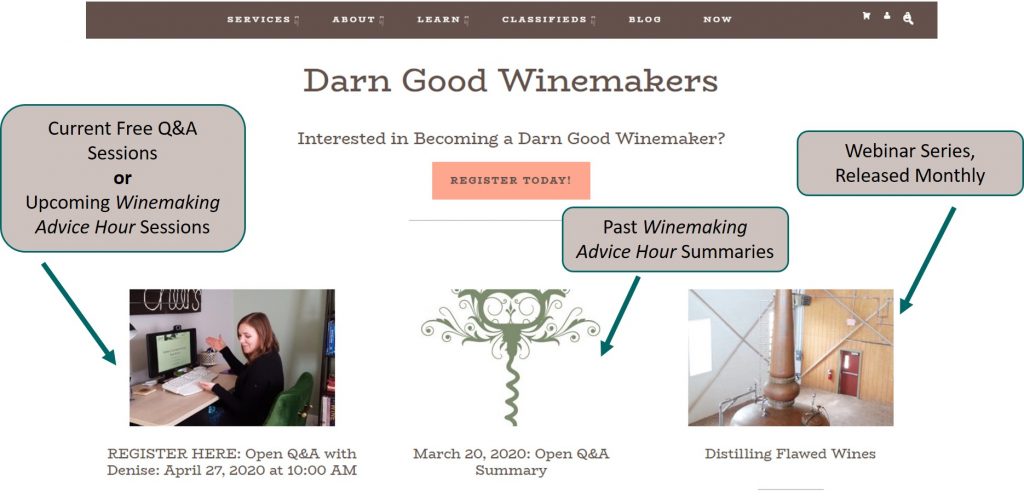 Not Sure You'll Benefit from the Darn Good Winemakers Membership?
Denise is hosting another FREE Q&A session on Monday, April 27, 2020 from 10:00 AM to 11:00 AM (EST). All you need to do to participate and receive the follow-up summary of answers to the discussion is register here.
Bring your questions!
Denise welcomes anything from:
"What is the purpose of the bubble point test?" to
"Denise, can you review this bentonite fining trial result that I received and tell me what I should do next?"
And everything in between!
Hear What Other Winemakers are Saying!
Winemakers that take an active participatory role in the Winemaking Advice Hours find the sessions beneficial.
"This is the education and help I needed when I started making wine ten years ago." – Kellie Fox, The Fox Barn Market and Winery (MI)
"I've previously experienced Denise's trainings, and would suggest anyone to consider signing up for her educational sessions in the near future." – Zoran Ljepović, Wine Making Consultant (CA)
How Much Does it Cost?
Membership can be purchased on an annual or monthly basis.
The best value for membership is the annual fee, which is usually set for $400. However, through Thursday, April 30th, the annual fee will be reduced by $50 (to a total of $350) by using the coupon code, MARCH2020, at checkout. This equals about a $29 per month value for 2 Q&A sessions, 1 webinar, and 2 exclusive emails per month.
However, these times may not allow you to commit to a full year of membership. Therefore, the Darn Good Winemakers is now available for a $35 per month fee as well.
You can choose your way to participate at checkout.
Get Started!
Need some help getting started to make the most of your membership? Denise has put together a few different curricula that may be immediately helpful, depending on your winemaking background:
Need Help with Wine Analysis
These webinars are a good introduction to analytical concepts (especially ones you can use immediately), how to read wine analysis reports from analytical labs, and what essential equipment or considerations are needed in the wine lab.
Wine Production Basics
Whether you're in the process of starting a commercial winery or have been in production for over 10 years, these webinars focus on the fundamentals of making wine. Make sure you're completing the essential production steps properly to get the most out of operations and maintain wine quality.
Winemaking Techniques for Specific Production Steps
These webinars are designed to help winemakers address a specific need that may not be a common winemaking technique.
Want to See if this Membership can Help You?
Don't forget to join us on Monday, April 27, 2020 from 10:00 AM to 11:00 AM (EST) to get an introductory glimpse of our Winemaking Advice Hour sessions. Register here. Bring your questions!
An Example Summary from a Past Winemaking Question
Finally, if I final filter with a .45 micron filter and sulfite appropriately, do I need to worry about fermentation in the bottle?
I would say you're on a good path to minimize your concern post-bottling.
Remember that bottling circles around this idea of "risk" for microbial spoilage or fermentation post-bottling. Wine is not typically bottled in a sterile environment, thus, there are a number of practices that wineries can take to reduce risk of microbial growth post-bottling:
Pre-bottling analysis that checks for red flags. Some wine labs sell this as a unfiltered bottling panel, which tests key parameters (g., residual sugar, turbidity, malic acid concentration, presence of 4EP or 4EG in red wines, VA, and presence of yeast and bacteria) that may send a red flag to the winemaker that there is a potential problem in their wine. For example, if you see the free SO2 concentration is not at 0.80 – 0.85 ppm (molecular) levels, that would be a red flag for many wines.
Maintain adequate sulfur dioxide. Keep your sulfur dioxide levels at a 0.80 – 0.85 ppm (molecular) level based on the wine's pH, especially for wines that may have higher risk. To review these principles, watch the Demystifying Sulfur Dioxide There are also webinar notes that you can use and refer to when needed.
Use sterile filtration. It sounds like you are actively using a 0.45 micron, absolute cartridge filter prior to bottling. This will help reduce microbial load and make your preservative additions more effective. However, the wine can pick up microorganisms as soon as it exits the filter (and goes through things like hoses, tanks, bottling lines, the bottle, etc.). Thus…
Have good cleaning and sanitation practices. I've previously outlined a 4 – 5 step process (depending on what chemicals you're using) to give yourself the best possible outcome with regards to sanitation. The Sanitation Steps that Work! webinar also goes through ways to check the efficacy of your sanitation practices. If you want more detail, consider purchasing our Everything You Wanted to Know about Wine Bottling series online.
You can also consider potassium sorbate. However, potassium sorbate (commonly abbreviated as "sorbate") is active as an antimicrobial for about one year after its addition to wine. It only inhibits yeast and molds. If there are lactic acid bacteria in the bottle, they can utilize the sorbate and it can potentially lead to geranium taint. Therefore, sulfur dioxide levels are important. Potassium sorbate can also contribute its own flavors to the wine upon addition and as it breaks down over time.
If you want more detail on all of these options, the Stop the Pop! webinar reviews a lot of these concepts and comes with webinar notes if you don't have time to watch the full webinar.
To find a complete summary of a past open and free Winemaking Advice Hour, please visit this link, here.