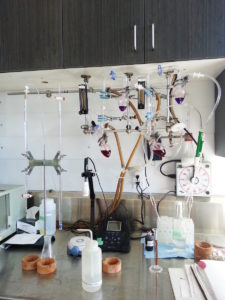 Webinar Curriculum:
Look at a series of photos from winery laboratories across the U.S.
Identify positive features in those labs.
Identify weak points in those labs. 
Discuss wine lab features every winery should consider when developing, remodeling, or designing the laboratory space at the winery.
Outline the importance of measuring certain chemical and microbiological parameters of wine.
Break down the most essential measurements wineries should measure and monitor in fruit/juice/must, after primary fermentation, after MLF, throughout storage, and pre-bottling.
A timeline for when wines should be sampled that winemakers can use at the winery.
The Cellar Tool, Production Guide: Juice / Wine Analysis Recommendations provides a printable table that illustrates when to conduct analyses described in this lesson.
Video length: 1 hour, 3 minutes
…