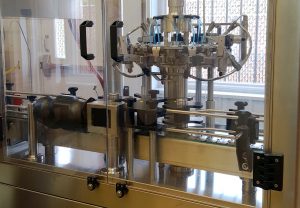 With so much that can go wrong during the bottling process, this three-part webinar series will address all of your wine bottling fears. Over the course of three one-hour videos, these recordings cover:
Bottling Preparation
Record Keeping and Compliance
Bottling Sanitation Practices
Working With Mobile Bottling Lines
Sources of Oxygen in the Bottle
Managing Oxygen Pick Up
Areas of Concern for Microbial Contamination
General Wine Bottling Quality Control (QA/QC)
Purchase Access to the 3-Part Bottling Webinar Series
$73.00Add to cart
Part 1 emphasizes QC analysis prior to bottling and working with a mobile bottling company and system. This includes reviewing standards and expectations with a mobile bottler, monitoring QC during a bottling run with a mobile bottler, and some advantages to working with a mobile bottler. QC specs can be applied to any wine bottling/packaging system whether using a mobile bottler or in-house bottling unit.
Video Length (with Q&A): 1 Hour, 7 Minutes

Part 2 focuses on how to avoid ruining months/years of producing quality wine. Here, you'll review optimal bottling records, wine specifications, bill of materials, and bottling sanitation. Coupled with photos that illustrate ideal or problem bottling conditions, you'll receive tips on how to ideally manage a wine bottling line.
Video Length (with Q&A): 1 Hour, 23 Minutes

Part 3 tackles bottling contamination: how it can occur, where it tends to occur, and how to avoid it. This video also reviews the difficult topic of oxygen integration during bottling operations and why this is an important QC parameter for wineries to monitor.
Video Length (with Q&A): 1 Hour, 26 Minutes

This series was presented by QA/QC consultant, Zoran Ljepovíc. Zoran comes to DG Winemaking with over 17 years of experience working for Constellation Brands' QA department with experience in QA/QC, sanitation, wine microbiology management, and winemaking. Many of you may also know Zoran from his years of dedication to the VESTA program, as he teaches wine industry members across the U.S. on how to make better wine.
Purchase Access to the 3-Part Bottling Webinar Series
$73.00Add to cart