Notes from Winemaking Advice Hour
March 20, 2020
We used 5.0 micron cartridge filter on a white blend (Sauvignon Blanc, Viognier, Vidal, Seyval) wine. Prior to filtering, we used bentonite / gelatin fining. We racked the wine 2 times (over 2 months), and then we rough filtered with a 5.0 micron cartridge filter (poly propylene). We pulled samples into bottles, set a side in our lab, and four days later we had particles in bottom of bottles. Will sterile filtration, 0.45 micron, cartridge filter those particles out of wine? Or do we start over again by fining?
There is about 300 liters in volume of this wine. We have (3) more wines all small batches (50, 100, 200 liters) to filter / bottle soon. All bentonite / gelatin fining done. Have larger batches of 1,000 liters to 2,500 liters, and we will use our plate filter on them for rough filtration.
There's a few things that could have gone wrong here, and it's difficult to pin point the exact problem without more information.
First, I would have the precipitate identified. If it is something like wine proteins, then going through your final filtration (0.45 micron, absolute) will not be helpful as it is a wine stability issue.
If it is something filterable, it is possible that the cartridges failed during filtration. Always make sure to use integrity testing when using a cartridge filter of any pore size. Also, it's possible that additional pore sizes may be needed prior to getting down to the 0.45 micron cartridge filter in which the precipitate can get removed.
In general, it's better to use a nominal filtration method (e.g., plate and frame, lenticular) as opposed to various cartridge sizes for your rough filtration. With smaller volumes, it's a good idea to contact a filtration specialist and get their guidance on best practices and techniques. I usually recommend calling Scott Labs for these specific questions as they have had really great suggestions for filtration problems. Another option may be getting all of your small volumes ready for filtration on one day, and filtering starting with the lightest color and least aromatic wine up to the darkest and/or most aromatic wine. This will allow you to conserve filter media while also practicing recommended filtration techniques.
We have been trying to keep our bottling day procedure as short as possible. With this in mind, we've been running the bubble point test (for filter integrity) the day before bottling and then leaving the cartridge "open" overnight (without any citric/SO2 solution in the filter housing). The next morning, we connect the filter back into line, and go through the start-up sanitation procedure prior to bottling. Is it bad to leave the cartridge "dry" over night?
The short answer to this question is: there is a microbial and filter integrity risk here that should be considered.
The proper order of running a bubble point test is to sanitize the line, disconnect the filter and run a bubble point test, reconnect the line, and bottle. However, I realize many wineries re-organize this order to: run a bubble point test on the filter first, connect the filter to the line, sanitize and then bottle. The reorientation of order does indeed save time. The disadvantage to this order is that it leaves the winemaker unsure of whether filter integrity is maintained during sanitation and then into the start of bottling. When the filter is checked between sanitation and bottling, the winemaker knows that integrity has been maintained through sanitation procedures and at start-up of bottling operations. In discussing this set up with Maria Peterson from Scott Labs, a wine filtration expert, she indicated that it's possible for wineries to warp filter cartridges if it is not wetted enough prior to using something like a steam sanitation set up. This would, obviously, ruin the filter integrity and without the bubble point test, the winemaker does not have any indication something is wrong since the bubble point was conducted prior to sanitation.
The usual recommendation for bubble point testing is: prior to the start of bottling, at the beginning and end of each break, and then at the end of bottling day. This way if a breach occurs, the winemaker can allocate a section of the lot bottled instead of assuming the entire lot has been compromised. This is illustrated, below, in the timeline illustration: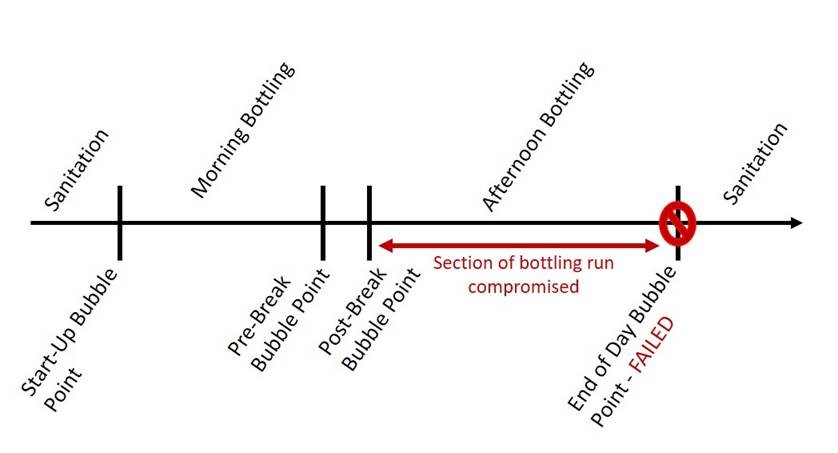 The issue with this quality assurance (QA) practice is obviously time, especially for smaller operations.
In talking with Maria, she pointed out an issue with the bubble point –> sanitation –> bottling order: Assume the bubble point was done prior to sanitation, and then bottling commenced immediately after sanitation. At the end of the day, when all bottling was complete, another bubble point test was taken, but a breach was found. The winemaker now does not know if the breach happened during sanitation (and therefore, could have been addressed prior to bottling) or at some point during bottling operations. The winemaker is left with an entire compromised lot of wine because it is unknown when the breach happened throughout the day. The winery now has decisions to make: hold the wine before releasing to market, un-bottle and rework all that was bottled, or risk re-fermentation in bottle during retail and distribution.
Logistics aside, there are also microbial and integrity risks from the practice of letting the cartridge "dry" to some capacity overnight. First, microbially. If the cartridge is not new (i.e., it has been used before and was stored in some sort of sanitation solution prior to use), it's possible to retain a few colonies on the surface of the cartridge that can multiple "into a trillion overnight" Maria says. Also, Maria warns where this situation most frequently happens: if the winery used the cartridge to previously filter a sweet wine, or if the winery facility is fermenting and bottling year-round. In a year-round operation, contamination can occur from the air in the bottling room. Therefore, she recommends storing the filter in some sort of sanitizer like citric/SO2, PAA, or even Star San. And, Scott Labs provides sanitizers that are compatible for cartridge storage in this link.
From an integrity perspective, Maria said she wouldn't recommend allowing the cartridge to dry if it was used previously. If it was a brand-new filter straight out of the package, this may be less of an issue. She did warn, however, that the cartridge quality (ultra-premium vs. lower end) will also have an impact on microbial and integrity risks.
At the end of this long explanation, I would have to recommend using the bubble point test and cartridge in the recommended way. Therefore, it is best to avoid allowing the cartridge to "dry" overnight as mentioned in the question.
Also, I would like to give a shout out to the Inside Winemaking podcast episode #97 in which Maria was featured talking about filtration. Maria knows her stuff! I highly recommend this episode for winemakers to listen to in order to understand the complexity of filtration decisions.
Just quick background. I scheduled a mobile bottler for bottling who was coming from another winery the previous day and was scheduled at another winery the day after me. After talking to the bottler, they stated that they had made a last run of some "sweet wines" before loading up and coming here. I had previously reviewed your QA/QC parameters for bottling from the excellent webinar online (link here). While, the mobile bottler stated that the cleaning and sanitizing was performed and 'they were ready to go" to bottle my wines, the ATP bioluminescence denoted surface residue with the potential to support microbial growth in multiple critical areas. My guess is that they did not increase the water temperature to 190°F or apply the hot water sanitizer for the correct contact time, which is substantial.
In this situation, what is your protocol? Do I reschedule or take the 2 hours to re-clean, sanitize, and make them cancel the next scheduled winery? Or do I ask them to only re-clean and sanitize the areas on the line that had a positive ATP response?
This is a great question.
First, whenever you are using mobile bottlers, always, always, always read the fine print and know their cleaning/sanitation procedures ahead of time. If you have specific QA/QC checks that is not included in their services, make sure it is clear to them what your intentions will be should you find the line is not cleaned and sanitized to your standards.
Second, in this situation, it's best to talk to the mobile bottler employees and talk about options. Try to have a non-confrontational discussion about what needs accomplished and why bottling cannot proceed under the current conditions. It's possible the mobile bottler may be able to clean and sanitize again without having to reschedule you or the other winery. But this will vary based on the bottler's available schedule.
The only thing I do not recommend from this question is your last option (cleaning and sanitizing only the parts of the line that were positive). The positive ATP result acts as an indicator for the entire line. Therefore, it is assumed that the entire line was not properly cleaned and sanitized, so it needs re-cleaned and re-sanitized before you can begin bottling.
And yes, cleaning is important prior to re-sanitation, even if you don't physically see a film or residue. While this is especially true with sweet wines, using the right cleaners is essential to remove any unseen biofilms that can support microbial build-up over time. If those biofilms are not effectively removed through cleaning, the line cannot be adequately sanitized.
Do you do any other real time monitoring?
What to monitor will depend on the mobile bottler operations, capabilities, and what type of package is being used. This is also true when wineries bottle in-house.
There are ideal parameters to measure (sanitation checks with residue swabs, DO before and after bottling, wine chemistry checks at start up bottling operations, bubble point testing filters, checking pressure levels for canning operations, etc.). However, the various checks need determined based on the bottling line capabilities, practicality, time, and capabilities of the winery to test in real time. If you watched the webinar, then you know most of the QA/QC checks fall on wineries to maintain when working with mobile bottling operations.
My recommendation is for wineries to come up with what they want to check, when they want to check it, and have that conversation with the mobile bottling company before bottling day to ensure everyone is on the same page. And yes, I do think wineries should take these steps when using a mobile bottler or hiring a winery to package the wine for them.
With regards to dissolved oxygen (DO), who has responsibility to monitor once bottling has begun: the winemaker or the bottler? They seem to disagree on what was an acceptable total package oxygen (TPO) for the reds and whites. Winemaker pushing for 1-1.25 mg/L reds and less than 0.5-0.6mg/L for whites and rosé. I was also concerned about the free SO2 concentration in the finished bottle based on TPO.
Unless the mobile bottler ensures they are monitoring a parameter (and provide you with a monitoring report), it usually falls on the winemaker/winery to manage monitoring practices.
Preferences for DO concentrations, if specified by the winemaker/winery, need discussed with the mobile bottler prior to bottling. Then the mobile bottler and winery have to come to an agreement in operations prior to the start of bottling. In this case, I recommend that the winemaker/winery needs to be proactive in explaining and detailing their expectations. Do not assume the mobile bottler will take all precautions or risk assessments that you may think are appropriate.
Do you monitor the headspace again with regards to DO and free SO2 levels. Do you try to reduce the headspace with the fill or just use an inert gas (N2 or CO2)?
Monitoring DO is always an ideal practice, but many operations do not have an adequate DO meter to properly measure DO. It is ideal to monitor DO through the entire winemaking process. This can help pinpoint places in production that may need altered to reduce oxygen pickup during that production step. And yes, monitoring both DO and headspace oxygen can help the winemaker estimate how much extra free SO2 to add to a wine to maintain a 0.85 ppm (molecular) free SO2 concentration post-bottling. This practice is discussed somewhat at length in our free DO webinar.
This question, while important, is much broader that one might expect. We could spend a lot of time talking about DO through production, how to address it, DO rates at and post-bottling as well as capsule selection. However, this will get rather lengthy! Nonetheless, it does address the need for wineries to create a DO strategy that works for them and the various wines produced.
Therefore, for the question specifically about filling vs. inert gas: using inert gas or a vacuum (depending on the line) to reduce your headspace oxygen is recommended.
I'm at a point where I am making a sound, solid wine and manage some of the faults that occur occasionally. However, I would like to kick it up a notch and I'm trying to figure out what enological products (e.g., Gum Arabic, finishing tannins) I should use to enhance my wine. Can I use these products as ways to build body/nose/fruitiness/etc.?
Sure! Experimenting with new enological products is fun, but it can also get overwhelming very quickly.
My recommendation is to first start with blending. Isolate key sensory characteristics that stand out for your varietal wines, and then use those attributes to your advantage. I previously talked a about this in the Darn Good Winemaker lesson, "Creative Wine Styles for Hybrid Varieties" in terms of trying to make various styles of wines using hybrid grape varieties.
But let's take a key wine quality issue that arises routinely with Cabernet Sauvignon wines that is often solved with blending. It's very common for Cabernet Sauvignon to lack mid-palate depth. In fact, it's regularly referred to as a donut wine: good front palate, long finish, and nothing in the middle. This is why A LOT of Cabernet Sauvignon is often blended with other traditional Bordeaux varieties: Cabernet Franc, Merlot, Malbec, Petit Verdot or Carmenère. These other varieties offer mouthfeel that fills in that mid-palate.
However, sometimes blending isn't enough. In the example above, I would turn to someone that has familiarity with enological products to get some starting points on what products would work best to fill in the mid-palate. In this case, I don't necessarily recommend other winemakers. Instead, I would turn to sensory professionals, supplier technical representatives, or consultants that have a fair amount of experience with various products. The reason for this is that winemakers often rely on the same products repeatedly, while this other group likely tastes more wines using the various products that may be beneficial in wines. For mid-palate depth, you're often looking at mannoproteins, inactivated yeast products, polysaccharides or tannin/polysaccharide blends, depending on the supplier. Choose 3 that interest you, order samples, conduct bench trials, and make a selection comparing each treated wine to a control (no products added). Always make sure to keep some sensory notes, as this will help you identify trends associated with your wines and the products you choose to add.
Should I fine my wine with bentonite?
Only if you need to. I recommend only making bentonite additions if the wine is tested and shows that it has a protein instability. I recently wrote a blog post about the risks of over- and under-fining with bentonite. Darn Good Winemakers and DGW Clients can also refer to the "Successful Wine Protein Stabilization" webinar (and downloadable webinar notes) for best practices associated with protein stabilization. There is also a practical heat stability protocol available on the dgwinemaking.com website for DGW Clients.
One of our participants recommended the use of a Bentotest if the winemaker is not using a turbidity meter to measure their heat stability trials (i.e., relying on visual assessment only). While I do not have experience with a Bentotest, and prefer that wineries use heat stability testing (especially if they are applying tartrate inhibitors to their wines), his recommendation came with the caveat that Bentotests are reliable if they come back negative. However, if the test comes back positive (as in, the wine needs bentonite fining), the result should be used as an indicator for further testing.
What are wineries currently doing for COVID-19?
My primary observation has been wineries slowing production operations down, though many have been operational. Some wineries have set up extra handwashing stations at the entrance/exit points to the production facility, training employees to use them as they enter and leave the production space. If you have employees making deliveries, portable handwashing stations can also be added to trucks to use at each stop.
Remember that making a hand sanitizer is for self-use. There are additional production and verification requirements required for making and selling hand cleaners and hand sanitizers. I would not recommend any alcohol producing business to make and sell hand sanitizers commercially without being appropriately informed by the correct legislation.
I recently added a post filled with suggestions for both winery operations (cellar work) and tasting room sales. There is a link inside the post, which I'll also make available here, related to food/beverage production guidelines. This provides practical step-by-step guidance for production facilities to implement various precautions into their operations. Finally, there is a second post I wrote titled "What do we do?" to aid in the ongoing overwhelm associated with making daily decisions around the COVID-19 crisis.
Become a Darn Good Winemakers Member Today!
Do you want answers to your winemaking questions?
The Darn Good Winemakers membership provides you with the opportunity to ask your winemaking questions, broad or specific to your operation, on a twice monthly basis without paying additional consultation fees.
Answers to questions are summarized and provided in a format, similar to what you see here, through exclusive emails to the Darn Good Winemakers members.
Plus, you'll have access to all past and up-coming educational webinars focused on topics that help you make better wine. Inquire today about becoming a part of the Darn Good Winemakers by emailing info@dgwinemaking.com or by reviewing membership options, here!