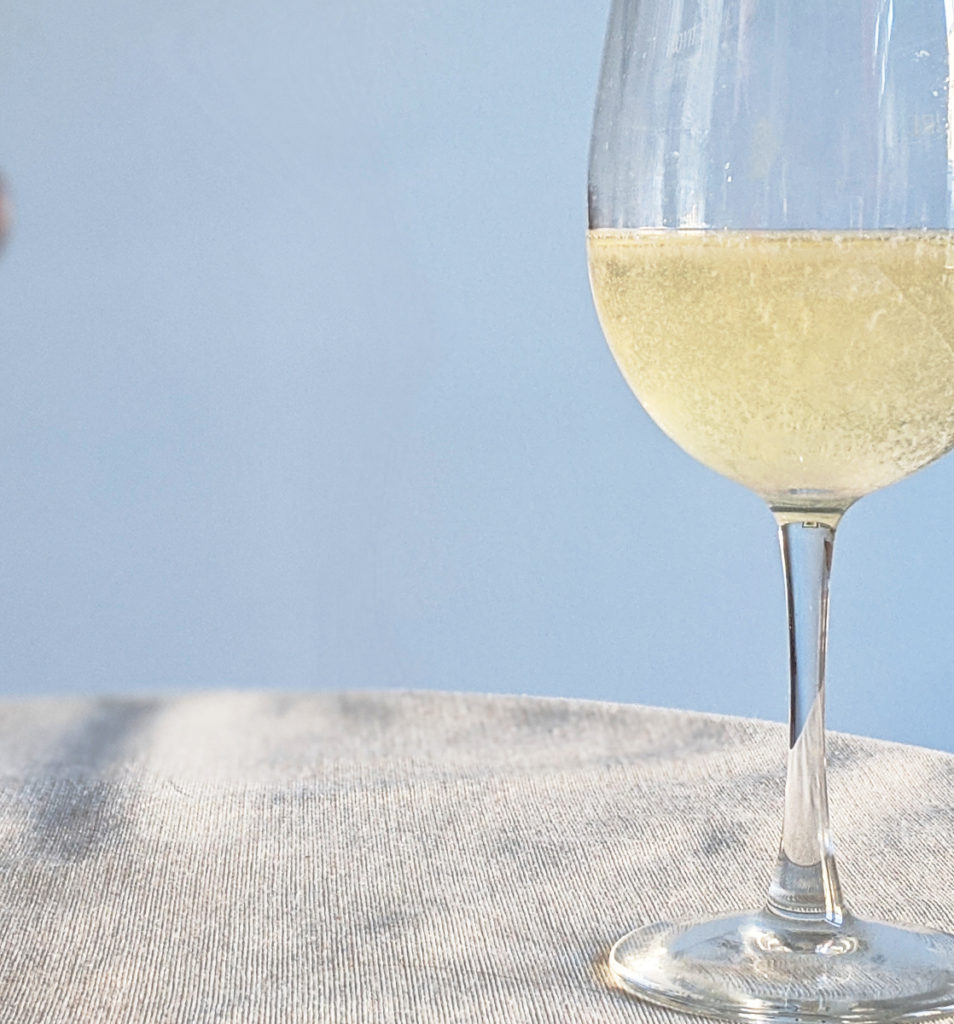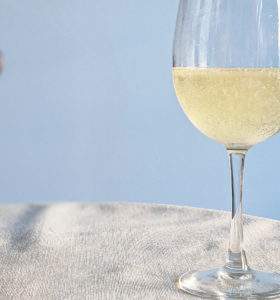 Wine contains a number of soluble proteins that are derived from grapes. In fact, several processes that enhance skin exposure or extraction time during harvest and fermentation can increase protein concentrations of wine. This includes basic harvest operations like mechanical harvesting, crush and destemming (as opposed to whole cluster pressing), and maintaining late press fractions. Furthermore, some wine grape varieties (e.g., Grüner Veltliner) tend to contain more natural proteins compared to other varieties.
Does this matter?
For white and rosé wines, the visual alteration of protein instabilities can deter consumers from purchasing the wine. While protein instabilities do not hinder wine quality in terms of taste, they can appear visually unappealing.
Therefore, many winemakers put the wine through a fining step to minimize the concentration of potentially unstable proteins. This helps reduce the risk of post-bottling protein instabilities.
How do winemakers assess protein stability?
While various tests exist to assess a wine's protein stabilization properties, the most commonly used by wineries is a heat stability test. Proteins more easily denature at higher temperatures (Illand et al. 2012), and it is this denaturation step that causes a visual change in the wine. The term 'denature' simply indicates that the chemical structure [of the protein] is disrupted or destroyed. For wine proteins, the application of heat causes a physical change in the chemical structure. We see the chemical change visually by noticing the development of a haze in the wine.
Heat stability tests come in all shapes in sizes, as no one standard protocol is used by the wine industry. These tests usually include subjecting a wine sample to a warm temperature at a long duration of time (think several days), or using a hot temperature for a short duration of time (a few hours) (Pocock et al. 2008). The problem affiliated with heat stability tests is understanding how well they reflect protein stability properties of a wine post-bottling in actual storage and distribution conditions.
The Australian Wine Research Institute (AWRI) has done a series of trials on protein stability tests and assessed the likelihood of protein instabilities after bentonite treatment over the course of several months to several years. Based on the data from these trials, their industry standard recommendation for a heat stability test is 80°C (176°F) for 6 hours (Pocock et al 2008, Iland et al. 2012). However, it's important to note that these parameters are likely to over-estimate the haze potential of a wine under "normal" storage conditions.
Many wineries may find the time and temperature combination difficult to obtain in their lab, especially if they lack a water bath or incubator. However, most wineries can afford to use an inexpensive immersion circulator to heat small volumes of water, which would provide them with ample opportunity to run heat stability tests. DGWinemaking clients may access a modified Heat Stability Protocol in the Cellar Tools resources page.
Fining proteins out of wine
Bentonite fining is still used to protein stabilize wines. Bentonite can get applied to the juice/wine
prior to fermentation,
during fermentation, and
after fermentation.
Bentonite application before and during fermentation is common for high protein grape varieties that may require high doses of bentonite to achieve protein stabilization of the wine. This practice reduces bentonite additions post-fermentation when bentonite could have a more profound impact on the aromatics. Winemakers may also opt for bentonite additions pre-fermentation to avoid aromatic loss as aromas and flavors exist in a glycoside precursor forms at this stage. This is often a strategy used for wines with delicate aromatics.
Under- and Over-Fining with Bentonite
It's not uncommon for me to see winemakers make routine bentonite additions to all wines regardless of protein stability properties. In this scenario, the winemaker may assume any concentration of bentonite will automatically protein stabilize the wine. (This assumption is usually carried through in cold stabilization as well.) Remember, going through the process does not ensure the wine is stable if it hasn't been tested and confirmed. It's possible that this practice can result in either under-fining or over-fining some of the wines.
Under-fining the wine, especially those varieties that tend to have protein instability issues, can lead to latent haze formation post-bottling. This is especially a possibility if wines are getting distributed or sitting on shelves with minimal environmental temperature regulation. Here, not enough bentonite was added to remove the unstable proteins.
Over-fining wines with bentonite can lead to alternative issues. Bentonite fining is an oxidative winemaking step and includes thorough mixing to allow good contact of the bentonite with the wine. Any time the wine is mixed, oxygen is picked up by the wine. Over oxygenation can obviously lead to oxidative problems if the wine is not well-protected with sulfur dioxide and good oxygen management is established (i.e., use of inert gas, monitoring DO, etc.). This is a long winded way of saying, "if you don't need to do it, don't."
Furthermore, many winemakers are often afraid that a bentonite addition will strip out fragile aroma and flavor compounds, diluting the flavor of their wines. Over-fining can potentially lead to this situation, but the degree of intensity is variable. Without a control wine to compare, a winemaker won't know how much bentonite affected the aromatics of the wine. In the October 2019 Virginia Winemakers Research Exchange newsletter, one commercial winery was able to taste sensory differences in aromatic Sauvignon Blanc, a thiol-rich variety. Thiols are somewhat fragile and can be easily lost to oxidative production steps. In comparison, another commercial winery found no sensory variation in their aromatically neutral Pinot Grigios that had been treated with different bentonite dosage rates.
How can you avoid under- or over-fining?
I strongly encourage wineries to not only measure heat stability of the wine (it's actually very easy!), but to also conduct bentonite fining trials to minimize issues associated with both under- and over-fining wines. This is especially important if a winery is using tartrate inhibitors for cold stability, as many of these additives can cause protein instabilities (even if the wine was protein stable prior to the tartrate inhibitor's addition).
Knowing when to test a wine for heat stability and when to treat the wine with bentonite are also valuable pieces of knowledge that a winemaker can use to benefit wine quality. Keep in mind that the type of bentonite and when it is applied, in addition to the dosage rate, is likely not going to be the same for every wine produced.
Is protein stability a place where you could make small improvements to your wine?
If you need a review on best practices associated with protein stability as well as a more in depth discussion regarding heat stability testing, check out the February webinar, "Successful Wine Protein Stabilization."
This webinar and the attached webinar notes are a part of the annual Darn Good Winemakers membership. You can register to become a part of the Darn Good Winemakers at any time (registration button, below!). Your membership grants you 12 new webinars each year plus access to all of the previously posted sessions. Read more about the Darn Good Winemakers perks, here!
Resources
Iland, P., N. Bruer, A. Ewart, A. Markides, and J. Sitters. (2012) Monitoring the Winemaking process from Grapes and Wine: Techniques and Concepts. 2nd Edition.
Pocock, K.F., E.J. Waters, M.J. Herderich, and I.S. Pretorius. (March/April 2008) Protein stability tests and their effectiveness in predicting protein stability during storage and transport. Wine Industry Journal, 23(2): 40-44.