In the wake of a National Emergency, I was hesitant to write about the spread of Coronavirus and how wineries can manage during this crisis. However, in the past 48 hours, the number of questions I have been asked made me think it may be more appropriate to provide some assistance during this time of need.
All resources provided in this post are organized at the end by topic for a quick reference. There is also a link to an Open Winemaking Advice Hour, which I'm hosting, on Friday, March 20, 2020 at 11:00 AM (EST). More on why I'm doing this is included, below.
In the meantime, whether you are the owner of a winery, working from home in solidarity or with children, or having to face going into the office each day, I think these words by Tara McMullin were brilliant to help us through this difficult time:
"I don't think this is a time when we should feel pressure to be MORE productive. It's a time when we need to lean on our systems. If that means we get more done, great! If it means we stay on track, awesome. If it means we weather this storm with the least amount of damage, so be it."
Tara McMullin, @tara_mcmullin Instagram
Coronavirus and COVID-19 Resources
To avoid contributing to the noise, I don't want to go into too much detail on Coronavirus, but I do want to share resources businesses can reference to get straightforward answers on the virus and the subsequent disease that it causes, COVID-19 [stands for Corona (CO), virus (VI), disease (D)]. While the CDC is providing routine updates, another article that was vetted by two doctorate virologists (authors's note: full disclosure, the virologists are relatives) with good information regarding ALL of your Coronavirus questions is this one posted by ARS Technica.
Dealing with Coronavirus at the Winery
For winery owners and business managers, it is important to remember that employees may feel differently about the situation depending on their own personal situations. For example, a woman that is pregnant or individuals living with an immune-compromised family member in the home may feel less comfortable being at work than those who are not in these situations. This may also be true for employees that care for elderly parents or those with young children that are home due to school closures. Employees with partners or spouses that are working in hospitals and doctors' offices may also have varying comfort levels of being around their peers. In contrast, there are also employees that may feel a need to keep working, especially if a partner or spouse has lost financial income during this time. As the situation unfolds, developing a policy or protocol for managing employees and their needs is essential to maintain calm, transparency, and productivity.
Whether or not the production facility closes is based on requirements outlined by state and local government and ownership decisions. I would encourage all winery owners to pay attention to the regular state and local government updates. If the facility is not currently closed, plan for a course of action should it become required in the near future. To date, I have found this food industry article, "Managing Coronavirus in the Food Industry," extremely helpful in articulating a plan for managing this situation.
As noted above, the reduction of human contact, hygiene (hand washing), and sanitation (keeping surfaces free from respiratory droplets) help minimize the spread of COVID-19.
The following are some suggestions on maintaining cellar production work for wineries to consider during this pandemic. There are two lists that encompass two difference scenarios of cellar/production work: if employees are still coming to work versus employees staying at home.
Employees Coming to the Winery
Incentivize employees to stay home if sick. This is the number one way to help decrease the spread of COVID-19. It may require reminding employees about the symptoms associated with COVID-19 (see links, above). While ensuring this incentive to be used only if needed can be tricky, here are numerous suggestions provided by others for this practice:

Create a policy for how employees should report illness. Should they call in to a certain individual? What should they do if they start to get sick while at work? The reason this is important is because if they do become ill with COVID-19, they are exposing all other employees they come in contact with during that time.
If possible, have a list of testing sites available for employees to visit to determine whether or not they have COVID-19.
Provide extra paid sick leave for those individuals that fall ill during this time.
Give employees extra PTO days and encourage their use if sick.
For more detailed steps and plans on this course of action, please refer to the article, "Managing Coronavirus in the Food Industry."

Place a temporary pause on production steps that require a lot of human interaction (e.g., bottling, crushing, tastings, etc.) or those that are not essential right now. This may include rescheduling mobile services until a later time. Re-evaluate on a week-by-week basis as the situation evolves. Be aware that there may be ingredient or supply delays that could instigate this action as well.
If employees are needed at the winery or in the winery lab, rotate day shifts for employees to minimize the number of people in the winery or lab at a given time. Remind them to clean and sanitize shared surfaces daily at the beginning and end of shifts. This may require some training or training reminders, and, again, the "Managing Coronavirus in the Food Industry" article outlines more details on this practice.
Re-train employees NOW on more aggressive surface sanitation and hygiene techniques. The CDC offers guidance on proper handwashing techniques (in English and Spanish) as well as videos that show how to properly wash one's hands. Furthermore, they provide proper sneezing and coughing etiquette for the workplace that can be used for training purposes.
Help maintain a calm environment. Many individuals are anxious under the current unknown. However, when leadership remains calm, it helps keep the team focused, fuel productivity and maintain calmness among employees. One way to help address this is by altering word choices. I recently saw a word reframing exercise completed by Erika Fitzgerald on Instagram, @erikafitzgerald, in terms of discussing some key terms associated with the pandemic.
It's possible that the winery may need to plan for delays in ingredients and supplies. Keep an eye on your email from product, ingredient, and equipment suppliers. I have noticed that there are some delays occurring due to slower or closed production in other countries. At the time of this blog post, both Enartis Vinquiry and Scott Labs remain open in a limited capacity. However, if possible, purchase products you may need for the future now to avoid not being able to access the product later.
Employees are Staying Home
If the winery is shutting down production to minimize human-to-human contact, wines should get stored properly while they aren't tended to. Make sure wines are in their appropriate storage vessels, topped up (without headspace is preferable to reduce the maintenance required by blanketing), and with adequate free sulfur dioxide (0.85 ppm molecular is preferred for antimicrobial control). If possible, and when appropriate, keep wines at 50°F or below.
Encourage those employees that can work from home to work from home. Again, this helps reduce human-to-human contact, which is a high-risk point for spreading Coronavirus. Although most people will not develop severe symptoms, Dr. Sanjay Gupta simply explains why decisions to minimize human contact are important, "Never before … have I found a situation where how I behave so dramatically impacts your health. And how you behave so dramatically impacts my health…"
Provide work for those employees that are at home in which what to work on may not be intuitive. This may be true for cellar employees. Unless the winery is processing Southern Hemisphere fruit, or on an immediate bottling deadline, many cellar operations are just now starting to ramp up in activity. However, if an employee is stuck at home, they may be able to contribute to several tasks that often get overlooked during any given year:

Update federal and state production records.
Review any production records that need transferred from the winery notebook to a computer database.
Develop or review compliance documentation. If the winery has been working on FDA compliance documentation, now is a good time to have employees write or review standard operating procedures (SOPs). Perhaps training for developing documentation has been avoided, and employees can now take the time to go through training to start FDA compliance documentation. While I cannot make these 7 modules free given the number of people that have pre-purchased the course, I am going to offer a discount code from now until March 31st to drop the price of the course from $250 to $100. With interest in the course, use the coupon code, SUPPORT, at check out to get lifetime access to this training series and start your documentation today.
Make calls to technical salesmen to review specs on future purchases. Most sales teams likely have time to talk with winemakers right now. Use the time wisely to get information, and, potentially get a good quote on new equipment.
Have the winemaker re-plan for bottling. If the winery is taking a production pause (temporarily), the winemaker can re-establish a new timeline to get product bottled before harvest. Now is a great time to sit down, look at the calendar, count the weeks backwards, and determine next steps if bottling is delayed until May.
Do you have other ideas on tasks cellar and lab employees could complete during a work-from-home period of time? I would love to hear them! Please email info@dgwinemaking.com with more suggestions.
Winery Sanitation and Viral Control
The Food and Drug Administration (FDA) has reported that there is no evidence to support that COVID-19 is transmitted through food (or beverages). This link to the FDA website is specific to the COVID-19 pandemic. If you scroll down towards the bottom of the page, it addresses "Food Products" directly.
However, there is emerging research to show the COVID-19 virus can survive on some surfaces for up to 72 hours. (Again, this chart on the "This Week in Virology" Facebook page was vetted by doctorate virologist whom are relatives.) Please note on the table that the COVID-19 virus is referred to as "SARS-CoV-2."
The COVID-19 virus appears to survive on plastic surfaces the longest, up to 72 hours. Cardboard can hold the virus for 24 hours and steel up to 48 hours. This is something to consider and account for during production operations though chances of spreading the virus with products that go through proper retail channels is minimal (Stevens, 2020). For example, during packaging operations in the winery, ensuring that people are washing their hands and not touching their face is essential. Proper training is required that if employees do touch their face that they safely leave the bottling line to re-wash their hands. Furthermore, if gloves are warn, gloves should be removed, thrown away, and new gloves should be put on if the employee touches their face during operations.
Wineries, cideries, and breweries, like other food manufacturing facilities, are required to follow Current Good Manufacturing Practices, cGMPs, and proper cleaning and sanitation procedures are important at all times. If you are seeking beverage manufacturing disinfectants against the Coronavirus, the Environmental Protection Agency (EPA) has listed EPA-registered Disinfectants for Use Against SARS-CoV-2 (COVID-19 virus), which have undergone their rigorous "emerging viral pathogen program" for approval. This list describes the chemical (e.g., QUAT, PAA), brand, concentration of chemical, and required contact time to disinfect against the Coronavirus. Wineries should note that acidulated sulfur dioxide is not on this list. You can also visit the EPA's Frequently Asked Questions page for more information about disinfectants against Coronavirus.
Pivoting from Tasting Room Sales
For those working in the tasting room, Serv Safe has posted information on best efforts to keep employees and customers safe. Furthermore, Lindsey Zahn, Esq. has provided more detailed legal and compliance recommendations for wineries and wine sales during this time.
Hosting regularly scheduled events may not be fruitful (or allowed) currently. While sales is not my area of expertise, here are some creative ideas I've seen wineries or small businesses use to incentivize sales during this temporary difficulty: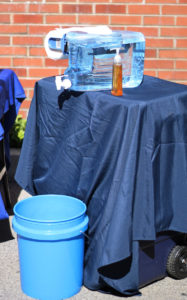 Drive by pick-ups. Use 6 feet distances for pick-ups, sanitize purchasing equipment or carts regularly. If you do not have access to hand sanitizer, my husband created $15 handwashing stations in a DIY (but effective) style.
Provide coupons for online orders.
Don't have an online ordering system? No problem. Give people a phone number to call and wines can be shipped or picked up based on your capabilities.
Offer reduced or free shipping on wine purchases during this time.
Provide e-gift cards for future purchases.
Create a 3-bottle purchase packs for easy selections.
Discount winery swag for online purchases.
Offer online events. After this first week of social distancing, people will need something fun and different to be a part of socially. Some ideas I have seen include an online tasting session with the winemaker (maybe these can be your 3-bottle purchase packs), Q&A events with the winemaker and provide reduced rates for those that purchase wine and the event, or online/virtual trivia nights. Get creative.
Create a virtual tasting room. I haven't seen this recommended anywhere, but this idea came to me after listening to a Coronavirus Bonus episode of The Happiness Lab, featuring Stanford professor, Dr. Jamil Zaki. With regards to people feeling lonely right now and using social media or internet platforms for interaction, Jamil says, "We feel as though we should only be interacting so long as there's something to say. But that's not what we do in real life. I want us to bring the casualness and informality of life offline into our technological spaces. I think that's a great shot for retaining connection right now." My idea of a virtual tasting room is an open platform, with video, perhaps rotating your tasting room employees to meet, talk, and help your visitors – your usual customers. If customers have questions about wines or purchases, employees may be able to send links to purchases, or simply provide a space for customers to retain a relationship with your brand.
I will be trying this a bit with my community this week in an Open Winemaking Advice Hour. Anyone is welcome to join us, though registration is required in order to receive a link to the session on Friday, March 20th at 11:00 AM, EST. Please join us! Even if you don't have questions, I'm here to provide that open space for connection and support.
Enhance your social media presence. This doesn't have to ignore the current situation, but social media offers a place where we can talk about the crisis with less formality. What are employees eating while shelves are bare? Which wines do you offer that go best with those meals (offer a link directly from your profile to your online shop)? Offer coupon codes for following your stories during this turbulent time.
Resources Cited
Factual Information about Coronavirus and COVID-19
ARS Technica: Don't Panic, The Comprehensive ARS Technica Guide to the Coronavirus
The Centers for Disease Control (CDC)
Dr. Sanjay Gupta Interview with Stephen Colbert
'This Week in Virology' Facebook Page
Wine Production and Business Resources to Manage the Coronavirus Outbreak
March 20, 2020 OPEN Winemaking Advice Hour through DG Winemaking, 11:00 AM (EST)
CDC Proper Handwashing Techniques
CDC Sneezing and Coughing Ettiquette
DG Winemaking FDA Documentation Training Course
EPA's Approved Disinfectants against Coronavirus
EPA's Q&A Page on Disinfectants against Coronavirus
FDA Q&A Page on Coronavirus Management
Serv Safe Coronavirus Management Recommendations
Stevens, S.K. "Managing Coronavirus in the Food Industry"
Zahn, L.A. "Legal and Compliance Steps for Wineries in a COVID-19 Environment"
Positivity during the COVID-19 Pandemic
The Happiness Lab Podcast, Coronavirus BONUS: Beat Your Isolation Loneliness (scroll down to the bottom of the page to access online, or download on your favorite Podcast software)