By: Liubomir Popovici from Lean Vintner, a division of LPCS INC.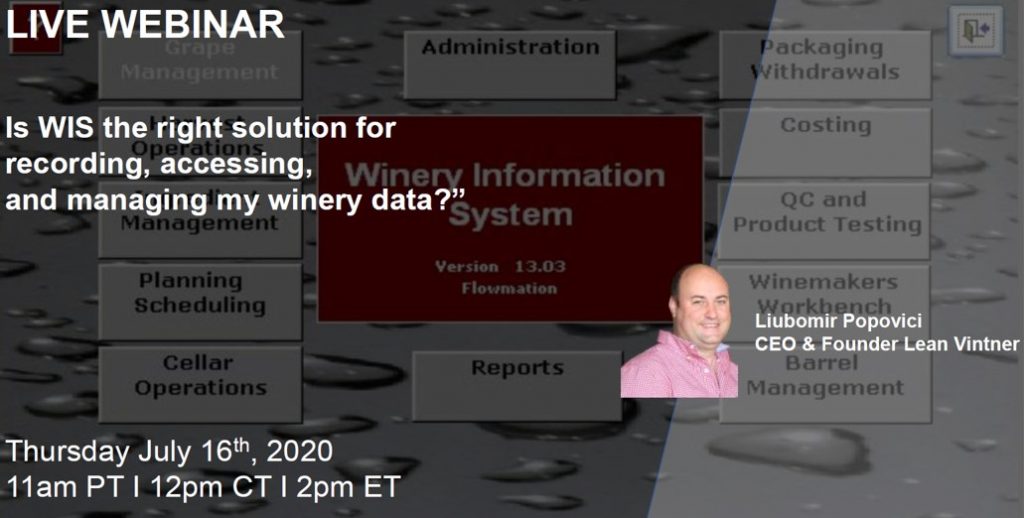 While some wineries may be intimidated by data collection software, informational database systems do not only benefit large winery operations. The featured speaker, Liubomir Popovici, introduces "Winery Information System" (WIS), a product for boutique and small wineries that organizes data for various winery functions. This includes databases for harvest operations, ingredient management, scheduling, cellar operations, QA/QC, barrel management, costing, and more! This webinar covers:
Key features associated with WIS,
Benefits and values of using WIS,
WIS functionality overview, and
Implementing WIS at the winery: costs and timelines.
Speaker: Liubomir Popovici
Liubomir helps wineries save money, develop new products successfully and make everyone's life easy come audit time. With over 23 years of winemaking experience having worked for companies like Constellation Brands or Arterra Wines Canada, Liubomir has used or implemented various winery management systems including AS400, WIS, or JD Edwards Grower and Blend.
Time: 49 minutes with Q&A
This webinar was co-hosted by Liubomir Popovici and DG Winemaking