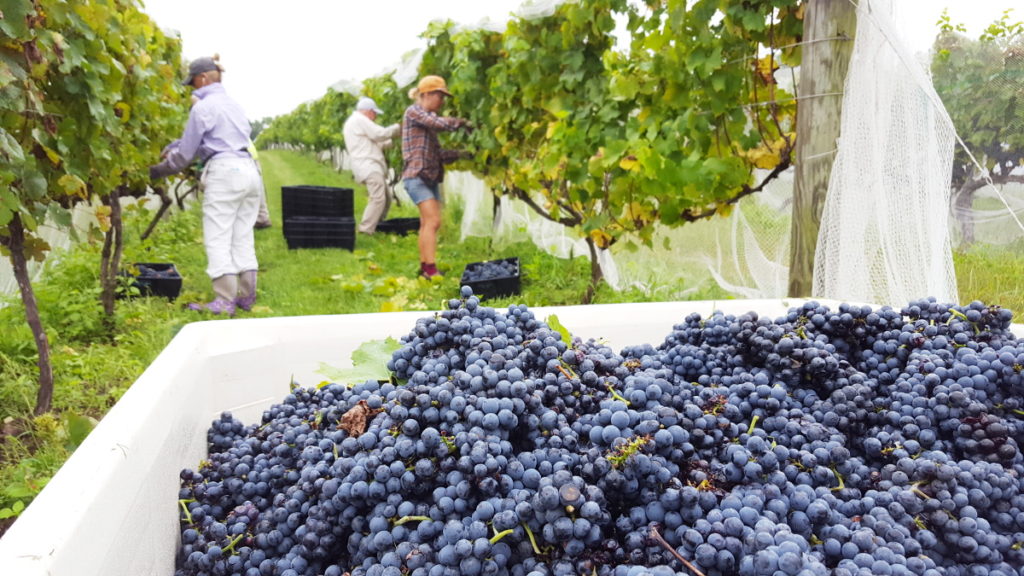 Guess what? 
Harvest is starting to sneak up on us.
Although there is probably TONS of work to be done in the vineyard, it's also time to start preparing the winery for harvest. Do not let harvest preparation get away from you. Any good winemaking team will tell you that one of the key methods for reducing chaos in the cellar is to actually plan for harvest.
If you are a part of the DGW Community, you can access the Pre-Harvest Prep Production Guide, here. This is a complete list of all of the necessary things to consider before harvest begins so you don't feel the stress of harvest during harvest season. If you aren't a part of the DGW Community yet, and want to find out how to join, skim down to the end of this post!
Otherwise, enjoy these Pre-Harvest tips, below!
Finish Bottling
The key operation I try to encourage all of my winemaking clients to do before harvest begins is to complete bottling. Bottling is so intense, requires attention to detail, and is often quite conflicting to harvest operations. If your harvest season begins in August, I challenge you to have your bottling completed by June so you can take a small break in July.
With the rise of mobile bottling, it can be challenging for some winemakers to meet this deadline. However, as you start to plan for the following year, make a calendar of processing operations to see if you can push more of your bottling into an earlier part of the year and avoid the harvest months.
Get Your Cellar Supplies Early
I encourage all winemakers to get into the habit of reviewing and ordering all winemaking or enological supplies by June and July.
Every winemaker has a series of things they absolutely cannot go without during the harvest season. Thus, this planning step guarantees the necessities for harvest are considered and covered.
This is also a great time to review new products that may have hit the market since last harvest season. Setting aside a few hours before the grapes hit the cellar floor is a great opportunity to minimize some of the decision fatigue that creeps in during the harvest season. Through DG Winemaking, I publish a list of Harvest Must-Haves, which is a comprehensive list of enological items I think every winery should consider having in stock by the time harvest starts.
Additionally, winemaking teams should make sure they have:
Residual Sugar Testing Kits. While it may be challenging to find Clinitests nowadays, both Enartis and Presque Isle Wine Cellars have alternatives in stock that can better assess when primary fermentation is complete.
Sample Tubes and Bottles for Analysis. This is a harvest must-have. Whether you plan on running your own analysis in-house or sending out samples, having a set of tubes and bottles to take adequate wine samples creates ease and harmony during the harvest season. Some wine labs will send pre-printed labels or sample bottles if you inquire ahead of time. Think about how much time is saved if the volume of the sample vial is known before someone goes looking for one. Want to really be on the ball? Stock up on ice packs and pre-printed sheets or sample labels to identify the analysis you will most likely purchase during harvest.
Grape Biological Control Agents. Are your grapes going to sit in transport for some time before they reach the cellar door? You may want to consider checking out some biological control agents like the Lamothe-Abiet (L.A.) non-fermentative yeast product, Excellence B-Nature.
Trying Something New in the Cellar? Prepare Now!
Certain wine styles like Pét-Nats, many sparkling wines, and even some styles of formula wines require the winemaker to take specific actions starting at harvest in order to optimize post-fermentation wine quality. By ignoring essential harvest steps, post-fermentation quality can get degraded. For example, getting a Pét-Nat in bottle that doesn't gush everywhere when it's opened may not be a possibility if the winemaker ignored specific harvest and fermentation processing operations.
Take the time to plan out processing steps and needs for new wine styles. DGW includes a few Production Guides, Articles, and Winemaking Lessons on some more specific wine styles:
If you are planning on trying something new this year and could use some assistance in avoiding those first-try mistakes, consider joining our DGW Elite Membership. This is a low-cost, consulting option makes getting the help you need practical and affordable. We have a lovely community of winemakers that are very welcoming. Plus, your operation will benefit from my on-going commitment to help operations just like yours make the best wines you can. Read below for more details.
Secure Your Consultant BEFORE Harvest Begins
Most people come to me to get signed up for a consulting contract right as harvest begins. While every now and again I may have the ability to sign someone on during this time, the reality is I don't always have open spots by the time harvest begins.
If you think you want to find a winemaking consultant to help you through the 2023 harvest season, now is the critical time to find us. Not only does this ensure the consultant has time and availability to take you on as a client, but also a good winemaking consultant will begin to prepare your operation for harvest. This ensures that harvest goes more smoothly for you compared to previous years.
And again, if you aren't in the market for a full-time consultant, but know you could use someone to help with all those winemaking questions around "what should I do," then consider our DGW Elite Membership.
Get the Winemaking Assistance You Need Today!
Want the inside scoop on products and wine processes I recommend? Consider becoming a DGW Elite Member to gain access to the resources provided through DG Winemaking. Plus, Elite Members are invited to bi-monthly virtual group consulting and Q&A sessions to help you make good winemaking decisions for your operation. If you would like more information, check out our Membership programs, here, or inquire to info@dgwinemaking.com. 
The views and opinions expressed through dgwinemaking.com are intended for general informational purposes only. Denise Gardner Winemaking does not assume any responsibility or liability for those winery, cidery, or alcohol-producing operations that choose to use any of the information seen here or within dgwinemaking.com.