Having adequate detail in an easy-to-navigate record keeping format allows winemakers to:
quickly see past decisions,
evaluate which treatments were effective for various wines, and
assess general inventory needs on a regular basis.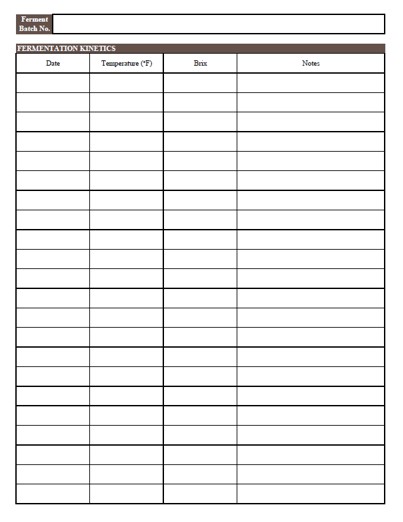 While the use of wine production software systems are often helpful, many winemakers strive to take good notes on the cellar floor. Having the ability to take good records in real time is the best way at retaining information regarding winemaking decisions. Furthermore, many software systems may be financially inhibitive. Thus, having a good record keeping system easily become one of the winemaker's primary responsibilities.
While maintaining records is a good practice for any winemaking operation, in regions where vintage-to-vintage variation is common, record keeping skills are essential. When vintages are more challenging, it is always helpful to have a system in which a winemaker can refer to what treatments were enacted and managed for any given wine. This helps minimize guess work each year and makes wine operations more efficient.
Today's post will explore some of the essentials regarding winery record keeping.
What kind of records should I take?
While it is always a good idea to manage a good inventory (of enological supplies, cleaning/sanitation chemicals, and laboratory needs), the use of records during production operations is also important.
During harvest, I suggest winemakers record the following details:
Harvest information regarding the grapes, including the grape variety, picking date, weight of incoming fruit, and vineyard identification.
Information regarding juice/must additions (e.g., sugar, acid, de-acidifying agents, enzymes, and yeast). I recommend including the dosage rate for each product added, the addition amount based on weight/volume of the fermentation, and identifying information of the product being added. "Identifying information" includes an expiration date as well as a lot number for the product going into the wine. These details could be important in the event something goes wrong with the fermentation or if there were any recalls made on that product at a later time. 
Information on all nutrients added during fermentation, including their identifying information (detailed above).
Juice chemistry, including the results for pH, TA, sugar, and YAN (yeast assimilable nitrogen). If any adjustments were made to the juice/must, the new chemistry information should also be recorded.
A table for fermentation kinetics. This should include the date, time, temperature of the fermentation, Brix reading, and any notes for that specific time of day. 
Post-primary chemistry information, which captures the minimum essential analyses that I like to see for any fermentation. This includes residual sugar, acid chemistry, the alcohol content, and volatile acidity (VA) as a "starting point" for where the wine ended up in acetic acid content. 
If the wine goes through malolactic fermentation (MLF), then all of the identifying information for malolactic bacteria and any nutrient additions should be recorded and captured. Furthermore, post-MLF chemistry results are also important. Again, these chemistry results include the minimum essential analyses I tend to always recommend. 
Any sulfur dioxide additions should include the dosage rate, the addition rate (weight of potassium metabisulfite), the date of the addition, and a follow-up record for the resulting free and total sulfur dioxide concentrations. Many winemakers forget to follow-up on a sulfur dioxide addition, which can leave the wine open to spoilage risk if an adequate free sulfur dioxide concentration is not obtained.
How can I take better records?
Having a record keeping template that can get printed and taken into the cellar is often a good way to ensure that adequate details are captured during production.
DGW Members and Clients now have access to a series of Fermentation Records for white/rosé wines, red wines, and hard ciders. However, many winemakers can make their own functional templates, as well. 
A template is a structured document so that the information is always recorded in the same place and in the same way, regardless of the wine. An example template to capture fermentation kinetics is shown in the image of this blog post. (This template is available in the Fermentation Records Spreadsheets, in Cellar Tools on the website.) 
Have a way to train employees and interns on how to record data and production information properly. This is something I usually recommend during Pre-Harvest Preparation. However, if you notice details are getting missed, it's never too late to stop and re-train employees.
I also recommend that an employee or two be allocated for taking physical records from the cellar, and updating any software system, including Excel spreadsheets or Google Docs, once per week. Having both a physical copy and a copy on some sort of digital medium is important for ensuring that records are not lost. In past years, I used to maintain a "Harvest Binder" which was filled with all the templates needed for each batch of wine. Each week, the Harvest Binder was removed from the cellar and someone updated our Excel files. This ensured that even if the Harvest Binder was compromised as some point, we had a back-up copy of our fermentation records.
Can I access your templates?
For more information on how to access Premium Content resources on the DGW website, please refer to the Membership Services available for the winemaking community. Any questions can be directed to info@dgwinemaking.com.