Many winemakers, especially those in areas where wine analytical labs are not local, continue to ignore fermentation nutrition specific to an individual lot of wine.
However, analyzing yeast assimilable nitrogen (YAN) is the first step in minimizing the incidence rate of hydrogen sulfide development. Potentially, this can further reduce incidences of "reductive" aroma issues (from aromatic compounds like mercaptans, or thiols, and disulfides). Additionally, current research findings suggests that YAN and its chemical makeup contributes to aromatic and flavor complexity.
As a winemaker, it can be frustrating to keep up with the evolving science behind YAN. However, this article will dive into the main points to know and what to keep an eye on as the world of fermentation nutrition advances.
What is YAN?
The simple equation
YAN = PAN + NH4+
summarizes the two chemical constituents that make up YAN. The available nitrogen that yeast can utilize is the summation of primary amino nitrogen (PAN) plus ammonia (NH4+).
PAN is also referred to as free amino nitrogen (FAN) or α-amino nitrogen (amino acids minus proline), and is the organic form of available nitrogen. In contrast, ammonia is the inorganic form of available nitrogen.
In general, PAN is considered the more complex form of available nitrogen, while ammonia is considered simple. When it comes to utilization, ammonia is more easily consumed by yeast.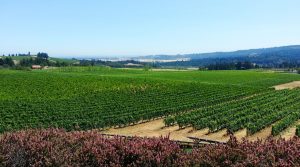 Where Does Nitrogen Come From?
Initially, fermentable nitrogen is sourced from the grapes. While vineyard site and management practices may play a role in nitrogen found in the grapes, current research has not determined a predictive indicator in the vineyard for manipulating the fruit's YAN. This means that growers do not have control over altering YAN in the vineyard. This is also the primary reason why winemakers are encouraged to measure YAN for each lot of fruit every vintage year; the results are unpredictable.
From a winemaking perspective, nitrogen is also provided in nutrient supplementation products. This includes hydration nutrients like GoFerm (from Lallemand), complex nutrients like Fermaid K (from Lallemand), and diammonium phosphate, or DAP.
When and How Do I Measure YAN?
In general, it is typically recommended to measure YAN as close to inoculation as possible. The reasoning behind this is that time of extraction from grape skins and pulp will influence YAN concentrations. Additionally, pre-fermentation production methods, such as cold soaking or clarification, can affect YAN. During these prolonged juice treatments, native microflora can utilize juice nitrogen as well as additional vitamins and minerals essential for a healthy primary fermentation.
Wine Analytical Labs
All wine analytical labs will measure YAN for you. Logistically, this can be challenging for wineries outside of the Western wine producing states (California, Oregon, and Washington).
If using a lab is your only way of obtaining YAN results, prior to harvest you should contact the lab and have them send you free sample bottles to ship juice.
Additionally, collect the appropriate packaging supplies to ship samples through harvest. Keep a series of boxes to ship juice samples, and retain single-use ice packs to slow down the progression of spontaneous fermentation. Using bubble-lined mailers is a great way to ensure ice packs and sample tubes will not leak while packed inside a box.
Ship juice samples overnight. Typically, a small or medium sized box will cost about $45 to ship overnight to a lab in the Eastern U.S. if you use services like FedEx or UPS. In contrast, it will cost about $80 to ship the same package California (from an Eastern state). If you can collect more than one juice sample to ship at one time, you will likely save some money on shipping.
ISO-accredited labs typically have to analyze a juice same the business day it is received. Therefore, in most cases (dependent on the lab's harvest hours) you should receive your results within the next business day if you ship the sample overnight.
Analyzing YAN at the Winery
Alternatively, in-house wine labs can measure YAN using a spectrophotometer. If you are bringing a spectrophotometer into your wine lab prior to harvest, it is a good idea to run through some of the enzymatic protocols before harvest begins. While protocols are straightforward, these usually require some training and time to develop a comfort level with use.
To measure YAN (both PAN and ammonia) enzymatically, the following equipment will be required for purchase:
Spectrophotometer
Cuvettes (appropriate size for the spectrophotometer you purchase)
Kim Wipes
Lab Gloves
Micro-Pipettes
Disposable Pipette Tips
Enzymatic Kits
The advantage of purchasing a spectrophotometer (spec) is that it can also be used for measuring acetic acid, residual sugar (glucose and fructose), ethanol, malic acid, lactic acid, and tartaric acid. [Note: the ability to measure tartaric acid is important for deacidification techniques.] For those that want more advanced assays, including things like measuring phenolics or tannins, specs can be useful.
A past Cellar Dweller published by Cornell University breaks down the basic pros, cons, and cost estimates fairly well. If you are in the market for a spectrophotometer, but feel hesitant, please don't hesitate to reach out to me to discuss.
This piece of equipment, and supporting equipment, is a small investment. I recommend comparing the price of shipping plus analysis from a wine lab versus the cost of needed supplies to run YANs at the winery. However, a primary advantage of having the capability to measure YAN at the winery is convenience: you get to analyze a sample when you need the result.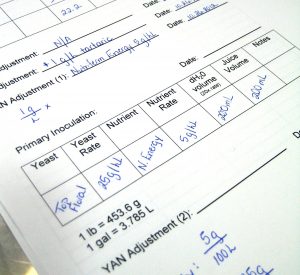 How Do I Read YAN Results?
The units used to measure YAN are "mg N/L" (milligrams of nitrogen per liter).
Recommendations provided by suppliers (e.g., Lallemand, Scott Labs, Enartis, Laffort, BSG, AEB) are all provided in the units "mg N/L" as well.
While new research progresses YAN recommendations, most suppliers still classify fruit YAN results into "high, medium, and low" categories. Each category is provided with a range of YAN values that can be classified into that group. Winemakers are then provided with suggestions for nutrient additions to make during primary fermentation based on the grouping category.
However, new nutrition products have emerged. Winemakers now have more options on available hydration and complex nutrients. Each provides its own nuances with how it should be used during primary fermentation and when it should be added.
What Other Factors May Influence Nitrogen Supplements During Primary Fermentation?
Many suppliers are encouraging winemakers to also consider several other fermentation parameters before adding nitrogen supplements to the vat of fermenting wine. These parameters include:
Yeast Selection: Some yeasts have higher nitrogen needs than others. Always double check your supplier catalog to evaluate the nutritional requirements of your selected yeast strain. If you are dealing with a high YAN fermentation, it may not be advantageous to use a low nitrogen requiring yeast strain, and vice versa.
Juice or Wine pH: pH influences the utilization rate of ammonia. More ammonia uptake occurs the closer the pH approaches 4.0. This can ultimately affect the rate of organic nitrogen uptake and complexity of the wine by the end of fermentation.
Initial Starting Sugar Content: Typically, the higher the initial sugar content, the higher the nitrogen demands there are on the yeast strain.
Fermentation Temperature: Warmer fermentation temperatures typically result in a faster fermentation. In this situation, yeast metabolize and grow faster, usually requiring more nitrogen quickly to sustain their growth.
Desired Wine Style: The utilization of organic nitrogen is linked to more complex aroma and flavors in the wine. Therefore, if a more simplistic aroma or flavor profile is desired, it may be more advantageous to use DAP as opposed to maximum concentrations of complex nutrients (which are also more expensive).
Vitamin and Mineral Content: Native microflora can consume most of the fruit's vitamin and minerals within a few hours if provided an adequate opportunity (e., cold soaking, grape shipments). Delays in fermentation should definitely indicate use of complex nutrients to help supplement any vitamin and mineral deficiencies that may have occurred.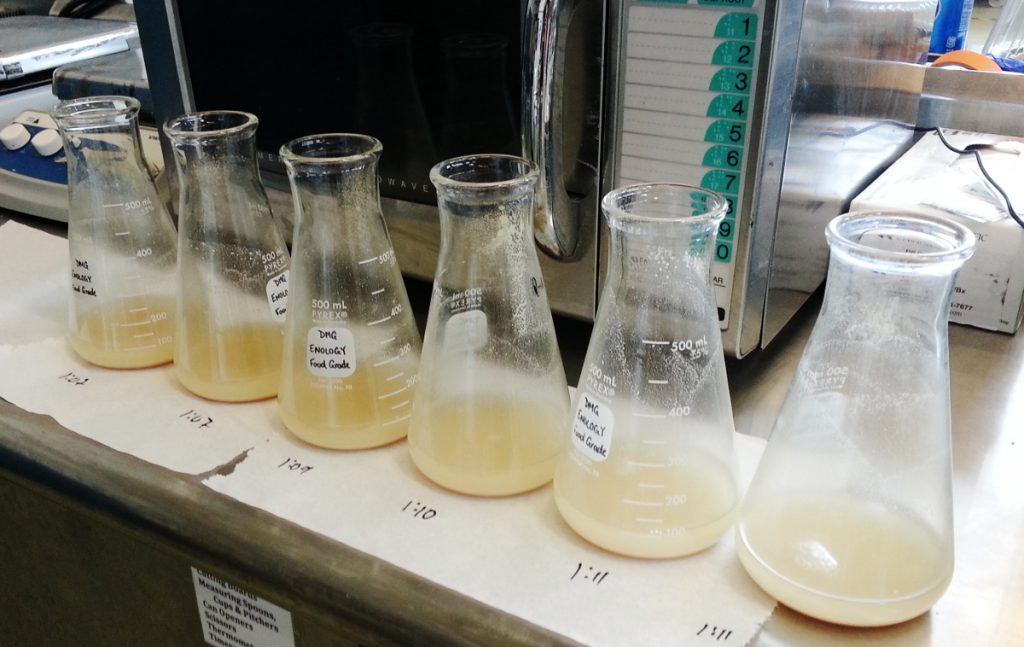 Quality Risks Associated with Each YAN Category
Low YAN (Less than Approximately 125 mg N/L)
There are two big wine quality risks associated with low YAN fermentations:
Stuck or sluggish fermentations: Stuck fermentations result from a lack of nitrogen available to build proteins and enzymes necessary for yeast metabolism. This ultimately reduces the rate in which yeast can reproduce and may force yeasts into a situation in which they break down intracellular amino acids for nitrogen as opposed to growing and reproducing.
Hydrogen sulfide development: Sulfur is an important element embedded in the chemical structure of some amino acids. As amino acids are broken down internally within a yeast cell, the sulfur, toxic to yeast, is removed outside of the yeast and into the surrounding medium: wine.
Nonetheless, research has progressed in the field of low YAN fermentations. Some evidence now exists showing lower YAN needs for some fermentations than was originally thought. With proper monitoring practices, complex wines can be produced with low YANs and low concentrations of nutrient additions.
Medium YAN (Approximately 125 – 250 mg N/L)
Traditionally, this concentration of YAN has been the ideal range for most winemakers. In fact, when wineries are not measuring YAN, fermentations are almost always supplemented with nitrogen assuming that the juice or must falls within this YAN range.
However, it's important to consider yeast selection, keeping in mind that different yeast strains have various nitrogen needs.
Additionally, minimal nitrogen supplementation is typically needed in these situations. Over supplementation can ultimately lead to risks associated with high YAN fermentations. Hence, it is always important to know the starting YAN in order to appropriately treat with nutrients during primary fermentation.
High YAN (Greater than 250 mg N/L)
Depending on your region, I have seen YANs upwards and above 400 mg N/L. This can be a very tricky situation for winemakers as there are several quality risks associated with these conditions.
Fast and hot fermentations: Due to an excessive amount of nutrients, yeast can grow and reproduce quickly, leading to very rapid or very hot fermentations. The speed and temperature of fermentation can ultimately affect the aromatic quality of the wine. Fast and hot fermentations tend to lean towards simpler aroma and flavor profiles. While this may not be an issue for some styles of wine, it may be detrimental to many neutral and aromatic white wine varieties in which aromatic retention is a priority.
High initial yeast biomass: A high biomass is simply a large population of yeast cells. With an excess of available nitrogen, yeast can reproduce quickly. These larger populations of yeast that occur in the early onset of fermentation can lead to nutrient starvation as the fermentation progresses. Essentially, there are too many "mouths" to feed without enough nitrogen to sustain the booming population.
Hydrogen sulfide development: Large yeast populations can ultimately lead to hydrogen sulfide formation due to yeast autolysis and amino acid break down (refer to the Low YAN risks).
Leftover nitrogen: Without proper yeast selection and nitrogen supplementation during primary fermentation, there is potential for nitrogen to remain in the wine post-primary fermentation. This is especially true in very high initial YAN situations. The leftover nitrogen can ultimately be utilized by spoilage microorganisms (e., acetic acid bacteria, lactic acid bacteria, and Brettanomyces). Without proper stabilization, sulfur dioxide additions, and oxygen management, high YAN wines ultimately run a higher risk of spoilage. However, for those wines intended for malolactic fermentation or provided with a tirage for sparkling production, remaining nutrients may be beneficial and a winemaker can avoid making excessive additions for each of those processes (Bell and Henschke, 2005).
Ethyl carbamate potential: Ethyl carbamate is a known carcinogen that can give individuals headaches or respiratory illness. It is formed in a reaction between ethanol (the primary alcohol in wine) and urea (Bell and Henschke, 2005). How does urea end up in wine? Heavy use of DAP has been linked to potentially higher concentrations of ethyl carbamate due to the fact DAP inhibits the transport of amino acids into the yeast cells. Therefore, this inhibition leaves a higher concentration of amino acids available in the wine that can be chemical altered into urea, and act as a precursor for ethyl carbamate formation (Bell and Henschke, 2005).
The Take Home Message
It's essential that winemakers measure YAN.
It is true that in some regions and under very specific conditions, YANs may not be variable on an annual basis. However, for most of the winemaking community, it is impossible to currently predict YAN.
Nonetheless, even if a wine is properly treated with nutrients during primary fermentation, there is no guarantee that the wine will not develop hydrogen sulfide. In those situations in which hydrogen sulfide does result, the use of copper sulfate may be used to reduce its impact on wine quality. Additionally, fresh and clean lees may provide an alternative to copper sulfate use. When copper sulfate is used, it may be a good idea to reduce the final copper concentration in your wine. A DGW Cellar Tool is available to accomplish this task.
References
Bell, S-J. and P. A. Henschke. 2005. Implications of nitrogen nutrition for grapes, fermentation and wine. Australian J Grape Wine Res. 11: 242-295.