DG Winemaking Can Help!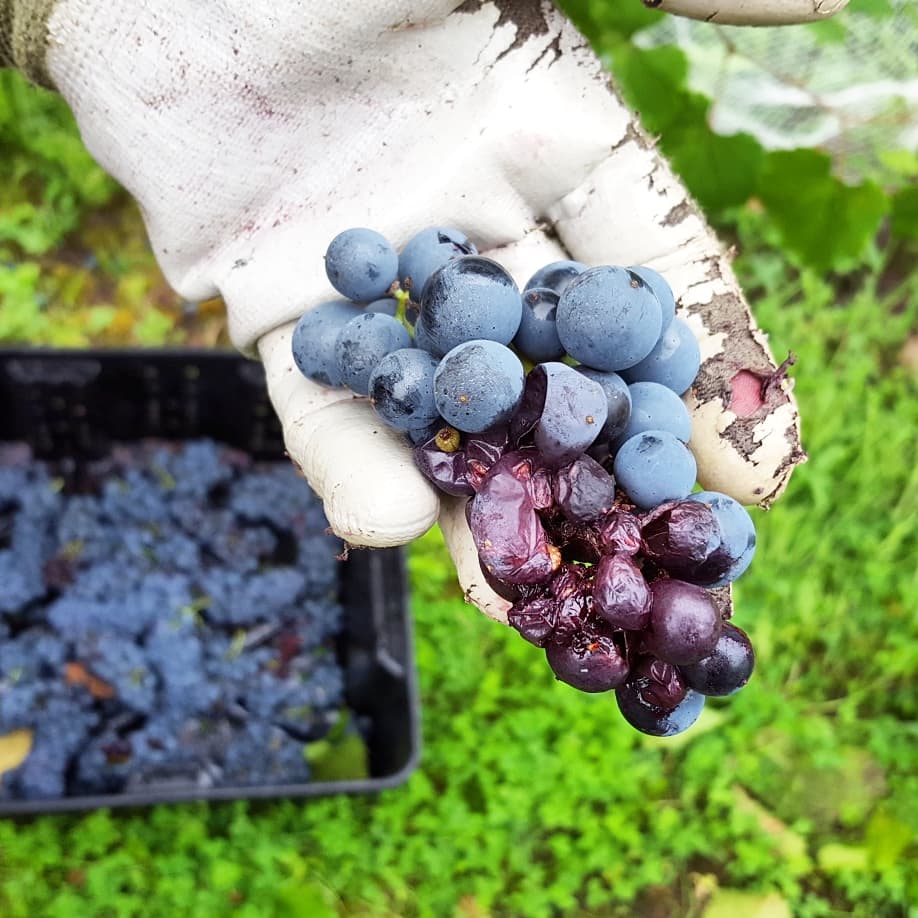 For many winegrowing regions, the vintage harvest season can leave winemakers in a state of distress or frustration. When the presence and proliferation of rot creeps into the vineyard during harvest season, there are a number of wine processing decisions that can influence the future of the wine's quality.
Most grape diseases have an influence on wine quality in a detrimental way.
Winemakers, however, can make processing decisions to help minimize that negative influence on wine quality from grape disease. While most processing decisions that make a big impact on wine quality occur during the crush and before fermentation, there are some production steps winemakers can take post-primary fermentation to maintain or improve the wine's quality.
Let's discuss a few action items winemakers can take when dealing with rotted fruit during challenging vintages.
Make Sure the Wine is Not Sitting on Gross Lees
When grapes are prevalent with disease, some of those disease byproducts ultimately stay in the lees that immediately falls post-primary fermentation. This is the gross lees that settles within the first 24 hours post-fermentation and is usually less compact and greater in volume compared to the fine less.
Racking the newly fermented wine off of the gross lees can help minimize the continued extraction of those disease-driven byproducts.
Why remove the byproducts? Because these components can contribute to off-flavors in the wine that are undesirable. The longer the contact with those off-flavors, the greater likelihood the wine will retain those flavors. Furthermore, some of those byproducts may be soluble solids that lead to filtration problems later on in production.
The Benefit of Tank Temperature Control
Grapes that were subjected to disease prior to fermentation obviously run a risk for post-fermentation spoilage. Keep in mind that there are always microorganisms in wine through its production life.
Most spoilage microorganisms like acetic acid bacteria, surface yeasts, and even native lactic acid bacteria, prefer to grow at temperatures that we also prefer: anywhere above 60°F. Therefore, the use of individual tank temperature control to lower the temperature of the wine after primary fermentation, or after malolactic fermentation, is desirable to slow down the proliferation of those spoilage microorganisms. In other words, this gives the winemaker better control in terms of reducing spoilage by getting more time to catch it because spoilage microorganisms will be slow growing at cooler temperatures.
A secondary benefit of lowering the wine storage temperature is better retention of free sulfur dioxide. As temperatures increase above 60°F, the loss of free sulfur dioxide is also accelerated. Why does this matter?
Free sulfur dioxide, when maintained at or above the 0.85 mg/L (molecular) concentration (based on the wine's pH) inhibits microbial growth. If the free sulfur dioxide concentration dips below the 0.85 mg/L (molecular) concentration, microorganisms naturally present in the wine can grow and, thus, spoil the wine.
Bonus tip: Using the sulfur dioxide strategies described in "Sulfur Dioxide Strategies for Juice and Wine" can minimize the potential for wine spoilage when sulfur dioxide is used strategically.
Do not fall into the common winemaking myth that holding and storing wines in tank or barrel at or above 65°F is a good idea. While some wineries may not yet have the ability to invest in tank temperature control (or a barrel room with controlled environmental temperature) yet, there are strategies for maintaining the wine's quality. These strategies usually involve planning out production steps and bottling earlier in the calendar year.
Bonus tip: If the wine isn't at the quality bar that is preferred, don't get stuck labeling that wine as it usually is year-in and year-out. Think outside the box. Consider alternative wine styles that are either currently produced or yet-to-be-discovered for the wine brand. DGW Insider and Elite members, as well as all DGW Clients, can benefit from my suggestions on this topic within the Winemaking Lessons "Creatively Perfecting Wines from Challenging Vintages" and "Creative Wine Styles for Hybrid Wines" with downloadable notes to use in the cellar.
Don't Forget Wine Stability
In years that are heavy with rot, it is very important to analyze cold and protein stability. The presence of rot can contribute soluble solids that influence both of these physical chemistries in addition to some of the off flavors discussed above. Even wine varieties that are typically protein stable can end up with a protein stability issue during challenging vintage years.
Therefore, it is always a good idea to incorporate the assessment of cold and protein stability into one's production. While the implementation of these analyses may seem daunting, most winery operations can run these assessments in-house. This is another place where DGW Members or Clients can benefit from Protocols available through the DG Winemaking website that provide step-by-step instruction on analyzing a wine.
As many wines produced during challenging vintage seasons are blended, remember to assess these physical chemistries after blending. This is because the change in acid structure (which will affect pH and titratable acidity or TA), can ultimately influence both protein and cold stabilities. DGW Insider and Elite members and all DGW Clients, can refer to my recommended order of production operations through the Pre-Bottling Checklists for White, Rosé, Red, and Formula Wines for more information.