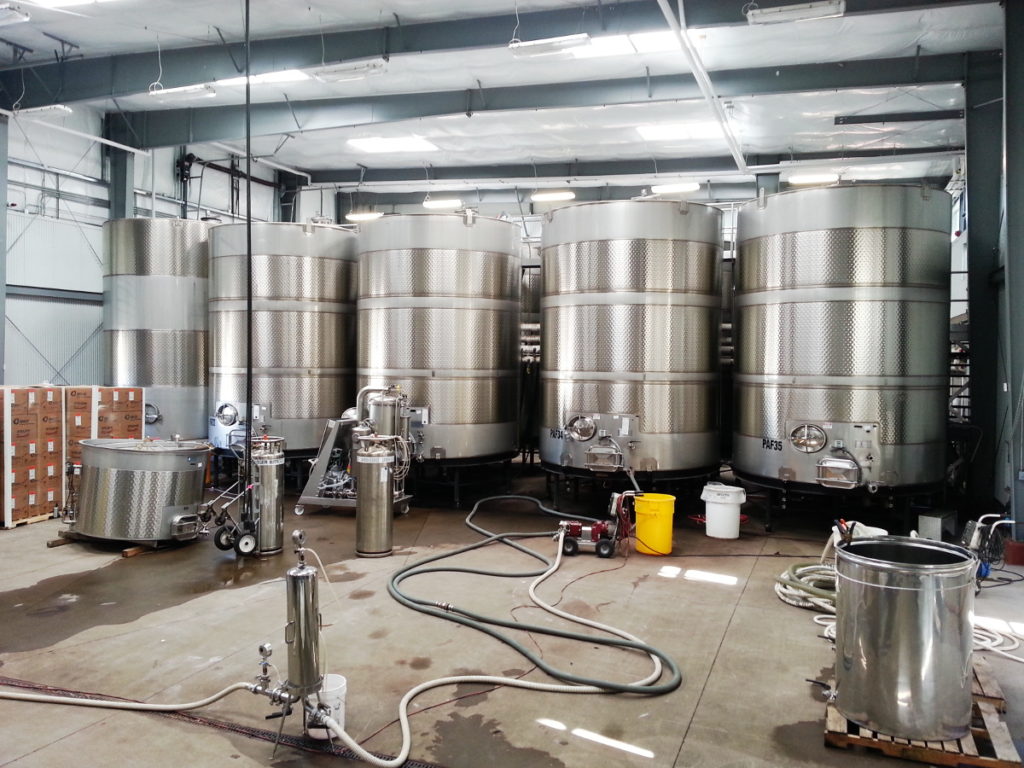 While many of us are likely in the middle of harvest, it's important to remember those post-fermentation processes that have a profound impact on wine quality. Below, I'll review 4 tips that ensure the maintenance of wine quality as fermentation ends.
For Whites and Rosés, Rack Once, Off of Gross Lees, 24-Hours After Fermentation is Complete
While I know there are stylistic options to keep wines on their gross lees, we generally recommend an immediate racking off gross lees to preserve wine freshness. The reason for this is because gross lees are most likely to contain off-flavors or colloids that are not typically desired in the wine. It also contains impurities that came on in the grapes that we want removed from contact with the wine. If there were any fermentation issues, such as hydrogen sulfide development, then you definitely do not want the wine to stay in contact with the gross lees.
Remove the wine from the gross lees quickly after fermentation is complete. A new set of lees will develop after this first racking, the fine lees. In most cases, wines are fine to sit on fine lees.
Do Not Immediately Filter after Fermentation
If I had $100 for every time a winemaker asks me how long it takes for a wine to clarify post-fermentation, or for every time someone told me they filter immediately after filtration to clarify the wine… I'd be a millionaire.
In all seriousness, the clarification time for wine is variable. Wines are not typically clear immediately post-fermentation. The best thing to do is, well… wait patiently.
Forcing clean, fresh wines to clarify quickly can result in filtration issues or even post-bottling issues due to chemistry instabilities. This doesn't even mention how expensive unnecessary filtration is for a winery.
Furthermore, filtering a wine that's going into storage only depletes dissolved carbon dioxide that was generated during primary fermentation, while adding in dissolved oxygen. During wine storage, we don't necessarily want lots of dissolved oxygen introduced into the wine.
I say this hundreds of times during the year, but the best kept secret in winemaking is simply minimizing wine movements.
Monitor Malolactic Fermentation (MLF) if the Wine is Going through MLF
Most wineries can monitor MLF progression through paper chromatography. My general recommendation is to start paper chromatography about 2 weeks after the MLF has been inoculated, and then follow up from there on out, weekly.
When you believe the MLF is at completion, get the wine tested for residual malic acid and ensure it is dry. I never recommend using the paper chromatography results to determine the official end of MLF.
For more information on MLF best practices, refer to the Winemaking Lesson, "The Dot Races: Best Ways to Know MLF is Complete."
Stabilize Wines with Sulfur Dioxide and Temperature
Wines require stabilization at the end of primary fermentation or at the end of MLF. If a wine is going to go through MLF, stabilization should be skipped until MLF is complete.
At the completion of fermentation (assuming the wine is not going to go through MLF), during the first racking, winemakers are encouraged to add sulfur dioxide and drop the tank/storage temperature.
I'm typically a fan of larger sulfur dioxide additions up front. While different strategies for adding sulfur dioxide to wine exist, I like to evaluate how much of an addition actually gets transpired into the free sulfur dioxide form. This gives me an idea on sulfur dioxide binding and any potential red flags associated with the wine's soluble colloid chemistry. (For more details on sulfur dioxide addition strategies, please refer to the Winemaking Lesson, "Sulfur Dioxide Strategies in Juice and Wine".
Wines are commonly encouraged to sit at 45 – 55°F. This is true whether the wines are stored in barrels or tanks. For winemakers that commonly use a 65 – 70°F wine storage temperature, please note that this is a poor recommendation. Keeping wines warmer results in quicker losses of free sulfur dioxide and a higher risk of wine spoilage.
If you do not have the capability to reduce wine temperature, then you will have to have more discipline in monitoring sulfur dioxide concentrations while wines are in storage, and get the wines bottled sooner rather than later to ensure their freshness.
Please keep in mind that those colder temperatures are storage temperatures when the wine is not moving. To move the wine, we like to see the wine temperatures above 55°F in order to reduce dissolved oxygen pick-up. Thus, if moving a cold wine in any way, winemakers need to consider the wine temperature and risk of oxygen pick-up.
Also, please note that wine bottling temperature is recommended around 68°F, or room temperature.
You, Too, Can Conquer These Quality Tips!
If you struggle with keeping your wines fresh and fruity, or know you could use some guidance getting wines prepared for pre-bottling operations, consider joining our DGW Elite Membership. The Elite Membership is a reasonably priced consulting option, gives you the ability to meet with Denise in virtual group Q&A sessions twice a month, and get your winemaking questions answered. Getting wines through fermentation is only half of the battle! Let Denise help you get your wines on the quality bar you can reach! You can find out more about this service and other DGW consulting services, here.
The views and opinions expressed through dgwinemaking.com are intended for general informational purposes only. Denise Gardner Winemaking does not assume any responsibility or liability for those winery, cidery, or alcohol-producing operations that choose to use any of the information seen here or within dgwinemaking.com.