Direct causes of hydrogen sulfide and "reduced" sulfur-based off-odors is still a bit unclear. While basic wine production techniques decrease the risk of this wine flaw, many winemakers experience the incidence of this flaw several times over the course of their career.
Hydrogen sulfide, commonly referred to as H2S, is usually correlated with inadequate nutrient management during primary fermentation. Additional contributors include residual sulfur from pesticide treatments and high soluble solid concentrations during primary fermentation.
Winemakers are encouraged to measure the yeast assimilable nitrogen (YAN) before fermentation to reduce occurrence of hydrogen sulfide development and stuck fermentations. With a starting YAN concentration, winemakers can optimize the concentration of nutrients to add, as well as the timing of addition during primary fermentation. While most yeast hydration nutrients add very little nitrogen to the fermentation, complex nutrients and diammonium phosphate (DAP), added later in fermentation, may have a noticeable impact on fermentation health and quality.
Without knowing the juice/must YAN content, winemakers play a guessing game with nitrogen additions. Here, the risk of adding too little or too much nutrient during primary fermentation is a possibility. Both situations can potentially lead to stuck fermentations or hydrogen sulfide development late in the fermentation process. Additionally, high YAN fermentations can pose additional risks for the wine in later stages of production.
Wine Business Monthly recently reported on a red winemaking study conducted by Opus One Winery (Napa Valley, CA) and UC Davis. In this study, the oxidation reduction (redox) potential was used as an indicator for when to integrate oxygen into the fermentation. In addition to making proper nitrogen addition, inhibiting fermentation "reductive" moments was key to minimizing hydrogen sulfide production.
Without proper YAN or redox potential testing equipment, many wineries rely on making standard "recipe" nutrient additions (i.e., adding the same nutrients at the same concentration to each fermentation). Additionally, routine pump-overs and punch-downs are conducted based on routine, instead of need. As one may guess, without treating fermentations with better acuity, either situation can lead to hydrogen sulfide development by the end of primary fermentation.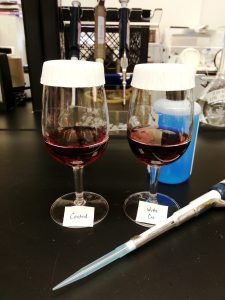 Treating Hydrogen Sulfide and "Reduced" Aromas
It's safe to say that every winemaker will experience hydrogen sulfide or reduced aromas in a wine they make at some point in their winemaking career. In fact, some winemakers opt to avoid measuring YAN because treating hydrogen sulfide is perceived as being quite easy.
With a simple search online, you can quickly find copper sulfate addition remediation strategies.
I encourage winemakers to first conduct a "Copper Screen" with the wine in question. In this bench trial, two wine glasses filled with an equal volume of wine are prepared. One glass receives an overdose of copper sulfate. Both glasses are labeled, capped, and left to sit for about 15 minutes. After 15 minutes has passed, the wine aroma is assessed between the wine without the copper addition and the wine with the copper addition. If the wine containing copper sulfate has improved, then the winemaker can assume a copper sulfate addition will address the reduced aroma problem.
Please note that copper screens are tested using smell only. And, wine samples poured should not be returned to the wine tank of which the samples came from.
Some copper screens will integrate the use of a third glass with a dose of the heavy metal, cadmium. While cadmium is not added to wine, the use of it in this sensory test is to assess if the source of the reduced aroma is by hydrogen sulfide or if it includes additional mercaptans. Cadmium only reacts with hydrogen sulfide (Iland et al. 2012), and so its ability to clear up the aroma of a reduced wine fully indicates that only hydrogen sulfide is present in the wine. As a cadmium addition is not a viable option for winemakers and because disposing of cadmium is challenging, I do not encourage the use of a third glass in the copper screen.
Once a copper screen determines if a copper sulfate addition will help fix a reduced wine, the winemaker can move onto a "Copper Addition Trial." This bench trial identifies the exact concentration of copper sulfate needed to remediate the hydrogen sulfide or reduce aroma. In practice, winemakers will opt for the minimal dosage rate required to treat the reduced aromas.
Copper sulfate additions are regulated by the Alcohol and Tobacco Tax and Trade Bureau (TTB). According to 27 CFR 24, winemakers cannot add more than 6 mg/L of copper to a wine at any time. Furthermore, the level of residual copper in a finished wine cannot exceed 0.5 mg/L in concentration.
The Problem with Copper Sulfate Additions
While copper sulfate additions may appear as a quick and easy fix for reduced aromas, it is not always the case.
First, copper sulfate reacts with hydrogen sulfide and any other thiols or mercaptans in the wine. Therefore, if you are dealing with a wine variety rich in aromatic varietal thiols (e.g., Sauvignon Blanc), the addition of copper sulfate can actually reduce the wine's varietal aroma in addition to treating the reduced aroma.
Second, copper sulfate does not treat all forms of reduction. Disulfides, which are commonly grouped as aromatic compounds contributing to reduced aromas, do no react with copper. Therefore, it's possible to treat a reduced wine with copper sulfate and have the reduced aroma remain. In these instances, the use of ascorbic acid with copper sulfate additions is needed.
This technique does not come without its own potential detrimental side effects to wine quality. The incorrect use of ascorbic acid can quickly cause excessive oxidation in any wine, and winemakers must take necessary precautions to ensure this does not happen during an ascorbic acid addition. Furthermore, the reaction to break the disulfide bonds can be slow, delaying winemakers from progressing the wine through production.
Finally, residual copper in wine is occasionally suggested as being problematic for wine quality as the wine ages. With this in mind, winemakers that make copper sulfate additions are encouraged to measure the residual content. Residual copper levels can be fined from the wine using several different production techniques. After this fining process,re-analyze the wine for residual copper levels to ensure the treatment has been successful.
Additional References
Iland, P., N. Bruer, A. Ewart, A. Markides, and J. Sitters. (2012) Monitoring the winemaking process from grapes to wine: Techniques and concepts, 2nd edition. ISBN: 978-0-9581605-6-8