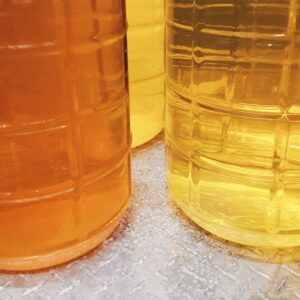 One of the wine faults I've been finding more frequently in commercial wines is the presence of oxidation. Truthfully, I find this most commonly in bottled white wines. However, a few times a year I've been tasked with the challenge to fix oxidized red wines that are still in tank or barrel. Thus, I thought now is a good time to talk about "the most annoying" wine fault winemakers may have to deal with and provide some tips on what you can do to minimize the incidence of oxidation in your wines.
What is wine oxidation?
Let's first, review.
Wine oxidation refers to the integration of chemical oxygen into the wine, often facilitating a series of chemical reactions, acting as support for microbial growth, or both.
Microbial spoilage is often quite noticeable as a film yeast typically developing on the surface of the wine. The presence of the film should be an indicator to the winemaker that something in production is not right. Often, films are associated with:
Poor management of variable capacity tank (VCT) seals. Many winemakers assume VCTs are impermeable to oxygen, but this is not the case.
The proliferation of headspace in tanks or barrels that is not adequately addressed.
The inadequate maintenance of wine temperature control. When wines are stored closer to room temperature (65 – 68°F), the proliferation of spoilage microorganisms is better supported.
Poor sulfur dioxide management, especially with regards to managing the free sulfur dioxide concentration, which has antimicrobial potential.
Additionally, the integration of oxygen dissolved into the wine can lead to chemical reactions within the wine that ultimately lead to the development of acetaldehyde. Acetaldehyde is the primary aromatic compound associated with wine oxidation. At high enough concentrations, it can lead to the Sherry aroma and flavor of wine. However, typically, many still wines suffering from chemical oxidation and acetaldehyde accumulation smell and taste like plastic or nuttiness. This is often coupled with muted fruity and fresh aromas and flavors that are commonly associated with the wine grape variety's varietal aroma.
Why do wineries deal with oxidation issues?
Many winemaking operations I see pick up bad habits that are encouraged by industry members as initial ways to "get by." This is especially true if you are a start-up operation that is learning from other wineries in or around your winemaking region. Bad habits include things like
avoiding a plan for integrating tank temperature control and holding wine at room temperature,
the heavy use of plastic storage vessels in the winery,
the failure to adequately monitor and treat wines with sulfur dioxide, and
the inclusion of unnecessary wine movements.
Often, these habits do not lead to an immediate downfall of wine quality. But as a winery grows, and scales up, the habits can become severely detrimental to wine quality.
For other wineries, it's the integration of weird situations that suddenly become more commonplace. In many of these incidences, there is no set plan for how to deal with the situation at hand.
For example, extreme weather patterns on a more annual basis seem to be messing up wine volumes for a fair amount of winery operations. Because of this, many tanks that were once full on a regular basis have become half empty. Even if a tank has the capabilities for temperature control, if it is not adequately filled with enough volume, the temperature control system will not be able to work effectively. Plus, the extreme amount of headspace in a larger tank leads to a higher risk of oxygen-management issues such as film growth.
While it may seem obvious to "just put the wine in smaller vessels," the rising costs of nearly everything over the last three years has been inhibitory for many winery operations.
Fixing oxidized wines
Oxidized wines are a really big challenge to remediate because the fault usually consists of several issues:
high microbial presence,
acetaldehyde accumulation, and
a brown off-color.
The fact that so many issues are involved with wine oxidation means that the winemaker must create a several-pronged approach to remediating the wine. Furthermore, the winemaker must complete each remediation step immediately following the previous. Allowing the wine to sit in between each remediation step only allows the possibility of the wine becoming more oxidized or spoiling further.
Removing microbial films from wine
Skimming the film: Many winemakers opt to skim the film off of the surface of the wine, believing that this removes all of the microorganisms. Removing the visual component does not mean the wine is clear of microorganisms. Skimming actually pushes more microorganisms below the surface of the wine, which can utilize more of the wine more thoroughly. Furthermore, the item that is used to skim could be a contamination source of additional spoilage microorganisms if the item is not repeatedly cleaned and sanitized in between each time it encounters the wine's surface.
Antimicrobial agents: While many suppliers offer antimicrobial agents that can reduce microbial numbers, without effectively removing the film, the wine runs the risk of re-establishing another film within a few weeks. Many antimicrobial agents offer one-to-two logs reduction in population numbers. This means that if a high population exists in the wine, the microorganism will not be effectively removed. While these agents can be powerful tools, they must be used wisely with an understanding of how they work.
Filtration: For actual removal of microorganisms, filtration is often the best bet. However, filtration is an expensive process and adds dissolved oxygen into the wine. The dissolved oxygen generated from pumping and filtration can become a substrate for future wine spoilage. Or, dissolved oxygen can contribute to future free sulfur dioxide depletion.
Managing secondary issues associated with wine oxidation
In contrast to the film, the presence of acetaldehyde, specifically, is challenging. Acetaldehyde has a high affinity for sulfur dioxide meaning it readily binds to sulfur dioxide. The binding of free sulfur dioxide depletes the free sulfur dioxide concentration while increasing the bound sulfur dioxide concentration. Bound forms of sulfur dioxide are inactive in terms of antimicrobial protection.
Due to this high affinity, it's very common for oxidized wines to get a sulfur dioxide addition without seeing any contribution to increasing the free portion. Instead, only bound and total sulfur dioxide will rise. This fact can quickly increase the total sulfur dioxide concentration beyond allowable limits for U.S. wines.
It's also challenging to reduce acetaldehyde concentrations. If the acetaldehyde concentration can be reduced, then sulfur dioxide additions are more effective. This would allow the winemaker to more easily stabilize the wine with sulfur dioxide.
Due to differences in wine chemistry, the winemaker will have to set up a series of bench trials using various fining agents that are recommended for oxidation issues: discoloration or browning and acetaldehyde accumulation. Remember to prepare fining agents according to the supplier's recommendations. Some fining agents may have longer contact times compared to others. In this case, the winemaker should "rack off" of the fining agent at the appropriate time, fill an alternative sample bottle, seal, and place in the refrigerator until all bench trial samples have completed their designated contact time.
Once all of the samples are prepared, smell and taste each sample individually. Look for changes compared to a "control" sample, which is the wine without any fining agent added to it. Winemakers should look for an improvement in color as well as an improvement in aromatics. It's possible that the entire oxidation problem will not be "erased," but minimized.
After treatments are determined, I like to dose those samples with a high concentration of sulfur dioxide. After 24-hours, I recommend measuring the free and total sulfur dioxide concentration for that wine sample. This helps assess how effective the treatment was in terms of binding up acetaldehyde and other byproducts that would otherwise bind to sulfur dioxide.
Once the fining agent or combination of fining agents is determined, double check with the supplier(s) to ensure those fining agents can get used consecutively. It's usually a good idea to talk it through with a technical representative, or your winemaking consultant, to ensure you are not creating any unnecessary processing steps. Extra steps are not the winemaker's friend when dealing with oxidized wine.
The final method for treatment involves dosing the wine with an adequate amount of sulfur dioxide. After the sulfur dioxide addition is made, check the free and total sulfur dioxide concentration to ensure the addition was effective.
Final thoughts on wine oxidation
Treating wines with notable oxidation is a time consuming and expensive process. Typically, most oxidized wines are treated for a noticeable improvement, but they may not be of high enough quality to sell without blending with other wine(s).
Furthermore, treating oxidized wines requires discipline. When it comes to remediating an oxidized wine, the winemaker cannot go through one remediation step and then wait a few weeks before tackling the next step. Instead, the winemaker needs discipline to complete each step consecutively and as quickly as possible. This helps to ensure that the wine will not continue to progress in oxidative spoilage, which makes it more and more challenging to actually fix the wine.
If you are struggling with wine oxidation or need help to remediate problem wines, consider joining our DG Elite Membership. The Elite Membership is a reasonably priced consulting option, which gives you the ability to meet with Denise in a virtual group Q&A session twice a month and get your winemaking questions answered. You can find out more about this service and other DGW consulting services, here.
The views and opinions expressed through dgwinemaking.com are intended for general informational purposes only. Denise Gardner Winemaking does not assume any responsibility or liability for those winery, cidery, or alcohol-producing operations that choose to use any of the information seen here or within dgwinemaking.com.