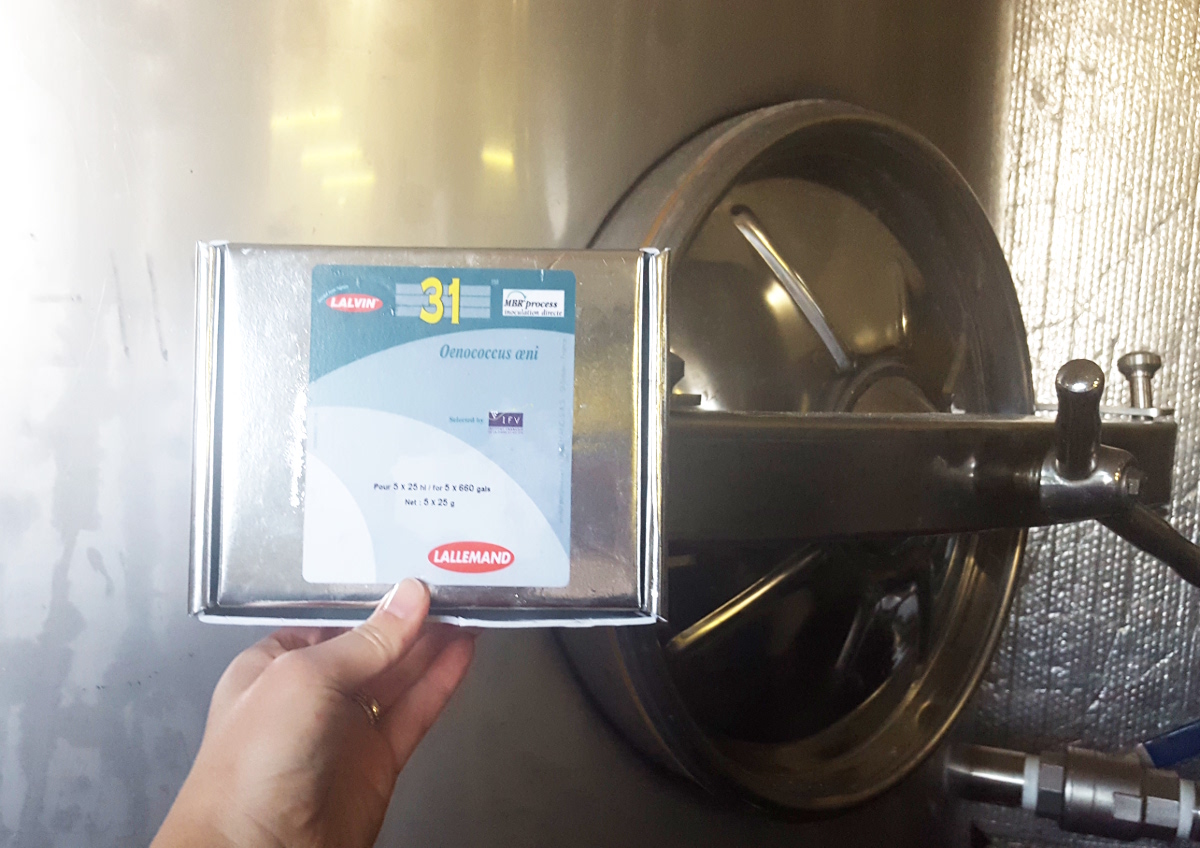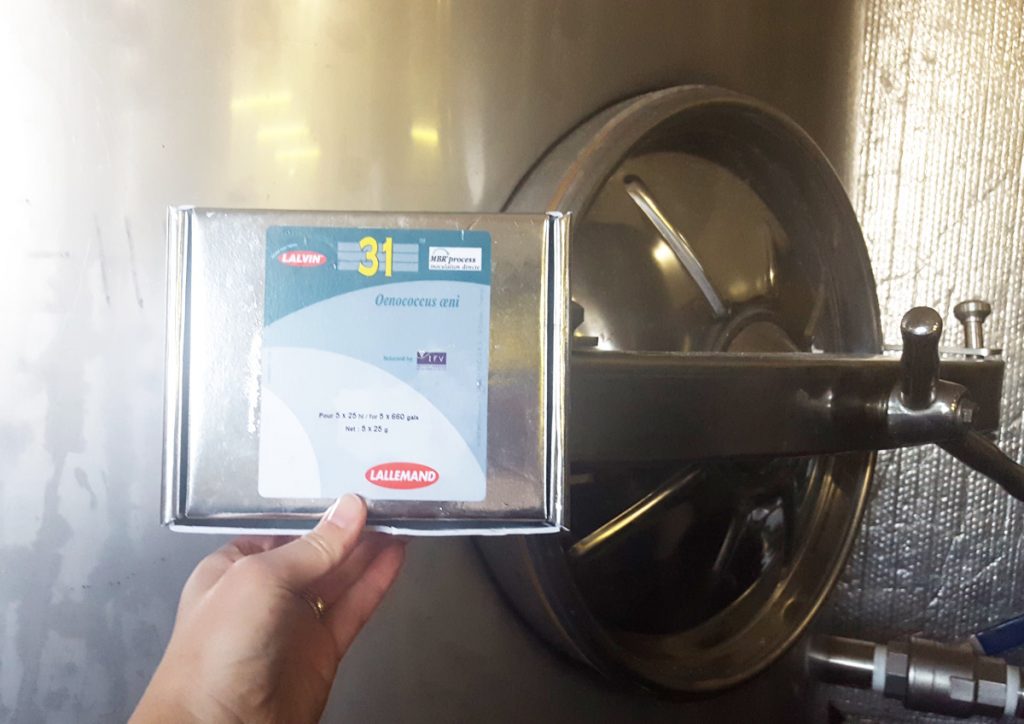 Many winemakers take the malolactic fermentation (MLF) for granted, assuming it has a success rate similar to that of yeast fermentation. However, MLF is tricky! 
Like primary fermentation, MLF is a fermentation that is carried out by living lactic acid bacteria (LAB): Lactobacillus, Oenococcus, and Pediococcus (Krieger 2005, Iland et al. 2007). All of these species are native to the grapes, but it is most common to inoculate for MLF using a commercial Oenococcus oeni strain. Selecting the right O. oeni strain is actually pretty important, and can make the difference between MLF completion or failure.
Select the Right Malolactic Bacteria (MLB) Strain
LAB have ideal temperature ranges and growing conditions for growth and metabolism, including the O. oeni strains commercially available for MLF inoculation. Winemakers should make sure that they can maintain the appropriate growth temperature for whichever MLB they select. See more about this in the note, below.
Furthermore, the LAB strain and MLF process can contribute significantly to the wine's style. Most suppliers, today, highlight the degree of "buttery" flavor that is contributed by the MLB. For white wine styles like oaky Chardonnays, selecting a strain that provides adequate "buttery" flavor is usually desired. However, for other white wine styles and for most red wine styles, this flavor contribution is not desirable. Therefore, winemakers should take the time to ensure the flavor profile produced by their select strain matches the wine color and style they are targeting.
Finally, if co-inoculating (or co-fermenting) with primary fermentation yeast, winemakers must make sure the yeast strain and MLB strain are compatible. All suppliers offer this information for co-inoculation techniques in their technical material. Winemakers should also feel comfortable contacting technical sales to double check these details if needed. (Trust me, avoiding a phone call is not worth a stuck MLF.)
Monitor Wine Temperature during MLF
Many LAB strains require a temperature at or above 58°F in order to successfully grow and complete MLF. Of course, winemakers are encouraged to rely on supplier recommendations for the ideal growth parameters for their select strains. However, unlike wine yeast, LAB are more prone to stress with temperature variations. Such stress can lead to sluggish or stuck MLF.
This is also true with co-inoculation techniques in which the wine fermentation temperature (the temperature of the wine) has to remain conducive for MLB growth.
If the wine temperature goes lower or higher than the ideal MLB temperature, this can cause significant hinderance to MLF progression. Therefore, it's important for the winemaker to ensure a steady environmental and wine temperature during the MLF. And, of course, adequately monitor wine temperature using stainless steel temperature probes.
Reduce Oxygen for MLF Success
Minimizing oxygen is key to a successful MLF because O. oeni are facultative anaerobes. This means that they require little-to-no oxygen for growth. Comparatively, acetic acid bacteria require oxygen for their growth and reproduction. Thus, winemakers that are able to minimize oxygen during the MLF process can typically ensure the MLF bacteria will dominate the wine's microflora during this time. This is because very few other microorganisms in wine can survive and thrive under such low oxygen conditions.
What does this mean for processing operations?
Make sure barrels are topped up during MLF and stored in appropriate conditions for MLF and barrel hardiness.
Wine tanks that contain wine undergoing MLF should be topped or blanketed effectively to minimize oxygen.
Also, avoid the use of plastic tanks during the MLF process. Plastic allows for oxygen transfer, and even if that transfer is slow, it can be detrimental to the MLF.
Monitor the Wine for Large VA Increases
While I understand many wineries like to avoid measuring VA as much as possible, the MLF is where monitoring VA can become handy.
It's normal to see some small (up to 0.2 g/L acetic acid) increases in VA during MLF. However, VAs that accumulate by 0.5 g/L or more during this time are an indication of spoilage. Specifically, this indicates that acetic acid bacteria may be dominating the wine's microflora. Typically, this significant increase in VA indicates that the winemaker should take action and avoid "waiting out" the process to see what happens. Instead, the winemaker usually needs to be proactive and get the MLF thriving again.
Confirming MLF Completion Is Key
While paper chromatography is a good MLF monitoring tool, it is not the greatest assessment for completion of MLF. Instead, winemakers should plan on having residual malic acid tested to ensure the concentration is <0.3 g/L (industry standard) or <0.1 g/L (technical dryness). Many wineries will have to send a wine sample out to a lab to get a malic acid concentration reading. Getting to these dry levels ensures the wine is less at risk for post-bottling refermentations.
If you follow the Juice and Wine Analysis Recommendations, then you know having a malic acid concentration at the end of primary fermentation acts as a starting point to monitor as MLF progresses. If, at any time, the MLF seems sluggish or stuck, analyzing the current malic acid concentration, and then comparing it to the post-primary concentration is an indicator on MLF's progression. Additionally, if the MLF continues to act sluggish, there are always malic acid concentrations to compare and evaluate the situation. This tends to be much more useful than monitoring through paper chromatography when an MLF appears sluggish or stuck. Plus, with the wider availability of the Sentia tool, this application is more feasible for many winemaking operations.
Why is MLF completion so essential? Without adequate analysis (i.e., malic acid concentration), the winemaker has no way of knowing if the MLF is dry. Dryness matters because:
Many post-bottling fermentations are actually MLF's.
Many bottled wines lack adequate free SO2 concentrations to ensure a spontaneous MLF does not take off in the bottle.
Many wineries (or mobile bottlers) lack adequate current Good Manufacturing Practices (cGMP) procedures to ensure and validate bottling sanitation, and thus, avoid bottle contamination of MLB.
The bottom line is this: when it comes to MLF, it pays to be thorough.
The views and opinions expressed through dgwinemaking.com are intended for general informational purposes only. Denise Gardner Winemaking does not assume any responsibility or liability for those winery, cidery, or alcohol-producing operations that choose to use any of the information seen here or within dgwinemaking.com.