Last month, I had the pleasure of visiting with members of the Nebraska wine industry. Their 2018 Vindemia Nebraska conference met at the beautiful Lied Lodge on the historical Arbor Day Farm property in Nebraska City. While our surroundings were supplemented with lovely fall foliage, history, and a warming, monumental fire place, the focus of this conference was apparent: produce quality wine.
One of the things I've noticed this past year, from a somewhat "outside" perspective, is how much wine regions throughout the U.S. share in common. For example, winemakers in Colorado often echo challenges from winemakers in Texas. The Mid-Atlantic winemakers are accustomed to the shared rainy harvest experiences and have built industries learning from one another. I also see this with Nebraska's industry, joining together with industries in Minnesota, Michigan, Missouri, Kansas, and Iowa to share experiences and lessons learned.
While these similarities are often discussed viticulturally, it is amazing to me how little enologists and winemakers communicate across various regions. As similar challenges exist, I often see opportunities where we could learn and grow from one another.
With this in mind, here are a few interesting things I found from the 2018 Vindemia Nebraska Conference pertaining to enology and wine marketing.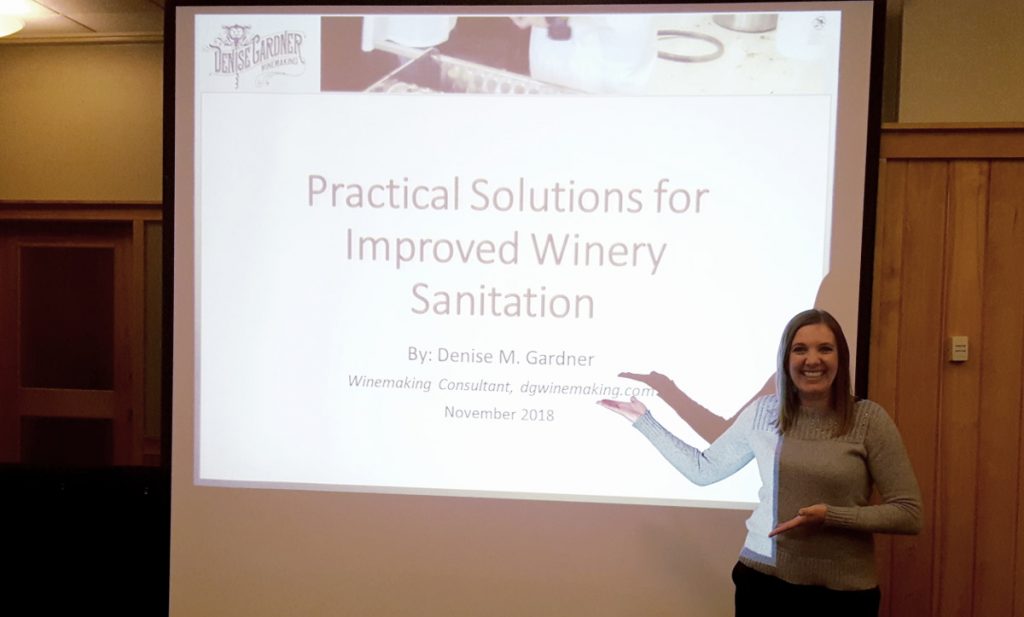 Hybrid Grape Varieties Excel with Winemaking Creativity
Too often winemakers get in a routine of making varietal labeled wine with little thought towards other uses for that variety. As we know, many grape varieties, Vitis vinifera or hybrid, often lack characteristics that make them sensorially whole. Lost mid-palates, short finishes, minimal fruity flavor, or astringent tannins are just a few of examples of sensory holes. This is where blending can be a beneficial tool for winemakers.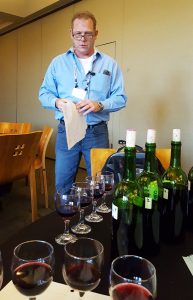 Todd Steiner, Outreach Program Manager at Ohio State University, led an exceptional wine tasting illustrating the advantage of blending wines. Together, vintage Cabernet Franc, Noiret, and Regent created a dry red wine that was greater than any of the three varietals alone.
Without any aging, Noiret provided a black pepper flavor that immediately made many attendees feel like the wine had been oak aged, while Cabernet Franc provided more tannin (astringency) to the finish. As with many hybrids, Noiret and Regent lacked astringency and were very soft and juicy with notable acidity (sourness). Furthermore, Regent provided some nice red fruit to the blend. Both Noiret and Regent provided the deep red color that the vintage Cabernet Franc was missing.
With potential acid tweaking and oak aging, I could envision this blend as a high quality dry, red wine that likely outcompetes the quality of many 100% varietal wines I routinely taste.
It's a good reminder to winemakers to evaluate the sensorial strengths and weaknesses of each wine you have.
Blending is truly the artistic part of winemaking, and while it is easy to continue producing wines "as usual," often the only winemaking trick we need is to re-evaluate our wines with open eyes. If you struggle with this, consider contacting your local winemaking consultant! I am here to help you accomplish these tasks.
Furthermore, Todd provided a tasting of three cryo-extracted wines from LeCrescent, Frontenac Gris, and Frontenac varieties. Nebraska lacks the environmental conditions to make ice wine. However, anyone can make cryo-extracted wines with the right production equipment and wine processing techniques. This style of wine mirrors ice wine while providing labeling freedom. By changing some things in production, I saw many winemakers in the room get excited over a new possibility for LeCrescent and Frontenac Gris. I'd have to agree with them; they were stunning wines produced by OSU.
Know Your Winemaking and Wine Marketing Direction
The Nebraska industry was fortunate to have wine industry consultant and MW, Tim Hanni, present several topics of discussion. I always enjoy hearing Tim's presentations as his enthusiasm for wine enjoyment is truly engaging. If you haven't heard Tim speak previously, I highly encourage it. You can also learn more about wine preferences through his book Why You Like the Wines You Like or about sweet wines in The Sweet Wine Lovers' Manifesto.
Tim's keynote address focused on how the world doesn't need another Cabernet, highlighting several historical wine styles that have been "forced" out of everyday consumption due to prestige and industry snobbery.
We've all been there. We've all had our moments when we wanted the Concord, Sangria, White Zinfandel – whatever, and felt self-conscious about purchasing it in front of others due to judgment.
Tim asked the audience: What does making consumers feel bad about their wine choices do for the wine industry? Or for wine sales? [While rhetorical, he provided us with an obvious answer: sends them away from purchasing wine.]
I would argue he has a good point.
For those that follow me on Instagram, you'll note I try to review wines in every price range from any region. Why? Because, why not? We cannot, myself included, all afford endless bottles of hundred- or thousand-dollar bottles. I cannot spend $30 on every bottle of wine I consume.
Furthermore, there is scientific evidence to show how each and every one of us has varying sensory perceptions. I'd be a professional fool to believe every wine I recommend is enjoyed by every one of you and vice versa.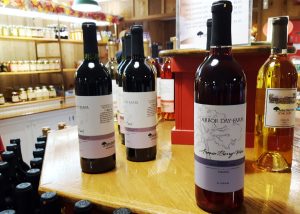 Over my years of enjoying and learning about wine, I eventually came to a conclusion that for those of us that do consume wine regularly or taste a lot of wine professionally, I think our preferences become skewed. We search for wines that are unique to shock our taste buds into a new dimension we haven't previously reached with a wine before.
For those of you only enjoying a nice glass of wine once a week or once a month, I feel as if you simply desire something you enjoy. Why waste your wine moment on a glass of something you don't even know if you'll like? I totally get that!
From an industry perspective, I found this concept fascinating. I grew up in Pennsylvania: a wine industry fueled on Concord, Niagara, and Catawba trying desperately, but steadily to make an influence on wine enthusiasts and professionals for their more "serious" Vitis vinifera and hybrid wines. I'm sure this story resonates with states like New York, New Jersey, Maryland, Virginia, Ohio, Michigan, and so forth. I always hear desires to be more revered, grown and consumed like Napa wines, and appreciated just for existing like our west coast counterparts.
However, Tim brought up an interesting argument. Why don't these industries simply embrace more of what consumers want to drink? If consumer recognition increases, eventually the wine professionals, enthusiasts, and sommeliers will eventually catch up. To be fair, I think we could argue that is somewhat happening: there is more pressure on bloggers, writers, and magazines to review wines outside of California, Oregon, and Washington. The pressure, likely, has to come from some sort of consumer-based following.
One of the key advantages many of these wine regions have is their ability to excel in hospitality. In other words: you have power in empowering your consumers. Make them feel good for their wine selections. Provide them with enjoyable experiences when they visit your tasting room. Find ways to show your consumers they are appreciated.
When I think about it, hospitality and customer service has always been a determining factor if I purchase wines. Even if I like a wine, I would be hard pressed to continue buying that brand if I was treated poorly in the tasting room or I had a bad experience in some way with that brand. To emphasize this point further, the one tasting room I took everyone to when I lived in Napa Valley was – get ready for it – Sutter Home.
That's right. Sutter Home Winery. You don't even have to travel to Napa Valley to buy Sutter Home wines. But if you walked into Sutter Home's tasting room, you instantly feel like part of the Sutter Home family. Most of the other tasting rooms in Napa, known for their prestige and high end Cabernets, didn't come anywhere close to the friendliness and hospitality grasped by Sutter Home Winery. Just ask my parents!
You know what?
Good for Sutter Home.
For those individuals looking for wines a step above (maybe less sweet) Sutter Home, my second go-to winery was Frog's Leap Winery. I always had a warm, fuzzy feeling going there and appreciated the attention we received when spending time in their tasting room or on the farm.
The point is: hospitality goes a long way. You can use it to your advantage.
When in Doubt, Return to Back to Basics
I presented two sessions broadly focused on hard cider production and winery sanitation.
The Nebraska hard ciders we tasted were far superior to the market standard from Angry Orchard. We tasted ciders from James Arthur Vineyards, Mac's Creek Vineyard and Winery, and Glacial Till Vineyard. They all had a lovely, crisp, and refreshing acidity. They ranged in sweetness from slightly to fairly sweet. Each was unique, but very enjoyable!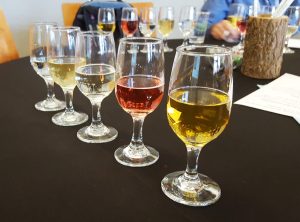 They all had one thing in common: they were clean, well-made hard ciders regardless of style or apple varieties used in the blend.
In my sanitation presentation, I emphasized the importance of baseline consistency for wineries. Usually, this means producing clean wines [and hard ciders] across the entire portfolio.
One of the more routine critiques I hear from wine critics is the lack of consistency among wines sold at a given winery. While I think some of this is a biased opinion (because all wineries create wines they aren't so proud of), I do also see the importance of quality consistency. If a winery is producing 50% high quality, clean wines and another 50% that are questionable or below a quality average, it can be challenging for professionals to recommend that brand to others.
Having good cleaning and sanitation practices helps improve product quality for wineries. While not the sexiest of topics, getting the basics correct can help wineries improve their wine quality beyond their expectations. Too often I hear winemakers tell me good sanitation takes too much time, too much money, or is unimportant because wine is an alcoholic beverage. Instead, many place focus on sterile filtration and the use of potassium sorbate. Yes, both are important tools. However, by returning back to a basic understanding of cleaning, sanitation, oxygen management, and sulfur dioxide use, the proof is usually in the pudding.
Sanitation practices do not have to be expensive or overly time consuming. They don't even have to be very fancy. With simple cleaning and sanitation protocols, wineries can overcome a lot of microbiological problems. It's something anyone can implement immediately and see quick results from their efforts. It is just a matter of putting your mind to it, and sticking to proper techniques.
If you need some of these quick reminders on how to easily implement sanitation strategies in your cellar, consider joining the Darn Good Winemakers as our December 19th webinar focuses on sanitation steps that actually work (regardless of winery size)!
An Overall Thought about Visiting Nebraska
The Vindemia Nebraska conference was probably one of my favorite wine conferences to date. The conference center was so welcoming and cozy. Everyone left well fed and we had a nice sampling of many Nebraska wines. I even had the opportunity to learn about the Arbor Day Foundation, the Morton family estate, and how Nebraska City is home to the first Arbor Day. We even saw preparation for an upcoming tree shipment during our cider press tour!
But the most memorable characteristic of this meeting was how kind everyone was to me and all of the speakers. We had friendly, constructive tastings. I felt welcomed into the industry like I was a family member traveling in to visit with everyone. The industry members were engaged and excited to grow.
It reminds me of why I left Napa Valley many years ago, ultimately ending up back in Pennsylvania. The Pennsylvania industry members had felt like a second family to me while I grew into my wine career path. Over time, that family has grown to include individuals from many states and wine regions. I am grateful for the care, hospitality, and friendliness of industry members.
After years of sensory training and professionally tasting wine, the rarity or worth of a wine may be intriguing. But, it's the care from owners and winemakers as individuals that captures the heart. It makes me think Tim is right: hospitality is an effective draw.
Thank you to the Nebraska wine industry for sharing wine and food with me. I'm truly honored to have been a part of your 2018 conference. Cheers!