DGW Wine and Food Pairing Guide Released!

Why did Denise make a wine purchasing guide?
Several years ago, I was interviewed by a journalist that asked me how I managed to have wine with dinner almost every night.
This was such an odd question for me.
As I plan out dinners for the week, I also consider what wines I'll likely pair with those meals. From there, I select a wine out of my "cellar" to complement the meal, or if I have to, I buy more wine!
Nonetheless, this question has stayed with me over quite some time.
My career has been focused on wine production since I was a teenager. I grew up understanding that to make good wine, one had to understand what wine tasted like from all around the world, and, so, I was never afraid to try wines.
In graduate school, many of us took some time to taste five or six new wines that were featured in our local wine store, even if they were obscure selections. Having started my career in the Eastern U.S., I also tried local wines with gusto. Once I started learning sensory descriptors, commonalities among wine, and relating production practices to wine tastes, I turned to journaling my wines. All of these actions have helped me develop a wine memory bank and continue to approach new wines with enthusiasm. My business focuses on wineries "east of the Rocky Mountains," so I enjoy tasting wines throughout the entire country even if other wine experts will not. I think they are missing out on hidden gems and exciting stories tasted in the glass.

Nonetheless, I recently got to work trying to figure out how to make wine more approachable. And, voila! Hence was born a guide on bringing wine to your dinner table. (Here's the link!)
I've definitely been guilty of creating fluffy descriptions of many wines I've tasted (people's exhibit A can be found quite easily on Instagram). If I look at these descriptions as a wine consumer, as someone without decades of wine sensory experiences and education, I'm sure these paragraphs of words leave him or her wondering: what does this wine actually taste like?
So, since it's so difficult to describe wine, I figured I'd make the selection process easier for the end consumer – YOU! After gathering the hundreds of PA wines I've tasted over the last seven years, this guide provides you with the ones I go-to the most.
What is it?
The "Bring Wine to Your Table" booklet is a free, printable, wine purchasing guide that you can access at any time exclusively on the DGW website.
In this "Pennsylvania Wines" edition, you'll find some of my favorite Pennsylvania-produced wines paired with nine meals anyone could put together using their own home recipes:
Brunch
Salad
Grilled Hamburgers and Hot Dogs
Pizza or Red-Sauce Pasta Dishes (like Lasagna)
Mac N' Cheese
Tacos
Sandwiches
Crispy or Fried Chicken
Stir Fry
Find the meal, or similar meal, you may be having for dinner, and select one of my wine suggestions to purchase for that meal. The list of wines provided should raise your confidence in not only trying something new if you haven't tried it before, but complement your dining experience wonderfully.
Buyer be warned, however; it may take a bit of planning to ensure you get the wine you would like to purchase due to limited distribution selections. It may take a small amount of work to purchase the wine direct from the winery (but honestly, this is how I usually do it).
The end result is worth it. Having wine at your dinner table definitely adds some extra pizzazz to the end of a long day.
How do I know which wine to pick?
I've simplified each wine by giving you the:
Price point
Producer (Winery)
Grape Variety or Name of Wine
Whether the wine is Dry, Semi-Sweet/Off-Dry, or Sweet
There's nothing in there about flavor, but part of the fun is discovering new wines that you may not have previously tried.
This first edition focuses on Pennsylvania wines. Each page features four Pennsylvania wines that can be purchased from the winery. A few may be found in grocery stores across the state. I've also included two nationally-distributed wines that are not produced in Pennsylvania, but can be found at almost any Fine Wine and Spirits store that is close to a Pennsylvania resident.
Doesn't this break wine-and-food pairing rules?
Yes and no.
Let me be the one that breaks the rules for you so that you can enjoy a nice glass of wine with dinner.
But what if I don't like the wine?
It is perfectly acceptable to assume our taste preferences differ.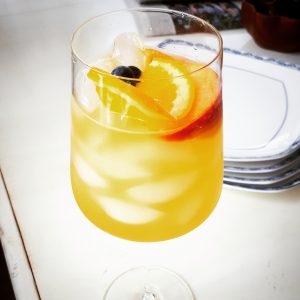 Pennsylvania wines are going to taste differently than wines produced in California that use the same grape varieties (check out #3 under the last question, below).
With this in mind, I gave you two go-to Sangria recipes that you can always use the wine for instead of throwing it away. With the added ingredients, the entire beverage will become transformed.
Luckily, you ca also find additional ideas for wine-based cocktails online, like in this article from Spruce Eats. Or, if you're stuck, send me a message on social media (Facebook, Instagram) and I'll siphon through a long list of sauce and cocktail recipes I keep on reserve in these "just in case" moments.
Don't worry – I won't take offense. It's more important to me that you try something new and figure out what you like.
What wineries are featured in the "Pennsylvania Wine" edition?
How can wineries use the "Bring Wine to Your Table" wine purchasing guide?
Featured wineries are welcome to share the guide with their customers. Email Denise for a copy of the landing page.
Are there any other wineries you would have liked to have featured, but didn't?
Yes!
Most of what I've featured is based on wines I've tasted recently or have had with consistently good experiences.
However, there are a number of wineries that also produce really nice wines that I wasn't able to include in this edition. There are a few reasons this may have occurred:
I tried to find a low, medium, and premium-priced wine for each meal.
Space in the guide was limited.
It may have been awhile since I last tasted the recommended wine.
Is there anything we should know about purchasing Pennsylvania wines?
Finding a PA wine. Most wineries in Pennsylvania fall under or at the "boutique" size, defined at 10,000 – 30,000 cases per year. Since these wineries are on the smaller side, you may not find their best wines in all retail locations. Many are not widely available in the state-owned Fine Wine and Spirits stores throughout Pennsylvania. If you're interested in a wine in this guide, and cannot find it at your local grocery store, I recommend contacting the winery's tasting room (they can help you!) or checking to see if they have an online store available. You may get these wines shipped right to your front door.
Wine price. Because many wineries in the state are on the smaller side, it usually costs more to produce one bottle of wine compared to the cost of one bottle of wine made by larger establishments. The same concept often applies to local produce and goods. If you've read This is Where You Belong by Melody Warnick, you'll recall that purchasing from local businesses is really good for the local economy. Your purchases are valuable and mean a lot to the local wine producers. Plus, with your financial support, Pennsylvania wineries can do great things like invest in sustainable environmental practices (Winter 14 Publication, starting on pg. 10 – 11) and provide employment for local residents. Many of them also contribute to community events that may be near and dear to your heart.
Beyond native grape varieties. Many consumers are familiar with Pennsylvania's Concord, Niagara, and Catawba wines (which all have a strong grape flavor). Therefore, I haven't included these wine varieties in this guide, as you can find them at almost every PA winery. Every wine in this guide will introduce you to something new, including many hybrid and European grape varieties. You can find out why some flavors may differ from the same grape variety produced in California by reading a previous article I wrote here.
Wine snobbiness. At one point in my career, I brought a premium ($$$) Pennsylvania red wine to a fancy dinner filled with professionals on the distribution/retail side of the wine business. Many of them were working for premier restaurants or regional distributors, and we were getting ready to have a five or six course meal. When I plopped my wine on the table, I got laughed at for bringing a Pennsylvania wine. One person sitting next to me told me they knew which wine they would pass on that evening. To be honest, this attitude doesn't bother me; their loss is my gain and I feel confident in my tasting skills to know that A) everyone has different preferences and B) the wine world is filled with wine snobs that let their biases get the best of them. Luckily, someone else at the dinner table recognized the wine I brought and showed enthusiasm for how good the wine would be. Funny enough, once someone with recognized prestige indicated acceptance of the wine, the whole table quickly wanted to try it. Here's my point: be confident in your wine selections. Don't let some wine snob choose the wines you share.