DG Winemaking is co-hosting a free webinar on Thursday, May 14th at 11:00 AM – Noon titled, The MLF Tool Box and the Magic Number.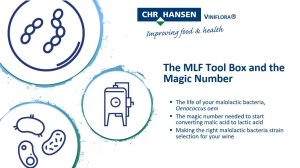 This 30-minute webinar on malolactic fermentation (MLF) with Q&A at the end will be taught by two Chr. Hansen employees: David Spector (Technical Account Manager for Wine & Fermented Beverages – North America) and Nathalia Edwards (Senior Application Manager for Wine – Global).
David and Nathalia will cover:
The life of your malolactic bacteria (MLB), Oenococcus oeni.
The magic number needed to start converting malic acid to lactic acid.
Making the right malolactic bacteria strain selection for your wine.
If you're looking for more ways to improve MLF in your winery, then now is the time to join us and discuss MLB!
This webinar is FREE to join, but registration is required to reserve space in our webinar room. Anyone is welcome to join us. You can register at the link provided in the button below!