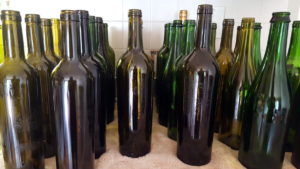 Don't worry!
You can now access the "Everything You Wanted to Know About Wine Bottling" recorded webinars and watch in your own time from anywhere.
This recorded webinar series can be purchased, here. Or, you can go to the 'Webinars' drop down menu from the home screen.
With so much that can go wrong during the bottling process, this three-part series addresses all of your wine bottling fears and reviews practical tips in maintaining good quality control (QC) practices for wine bottling (and packaging, in general). Your purchase provides three one-hour videos, which cover:
Bottling Preparation
Record Keeping and Compliance
Bottling Sanitation Practices
Working With Mobile Bottling Lines
Sources of Oxygen in the Bottle
Managing Oxygen Pick Up
Areas of Concern for Microbial Contamination
General Wine Bottling Quality Control (QC)
The Wine Bottling Series
Part 1 emphasizes QC analysis prior to bottling and working with a mobile bottling company and system. This includes reviewing standards and expectations with a mobile bottler, monitoring QC during a bottling run with a mobile bottler, and some advantages to working with a mobile bottler. QC specs can be applied to any wine bottling/packaging system whether using a mobile bottler or in-house bottling unit.
Part 2 focuses on how to avoid ruining months/years of producing quality wine. Here, you'll review optimal bottling records, wine specifications, bill of materials, and bottling sanitation. Coupled with photos that illustrate ideal or problem bottling conditions, you'll receive tips on how to ideally manage a wine bottling line.
Part 3 tackles bottling contamination: how it can occur, where it tends to occur, and how to avoid it. This video also reviews the difficult topic of oxygen integration during bottling operations and why this is an important QC parameter for wineries to monitor.