Over the years, I've noticed that it's easy for wineries to fall subject to – what I like to call – the "ice cream syndrome." In this case, one varietal wine is made for each wine grape variety brought into the cellar. Soon, a wine list in a tasting room can feel a bit like a list of ice cream flavors on an ice cream shop menu:
Chardonnay
Grüner Veltliner
La Crescent
Cayuga
Cayuga Reserve
Moscato
Pinot Noir
Cabernet Sauvignon
Cabernet Franc
Cabernet Franc Reserve
Chambourcin
Noiret
Chancellor
Concord
The list can go on and on.
Listing the variety name on a wine label has its benefits. Many fruit wines, obviously, would benefit from a name that reflects the fruit the wine is made from. Additionally, American consumers tend to identify with many wine grape variety names on a wine bottle. This is especially true when names are well-known like Chardonnay, Cabernet Sauvignon, Moscato, etc.
However, what about French American Hybrid wine grape varieties? In some of my previous travels, I heard local grape growers and winery owners reject the integration of more hybrid wine grapes because they found them difficult to sell to consumers. There is lots of reasons that may contribute to this including
Unfamiliarity with the name of the variety grape/varietal wine,
Prestige leading to other wine selections,
Worry to try new things,
Dislike for another winery's wine with the same varietal wine, or
Poor wine production for that wine grape
Nonetheless, hybrid wine grape varieties are often needed in wine regions outside of the primary western wine-producing regions in the U.S. Through my travels, I've found consumer acceptance of these varieties varies from state-to-state and region-to-region.
What is Wine Style?
From a wine sensory perception, many hybrid grape varieties produce wines of similar style when they are produced with routine processing techniques. A wine style often describes the wine's color, mouthfeel and aromatic composition. Most wines can be grouped into a few select wine styles regardless of where the wine is produced. Looking at wine style pulls away from classifications that focus on wine grape variety and provides a broader perspective in looking at your wine portfolio.
For example, in the list above, when grouped by varietal name, there are 14 different wines. When grouped by color, however, there are two groups (the first six are "white" wines and the remaining eight are "red" wines). When we start to look at a wine portfolio, or tasting list, by groupings or classifications, we can better identify where there are redundancies in production. This practice can help improve wine production efficiency, allocate gaps in the portfolio, and contribute to winery branding techniques.
Focusing on hybrid grape varieties, many retain their acidity through processing and are deficient in a tannic mouthfeel compared to their Vitis vinifera (e.g., Chardonnay, Cabernet Franc) cousins. The reds often exude a bright red, sometimes purple hue. Many of the whites often have somewhat neutral aromatics, bursting of lots of fresh citrus flavors. While there are always exceptions, the similarities among the varieties, compounded with unique wine names that are not common among the wine market, can often lead to consumer confusion.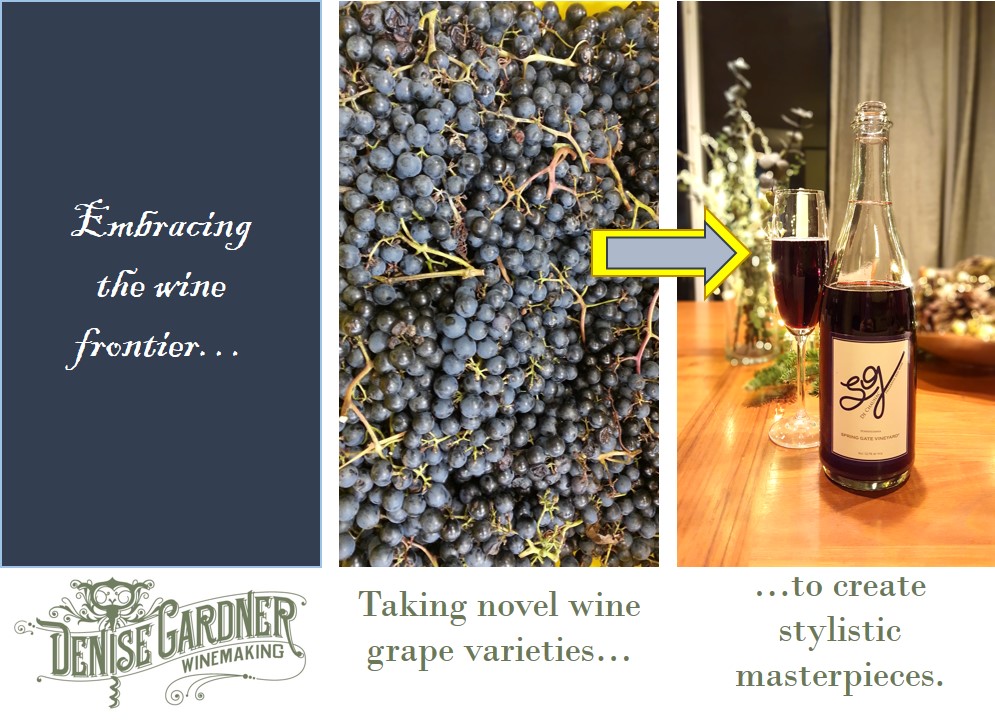 Improving Hybrid Grape Variety Winemaking
Therefore, I've been working with a few of my clients in reviewing their hybrid wine programs by tasting through the finished-wine portfolio. The certifications I've received in wine education and tasting exercises that many sommeliers use allow me to identify wines that taste similar in texture and aromatics, or a combination of both. Additionally, in working with the winemaking team, I find we can often group three or more wines into the same style.
This practice allows us to isolate where there may be stylistic gaps and re-evaluate the production focus for a given grape variety or group of varieties.
The same is also true if a "new" wine grape variety falls into the winery's lap. What can you make of that variety (other than the same-old processing techniques and putting a varietal name on it)? I can provide insight on different wine styles appropriate for the variety, or recommend blending options before grapes are made into wine. This can provide insight and direction for processing, which can ultimately improve cellar efficiency and fill in tasting menu gaps.
The benefit of this practice also allows me to work with clients and introduce them to new wine styles for a given wine variety. This is a very useful practice in getting away from varietal names and creating wines with unique labels that may have beneficial marketing advantages.
Truthfully, we can do this with V. vinifera grape varieties, too!
Want More Information?
I'm starting to post many of my projects, tips, and wine reviews on Instagram (@dgwinemaking). You can follow these daily tidbits for free. Plus, I'd love to keep in touch with your production. Please join the conversation!
As the DGW Learning Center continues to grow, many producers may find some of the articles, Production Guides, and webinars helpful. To gain DGW Learning Center access, please consider one of our winemaking consulting packages.
Don't know where to start? If your winemaker is struggling to keep up with all of the varietal wines being produced, or if you are in the process of rebranding, then I'd love to help you out with this and other exercises as your winemaking consultant. Inquire today about the possibilities at info@dgwinemaking.com.