Bottling season is intense. There are a lot of steps involved for each wine destined for packaging. Now is definitely not the time to cut corners.
It's tedious for a winery of any size, time-consuming, and can be downright boring. But that's no reason to give into complacency in the cellar.
In fact, previous research has shown that even when sterile filtration steps are properly performed, between 39-58% of the bottles leaving the bottling line end up with yeast in the bottle (Neradt 1982). Yikes! That is a lot of bottles contaminated with yeast.
Upcoming Wine Bottling Webinars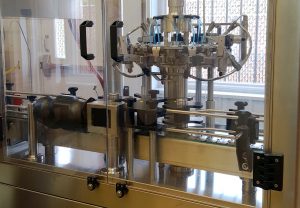 With so much that can go wrong during the bottling process, Denise Gardner Winemaking is hosting a three-part webinar series on May 6, 8, and 9, 2019 titled, "Everything You Ever Wanted to Know about Bottling, But Were Afraid to Ask" featuring winemaking QA/QC consultant, Zoran Ljepovíc. Zoran will discuss, over the course of three one-hour sessions:
Bottling Preparation
Record Keeping and Compliance
Bottling Sanitation Practices
Working With Mobile Bottling Lines
Sources of Oxygen in the Bottle
Managing Oxygen Pick Up
Areas of Concern for Microbial Contamination
General Wine Bottling Quality Control (QA/QC)
Zoran comes to the DG Winemaking webinars with over 17 years of experience working for Constellation Brands' QA department with experience in QA/QC, sanitation, wine microbiology management, and winemaking. Zoran knows so much about wine bottling that I know his presentations will be highly informative and engaging. Many of you may also know Zoran from his years of dedication to the VESTA program, as he teaches wine industry members across the U.S. on how to make better wine.
This is an independent webinar series, hosted by DG Winemaking. You can view the recording of the Bottling Webinar here:
As Zoran will likely uncover, bottling is one of the most important steps to retain wine quality at the winery. It's also a really easy place to mess things up.
References
Neradt, F. 1982. Sources of reinfections during cold-sterile bottling of wine. Am. J. Enol. Vitic. 33(3):140-144.