In my previous job as an Extension Enologist for Penn State University and now, as a Winemaking Consultant, I regularly find that so many winery operations (and their employees) are hesitant to invest in technical guidance or assistance.
As someone who has regularly found that winemaking knowledge is power in the cellar, it is quite puzzling to me what leads to this hesitation.
Therefore, I'd like to make a case for investing in YOUR winemaking toolbox! What's in your winemaking toolbox? Your knowledge about winemaking options and confidence in your winemaking decisions.
These investments don't have to be millions of dollars. Some don't even have to be thousands of dollars. As a mentor for students for years, I tried to regularly provide my mentees with the secret to professional development: choose something to work on each year.
Go after that.
Winemakers don't have to struggle, but their need is significant
One of the largest motivating reasons for opening Denise Gardner Winemaking in 2017 was because I regularly saw that many privately-owned or family-owned wineries did not have access to solid winemaking education or adequate winemaking expertise. While the Western U.S., and to some extent, parts of the Eastern U.S., may find a plethora of wine consultants, education, and resources available to them, a large portion of the U.S. remains untouched by winemaking knowledge.
Coupled with untraditional grape growing situations – at least untraditional compared to our colleagues in California, for example – and new or relatively new wine grape varieties to work with, this leads a vast number of wineries without any real guidance on how to make the best quality wine that they can.
Many states also face obscure wine regulations or distribution laws that make sales and finding their target market difficult. The general appreciation for local wines among state citizens can seem void.
But is all hope lost?
I'd have to say, no. Actually, hope is not lost.
The power in developing a solid winemaking education and foundation really comes from both experience and knowledge. I would be lying if I said all of my decisions are based solely on textbook information; my experience in working with many winemakers across the U.S. has also helped me make more frequent instinct-driven decisions. Though, I also owe a great deal to the textbooks I've spent time reading because this provided a foundational pool of confidence for me to make my instinct-driven decisions.
For many winemakers, even those without years of an enology-based education, they too can join these ranks if they recognize they don't know anything, can stomach some constructive (constructive, not negative) criticism of their wines, and take it upon themselves to take those steps to improvement.
Honestly, winemakers, no matter where they are located, don't have to struggle anymore.
Even if help is not next door, help is now a computer screen away from you…
Find the winemaking help that serves you best
While I'd love to write and say everyone should hire me (please note that lovely bit of writing satire), not every winemaker wants to work with a winemaking consultant, and that is okay.
Options that I provide today are easily accessible to winemakers.
Here are three leading examples on how winemakers and cellar employees can build upon their own profession year after year.
Books
There are so many wine textbooks out there that it can be difficult for many people to discern the ones that are best for them. I find the following two to be the most helpful for practical winemaking application:
Winemaking Problems Solved (2010, edited by Christian E. Butzke): This is a textbook filled with common winemaking questions and quick 1 – 3 page answers from a series of wine professionals. This text includes questions like: How to clean and store a used barrel? How do I care for a winery pump? This is a great resource for familiarizing oneself with common winemaking questions.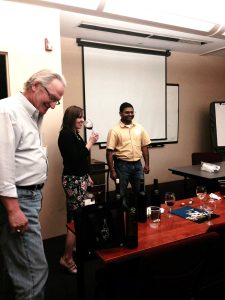 Wine Education
Many states have Extension programs that now include winemaking expertise. While Extension Specialists can be an essential part of winery growth, wineries and winemakers should also consider a foundational education in winemaking operations.
Note that this is different than viticulture education. While we tend to hear the age-old saying, "Wine is made in the vineyard," the reality is: it's not. Wine is made in a winemaking facility under the guidance of a professional winemaker. After taking so many profound steps to enhance the quality of the fruit in the vineyard, it's important for winery operations to recognize that winemaking requires the same amount of expertise, knowledge, and troubleshooting as work in the vineyard.
Today, there are a number of regional and online educational options that may be more pertinent to the winemaker's winemaking region. This includes, but is not limited to:
VESTA: The Viticulture & Enology Science & Technology Alliance (VESTA) provides STEM-based education and resources to the U.S. wine industry. VESTA has evolved over the years and has a multi-pronged approach advancing the wine industry: (1) providing college credit education for viticulture, enology, and wine business, (2) developing and implementing industry apprenticeship programs, and (3) providing a centralized resource center with the "go-to" organizations for wine industry members. This is a great place to start if you are looking to certify your experience, become an apprentice (or an employer that offers apprenticeships), or if you want to find the leading resources (e.g., the U.S. lobbying organization for wine) associated with the U.S. industry.
Penn State Winemaking Certification Program: Penn State's program is primarily online, meaning that anyone can participate in course curriculum from the comfort of their home or business. Some courses may include limited travel and details are provided for each course. While some of the topics, like a part of Winery Regulations, may focus on Pennsylvania-specific regs, the larger breadth of each course is related to materials that apply to wineries in all parts of the U.S.
Texas A&M also provides a solid foundation of FREE online webinars to help train winemakers in areas like wine analysis, wine sensory, and wine education.
Finally, this year, Rutgers University (NJ) is launching a four-week certification program to better train winery and vineyard employees. In full transparency, I'll be teaching part of this curriculum and hope that many prospective industry members may attend.
While this list does not exhaust all available educational opportunities available to winemakers today, it does illustrate the point that wine education could literally be right outside your door and worth the time investment to improve your foundation in winemaking practices. This is especially true as competition increases, enological recommendations change, and the desire to make good quality wines continues to matter.
Wine Consulting
Again, hiring a traditional wine consultant may not be for everyone, but it doesn't have to be in order to gain improvement in the cellar.
I believe this is where DG Winemaking can be of assistance to many operations across the U.S. that may not want to spend $1,000 (+ travel expenses) for a one-day visit with a winemaker or winemaking expert.
Instead, you can use that ~$1,000 to invest in your own education and growth for an entire year by joining the DGW Elite membership, for example.
The benefit in this model of consulting is that you can reach wine expertise from the comfort of your home or business, ask detailed questions in the month they actually occur, and get quick answers from a wine expert (in this case, me!).
Our DGW Elite Q&A sessions open the door for lots of different questions, including things like:
How and when do a I de-acidify a red wine?
What is the process for completing a saignee? How can I make a saignée rose? (By the way, what does saignée mean?)
When should I filter my wine?
How can I better prevent Brettanomyces in my winery?
What analytical testing should I look at before I bottle my wine unfiltered?
What is sterile filtration? Does it leave the wine sterile?
When do I add a tartrate inhibitor to my wine? What are the steps for adding this?
Am I doing cold stabilization correctly? Please provide an explanation on various techniques.
Not only do winemakers receive a personalized answer from me, but DGW Elite members can participate in a live discussion so that I can ensure they get a full answer to their question, pertinent to their operation. Additionally, members are provided with tools and resources to continuously help them improve.
Winemakers routinely walk away from this level of consulting saying "I learned something today" that allows them to make an immediate change in their own practice.
The best part is, the educational tools and lessons that I have developed over the years can be accessed immediately, or on an as-needed basis for as long as you are a member.
If you think this is something for you, I'd like to invite you to find more information on DGW Elite membership, here. If you have questions, email me! (info@dgwinemaking.com)
What's the point of sharing these things in this post?
Honestly, sometimes I see winemakers struggle for years. Or they settle for "good enough" wine.
After years of watching many winemakers struggle, I simply want everyone to know, you don't have to.
You simply need to take the step forward to improve, and I truly believe any winemaker can improve… starting right now!