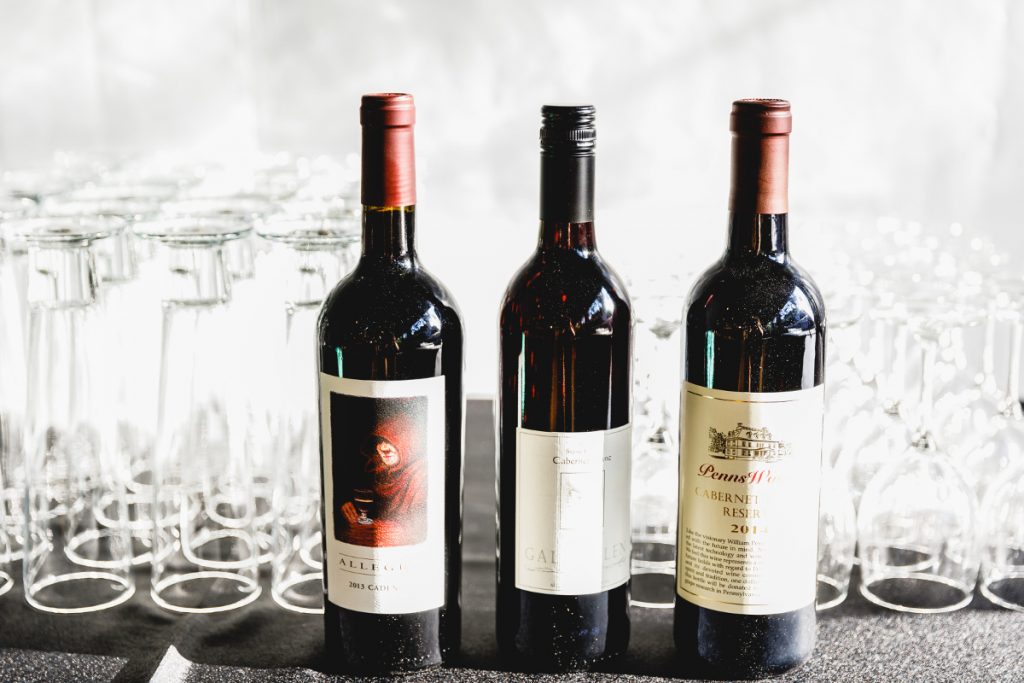 In two previous blog posts, I discussed ways to integrate wine into wedding ceremonies and as personalized wine favors, in addition to adding wine as part of your wedding décor or as a guest book. This third post will discuss the wines I chose for our own wedding, how wines were received, and some general tips on picking wines for your own events.
Nonetheless, choosing wines can be overwhelming, especially when it comes to understanding wine styles, labels, and prices. If you are currently planning a rehearsal dinner or your own wedding reception and are required to bring the wine, please consider my consultation for help. Inquire at info@dgwinemaking.com.
General Tips
For most weddings, or large events, covering your bases on wine style is important. It is easy to get sucked into buying 10-12 different wines in hope you can accommodate all of your guests. However, in all of the events I have selected wines for, I've found that you can typically get away with choosing: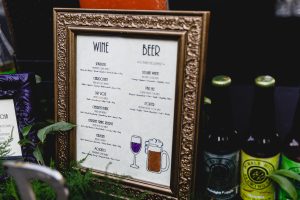 A dry (brut) sparkling wine
A dry white wine
A dry red wine
A sweet wine
From here, everything is extra. We opted for a total of seven wines: a Brut sparkling wine (for our toasts and for those guests that wanted to continue drinking sparkling), a dry rosé, a dry and oaky white wine, a dry, medium-bodied red wine, two dry, full-bodied red wines, and a sweet wine. For those that may not love rosé, that could easily be substituted with a dry, unoaked white wine.
While I think we could have gotten away with just four wines, I really wanted a few different bottles for guests to choose from to complement their meals. Additionally, we used three of these wines (the sparkling, the sweet, and the rosé) as bases for wine cocktails.
Cocktail Hour Selections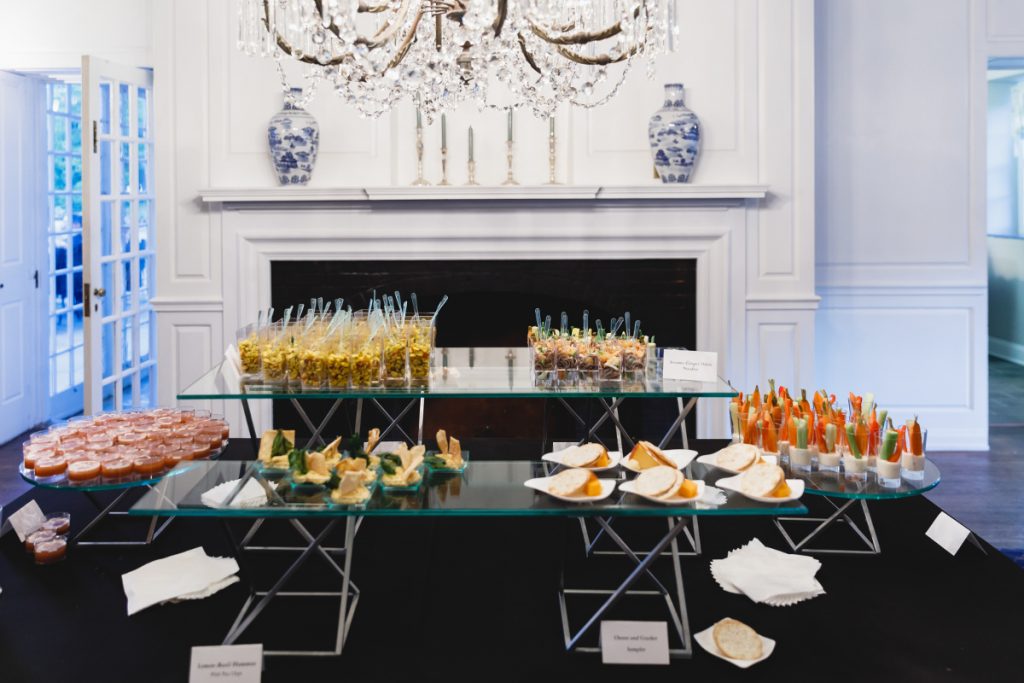 In addition to the full selection of seven wines and three local beers, we also offered two wine cocktails: a spritzy rosé lemonade and a mimosa. Mimosas could use one of the four juices that were available for drinks: orange, grapefruit, pineapple, and cranberry. These juices were mixed with the sparkling wine or the sweet wine, which was a fizzy Moscato, for those guests that wanted something on the sweeter side.
The spritzy rosé lemonade was a drier (less sweet) wine cocktail which included rosé wine, pink lemonade, and club soda garnished with a lemon. This worked perfectly for our outdoor wedding location and in the midst of a late summer heat.
However, other wine cocktails are available for other seasons, such as mulled wines, sangrias, kirs, punches, teas, and more! If this is something you need help finding to match the theme and feel of your wedding, please consider contacting me.
The Toast
Since I work in an emerging wine region, it was important to me to feature local wines and beers at our wedding. Luckily, we found a venue through Robert Ryan Catering located in the Greater Philadelphia area in which we could hand select our wines and beers.
Picking a toasting wine was fairly simple and we were fortunate to find a winery that could supply us with what we needed. We ended up selecting the Blanc de Blanc produced by Manatawny Creek Winery. Not only was Manatawny Creek Winery a very special winery for me personally, but it was also the location in which my husband proposed, so featuring their sparkling wine as our toasting wine seemed like the perfect fit.
For toasting wines, I like to remind couples to, again, go with something that feels special for them. This is arguably the most important wine of the night as each of your guests will get to participate in this ritual. Additionally, good bubblies don't have to break your budget. There are a lot of great selections out there that fall under $25 per bottle.
Reception Wines
As I previously mentioned, we had a total of seven wines and three brews for guests to choose from during dinner and throughout the party. The beer selections were actually from a brewery that originated as a winery: Nimble Hill Winery and Brewery. For beers, we chose three traditional styles: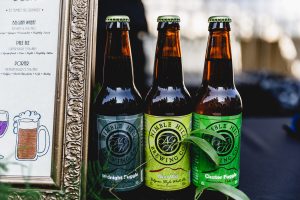 A wit/wheat (Nim Wit)
A pale ale (Cluster Fuggle)
A porter (Midnight Fuggle)
Though most of our guests were more familiar with Yuengling than Nimble Hill, many of them were quite impressed with the beer. This is a great example of where introducing your guests to local finds can be quite rewarding.
Our wines were also some local favorites. For white wine styles, I swapped the unoaked white wine (think Pinot Grigio) for a dry rosé and then included an oaky Chardonnay as a contrast.
Our unoaked "white" style of wine was the Dry Rosé by Pinnacle Ridge Winery. We ended up opting for a rosé instead of an unoaked white wine because I thought the mix of adding a pink wine would give some diversity to our wine selections. I also knew that pink raspberry-lemonade was included in our non-alcoholic beverage list, and we thought the pink rosé would make a great mixer for the wine cocktails or as a standalone wine. This rosé was delightful, and guests highly enjoyed it. It was chilled, refreshing, juicy, luscious, and aromatically appealing with hints of strawberries and wildflowers.
I almost always include an oaky Chardonnay for events that I host because this tends to be a go-to wine style for many people. We selected the Penns Woods Winery Chardonnay Reserve for our wine based on its complexity, deliciousness, toasted oak nuance, and because it was a full-bodied white wine.

Six delicious Pennsylvania wines decorate a bar at a wedding reception in the Greater Philadelphia area. Photo by: Bartlett Pair Photography
In cooler climate or variable climate regions like Pennsylvania, red wines can be tricky to select so that most of your guests will enjoy them. We basically selected three red wines that I've had continued success with over the years when I introduce them to various friends, family, and guests.
The medium-bodied, juicy, and fruity red wine that we selected was the Cabernet Franc by Galen Glen Winery. Galen Glen is known for their refreshing aromatic white wines like Grüner Veltliner and Riesling, but I have always loved the fruitiness and appeal of many of their reds. I knew this would be a great introductory red wine to those guests that were not from the area and this wine was definitely well received.
We ended up selecting two full-bodied red wines simply because we could not decide between them.
The first full-bodied red wine was the Penns Woods Winery Cabernet Franc Reserve. I admit, we had some hesitation adding two Cabernet Francs to the tasting list, but the two wines were such a stark contrast in style that I felt like guests would be able to figure out which one they liked while also getting an opportunity to taste the variability in the variety itself. The Cabernet Franc Reserve is a complex wine, aromatically reminiscent of Cab Franc, but with a strong red fruit character, smooth, velvety mouthfeel, and a big, bold finish.
The second full-bodied red wine was the Allegro Vineyards and Winery Cadenza (recent release). Though the Cadenza style is intended for aging, we knew that some of our guests would undoubtedly enjoy this style of red wine. Not only did it pair magically with our main entrée, but many opted to try it simply for its cult following. Additionally, we were able to take back any un-opened bottles and reserve them for our cellar. Needless to say, this wine will be our anniversary wine for several years to come!
The sweet selection was also an easy choice for me, as I knew several sweet wine drinkers attending our wedding that enjoyed Moscato. Plus, I'm a big Moscato fan myself. Interestingly enough, the eastern U.S. grape growing regions can make some delicious Moscatos. I personally enjoy the eastern Moscato over our western cousins as the acidity and vibrancy in eastern-produced Moscatos reminds me more of Asti wines produced in Italy. I selected the Manatawny Creek Winery's Moscato for our sweet wine choice, and our sweet wine drinkers loved it!
Wine and Dinner Pairings
Our amazing caterer, Robert Ryan Catering, had a number of fantastic options for us to really create a fun and enjoyable meal. We opted for a "fancy BBQ" dinner theme (again, we were outdoors at the cusp of harvest season and end of summer) and because we knew that guests would love some good comfort food.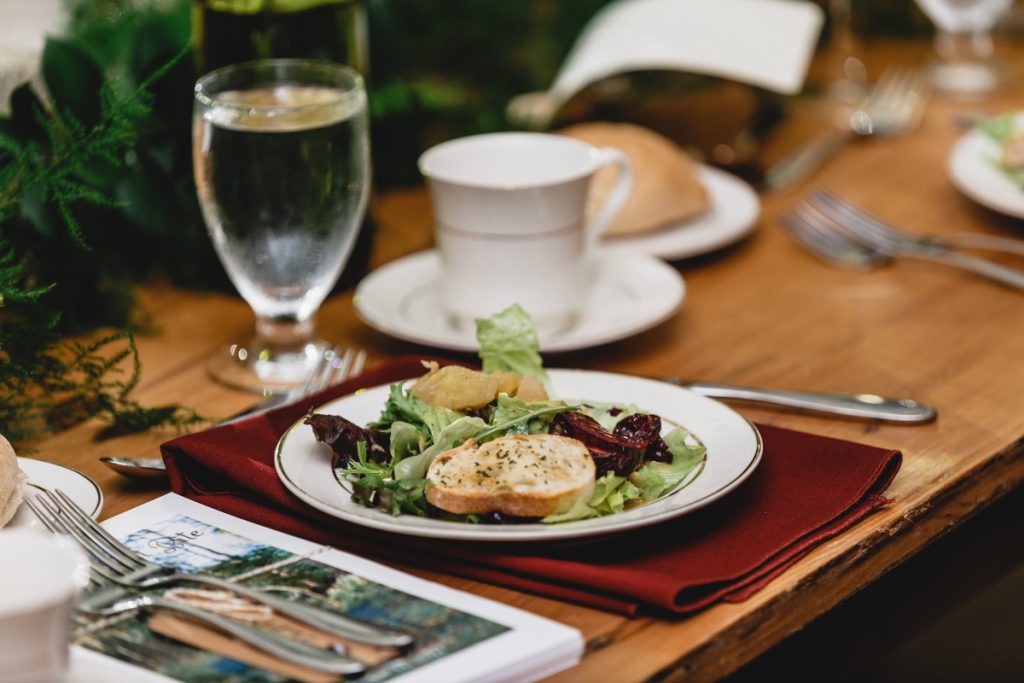 First Course: Fresh baby field greens and crisp romaine lettuce with dried cranberries, caramelized pears, sliced beets, and drizzled with a nutmeg vinaigrette
Wine Pairing: Blanc de Blanc or Moscato
Every day-Wine-Lover (EWL): It's hard to go wrong when pairing salads with something bubbly.
More Detail: Salads are a difficult course to pair with wines. I typically opt for sparkling wine as it will likely avoid competition with the salad. In this case, I think the Moscato goes well because there are some sweet notes in the salad, like the caramelized pears, that will complement the Moscato nicely.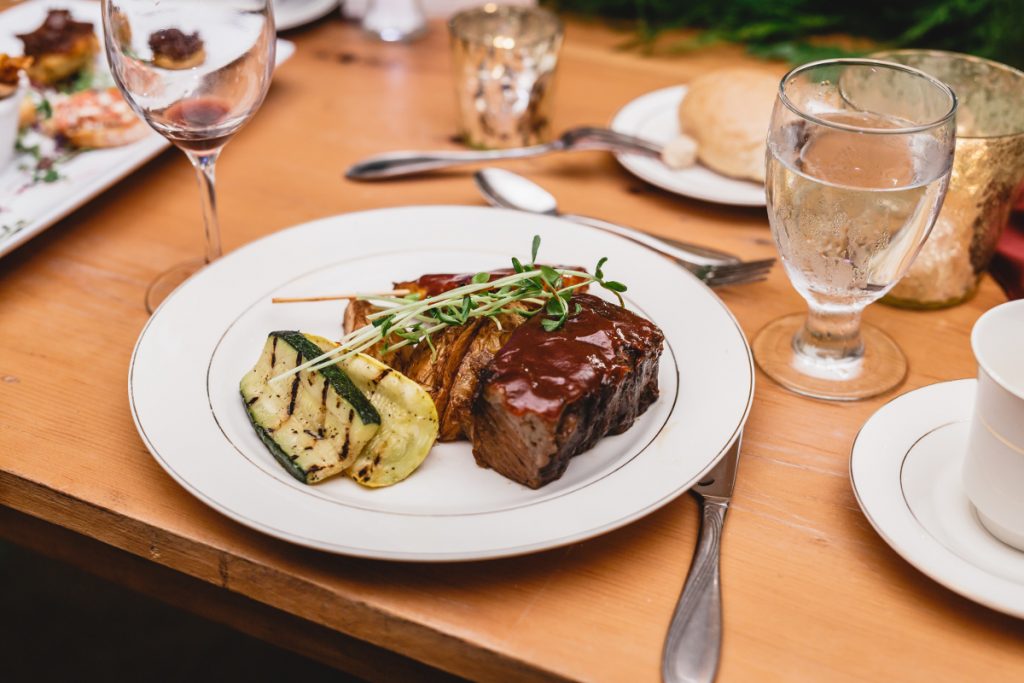 Second Course (Main Meal): Braised boneless short ribs and blackened BBQ chicken skewers, zucchini and squash medallions, and smoked roasted Yukon gold potato wedges
Wine Pairing: Cabernet Franc, Cabernet Franc Reserve, Cadenza, or Moscato
EWL: With the blackened grilled chicken and BBQ sauce component of this dish, I think it calls for a red wine pairing. However, sweet wine drinkers will also enjoy this with Moscato as the Moscato was slightly sweeter than the BBQ sauce.
More Detail: I usually default to the sauce as opposed to the type of meat when it comes to selecting a wine with an entrée wine pairing selection. In this case, the BBQ sauce was smoky, tomato-based, slightly spicy, and overall – delicious! My first instinct was to pair it with the medium-bodied and fruit forward Cabernet Franc from Galen Glen Winery. As the short ribs were juicy and pulled apart easily, I think this wine went very well with the whole dish. Nonetheless, other guests desired a bigger wine, and both the Cabernet Franc Reserve and Cadenza delivered on this.
Second Course (Vegetarian Meal): Stuffed Portobello mushroom with chickpeas, spinach, roasted garlic, tomato and grilled squash on a bed of tomato sauce
Wine Pairing: Blanc de Blanc, Rosé, Chardonnay Reserve, Cabernet Franc Reserve, Cadenza, or Moscato
EWL: There is so much going on in this entrée that it is definitely challenging to pair with a good wine. For sweet wine drinkers, the Moscato is a nice contrast to the earthiness of the dish. For dry wine drinkers, I think there are a lot of options and both white wine and red wine drinkers alike can find something to please them.
More Detail: With all the vegetables in this dish, my mind immediately went to the brut sparkling wine, Blanc de Blanc. However, the dry rosé also offers a nice contrast to the dish. The rosé is vibrant and nuanced in aroma and flavor, while the mushroom dish will have some earthy, green, and garlic flavors that will likely contrast well the rosé. In fact, I know a few guests ate this entrée with the rosé wine.
The Chardonnay Reserve is similar to the rosé, with a crisp and refreshing contrast. Though, with the added oak flavor in the wine, some people will like this pairing more than others.
For the red wines, I chose the more complex reds out of the group that we served. Both had some earthy or woody flavor nuances that would likely complement the dominant mushroom flavor. Overall, due to the fact that all three of our red wine selections had average acidity (sourness), I think they were good choices to stand up against the tomato sauce in this dish. If the tomato sauce is paired with a low-acidity wine, the wine will end up tasting really flat.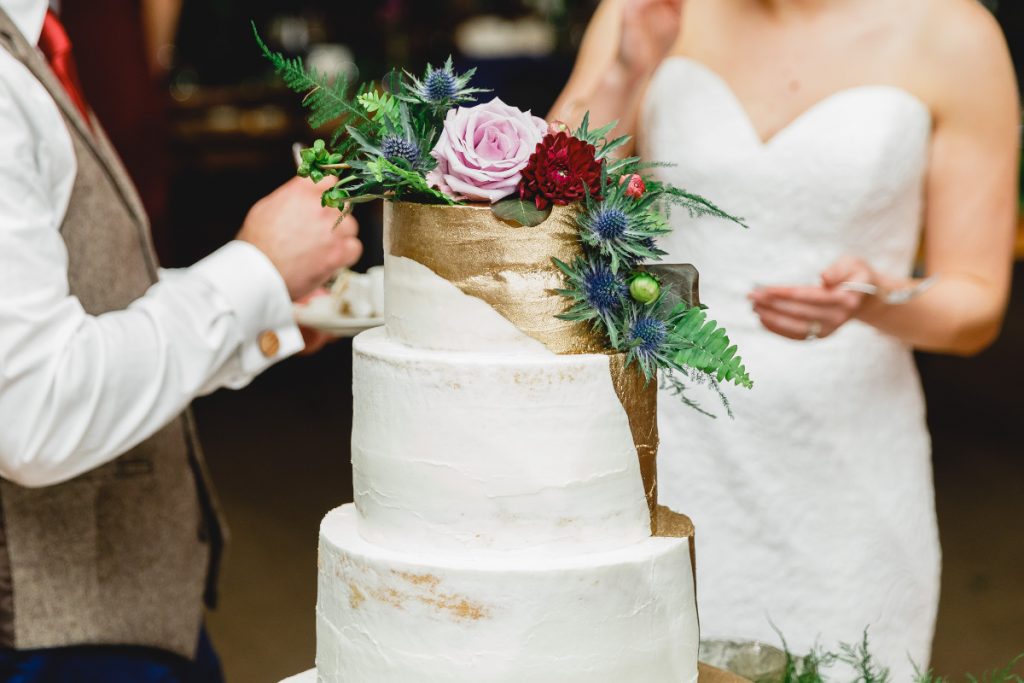 Third Course (Dessert): Lemon cake with a lemon butter cream icing
Wine Pairing: Moscato
EWL: For dessert wine pairings, the wine should be sweeter than the dessert itself.
More Detail: The Moscato was just sweet enough to hold up next to the lemon cake. Due to the fact that the cake's flavor was lemon, it also complemented the fruity-nature of the Moscato well. Additionally, the Moscato had a nice "lift" that kept the dessert pairing lively as it was a slightly bubbled.
Do you need help selecting wines for your wedding or event?
If you are currently planning a rehearsal dinner or your own wedding reception and are required to bring the wine, please consider my consultation for help. Inquire at info@dgwinemaking.com.
As a general note, I do not work specifically for any particular winery, and am an independent consultant. Therefore, I can help you make selections based off of a vendor's/restaurant's wine list, local choices that may not be well-known brands, related to a wedding/event theme, or general brands that are of particular value.