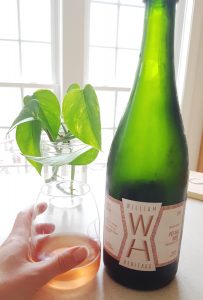 If I had to count on all of my fingers how many pét-nats I've actually enjoyed in my life, I could readily hold up just one finger.
No, not that finger.
I literally mean, I've only ever appreciated and enjoyed one pét-nat over the course of my professional tasting career. I'm sure some of my clients can attest to the look of sarcastic joy I provide when I'm forced to taste a pét-nat.
In fact, the only pét-nat I've ever enjoyed, I stored in my refrigerator for weeks, terrified it would explode if I left it at room temperature. I was only talked into actually trying it when my husband said, "Hey, let's try this bottle taking up space in our fridge." Even then, it was a hard sell for me.
So all joking and dramatization aside, why am I so hard on pét-nats?
The truth is, most of the pét-nats I've tasted are so flawed or have lost so much of their fruity identity that they simply aren't enjoyable. Marketers, sommeliers, and wine purists always provide convenient excuses for why pét-nats tend to be below the bar for commercial quality wine:
It's an "all natural" product. (What does that even mean?)
Of course there is inherent variability given the way it is produced. Try another bottle. (No, really, it's okay. That first one left a lasting impression.)
You have to appreciate the style. (I appreciate the history of sparkling wine and how far production has come to create consistently delicious wines, but I don't prefer to drink things that literally taste like garbage or vinegar. Plus, there are definitely producers out there that would call these flawed pét-nats completely uncharacteristic of the pét-nat.)
Yet, despite the inconsistency, the need to monitor and manage the production of this wine, the risk of bottle explosion, and the potential downhill spiral of quality as it sits on the tasting room shelves… winemakers still come to me asking to make a pét-nat.
What is a Pét-Nat?
Pétillant naturels, more commonly referred to as pét-nats, are a style of sparkling wine produced in a historical process. They differ from modern day traditional sparkling wines in that the fermentation finishes in the bottle, hence capturing the developed carbon dioxide and ignoring finishing processes like lees removal, clarification, and sulfur dioxide additions. The term itself literally means natural (naturel) bubbles (pétillant). The result is a somewhat cloudy wine with retained carbon dioxide (bubbles).
The production of pét-nats is believed to have pre-dated Champagne production (Robinson and Harding 2006), and originated from naturally cooler areas of France such as Gaillac. It is believed wines produced in naturally-cooler regions of France would undergo primary fermentation until the cold winter temperatures would naturally inhibit fermentation. This was prior to the days of environmental or tank temperature control. Winemakers, unaware that the wine was not fully fermented, bottled the young wine before Spring, and found that it re-fermented in the bottle when the ambient temperatures became warmer.
The southwest French region of Gaillac, north of the city of Toulouse, and the high mountain Languedoc-Roussillon region of Limoux are believed to have been the first regions to produce this style of sparkling wine (Robinson and Harding 2006). The grape variety traditionally used for pét-nat production in Gaillac and Limoux is mauzac (known locally as blanquette in Limoux), which has a distinguishable "dried-apple-skin" flavor (Robinson et al. 2014).
Today, pét-nat production has exceeded the boundaries of their origins, extending through the Loire and various regions around the world.
The Idea and Reality of Pét-nats
The sparkling wine production method associated with of Blanquette de Limoux is often referred to as the méthode ancestrale, or as the méthode gaillacoise in Gaillac (Robinson and Harding 2006). The methods are quite similar in execution, which consists of one primary fermentation that is started in tank and finished in the bottle. Today's modern pét-nats mimic these processes.
Pét-nats have become somewhat trendy in the wine world. Winemakers and sommeliers market the "more natural" (and historical) sparkling wine alternative. In the eyes of consumers, pét-nats appear like a less intrusive style of winemaking, though any winemaker should beware of this façade. Because pét-nats are intended for early consumption (within one year of production), when produced correctly they are usually fruitier than some of their sparkling wine cousins.
While the concept of production is rather simple, the end product's quality tends to be a bit inconsistent. As David Lynch quoted one producer in his Bon Appetit article, pét-nat production can seem like "Russian roulette winemaking" from the production perspective.
The reason for this is the fact that the wine is literally finished in the bottle, and sold without any end stabilization. This is quite different than sparkling wines produced in the traditional method, which undergo disgorging for clarification and a final stabilization with the dosage addition before being sealed.
Producing a Pét-nat
Like many styles of wine, it's essential that grapes destined for pét-nat production are of good, sound quality. Subpar fruit will result in a subpar pét-nat. Unlike traditional sparkling wine objectives, grapes picked for pét-nats should be ripe. They should not contain vegetal aromas or flavors, and, consequently, they should not be overly ripe either. Both ripeness extremes offer challenges for winemakers during the pét-nat's production.
Unlike what pét-nat marketing alludes to, there is actually a fair amount of production considerations that a winemaker has to endure through the life of the wine.
Decisions such as yeast and nutrient selection, fermentation temperature, when to arrest fermentation, stabilization of the wine before bottling, the utilization of malolactic fermentation, and how to stabilize the wine prior to bottling (and re-fermenting) all require considerable thought. At any point in the process, there are quality risks. This may be how and why so many pét-nats end up going south.
Are You Struggling with Pét-Nat Production?
If tackling quality pét-nats is in your winemaking future, then I've developed a DGW Wine Style Guide specific to pét-nat production. With a general review of step-by-step processing, key recommendations from pét-nat production experts, and trouble-shooting considerations (because things almost always go wrong!), the Pét-Nat Wine Style Guide offers a unique Cellar Tool for today's winemaker.
The focus of DGW Wine Style Guides is to help the winemaker avoid common mistakes or challenges, while crafting a wine true-to-style. They're meant to enhance efficiency while providing premium tips and secrets in producing fine wines.
P.S. If you made it through this entire post, and know you have produced a pét-nat of superior quality, please let me know so that I can try it! Cheers!
References
Robinson, J. and J. Harding. 2006. The Oxford Companion to Wine. ISBN: 978-0198609902
Robinson, J., J. Harding, and J. Vouillamoz. 2014. Wine Grapes. ISBN: 978-0-06-220636-7