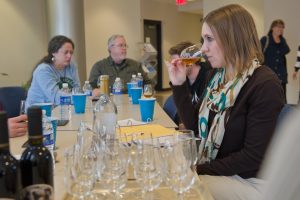 I started tasting wines and evaluating my taste perceptions as a graduate student in Dr. Bruce Zoecklein's lab at Virginia Tech University, in which he routinely evaluated wines by sensory analysis to provide production technique suggestions to winemakers. These early sensory experiences outlined my thought process in how I evaluate wines to this day.
In my first job at Enartis USA (previously Enartis Vinquiry), I also continued to improve my individual sensory skills. The work I did in Napa taught me new terminology associated with wine sensory descriptors and ways additives or fining agents can change the sensory perception of a wine.
When I started at Penn State Extension, I realized that there was a big difference in how I tasted and described a wine (from a winemaking and enology perspective) compared to feedback from sommeliers. I took it upon myself to spend a few years getting some sommelier-like education and training through the Society of Wine Educators (SWE) and Wine and Spirits Education Trust (WSET). Many individuals that go on to receive their Master of Wine (MW) certification, often start out in the WSET program, especially when coming from a wine retail or distribution background. These programs helped me learn basic wine regions, improve my perceived sensory characteristics in association with a wine region, and developed my understanding of wine style.
While I'd be remiss if I didn't mention having only 1 person evaluate your wine is not the best practice as all of our sensory perceptions and capabilities vary, what makes me a unique taster is not only my understanding of wine quality, style, and regional identity, but also providing feedback on the production steps or stages that can alter your wine. In other words I can speak to both the artistic and scientific nature of making quality wine. And, because I've traveled quite a bit, I have experience tasting a number of different wines: V. vinifera, hybrid, and native varieties.
Through these opportunities, I have ten years of wine sensory experience in:
Wine fault screening,
Wine sensory improvement,
One-on-one evaluations with the winemaker,
Wine judging,
Blending and crafting wines,
Formal sensory panels for research purposes,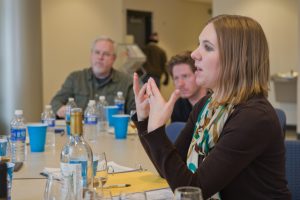 Thus, since sensory has always been a part of my background, it felt natural that each Denise Gardner Winemaking consulting membership service package would guarantee a specific number of wines (or other alcoholic products) for sensory evaluation and feedback. Now that I'm fully up and running, pre-determined tasting have been set for 2017 to give clients time to submit wines.
Tasting evaluation days for 2017 are:
Monday, October 30th
Monday, November 27th
Monday, December 18th
In order for your wines to be included in the tasting evaluation, wines must be received by the Friday before the tasting evaluation day. Wines received after this deadline are shifted to the next evaluation day or I will taste them when I have availability in my schedule.
Since this is a rather unique aspect of Denise Gardner Winemaking, we'll dive into some common FAQ's associated with tasting submissions!
What is included in a tasting evaluation?
I taste all of the wines and make key notes on each wine's appearance, aroma (smell), and taste (mouthfeel, flavor).
If there is anything that I find wrong with the wine, I will make a note of it during the tasting evaluation. Some examples of problem flaws that I may note include oxidation aromas/flavors, high volatile acidity (VA), or some sort of reduction (i.e., hydrogen sulfide, mercaptans/thiols, disulfide aromas/flavors).
Other problems may be more subjective such as very high acidity, extreme bitterness, or a lack of varietal character for that wine.
After my evaluation, I will write a detailed report for each wine that is sent to the client.
If I notice some sort of problem during the evaluation, I'll also suggest confirmation by analytical analysis to compensate for the fact that only one person is tasting the wine. With other sensory perceptions that are more subjective, I may suggest having a few other people taste the wine to confirm what I perceived during the evaluation.
Which service packages include wine tasting evaluations are part of their fee?
All of them!
Demi packages include 4 wine tasting evaluations per calendar year.
Standard and Standard V packages include 12 wine evaluations per calendar year. For those on a 6-month contract, 6 wine evaluations are included per calendar year.
Magnum packages include 30 wine evaluations per calendar year. For those on a 6-month contract, 15 wine evaluations are included per calendar year.
This means that if you purchase a service membership, you can submit that many wines (or repeat wines if improvements are made) in a calendar year at no extra fee.
Can you submit more wines beyond what is included in your service membership?
Yes.
Additional wines can be tasted during visitations [for Standard and Magnum clients] at no additional fee. Or clients may submit more wines to me for tasting evaluation days. Additional wines submitted to tasting evaluation days will be subjected to my discounted per-hour consulting fee, regardless of service package, which has a peak season and non-peak season rate. All membership clients receive a 40% discount in the per-hour fee.
Can you submit wines for tasting evaluations even if you do not have a service membership?
Yes.
Anyone can submit wines for consultation and tasting feedback at my per-hour consulting fee. Fees vary depending on the time of year (peak season versus off season).
The reason I charge my per-hour fee is because this is an opportunity for me to consult on production improvements or product improvements without charging travel fees and can reduce the total amount of time providing you with consultation.
How long does it take to receive our report?
All clients will receive their evaluation report with 24-48 hours of the tasting day, depending on the number of wines that were tasted on an evaluation day.
Can you help us fix a problem if you find a problem in a wine tasted?
Yes.
Non-members and those members in the Demi service membership will be subjected to a per-hour consulting fee for follow-up assistance beyond what is provided in the report.
How do you sign up to have wines tasted and evaluated?
For membership clients, I will send out reminders of the next evaluation date following a tasting day. It is up to each client to make sure their wines are received via mail by the appropriate deadline.
For non-membership clients, please email me with interest at info@dgwinemaking.com. From here, if you are not already in my system, I will have you fill out a New Client Form. Upon its completion I will send you a contract with a guaranteed service description. If you let me know how many wines you'd like evaluated, I can also give you a price estimation on consulting time.
How do I ship wines?
I will provide you with a shipping address. Unfinished wines should always, always be shipped in plastic. Finished wines can be shipped in glass. I usually only need about 250-mL for a standard evaluation.
It is preferable to ship wines overnight, especially if sending a problem wine. However, 2- to 3-day shipping will also suffice.
How long does it usually take to evaluate one wine and write up its report?
Typically, it will only take me about a half-an-hour to evaluate one wine and write up a report for a client. There are exceptions in which it takes short or longer than this time, but this is a relatively good estimate.
What are the advantages to submitting wines for tasting and consultation?
Routine tasting allows me to identify common production problems just by tasting a series of wine from one processing facility. If I do notice a problem, I can provide you with additional consultation to prevent future problems or fix one that you currently have.
Additionally, tasting helps me sensorially kept track of a client's production improvements.
Since I taste all year round, some tasting sessions can be used to avoid future problems or fix problem wines in real time. For example, some wines destined for aging can be evaluate post-primary fermentation. Together, we may be able to establish a production path for that wine that will best reflect is quality by the time the wine is bottled. This way, I can help you avoid a problem, saving you time and resources.
What if we want a more in-depth tasting consultation with you, or help with blending several wines?
I am happy to do this, and would encourage you to inquire today for my per-hour and/or travel fees.