A Note about the Som Series
There's something about that 9-letter word, sommelier, which turns your average wine drinker into a sudden beer drinker at the very mention of their presence.
Let's face it: the world of wine can be intimidating. Sometimes I hear wine discussion and judgment within groups of people and I internally cringe. It reminds me of walking into an art museum and not knowing the difference between modern and abstract art (obviously, I do not!).
The extent of perceived depth required to make the "correct" wine selection is so daunting, that many wine lovers dread purchasing wines for family and friends or even selecting a wine for a nice dinner out at a fine restaurant.
I get it. For me, wine is not intimidating. My seventeen years of exposure to wine language doesn't really rock my gourd anymore. Sometimes people like my wine picks and sometimes people do not. I'm here to tell you, that's okay! Scientifically speaking, we all have varying degrees of taste abilities and what we perceive or what tastes we like really varies from person to person. The fun of wine, however, is the options, the fingerprint of history, and the moments that can radiate from a glass.
That is why, in my "Som Series" of blog posts, I hope to show you how fun wine can be. I'll break down my sommelier (aka "som" pronounced like "sawm"… like "yawn" but with a 's' and a 'm') experiences into 2 parts: one for your every-day wine lover and one for someone that would enjoy more detailed information. From these explanations, I hope 2 things emerge:
You'll find fun new wines to explore or new ways to incorporate wine into your meals.
You'll consider me when as your consultant when you need "som" help!
And with that…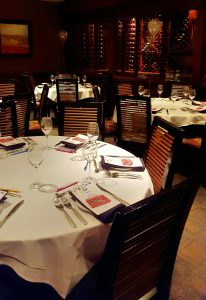 Some of my favorite events for pairing wines with food have been at restaurants with defined wine lists. It's always a fun challenge for me to review food selections chosen by the host, and suggest wines that a restaurant has in stock to pair well with the various courses.
In some ways, this can be easy as wine selections are limited to what the restaurant has available. Other times, it can be quite challenging, especially when more than one entrée is elected for a single course.
As an example, I helped plan a food and wine rehearsal dinner at a Seasons 52 restaurant.
Seasons 52 is a relatively high-end chain restaurant that offers a menu inspired by seasonal availability of food. From a food and wine perspective, I find Seasons 52 delightful. I am a HUGE fan of their sea bass entrée and mini indulgence desserts. Also, their wine list is pretty impressive for a chain restaurant, and I enjoy the various selections they offer regularly. Additionally, I appreciate the wine changes made on their wine list.
Below are the food entrées that were chosen for the private rehearsal dinner, and the wines I selected to complement each dish.
Hor D'ouerves: Roasted Roma Tomato, Grilled Garlic Pesto Chicken, and Artichoke and Goat Cheese Flatbreads
Wine: Tilia 2014 Torrontés
Every-Day Wine Lover (EWL): Rich Mediterranean-inspired flatbread flavors will pair well with a bright, crisp Argentinian white wine.
More Detail: Torrontés is a white wine grape variety traditionally grown and produced in Argentina. As a wine, this is traditionally made without oak, making it a great food-pairing wine. Intense flavor integration from oak can be difficult to pair sometimes. For food and wine pairing it is important that the summation of both exceeds the experience of tasting each individually. For this reason, I thought the brightness and fruity, floral nature of the Torrontés would not only enhance the flavors on the flatbreads, but that the flatbreads would not overpower the wine. The touch of "lemongrass" flavor advertised in the wine seemed like a nice pairing with the tomato, pesto, and artichoke ingredients in each of the three flatbreads. It was also a fun talking point to introduce a new wine varietal to guests.
Appetizers: Spinach Stuffed Mushroom Caps and Grilled Chicken Yakitori Skewers
Wine: La Crema 2013 Pinot Noir
EWL: Both the spinach, mushrooms, and chicken offer savory, umami-inspired foods. In pairing "like with like" I opted for a traditionally complex variety to pair with these earthy, savory foods: Pinot Noir.
More Detail: To be honest, La Crema's Pinot Noir is very New World style, so it offers a lot of fruit, alcohol, and oak. While I love La Crema as a wine, it is not my go-to Pinot Noir for food pairing due to its bold, rich style. However, I knew some of the guests would not partake in appetizers. Therefore, having a wine that could "sing on its own" was very important. This Pinot Noir offered an enjoyable experience for those tasting the wine with the food, and for those that enjoyed the wine without food.
Salad: Organic Field Green Salad
Wine: Zardetto Non-Vintage Prosecco
EWL: Sparkling wine goes with everything and anything, even a salad.
More Detail: I generally opt for a brut sparkling wine with a salad plate. It's so hard to pair salads without knowing the ingredients and the dressing. However, the bubbles and crisp acidity in sparkling wine contrast the fresh greenness of a salad. I selected a Prosecco over a Champagne to keep the wine light and vibrant against fresh vegetables. Additionally, Champagne is typically an acquired taste. Prosecco, with its fruity essence, seems to be a crowd pleaser despite its traditional dry (brut) style.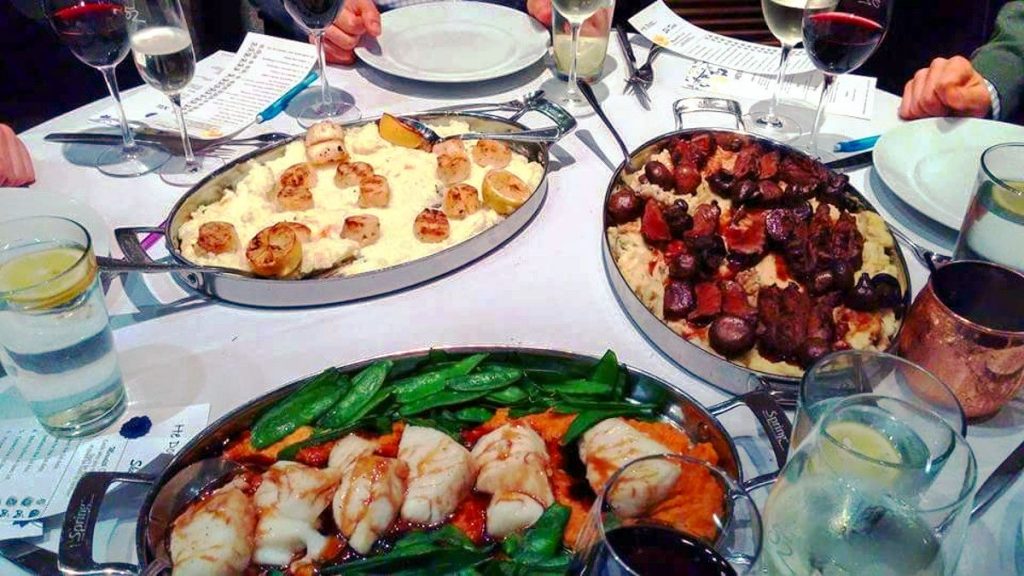 Entrées: Wood-Grilled Grilled Filet Mignon with roasted mushrooms, broccolini, Yukon mash with a red wine sauce, OR
Caramelized Sea Scallops over a bed of leek and butternut squash risotto, OR
Asian-Glazed Sea Bass with black rice, snow peas, shiitake mushrooms and micro wasabi
Wines: Selbach QbA Mosel Riesling, OR Ray's Station 2013 Merlot
EWL: With a selection of entrees, I like to pick both a white and red wine for guests to choose from during the meal. Filet Mignon in a peppery sauce would well with a lightly tannic red wine like Merlot. The Riesling was selected for those guests that enjoy something sweeter and to complement the sweet-touch in the caramelized sea scallops or richness from the sea bass.
More Detail: Merlot was probably not an obvious choice for a filet mignon pairing. However, I like to use Merlot as often as possible as many people do not know the plethora of styles and flavors that can contribute to Merlot. Merlot can be very plum-like, fruity, and couple with rich oak, coffee, and cocoa flavors. However, on the other end of the spectrum, it can exude red fruit flavors coupled with toasted oak, Balsamic nuances, and rich savory dried herb flavors. Plus, there are a lot of wine styles in between that make up the world of Merlot.
I also selected Merlot because it is usually less tannic than a variety like Cabernet Sauvignon. As the Filet Mignon is rich, soft, and savory, I don't think this cut of meat always warrants a heavily tannic red wine.
Finally, I wanted to provide those guests having fish with a red wine that would not overpower their entrée. I think both the Pinot Noir, reserved from the appetizers, and Merlot offered red wine options for those guests having fish. Neither wine was overly tannic and just soft enough to appease both fish entrées. While both were New World styles, and not my favorites to pair with meals, guests generally liked both of these selections due to their fruit forward nature and low acidity.
The Mosel Riesling seemed like an obvious choice for the fish entrées. I always try to include something sweet for guests, and the Riesling was just sweet enough for those that enjoy sweeter wines. Aromatically intense with aromas of fresh white flowers, orange zest, tropical fruits, and a hint of vanilla, Mosel Rieslings are quite appealing. This complemented the caramelized sea scallops nicely and provided a refreshing contrast to the rich sea bass.