A Note about the Som Series
There's something about that 9-letter word, sommelier, which turns your average wine drinker into a sudden beer drinker at the very mention of their presence.
Let's face it: the world of wine can be intimidating. Sometimes I hear wine discussion and judgment within groups of people and I internally cringe. It reminds me of walking into an art museum and not knowing the difference between modern and abstract art (obviously, I do not!).
The extent of perceived depth required to make the "correct" wine selection is so daunting, that many wine lovers dread purchasing wines for family and friends or even selecting a wine for a nice dinner out at a fine restaurant.
Look, I get it. For me, wine is not intimidating. My seventeen years of exposure to wine language doesn't really rock my gourd anymore. Sometimes people like my wine picks and sometimes people don't. I'm here to tell you, that's okay! Scientifically speaking, we all have varying degrees of taste abilities and what we perceive or what tastes we like really varies from person to person. The fun of wine, however, is the options, the fingerprint of history, and the magic that can radiate from a glass.
That is why, in my "Some Series" of blog posts, I hope to show you how fun wine can be. I'll break down my sommelier (aka "som" pronounced like "sawm"… like "yawn" but with a 's' and a 'm') experiences into 2 parts: one for your every-day wine lover and one for someone that would enjoy more detailed information. From these explanations, I hope 2 things emerge:
You'll find fun new wines to explore or new ways to incorporate wine into your meals.
You'll consider me when as your consultant when you need "som" help!
And with that…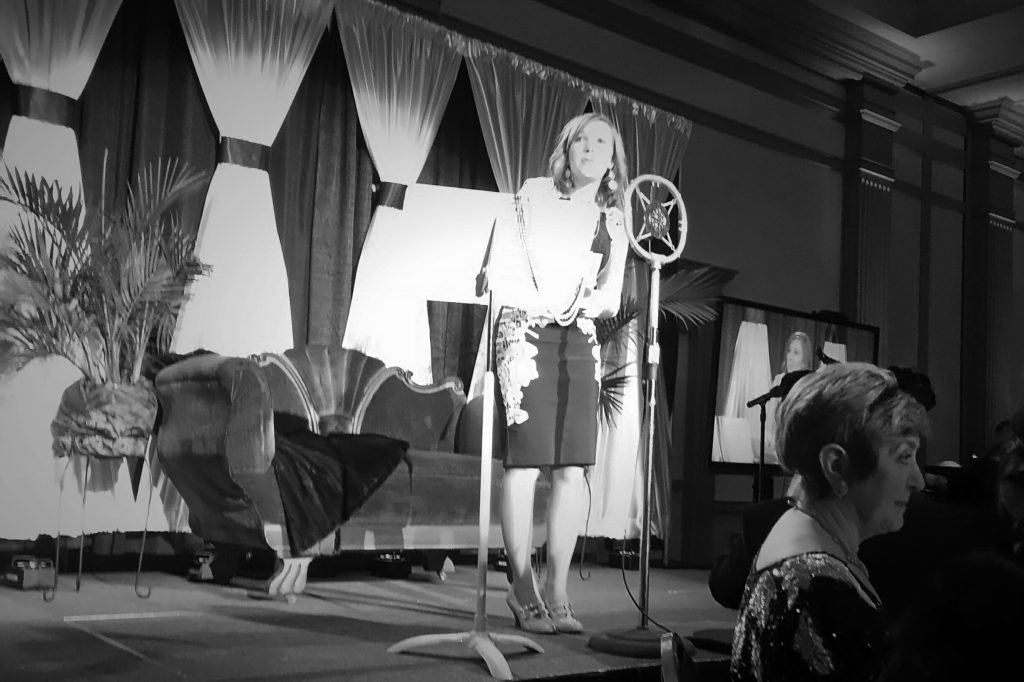 In 2015, I was acting sommelier for the WPSU Annual Connoisseur's Dinner featuring Chef Paul Brooke-Taylor, the chef at Highclere Castle in which Downtown Abbey's television series was filmed. This dinner also featured Downton Abbey's on set Food Stylist, Lisa Heathcote in an overall wine and dinner theme, "An Evening at Downton Abbey." Dinner selections and their matching wines were themed to give guests a real-life Downton Abbey feel.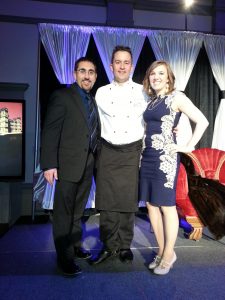 During cocktail hour, which featured a range of themed hor d'oeurves, I selected two New World styled wines: Louis Martini Cabernet Sauvignon and Ferrari Carano Fume Blanc. To emphasize the Downton Abbey theme, both Fumé Blanc, a stylistic version of Sauvignon Blanc originating in America, and Cabernet Sauvignon are traditional grape varieties grown in Bordeaux, the wine region of choice for the elite in the early 1900s.. Additionally, their selection was based on the context in which these wines would be consumed. From my previous experience at the event, I knew guests would need wines that could be enjoyed even if they chose to refrain from hor d'oeurves. These wines had to be, what I consider, social wines. Both of these California-produced selections offer these advantages: low acidity, smooth mouthfeel, recognizable varietals, and good perception of fruitiness.
Course 1: Confit Goosnagh Duck Leg with Crispy Banana Shallot, Sauternes Jelly, Toasted Brioche with Wild Garlic Leaf and Pickled Fried Caper Salad
Wine Pairing: Piper-Heidsieck Champagne
Every-Day Wine Lover (EWL) Explanation: As a general rule of wine and food pairing: when in doubt, choose Champagne! Why? Because Champagne can pair with almost anything. Its bubbles elevate most sensory characteristics associated with the meal, and do not overpower delicate or nuanced food dishes.
More Detail: For our first dinner course I selected a wine that always dazzles the crowd and palate: Piper-Heidsieck Champagne from Reims France. While Champagne is a great way to get an evening or event started, there was a second, Downton Abbey-themed reason for this selection!
For those Downton Abbey fans, you'll recall that the opening episode for the series rested around the sinking of the Titanic and fellow family members lost in the tragedy. Piper-Heidsieck Champagne was actually served to the elite on the Titanic during its maiden voyage, hence its tie to the show.
Course 2: Pan Seared Fillet of North Atlantic Halibut with Le Puy Lentils, Baby Spinach Foam and Claret Wine Reduction
Wine Pairing: Penns Woods 2012 Cabernet Franc Reserve
EWL Explanation: Even though white wines are often paired with fish, I used the Claret, red wine sauce as my inspiration for this meal. I prefer to match the sauce with the wine selection, and hence, chose a traditional Claret blend.
More Detail: Claret is an English term for red wines generally produced from the Bordeaux region. Therefore, for this entrée, even though it was fish, I matched the claret reduction with the wine and used a Pennsylvania-produced 2012 Cabernet Franc Reserve from Penns Woods Winery. I thought a selection from the U.S. that represented an Old World wine style characteristic of Downton Abbey's time would be a memorable experience for guests. The acidity and aromtic complexity associated with Old World wine styles often makes them fantastic food pairing wines. Pennsylvania's wine growing regions, while they are technically within a characterized New World region (the United States), emphasize characteristics that fall somewhere between New World and Old World styles. As Pennsylvania wines tend to fall closer to the Old World style on the spectrum, I like to use them as unique food pairing wines and broaden the depth of consumer experiences with unique wines.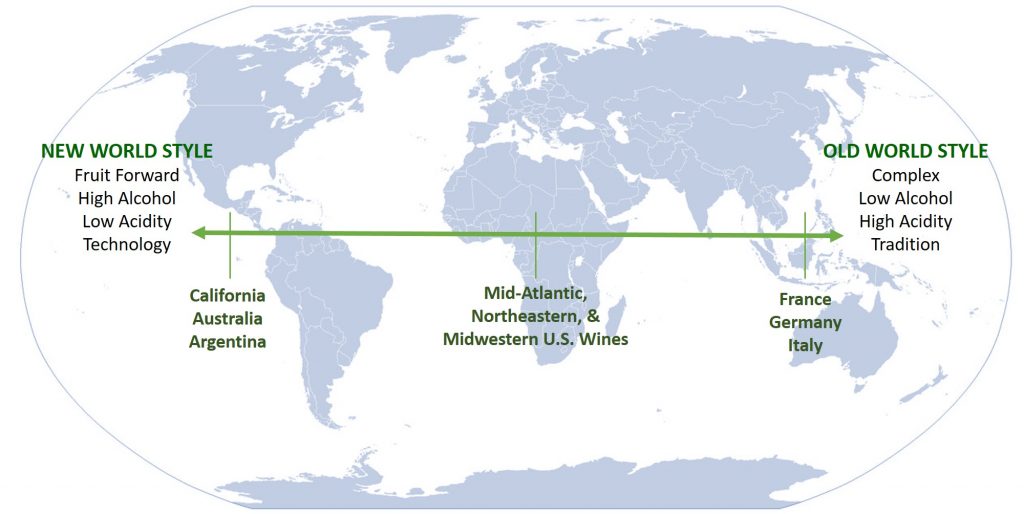 Course 3: Slow Roasted Loin of Venison with Bartlett Fondant Potatoes, Caramelized Parsnips, Butter Sautéed Cep and Centerelle Noisette in a New Forest Juniper Berry Jus
Wine Pairing: Louis Jadot 2011 Cru Beaujolais
EWL Explanation: When there are so many options associated with a meal, revert back to the main entrée. Here, I matched the gamey venison with a lighter-bodied red wine, Gamay, produced from the Beaujolais region in France.
More Detail: Woah! There is a lot going on here in this dish. Mashed potatoes, caramelized parsnips, mushrooms cooked in a brown butter sauce all topped with a juniper sauce. Lots of texture, flavors, and taste sensations!
For this meal, I went back to the star of the show: the venison. Here, I chose a 2011 Cru Beaujolais produced by Louis Jadot. Beaujolais is often associated with Beaujolais Nouveau here in an America. But Beaujolais Nouveau is very different in style and taste than a vintage Beaujolais wine.
Named after the region in which it is produced, Beaujolais is made up of the red wine grape, Gamay and creates a refreshing, red-fruit flavored wine that is generally lighter in its texture and mouthfeel compared to wines produced in the Bordeaux region. This lighter bodied wine, I suspected, would complement the soft, juicy nature of the roasted venison and pair well with the gaminess associated with venison meat.
Course 4: A Fusion of Highclere Desserts: Mini Lisbon Lemon Tart with Egyptian Thyme Ice Cream, a Deconstructed Mess, and Tart Rhubarb with Vanilla Pod Pannacota
Wine Pairing: Saracco Moscato D'Asti
EWL Explanation: Always choose a dessert wine that is sweeter than the dessert itself. When the dessert is composed of fruits, sweet, rich white wines, like Moscato, can be a delightful pairing.
More Detail: Also a lot going on for dessert with so many options that guests could taste. However, the tie in these desserts all revolved around fruit. Therefore, I selected a fruity, slightly bubbled sweet wine for dessert: Saracco Moscato D'Asti.
Many consumers don't realize that wine produced from Asti is actually a slightly bubbled version of Moscato. Fresh, fruity, lively, and always ends with a sweet kiss. I like using Asti as a food pairing option because it is, again, an Old World wine indicating that its natural acidity and vibrancy provide it with the general wine structure needed to make a good wine pairing. Additionally, this tied in with the theme as Downton Abbey is associated with an Old World region of Europe.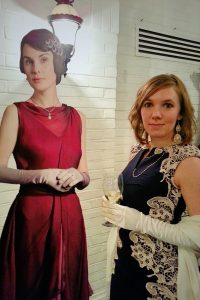 As with all dessert pairings, it's essential that the wine is always sweeter than the dessert itself. Otherwise, the sweetness associated with the dessert will overpower the wine, leaving it to taste sour and bitter during the actual dinner.
When all was said and done, this was one of my favorite themed-dinner events that I was able to choose wines during dinner. It was fun to have a plethora of Old World options that would have been similar to the wines consumed during Downton Abbey's time – wines that many wine drinkers are not as familiar with today. This gave me an opportunity to open the door to new possibilities that they may try later. Remember, the fun in wine is trying new things you may not have tasted before!