The start of summer is the beginning of the end for winemakers: we know harvest season is just around the corner. That means the grape harvest chaos is ready to unleash itself upon us: the frequent and unplanned grape deliveries, tank space situations causing stress, wondering if correct additions were made, late hours, sore muscles, and the yellow jackets buzzing all around you. It's all on the horizon!
If you're asking yourself why you do this for a living, then I am hopeful I can help ease the oncoming pain – I mean excitement – of harvest.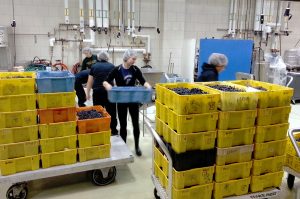 Preparation is Helpful
Pre- and post-harvest planning and preparation are powerful practices that can ease the tension of harvest. Over the past decade, I learned valuable planning skills in putting a team together and cohesively working towards an end goal: making quality, clean wine. With this in mind, I've developed a practical timeline to help wineries prepare for the onset of harvest season.
Finishing bottling operations before grapes are picked, for example, is one technique to improve production efficiency while minimizing stress during harvest. If you already know you can't complete that this vintage season, then these Production Guides can get you one step forward for next year.
Do you remember to pre-order your lab supplies?
Which lab supplies do you need for the upcoming vintage?
When is the best time to order lab supplies?
And if something goes wrong during harvest, what steps do you currently have in place to reduce the problem's impact?
Have you considered what analyses to conduct during production of your wine?
These are all steps created in the Pre-Harvest Prep Production Guide.
Waiting until the last minute to prepare, or waiting until a situation arises, can reduce winemaking efficiency and wine quality. Most mistakes I see in wine are made as a result of employees not "having enough time" or when "things were a bit chaotic."
With my Pre-Harvest Prep Production Guide, now available on the DGW Learning Center, wineries can plan a production calendar that suits their abilities.
How to Use the Pre-Harvest Production Guide
This Production Guide, like the others, is a valuable planning tool to be used in the cellar.
Provide a list for the winemaker or manager to review and set target dates for accomplishing a given task.
Assign tasks to cellar employees or interns.
Provide events that can be documented as calendar reminders on a calendar or phone/computer. This helps you remember to do specific things at a certain time, like ordering certain supplies for harvest.
Act as a starting point for creating annual workflow calendars and timelines to avoid putting off essential production tasks.
Use the guides for reminders on updating production records and compliance documentation.
Improve Post-Harvest Practices, Too!
After the last set of grapes is bubbling along, the last thing most people want to do is review the harvest season. However, it is always best to review harvest and inventories immediately after production slows down. Otherwise, problems are forgotten, wine data is lost, and supplies somehow go missing.
In the Post-Harvest Prep Production Guide, I've provided a series of actions any winery can take to improve the work flow associated with the cellar and enology lab in the few weeks and months after harvest comes to a close.
Are You Integrating FDA Compliance Practices?
Is your winery registered with the FDA? Bonus: These guides provide hints on when to document required compliance information in your logs. Additionally, steps include when documentation should be reviewed and updated by winery management.
Need More Help?
Consulting services are available to use these tools together to help your winery and cellar team grow. We can use Production Guides to:
Act as a communication tool and keep me updated on what's going on in the cellar.
Identify gaps in production and task me with creating solutions for you. Remember, I focus on the winemaking process and when to do things so you can focus your mind and energy on other tasks.
As a consultant, I can aid you in making quality decisions for your wines.
Need more info? Check out what's available in the Learning Center here, or inquire today at info@dgwinemaking.com.