The downloadable spreadsheet is available in both an Excel and PDF format.
This document includes acceptable limits for wines and hard ciders destined for aluminum can packaging. These limits are discussed thoroughly in the "Canning Wines & Hard Ciders" webinar. That information is transcribed in the supplemental webinar notes.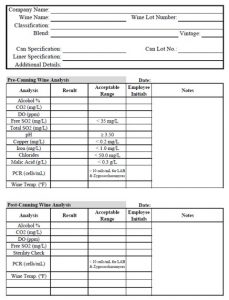 The PDF format can be printed and easily attached to a cellar clipboard or inserted into the cellar record keeping binder to retain adequate QA/QC data related to pre-canning and post-canning operations.
For more information on processing wines or hard ciders that will get packaged in aluminum cans, please watch the "Canning Wines & Hard Ciders" webinar or download the webinar notes. Both are available for DG Winemaking clients and Darn Good Winemakers members.
…