Malolactic fermentation (commonly referred to as "MLF") is the biological conversion of malic acid to lactic acid. This process is "biological" in that lactic acid bacteria (LAB) cause the change in malic to lactic acid present in the wine. While LAB are native to wine grapes, they can also be added through inoculation throughout several wine production stages.
Wines that undergo MLF typically result with a less sour taste.
Malic acid, which is naturally occurring in grapes, brings a harsh, biting acidity to the wine. As a reference, malic acid is the primary acid found in apples, and its biting nature is usually illustrated by tasting a tart green apple. In contrast, the conversion to lactic acid softens wine's acidity. Lactic acid, the primary acid found in milk, is comparatively less harsh than malic acid.
From a technical, sensory perspective, MLF can bring the following sensory changes to a wine:
Decrease in titratable acidity (TA).
Increase in pH.
Decrease in sourness of the wine.
Potential development of the "buttery" aroma or flavor due to increased diacetyl production.
Inoculating for MLF
Some winemakers opt to utilize the native LAB to undergo MLF, though this can be unpredictable and tricky. Some wine processing techniques, such as juice clarification, can remove most native LAB and, therefore, inhibit MLF. Furthermore, some native LAB strains can produce off-flavors or spoilage characteristics that may degrade wine quality. In contrast, some wineries rely completely on native MLF techniques and produce excellent wines.
Inoculating for MLF with malolactic bacteria (MLB) is a fairly simple process. When using commercial strains, it's important to take some care and consideration during inoculation.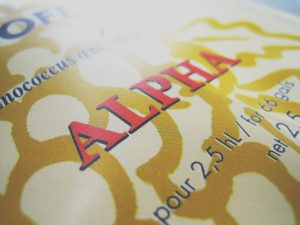 LAB can be added to the wine:
Before primary fermentation,
During primary fermentation,
Near the end of primary fermentation, and
After primary fermentation is complete.
The timing of MLB inoculations can ultimately affect wine style and quality. There are advantages and disadvantages to inoculating at each stage listed above. Often, MLB inoculation timing is a stylistic choice by the winemaker.
If adding MLB during primary fermentation, it's essential to check MLB strain compatibility with your selected yeast strain. You can do this by contacting your fermentation supplier (e.g., AEB, BSG, Enartis, Scott Labs, etc.) or referencing their yeast-bacteria charts in the supplies handbooks.
Need to make an inoculation? Most MLB can be added to 68°F chlorine-free water for about 15 minutes, and then added directly to your wine. Winemakers are encouraged to double check inoculation procedures with their supplier, as a few strains require extra or alternative prep steps.
How to Monitor MLF
MLF can take several weeks to complete. For this reason, it's good habit for winemakers to monitor the MLF process. I usually recommend checking its progress once a week, as until MLF is completed the wine is in a vulnerable microbiological state.
Many wineries find it affordable and convenient to monitor MLF progression through paper chromatography. Both Enartis USA and Midwest Supplies offer decent protocols for paper chromatography that are available free online.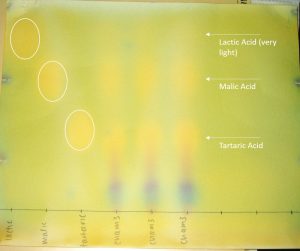 Make sure that when you are taking wine samples for MLF monitoring that you have good cleaning and sanitation practices. Sanitize your wine thief (using a 70% ethanol solution or an acidulated sulfur dioxide solution) in between taking barrel samples. Good practices include allowing the solution to get up, inside the wine thief, as well. To save time, keep two wine thieves on hand; allow one to soak while using the other to pull a sample. Sanitize the bung prior to closing the barrel.
If you're taking samples from a tank, make sure you are cleaning and sanitizing the sample valve. This is an easy place for wine to dry and create a biofilm surface, harboring spoilage microorganisms.
It's difficult to assess MLF completion using paper chromatography. Therefore, when chromatograms do not show a "malic acid circle" for a particular wine, it is a good idea to have them assessed for residual malic acid. To ensure MLF completion, use enzymatic analysis and determine the residual concentration of malic acid in the wine. I recommend wines reach an end mark of 0.3 g/L malic acid (300 mg/L) or less to indicate that MLF is complete.
From there, the wines can be racked, chilled and/or stabilized for further aging.
Stuck MLF Can Cause Concern
Several problems can arise with the MLF process. Many factors including inadequate nutrition, microbial competition, and presence of inhibitors (i.e., sulfur dioxide, alcohol, temperature, oxygen, metal ions, and residual pesticides) can lead to stuck or sluggish MLFs.
A stuck MLF can be a difficult winemaking situation.
At this stage, wines are in a vulnerable state, left unprotected with very little sulfur dioxide in the wine. Furthermore, to optimize LAB growth, wines are usually held at the ideal LAB growing temperature, around 68°F. However, this warmer temperature is also ideal for the growth of potential spoilage microorganisms.
Under warmer temperature conditions and lack of antimicrobial protection, wine spoilage can quickly arise if left unmonitored.
What to do if you are Dealing with a Stuck MLF
LAB can be tricky microorganisms to deal with in the cellar.
Before purchasing MLB from a commercial supplier, double check the preferred growing conditions for that strain. Things like high alcohol and low pH can greatly reduce the bacteria's efficacy. It's good practice to select strains based on the wine's chemistry to optimize potential for successful MLFs.
Since LAB are considered facultative anaerobes, they can grow with or without oxygen. In contrast, yeast and acetic acid bacteria typically require oxygen exposure to metabolize. Maintaining a fairly anaerobic environment could help MLB outcompete these other spoilage microorganisms without protection from antimicrobials, like sulfur dioxide.
Even with the best winemaking practices, it's possible for MLF to stick. In these situations, the malic acid content does not deplete at a steady, consistent rate. Because there are so many variables that contribute to stuck MLFs, many analytical labs offer analysis panels to determine the cause. However, this can be expensive for wineries and, therefore, impractical.
While these situations are tricky, a number of solutions to restart MLFs do exist and can be found in the DGW Learning Center.
Avoid repeatedly re-inoculating a wine with new MLB over and over again. In most cases, this will not re-start the MLF. Often, other prepping steps are required prior to re-inoculation and successfully completing MLF.