*Note: This post, as well as past and future correspondence about FSMA and FDA compliance is not intended as legal advice. These communications are to help clarify confusion related to federal FDA inspections associated with wineries and alcohol-producing facilities. Wineries are encouraged to seek legal counsel to determine federal and state licensing procedures associated with their facility.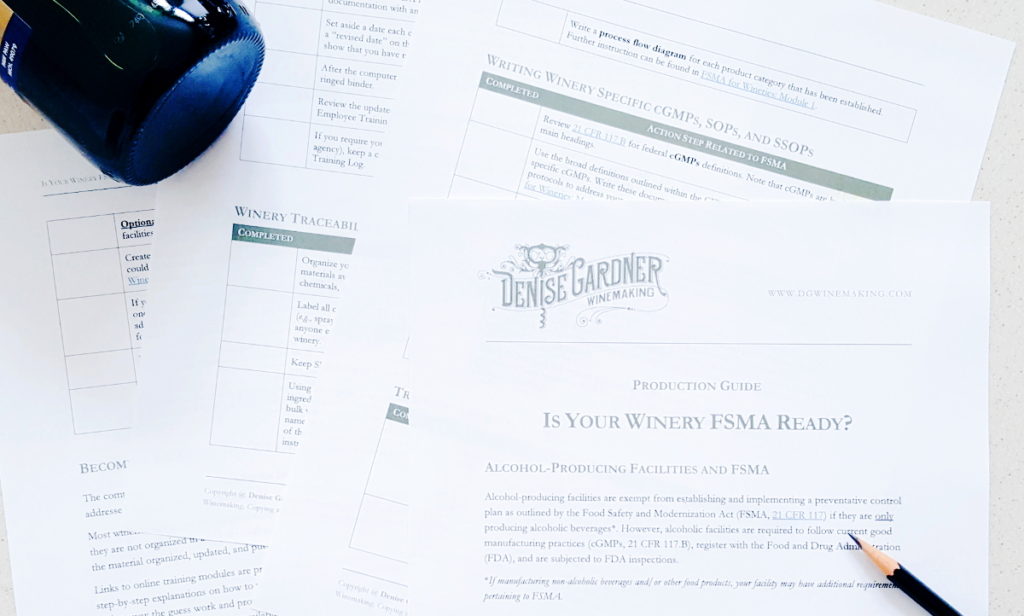 Over the last few years, I've discussed some major talking points around the Food Safety and Modernization Act (or FSMA, pronounced, "Fis-mah"). The enactment of FSMA in 2011 changed the focus of FDA food regulation from reacting to food production risks or contamination problems, and is instead requiring food and beverage processors to prevent food contamination and safety risks. Furthermore, it created additional regulation for wineries and other alcohol-producing businesses to adhere to on a regular basis.
It's no secret that the integration of FSMA has created confusion for many wineries.
Over the past year, many states have begun the process of training state inspectors to carry out FDA inspections on the FDA's behalf. With this in mind, it's possible that wineries could undergo an FDA inspection by their state inspection agency (e.g., in Pennsylvania, this is the PDA and PDA inspectors).
But the most difficult part about FSMA and FDA compliance for wineries is understanding what it is and what exactly wineries have to do in order to comply.
This post will work on tackling both of those key questions and where FSMA compliance stands with wineries currently.
What FSMA Requirements are Essential for Wineries?
Most wineries, and other alcoholic beverage manufacturers, will likely require FDA registration (more on this in our upcoming email course!), but do not have to worry about establishing and implementing Subparts C (Hazard Analysis and Risk-Based Preventative Control Plan) and G (Supply Chain Program) of the FSMA regulation.
Nonetheless, alcohol-producing establishments must adhere to the following Subparts within the FSMA regulation:
A: General Provisions
B: Current Good Manufacturing Practices (cGMPs, including Employee Training)
F: Requirements Applying to Records That Must Be Established and Maintained (Record Keeping).
These details are outlined in the FSMA regulation, 21 CFR 117, and can be read in the subsequent subparts (highlighted in the CFR as Subparts A through G). A previous "Understanding FSMA" posting from Cornell Cooperative Extension broke down the subparts for wineries to understand each section. Their post explains the purpose of each section within the regulation, and how it pertains to U.S. wineries.
Getting a Grasp on FSMA and How it Pertains to Your Winery
In June 2019, I'm launching a FREE 5-day email course for wineries to follow day-by-day and build a portion of their FDA compliance documentation.
This 5-day email course, titled "Getting Your Winery Ready for an FDA Inspection" will cover:
Registration with the FDA, including our current understanding on whether or not wineries need to register with the FDA and if not registering will clear you from a FDA inspection.
How to group the wines you produce into Product Categories.
How to write Process Flow Diagrams.
How to create winery-specific current good manufacturing practices (cGMPs) policies based on the FSMA regulation, standard operating procedures (SOPs), and sanitation standard operating procedures (SSOPs). Don't know what these are? Don't worry, we'll cover it!
Developing a simple, practical, and immediate employee training program, and documenting it effectively. You'll be able to implement this before harvest begins!
Getting all of this documentation together for an FDA inspection.
The email course is scheduled for Monday through Friday, June 17 – 21, 2019.
Each day will provide one email with some background information on that portion of compliance and an action item to start or complete for that day.
Anyone can sign up for this FREE 5-day email course. All you have to do is follow the instructions below.
Is Your Winery FSMA Ready?
You've asked, and I've listened!
If you want an easy-to-follow, step-by-step checklist to get your FDA documentation together and comply with FSMA, DG Winemaking has created one for you.
I've found most wineries already follow most of the procedures outlined by FSMA.
What wineries lack is an organized way of documenting how they are FDA compliant. This is important as this documentation is necessary during an FDA inspection.
Therefore, this checklist will guide you to take your current policies and procedures and put them into a clear, communicative format that you'll be able share with an inspector during a future FDA inspection.
And guess what?
The Is Your Winery FSMA Ready? checklist is FREE with registration to our June 5-day email course!
I'm providing the Is Your Winery FSMA Ready? checklist free with your registration for the "Getting Your Winery Ready for an FDA Inspection" email course. By signing up, you'll receive:
A downloadable copy of the Is Your Winery FSMA Ready? checklist, which you can reference at any time.
Registration for the "Getting Your Winery Ready for an FDA Inspection" email course in June.
And future e-blast communications from DG Winemaking.
You'll always be welcome to opt out at any time.
And keep a look out for more FSMA information in the next few weeks' blog posts…