Have you been questioning how to transfer your hard record keeping files into something more digital? Are you at a point where digitizing your systems may be more efficient? Have you felt that your operation is too small to get into the digital age? If you answered yes to any of these questions, you will probably find our next free webinar quite informative!
DG Winemaking is co-hosting a FREE webinar on Thursday, July 16th at 2:00 PM – 3:00 PM, EST (11:00 AM – Noon, PST) titled, Is Winery Information System (WIS) the Right Solution for Recording, Accessing, and Managing My Winery Data?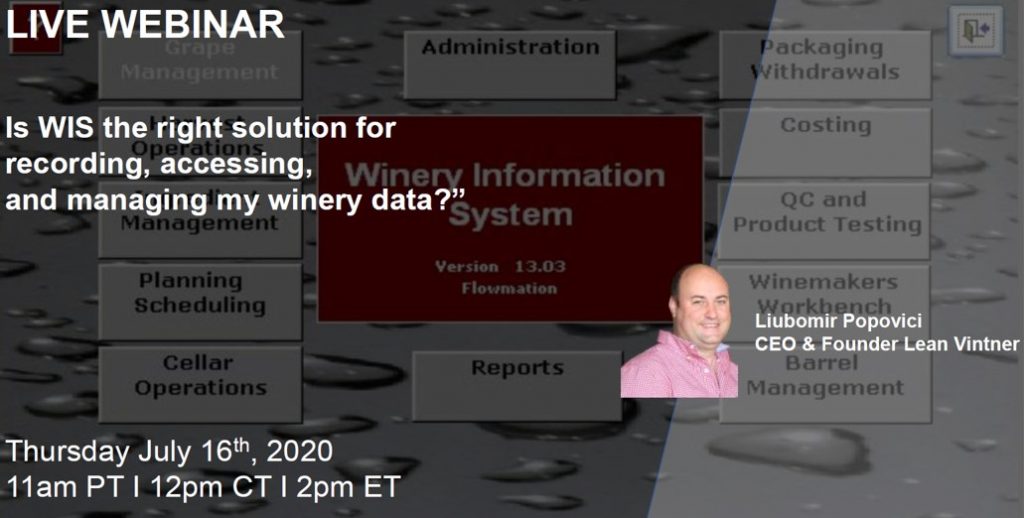 This 40-minute webinar on informational systems appropriate for smaller winery operations with Q&A at the end will be taught by Liubomir Popovici, CEO and Founder of Lean Vintner.
Liubomir will cover:
Key features associated with WIS,
Benefits and values of using WIS,
WIS functionality overview, and
Implementing WIS at the winery: costs and timelines.
If you have ever considered implementing an informational database system to your winery, then now is the time to join our webinar on July 16th at 2:00 PM EST (11:00 AM PST).
It's an opportunity to learn about one system that is appropriate for wineries of many sizes and to ask questions to an expert that understands integration of these systems into the winery.
This webinar is FREE to join, but registration is required to reserve space in our webinar room. Anyone is welcome to join us. You can register at the link provided in the button, below!
For more information on the webinar and Liubomir, please visit our webinar page, here.