Today is the last day that you can enroll in our "Getting Your Winery Ready for an FDA Inspection" email course, which launches next week (June 17 – 21, 2019). It's free! You're enrollment guarantees you:
A downloadable copy of the Is Your Winery FSMA Ready? checklist, which you can reference at any time.
Registration for the "Getting Your Winery Ready for an FDA Inspection" email course in June.
And future e-blast communications from DG Winemaking.
Of course, you're always welcome to opt out at any time. But, this is a 2019 exclusive free email course, delivered straight to your inbox, one day at a time, to help you get the ball rolling on your winery's FDA compliance.
Why are we spending so much time on FDA compliance documentation?
The 2011 Food Safety and Modernization Act (FSMA) affects all U.S. wineries. While most wineries are likely following the current good manufacturing practices (cGMPs) and employee training requirements outlined in FSMA, it's likely they do not have a good way to communicate their practices to a potential FDA inspector.
Therefore, I'm providing you with step-by-step material to help you better communicate the winery's operational practices. This is shown in the Figure 1 graphic, step 2.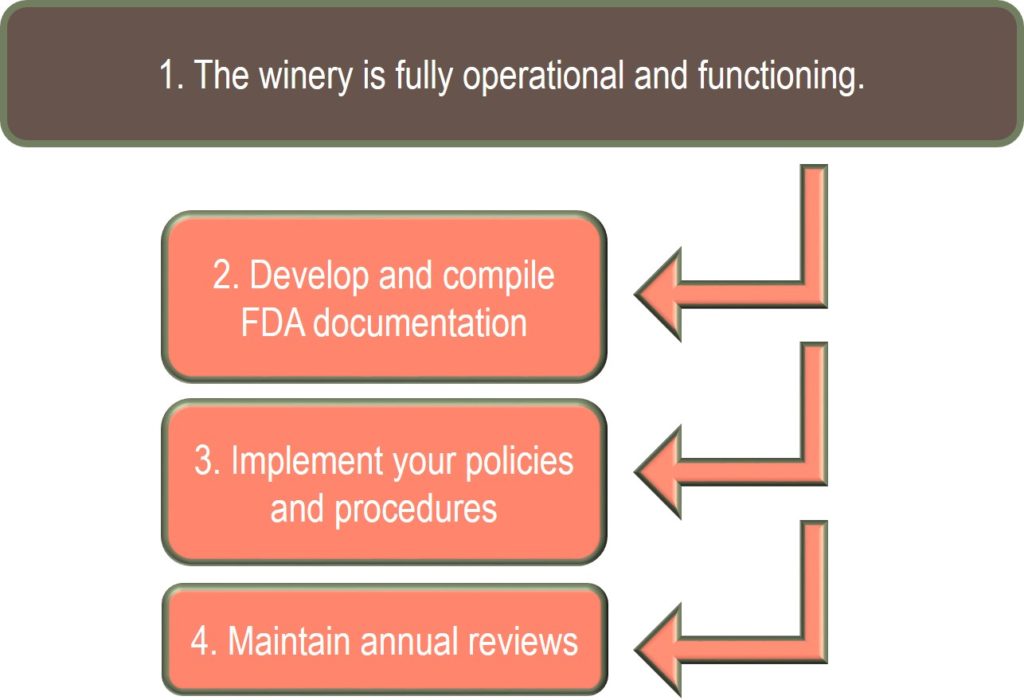 Developing winery-specific documentation is really the most time consuming portion of FSMA and FDA compliance for wineries. Most wineries find this challenging because there isn't a published guideline or list of points necessary to review within the documentation. The documentation has to reflect the actual operations, policies, and procedures conducted in-house.
This is where I've chosen to focus the Is Your Winery FSMA Ready? checklist, as well as the 5-day "Getting Your Winery Ready for an FDA Inspection" email course. I know this is where wineries require the most help, and these two resources can help you get started.
Once your documentation is created and organized, complying with FSMA is quite simple for alcohol-producing facilities that only produce alcoholic beverages. This is where steps 3 and 4 come into play, as detailed in Figure 1.
Keeping up with FSMA requires two simple steps from wineries from that point forward:
Making sure the policies and procedures documented are carried out correctly in the winery. This is basically a self-assessment to ensure your documents reflect the practices you are striving to obtain in the winery.
Maintaining an annual review process. This should include two additional steps:

Reviewing your compliance documentation to make sure it still accurately reflects the winery's practices.
Re-educating and training your production employees to ensure they continue to use cGMPs and the procedures outlined in your SOPs and SSOPs. Then, document the date of the training for each employee.
If you are completing the annual review process every consecutive year, it can likely get completed within one day, max, unless major changes have occurred in production. I recommend picking a slow time of year like January or February to complete annual reviews and annual review employee training.
And that's it!
The winery is now FDA compliant.
Plus, there are probably some unforeseen benefits to compliance including
better efficiency,
improved communication, and
maybe even a boost in wine quality with documented sanitation procedures in effect.
Last Call to Start Building a Winery's FDA Documentation This Year
Get your free checklist and 5-day email course today. Of course, you can always hold onto the information and complete it your own time if that is more convenient.