One of the most common concerns I hear about hiring a wine consultant is concerns about retainer payments. Luckily, I've designed DGWinemaking (DGW) without retainers, but with a focus on solving problems for winemakers, the cellar crew, and tasting room staff. There are several tiers of involvement one can participate in depending on the needs at the winery. [Author's note: Want more information on this? Contact me at info@dgwinemaking.com.]
The DGW emphasis: reduce feelings of overwhelm and stress, while increasing one's winemaking confidence.
In this post, I'd like to dive into a few of the services available through DGW wine consulting service packages (i.e., DEMI, STANDARD, STANDARD V, and MAGNUM) as well as FREE information (what I like to call, "freebies") for those who want to stay connected to the DGW Community and see what's new.
Without further ado, allow me to pull back the curtain and introduce you to some useful, educational components associated with the DGW Community…
Paid Services: DGW Client Member Benefits
Login Access: Becoming a Part of the DGW Community
Whether you sign up for a DEMI, STANDARD, STANDARD V, or MAGNUM wine consulting service package, all groups instantly become a part of the DG Winemaking (aka DGW) Community. This means you'll be granted an username and password that allows you access exclusive content.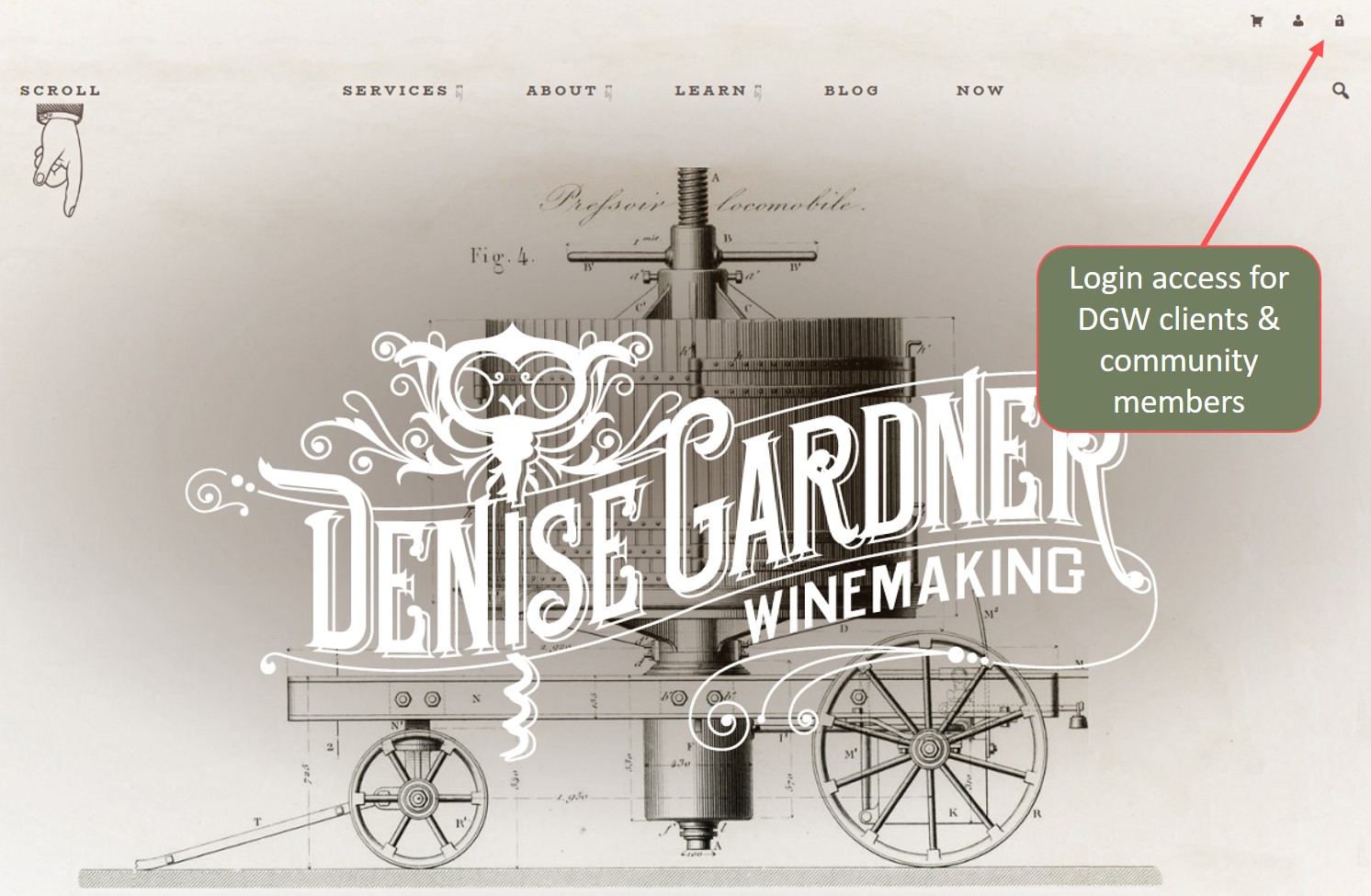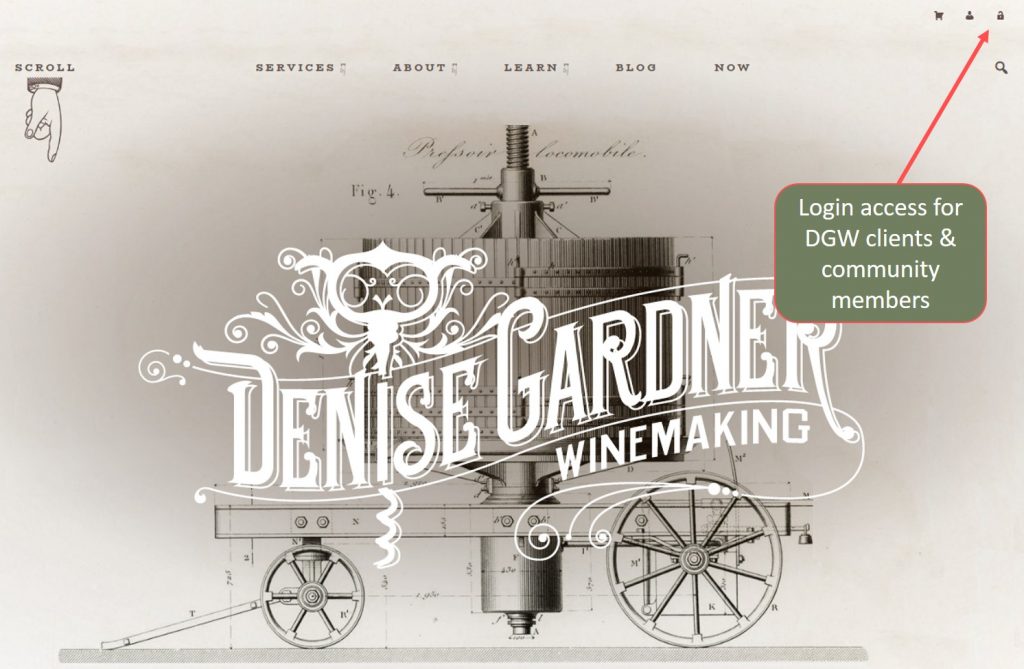 The only consulting service package with limitation restrictions to content on the website are those with a DEMI membership.
Otherwise, all other clients receive unlimited access to everything available on the DGW website, including free registration to all live webinars and unlimited access to online training series.
The DGW Learning Center
Part of the DGW mission is to provide practical education to reduce anxiety in the cellar and enhance your confidence in winemaking decisions.
The DGW Learning Center offers exclusive education, available on-demand, for all DGW Community members.
Interested in learning a bit more about what is in the DGW Learning Center? The section below details the DGW Learning Center content.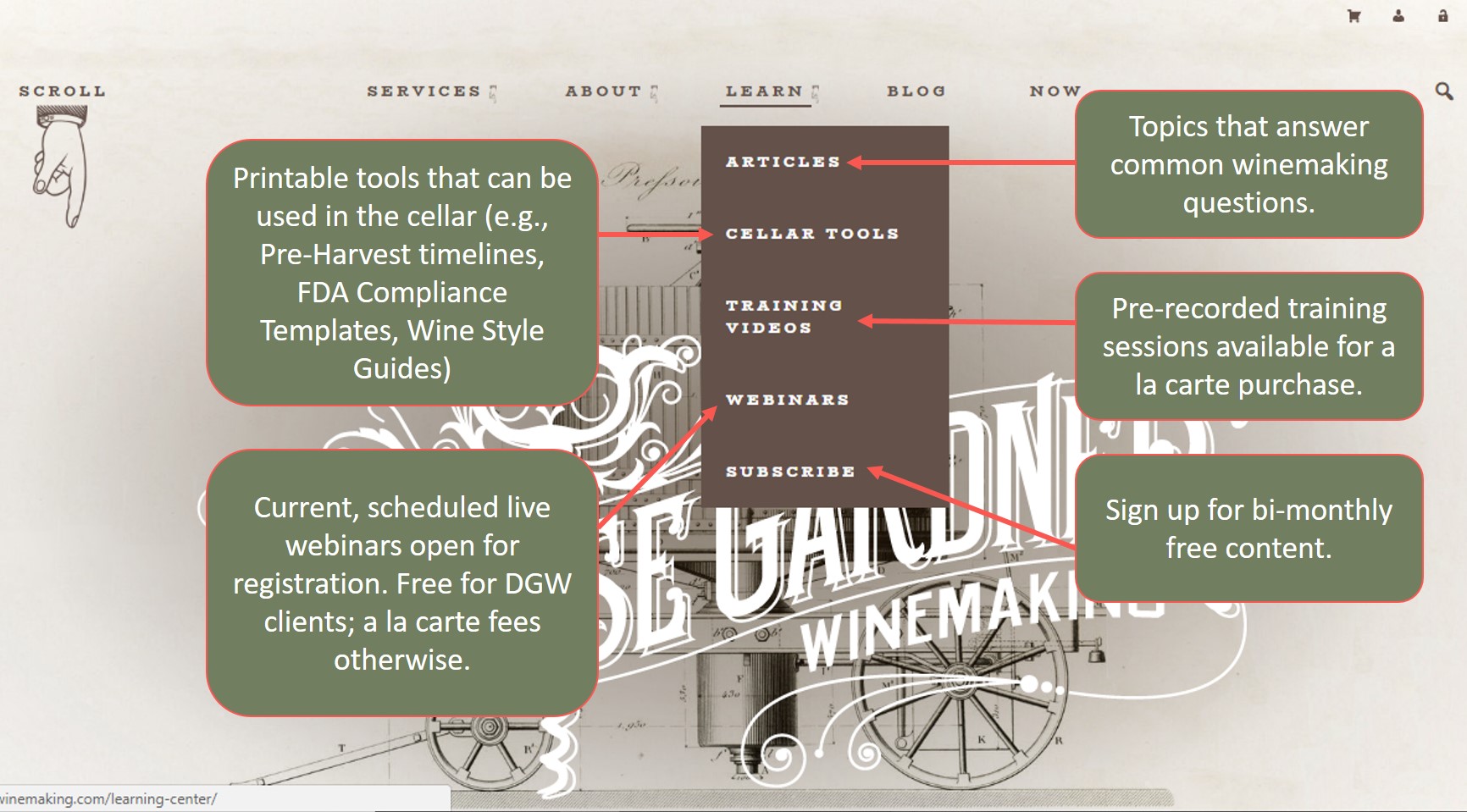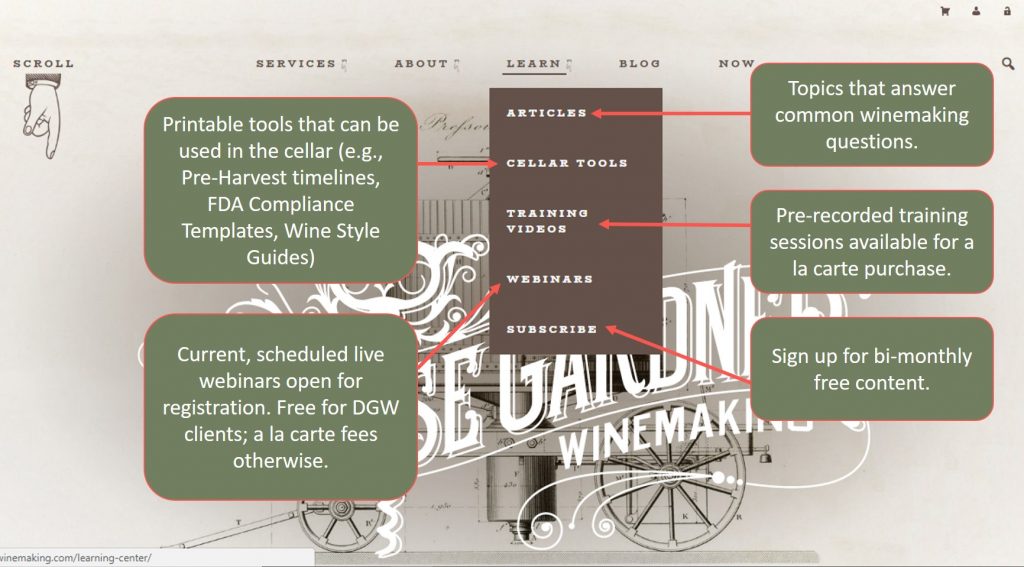 Articles
Articles are literally what they sound like: short primers that discuss common wine and winemaking topics. For example, 2018 Wine Products of Interest reviews several useful innovations on display at various industry conferences that have applicability for my audience here in the "Eastern" U.S. These are products that I think are a reasonable investment for boutique wine operations while also providing a noticeable benefit.
Because many DGW Articles tackle general winemaking questions, a quick read may provide an answer to a production question you are looking for without investing more time in additional consulting services. From a production perspective, both Key Harvest Operations that Require Practical Cleaning and Sanitation Detail and Wine Lees: A Powerful Tool discuss production techniques essential for producing quality wine. Furthermore, Processing Decisions: Dealing with Botrytis offers potential pro-active and general solutions I typically recommend for producing quality wines from Gray Mold infected grapes.
DGW Articles also address tasting room issues. As an example, DGW Article Are Eastern-Produced Wines a New World Style? offers my insight on describing wines produced outside of the Western U.S. Wineries are welcome to print out this information, available for inquisitive clients. Or the information can be used for tasting room staff training purposes, as the content may help explain your wine to a customer new to the region. However, winemakers can also benefit from the information in this article as the content provides steps for how we can work together through consulting to craft wines of a particular style.
Cellar Tools
Cellar Tools are designed as printable resources for your winemaker and cellar employees. These include checklists or timelines that provide a time frame with detailed guidance on essential production steps. As shortcutting often leads to mistakes, wine flaws, and hence, more work, DGW Cellar Tools save your employees time by minimizing guess work and preventing errors.
Some tools, like Pre-Harvest and Post-Harvest Prep Production Guides, contain reminders to document specific information relevant to FDA compliance documentation. Templates pertaining to employee training documentation can also be found within DGW Cellar Tools. For more information about FDA compliance documentation and wineries, please visit this blog post, here.
Bonus: Many DGW Cellar Tools are designed with compliance documentation requirements in mind. Many printouts can act as cellar records if used properly. Furthermore, as a client, we can use them as communication tools to ensure crucial tasks are completed in an appropriate time frame that ensures wine quality.
Other tools, like Wine Style Guides, offer flow diagrams with technical detail on how to craft a wine of a particular style. The current Wine Style Guide available is related to pét-nat production. If you're not making pét-nats, don't worry! More Wine Style Guides are on the way.
Both Reducing Copper in Copper-Sulfate Treated Wines and Re-Starting a Stuck MLF are Production Guides that provide detailed solutions for fixing common problems in a wine. Winemakers can print out the Production Guide (usually one page, front and back), choose the solution that works best for their operation, and follow the application details to solve the problem. Need more assistance? Contact me to provide additional guidance or follow up sensory evaluation to ensure the solution has fixed the wine problem.
Webinars
Webinars are a newer feature in the DGW Learning Center. Live Webinars are free for all DGW Community members (i.e., anyone with a consulting service package). [Author's note: See "Training Videos" for recorded webinar options.]
Webinars are scheduled periodically throughout the calendar year and address topics of interest to the winemaking community.
Training Videos
A recently released feature, Training Videos are either a recorded webinar series or pre-recorded instructional videos that deliver on an educational objective.
The current Training Video series available is related to FDA (FSMA) Compliance Documentation Writing for Wineries. This training series details five main points that many wineries have to comply with, based on the current understanding of the FSMA regulation.
Additional training series are on their way, and some may offer a certificate of completion when the series is adequately completed.
Unlike other features in the DGW Learning Center, Training Videos are available for a la carte purchase.
DGW Freebies!
While there's lots that DGW Community Members get to enjoy, there are also some freebies available to all! And stay tuned; more DGW Freebies are in the works and will roll out periodically.
E-Blasts and NOW!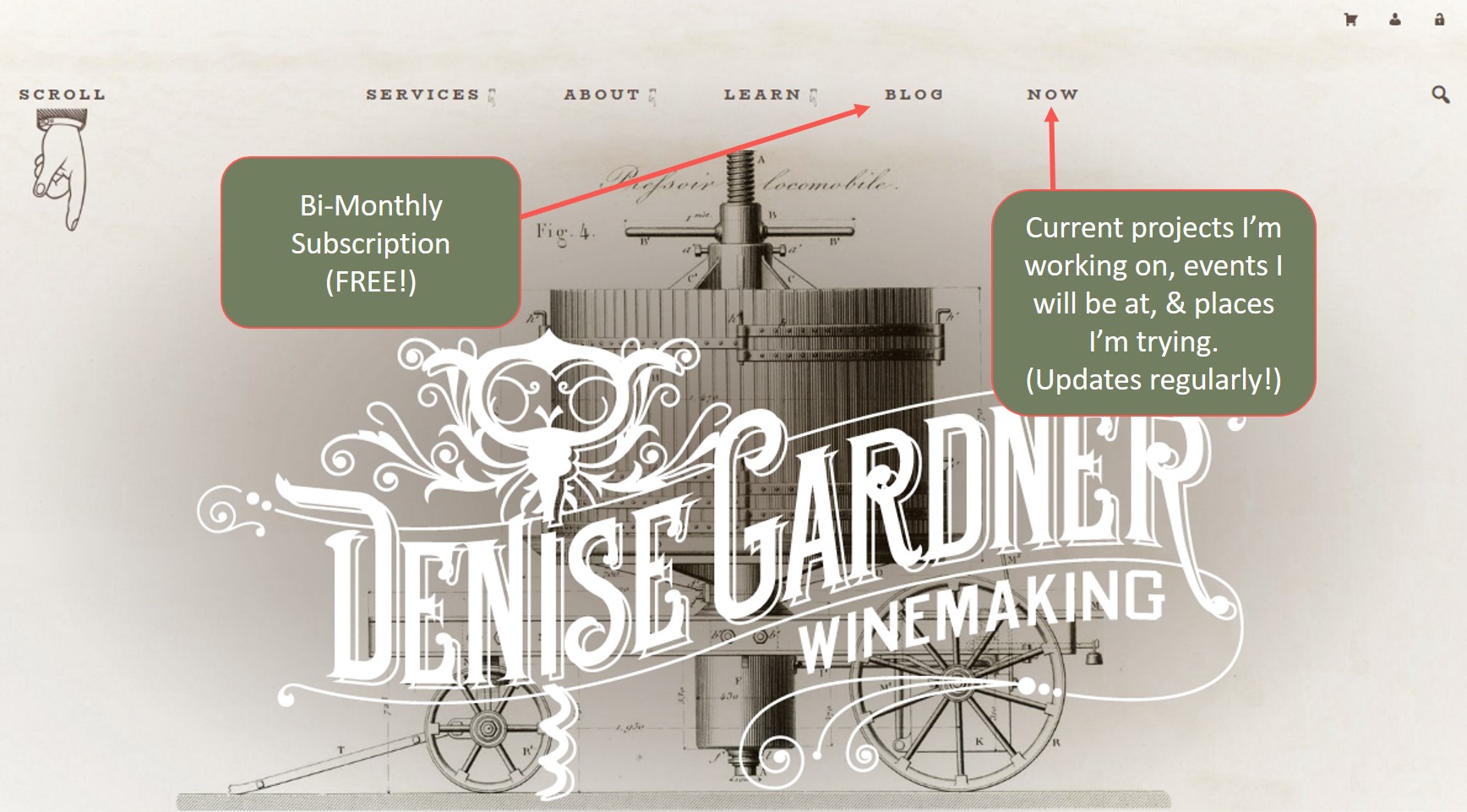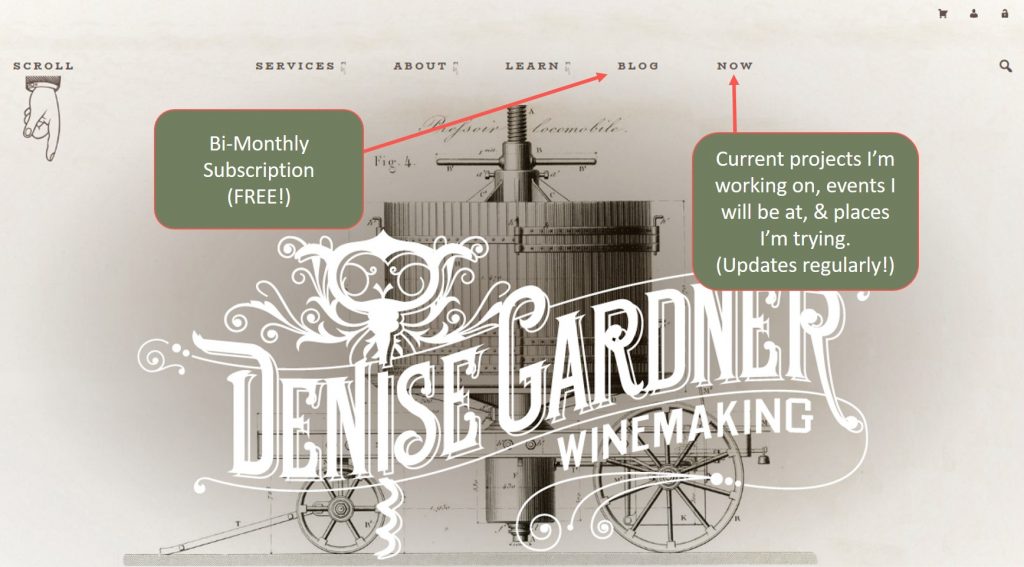 DGW subscribers received bi-monthly e-blasts that contain lots of content about winemaking, wine sensory, wine-and-food pairings, wine branding, and much more. E-blasts are designed to provide educational, interesting, and fun content about wine… all the time. You can subscribe to the DGW e-blasts on the website and unsubscribe from e-blasts at any time.
Content is also intended for tasting room use. Recently, I featured two Sangria recipes that are my go-to recipes during the hot summer months. Tasting room managers are welcome to share these recipes using their own wines to help increase sales of a particular wine. Plus, if you're selling local distilled spirits, this may be a great place to co-advertise wine cocktail ingredients.
Finally, content is also educational with a wine producer audience in mind. Some posts discuss a new release on the DGW Learning Center or address a winemaking concern that has routinely crossed my email Inbox. The good news about the blog is that everything remains on the website, arranged by date and searchable by words (tags) that generalize the post's information.
The NOW page is a recent addition. I update my NOW page regularly, providing some insight into who I am, my business, and well, what I'm working on right now. Everyone once in a while, I'll also share some favorite "local" restaurants or places I have visited. If you click on the link, there's a small snippet behind the generation of this page, and I hope it's something that you'll enjoy checking on periodically. [Author's note: nothing is saved on this page, so if you don't check frequently, you may miss out on some of my freebies here!]
Instagram: Education and Wine Culture
I have started offering wine branding and social media enhancement consulting embedded in STANDARD, STANDARD V, and MAGNUM service packages. (Currently, I do not offer this a la carte.)
In order to walk-that-walk, I take time each week to keep up with my own social media platforms both in portraying the DGW brand and creating great content. The two social media platforms I focus on the most are Instagram and Facebook.
My @dgwinemaking Instagram feed is all about wine education: an essential part of DGW's mission. Every once and awhile, you can find some sneak peaks of wines I'm working on, but due to the respect and confidentiality for my clients, I try to focus more on sharing what I know about wine.
Right now, there are a few educational themes that stream my Instagram feed:
Wines I recommend followers try: These range from wines produced by some of my clients to favorite local selections to rare wines I've found to wines we all can afford. There's nothing I'm afraid to try, but I only write positive reviews for all of the wines I taste and share on Instagram. My goal is to write about wines that my followers will feel confident in purchasing and without feeling wine-snob anxiety.
The #createyouraromabank sensory series: Through the power of Instagram, I'm illustrating how I learned to enhance my aroma recognition skills! Hopefully I will inspire my followers to start smelling and tasting a lot of things. It's really that simple, and I'm using Instagram as a platform to help people improve their aroma recognition skills. Posts feature common objects and foods to smell or taste while committing the aroma to memory. These posts not only help wine consumers get better at describing wine, but are also designed to help winemakers expand their aroma recognition skills. Hence, using these techniques winemakers should walk away crafting better wines due to improving their sensory and communication skills (because all things perceived sensorially relate back to something done in production).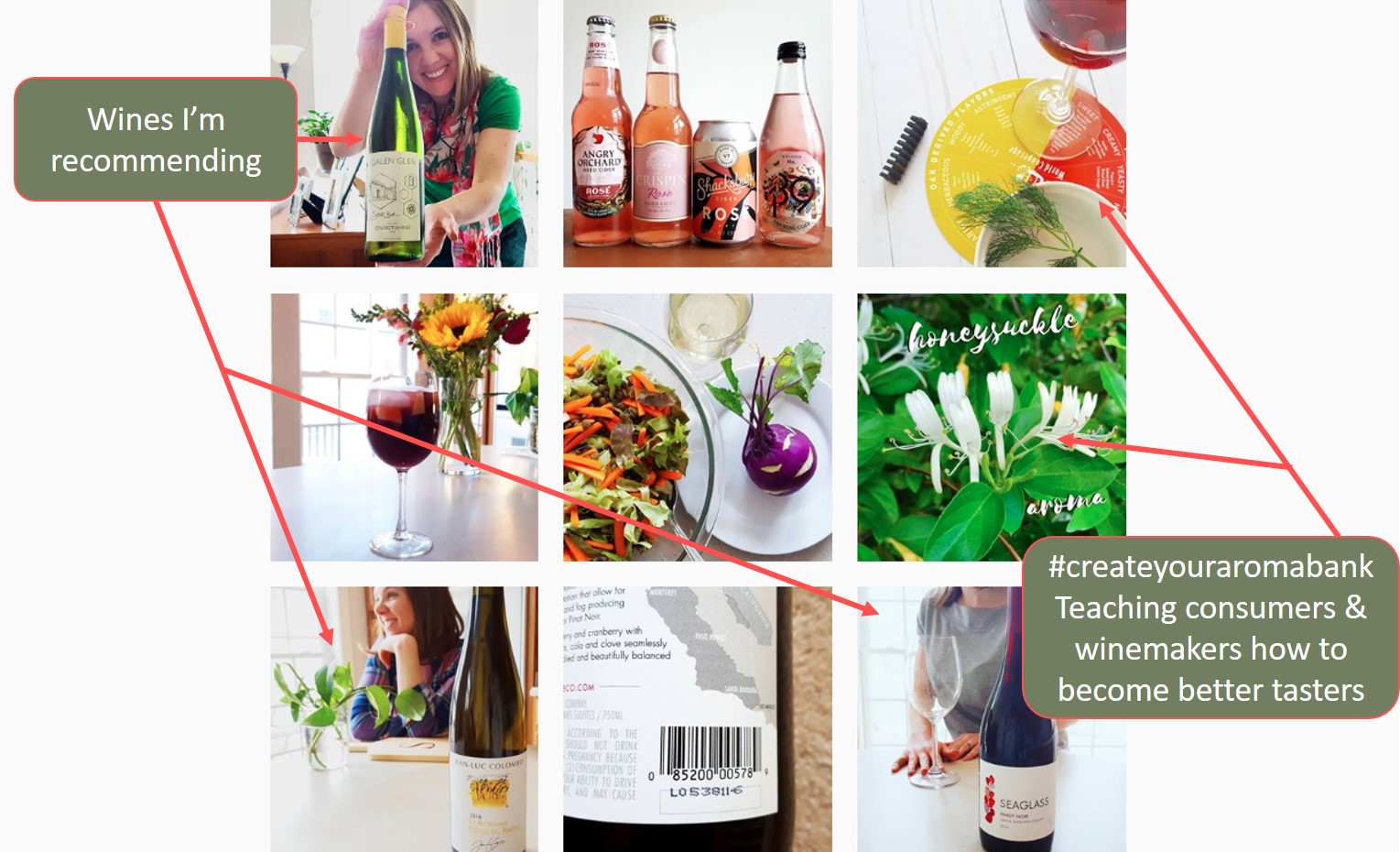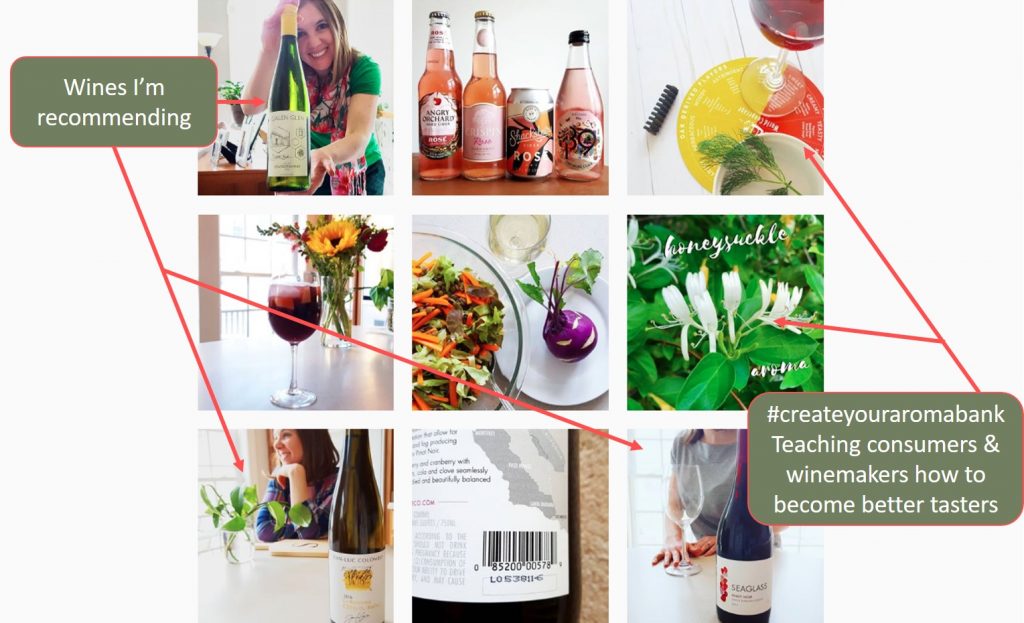 Wine cocktail recipes: These are wine cocktails I craft at home that generally taste delicious. Recipes can be enjoyed, copied, and used in tasting rooms with application to the wines you sell.
Easy food-and-wine pairings: These posts focus on meals ANYONE could make, including some local foods that arrive seasonally within Pennsylvania. I typically try to describe local and national wines that can be paired and shared with that meal. Too often wine-and-food pairings go back to meals that are difficult or time consuming to make. @DGWinemaking photos and captions make putting wine on your dinner table (or your customers' tables) more practical.
Wine production education: Recently, I posted some wine traceability photos and how it relates to FDA compliance. Another example of this content was a "wine style research" post, illustrating a flight of rosé (Okay, not wine, but many wineries I work with also craft ciders.) These posts are portraits into how I learn and become better at crafting quality wines. Winemakers and cellar employees can use the information based on what applies for the operation in which they are employed.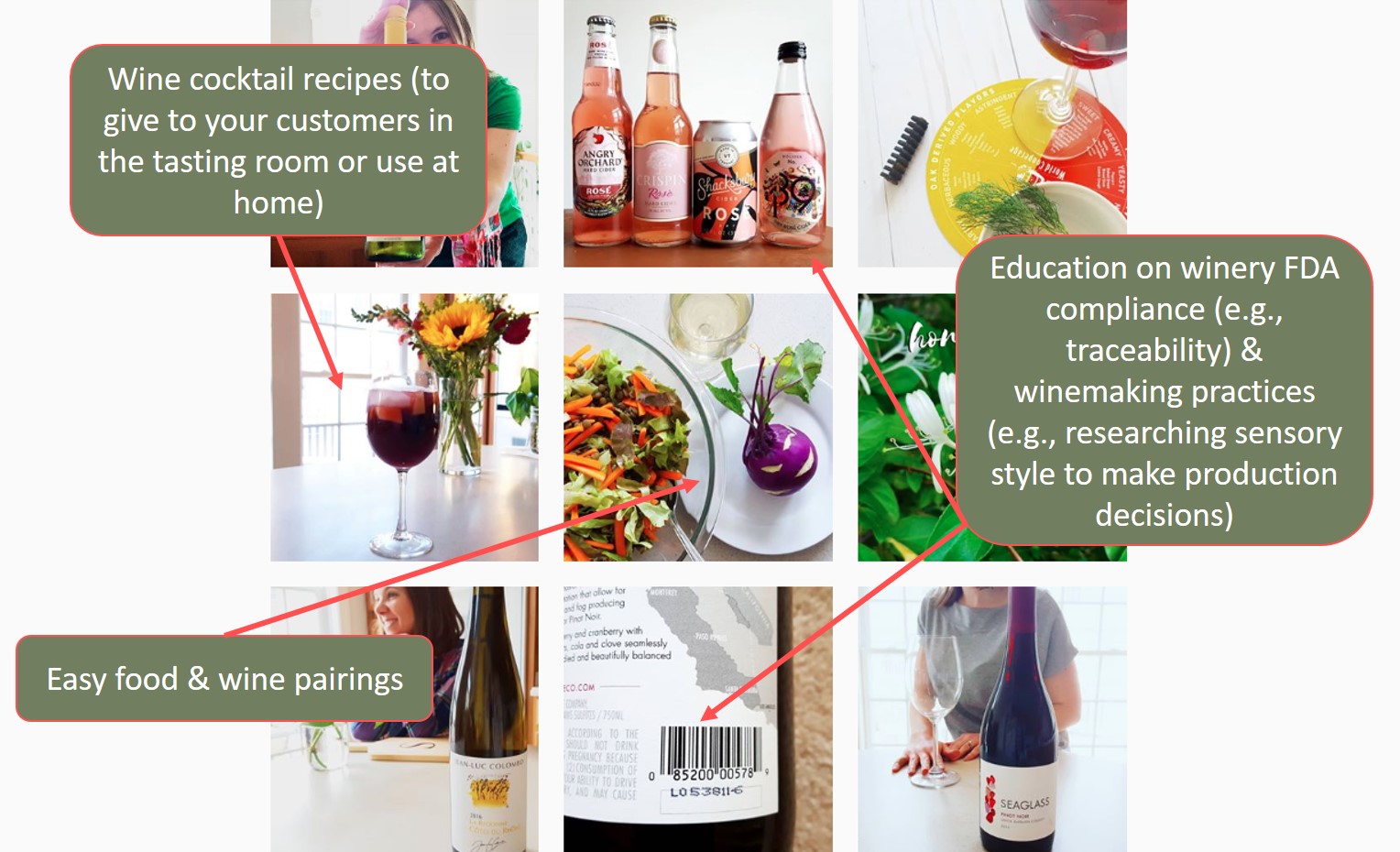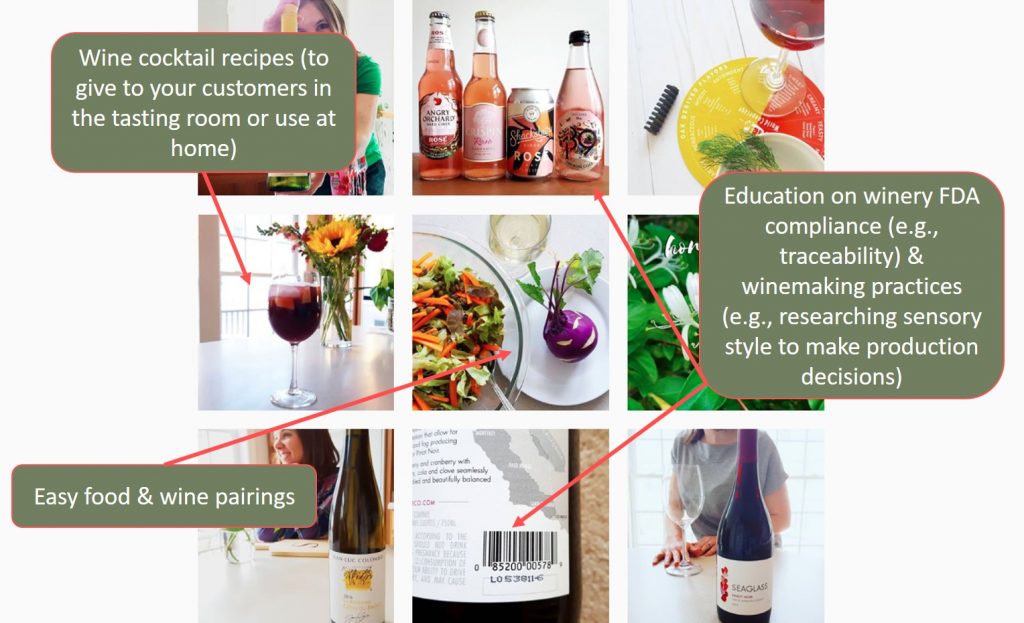 If you haven't done so already, please connect with me on Instagram! If you're a winery, I'll make sure to tag you when I review your wines, and encourage people to taste it. Plus, I have great discussions with followers and those I'm following on my feed.
Facebook: News and Industry Opportunities
If industry news is more your thing, you can find this content on the @dgwinemaking Facebook feed. I routinely add interesting news articles, blog posts, educational content, and industry opportunities (e.g., job announcements, events, etc.) on Facebook. Most of the news I post relates back to wine regions from the Eastern part of the U.S. or something related to production that I think could be important.
For those things I find particularly pertinent to my client base, I'll add this in my bi-monthly DGW Community updates (exclusive email content).
Below is an example of a recent article I found and shared through Facebook.
Is there something else you're looking for from the DGWinemaking Community? Please don't hesitate to share your ideas! Email me your suggestions at info@dgwinemaking.com.