Producing Formula Wines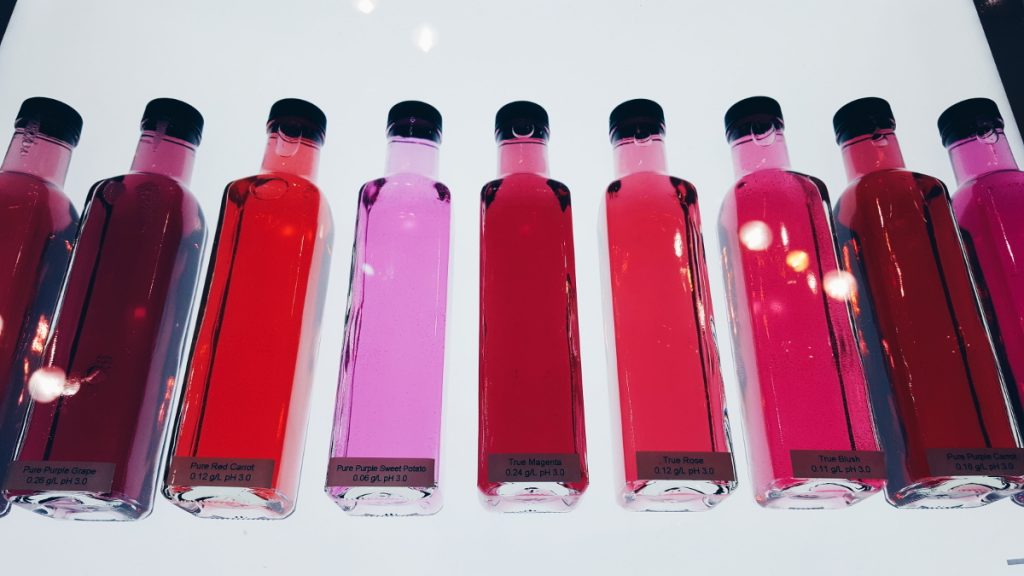 Wines that require TTB formula approval are hitting grocery store and wine shop shelves: Sangria, Margarita wine, Pre-Bottled mulled wine, pumpkin spice wine, grape wine with natural flavor. These wines are "alcoholic beverages that use ingredient additions or processing alterations outside of the Standard of Identity (SOI) for wine." The options surrounding this class of wines is limited only to one's imagination.
Yet, formula wines often pose specific challenges to a winery from both production and labelling perspectives.
Let's dive into the production perspective to review a few common production challenges winemakers experience when creating formula wines and ready-to-drink cocktails.
Quality Problems with Formula Wines
I've tasted many yummy formula wines over the past year, but then I've also tasted a lot of formula lines with wickedly catchy marketing hooks, but absolutely horrible quality. When it comes to formula wines, my guess is that many winemakers do not know what to expect once the wine is packaged.
Visually, a quick glance at store shelves reveals wines with precipitates, odd colors, and cloudiness or haze. Humans are visual creatures, and as anyone with tartrate precipitation knows, such oddities can sway a consumer from a purchase.
In tasting the wines, sometimes the flavor is quite peculiar or nearly absent. Others may lack an identity to what is described on the package. Some formula wines have flaws (as I'm sure many act as a source for flawed wine).
Why are these problems so prevalent in formula wines?
Often, winemakers turn to their mixology skills in an attempt to capture a commercial scale "wine cocktail" in the bottle. However, what may work well on a lab bench, or in our kitchens, does not correlate to quality and stability in the bottle.
The addition of ingredients like juices, spices, or concentrates to an alcoholic beverage may not provide long term stability. In a drink made to last an hour or two, these ingredients may work well together. But in a bottled beverage intended to sit on the shelves at room temperature for several months to a year, these ingredients may separate or cause chemical instabilities.
I have tasted a few formula wines where I've noted specific visual or flavor changes within a short period of time post-packaging. This makes me wonder if the winemaker provided enough time to evaluate the taste of the wine after ingredients were mixed together and could sit in the bottle for a period of time; the winemaking equivalent of an accelerated shelf-life evaluation.
To enhance stability for a longer period of time, specific processing techniques should be planned. Cater your processing decisions to the ingredients added in the wine, as these decisions influence the final perception of formula wines. Alternatively, review ingredients in the cocktail you want to make, and alter them to emulate the taste you desire.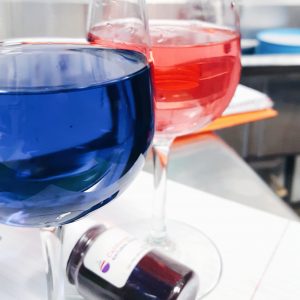 Why do Formula Wines Experience Instabilities?
Winemaker discussions surrounding formula wines typically fail to address how wine's chemical complexity can influence the way various [ingredient]
additions interact in the wine. Formula wines, especially those that integrate ingredients like juice, concentrates, or purees experience stability problems because the addition of those ingredients alters the wine's base chemistry. Changes to alcohol content, pH, and acid chemistry can dramatically alter a wine's color, acidity, and stability of other chemical constituents like tannins and proteins.
Choosing the Right Ingredients
Ingredient selection can influence formula wines in a number of ways.
The way an ingredient is processed can occasionally influence how it reacts in the wine.
Ingredient storage environments and specifications affect long-term use of an ingredient and its efficacy when added to wine.
The ingredient may have its own microbiological concerns that is uncommon in wines.
The chemistry and microbiology of the ingredient can affect how it stabilizes in the wine.
I think ingredient selections ends up being the most difficult step for most winemakers. It's difficult because an expected result with an ingredient addition may not come true. Predictions on how ingredients may interact in a wine in relation to how the wine is processed are concepts usually covered through food science curriculums, but it isn't common with traditional enology education.
If an ingredient or formula is not working the way that you would expect or desire, seeking help from an expert with food science experience may prove helpful.
Talking Further About Formula Wines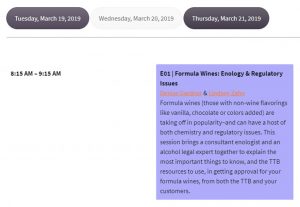 In March, I'll be talking about formula wine production and regulatory issues alongside Alcohol Beverage and Food Attorney, Lindsey A. Zahn at the 2019 Eastern Winery Exposition (EWE) in Syracuse, NY. If you're making formula wines to any degree, and are attending the EWE Conference, you may want to pop into our session on March 20th as we discuss common production problems associated with formula wines, five suggestions on improving how you produce your formula wine, and regulatory issues surrounding formula wines and TTB formula approval.
Bring your questions! This is a great opportunity to learn more about a growing class of wines.
Furthermore, DGW clients can access the article, Formulating Untraditional Wines and Wine Products in the DGW Learning Center after logging into the website. This article breaks down:
How the base wine grape or fruit variety affects the chemistry of a formula wine
The influence of pH on formula wine stability
Why alcohol content is important in a formula wine
Varying coloring agents and their influence on wine
Flavor additive ingredients and what to expect with their addition to a wine
Preservative choices
DGW clients can also use the Pre-Bottling Prep timeline and checklist to ensure they are considering all potential risks from a chemistry and microbiology perspective. This list also has encouraging check points for the winemaker to consider before moving onto the next processing stage during the formula wine's production.