A Case Study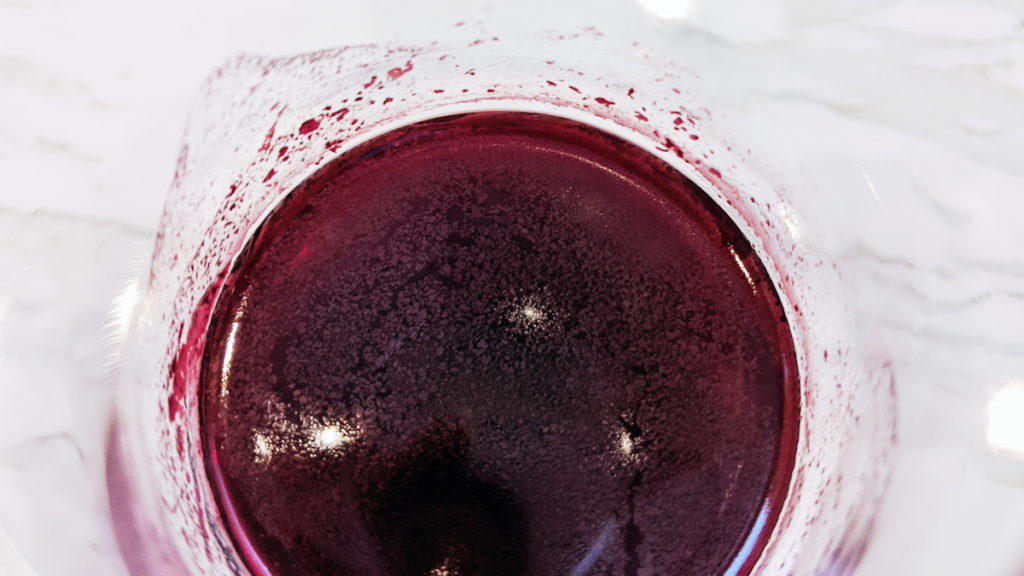 The Problem
A freshly fermented batch of red wine, wine pH above 3.65, was put into a variable capacity tank (VCT). Following the completion of malolactic fermentation, approximately 50 ppm sulfur dioxide was added to the wine. The lid to the tank was floated on the surface of the wine and sealed. The external portion of the seal was sanitized after the lid had been sealed. The tank is not temperature controlled and is sitting in a cellar at about 62 – 65°F (16.67 – 18.33°C). Two months after the tank was sealed, a film was found on the surface of the wine (the portion touching the interior of the lid). The film was confirmed acetic acid bacteria. Wine is still has not yet received blending or oak treatment, and is destined for further processing (i.e., filtration) prior to bottling.
How Did This Become a Problem?
The details outlined above are a perfect storm for microbial spoilage problems. In fact, losing high pH red wine volume to microbial spoilage is one of the most common problems I've seen within winery operations that produce about 10,000 cases or less (approximately 24,000 gallons or less) annually.
From a microbiological perspective, the above situation does not provide enough hurdles to minimize the growth of microorganisms. When it comes to microbial control, microbiologists often talk about "hurdles" intrinsically and extrinsically associated with a food or beverage that inhibit the growth potential of microorganisms of interest. Intrinsic factors are characters that are inherently a part of the beverage. Examples include things like pH, presence of preservatives or antimicrobials, and nutrient content (Jay 2000). Extrinsic factors are characters that influence the environmental storage conditions of the food, and thus affect the food/beverage quality as well as microorganism growth. Examples of extrinsic factors include storage temperature, relative humidity, and the use of gases (Jay 2000). The more "hurdles" that are in place to inhibit microbiological growth, the less likely spoilage will occur from a microbiological viewpoint.
In the wine specific situation detailed, above, there are several risks that can accelerate spoilage of the red wine:
The pH is high, which increases the likelihood of microbial growth.
The free sulfur dioxide concentration is not high enough to inhibit microbial growth.
The storage temperature is high enough to support microbial growth.
While VCT's minimize headspace volume, they are not impermeable to oxygen and, therefore, can allow for oxygen transmission through the plastic seal over time.
The dissolved oxygen (DO) of the wine is not monitored.
In contrast, let's review what hurdles are in place to reduce the risk of microbial spoilage of the wine:
It is a red wine, thus the natural presence of tannin can contribute to antimicrobial control.
There is some sulfur dioxide in the wine. With high pH (>3.60) red wines the Australian Wine Research Institute (AWRI) recommends more than 20 mg/L of free sulfur dioxide or greater than 150 mg/L of total sulfur dioxide levels.
Regular checking and sanitizing the exterior portion of the VCT seal can help reduce the risk of microbial biofilms or build-up that could otherwise seep into the seal over time.
Do the risks outweigh the hurdles at this stage in production? Obviously, they do not as the situation supported acetic acid bacterial growth.
Prevention Solutions
Manage Tank Temperature
The lack of good [wine] tank temperature control is usually an underlying problem that many wineries deal with regularly. Environmental temperature control (i.e., the temperature of the room or cellar) is usually not enough to mitigate spoilage problems when they occur.
Why? In order to slow the growth potential of spoilage microorganisms, the temperature of the wine should be at 50°F or lower. No one wants to work in a 50°F cellar temperature regularly, and thus, the environmental or room temperature is usually raised to a more comfortable temperature. When the environmental temperature is raised, the temperature of the wine in the tank also increases to equilibrate with the ambient temperature.
Unfortunately, many spoilage microorganisms also like these warmer temperatures. Acetic acid bacteria, for example, can survive through fermentation temperatures and thrive in warmer conditions.
Although it is a bit of an investment, tank temperature control isn't a negotiable. Without it, continued spoilage problems will occur annually, and winemakers will also notice increased rates of oxidation, loss of varietal character, and a general loss of wine quality. The only alternative I have seen with some success in smaller operations is moving small VCT's into chilled temperature controlled rooms to chill the wine temperature when needed.
Manage Oxygen
A compounding issue is oxygen integration into the wine. While many winemakers assume VCT's do not contribute oxygen to the wine, it's possible that oxygen can diffuse through the plastic seal attached on the tank lid. This can be caused by an inadequate amount of pressure to retain the seal or the natural transfer of oxygen through the plastic. Winemakers should not assume VCT's are impermeable to oxygen. In fact, it is not uncommon to find surface films on wines stored in VCT's.
Both acetic acid bacteria and surface yeast are oxygen-loving (aerobic) microorganisms and require oxygen to grow. Both headspace oxygen and dissolved oxygen (DO) can contribute to their growth over time.
So what can a winemaker do here to minimize oxygen ingress and utilization by the microorganisms?
DO measurements should not be underestimated, even within small wineries. Wineries can get comfortable with controlling DO and manipulating the concentration of DO by sparging with inert gasses as well as using inert gas to flush tanks, hoses, etc. prior to a wine transfer. However, without an adequate DO meter, these efforts are futile. Wineries can learn more about dissolved oxygen through our free webinar, Dissolved Oxygen.
One "easy" way to minimize oxygen ingress is by adding tank mixers to existing wine tanks. Mixers give winemakers flexibility to add ingredients or fining agents to a tank and mix thoroughly. In comparison to pseudo pump-overs, mixers minimize oxygen pick-up during these operations.
Headspace left in tanks and barrels is often another source of oxygen contact. While this isn't a big concern in VCT's in which lids are floated on the wine, it's important to note that VCT's are not impermeable to oxygen as noted above. This is something a winemaker has to consider when using a VCT. If the volume of the wine does not reach about 75% of the volume of the tank's holding capacity, I recommend finding a smaller vessel to hold the wine. This can include anything from a smaller VCT to a plastic barrel to a stainless barrel. Anything to minimize the headspace is key.
Also, remember that most plastic storage vessels, including plastic tanks, also transfer oxygen. If winemakers plan on using a plastic, I highly recommend making sure those vessels can be cooled to minimize chemical oxidative processes or loss of varietal character in addition to suppressing microbial growth.
While winemakers often try to minimize headspace by using a "nitrogen blanket," it's important to remember that this technique does not work. I've previously reviewed myths associated with nitrogen blankets above the surface of the wine in a blog post. You can also learn more about the use of inert gasses and best practices quite extensively in this free webinar, Dissolved Oxygen.
Manage Sulfur Dioxide
One of the key challenges associated with high pH wines is providing adequate sulfur dioxide protection to minimize spoilage microorganisms from flourishing in the wine. The higher the pH, the more sulfur dioxide is needed to maintain a 0.80 – 0.85 mg/L (ppm) molecular free sulfur dioxide level. That 0.80 – 0.85 mg/L molecular free sulfur dioxide content is important as this is the concentration required to maintain adequate antimicrobial protection. How much free sulfur dioxide concentration this equates to is variable and based on the pH of the wine.
In high pH wines, this molecular level may not be attainable. Therefore, while I recommend following the AWRI sulfur dioxide concentration levels for high pH red wines, it's also essential to consider additional antimicrobial hurdles to minimize spoilage. Some of these hurdles may include: managing storage temperature and keeping the wine at inhibitive temperatures, controlling DO rates, and using good cleaning and sanitation practices to avoid spoilage microorganism contamination.
There are many ways a winery can go about fixing a wine that actively supports acetic acid bacteria or surface yeast growth. In fact, we've been discussing one of these wines on the DGWinemaking Instagram page.
In the example listed above, the acetic acid bacteria growth has to be addressed before the wine can be completed or the winemaker runs the risk of spoiling the wine further. However, many of these options to fix the wine are often expensive, require personnel time to fix and monitor, and may not fix the problem in totality without adequate temperature, oxygen, and sulfur dioxide control discussed here.
If you need help to advance your winery to the next level, consider joining our Darn Good Winemakers annual membership or inquire today (info@dgwinemaking.com) about potential consulting options to benefit wineries of all sizes.
References
AWRI Online Publication. Revisiting Sulfur Dioxide Use. Accessed February 2020.
Jay, J.M. (2000.) Modern Food Microbiology. ISBN: 0-8342-1671-X.