What happens when two winemaking consultants get together to chat about winemaking?
In February, winemaking consultant, Luke Holcombe, and I met on his podcast, "Between Two Buds." We talk about all things associated with our winemaking journeys: from how we decided to consult in the wine industry, to perspectives associated with winemaking, and our experiences in the wine industries east of the Continental Divide.
A lot of winemaking is not that fun. Let's be real." – Denise Gardner

(But it is important to conquer the fundamentals in order to make great wines. Listen to the full podcast episode to find out why!)
A winemaker recently reached out to me about how much they enjoyed this episode. Thus, I thought it would be a good time to share with all of you! It's a short listen, about 35 minutes in length. And it is filled with some great winemaking nuggets of wisdom!
I've listed the Spotify link, above, but you can find this episode of "Between Two Buds" wherever you find your podcasts. Links to some of the resources we discuss during the podcast are all listed below.
Here's a few snippets of our discussion (a time stamp is in parentheses):
(01:30) Luke and I discuss how Fritz Westover (Westover Vineyard Advising) and I created virtual consulting businesses to address the wine and grape communities. Here, I talk about the generation of Denise Gardner Winemaking!
(03:50) I discuss benefits of virtual winemaking consulting. What makes excellent consulting clients, how virtual consulting options keep costs practical for winery operations, and the changes associated with hiring a winemaking consultant.
(05:00) My background! How I got started in the grape and wine industries and how my journey led me to consult with winemakers. Did you know I started out by working with wine grapes?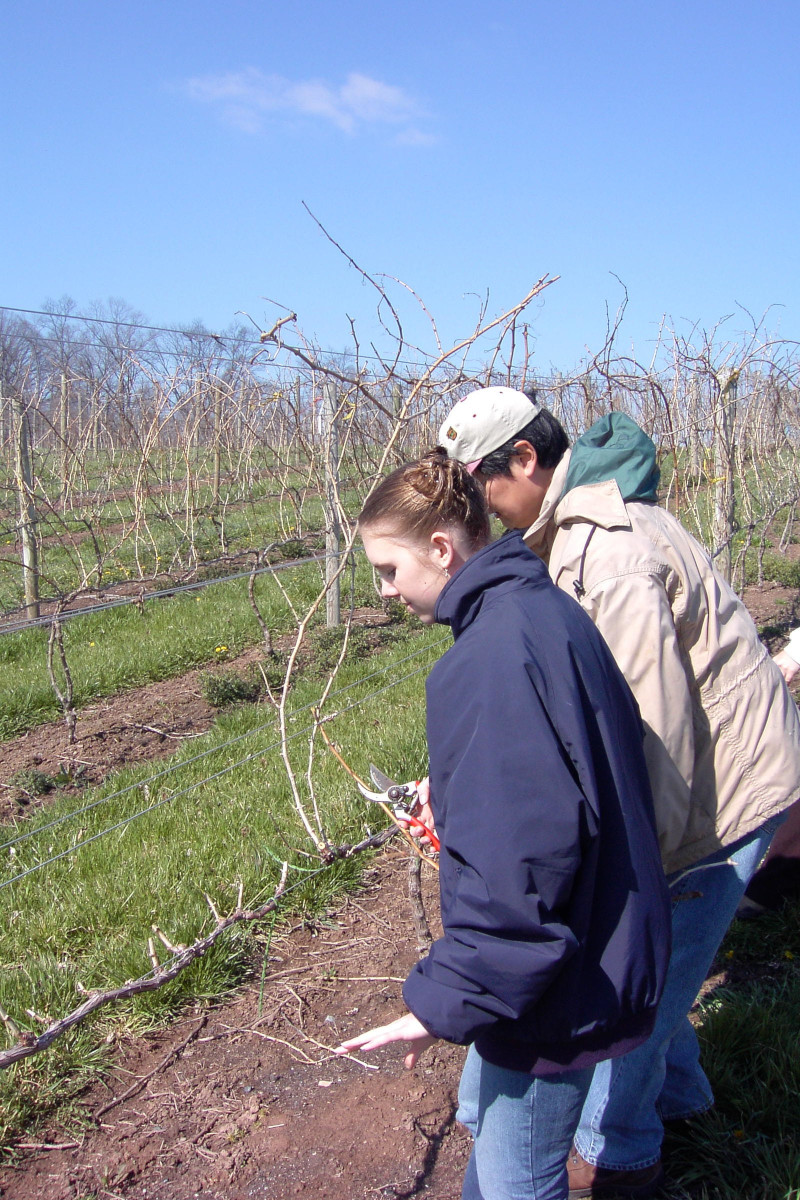 (07:59) A discussion on how Luke and my experiences in various wine industries has created a unique winemaking consulting perspective. I tell an interesting story about a rain/hail storm in Napa and how my alternative winemaking perspective can be advantage to crafting delicious wines. Luke discusses some of the changes to winemaking operations winemakers may have to make when they are making wines from regions outside the of the Western U.S.
(14:17) My thought processes on the wine flavor and chemistry spectrums, dependent on where the grapes have been grown. I've found that European consultants are impressed with wine concentration and depth with wines made outside of the West Coast. In comparison, many West Coast consultants tend to think the same wines are not concentrated enough. It's a very interesting observation! Hear my thoughts at this time point.
(17:20) Where and how I see increases in wine quality from wine industries (and wineries) across the U.S.
(21:00) Luke and I discuss our exposure to various winemaking regions outside of the West Coast, the challenges experienced by many of those operations, and how it has shaped our consulting approaches.
(27:09) How we are positioning our consulting businesses and how we differ from other consultants when it comes to making wine. Hear us laugh over our initial thoughts of: "I just want to help people make better wine."
(31:37) The three things I consistently see winery operations struggle with when it comes to making quality wines. Plus, my thoughts on how important it is to put the same amount of time and resources into making wine as one does with growing grapes.
Resources we talked about during this show: