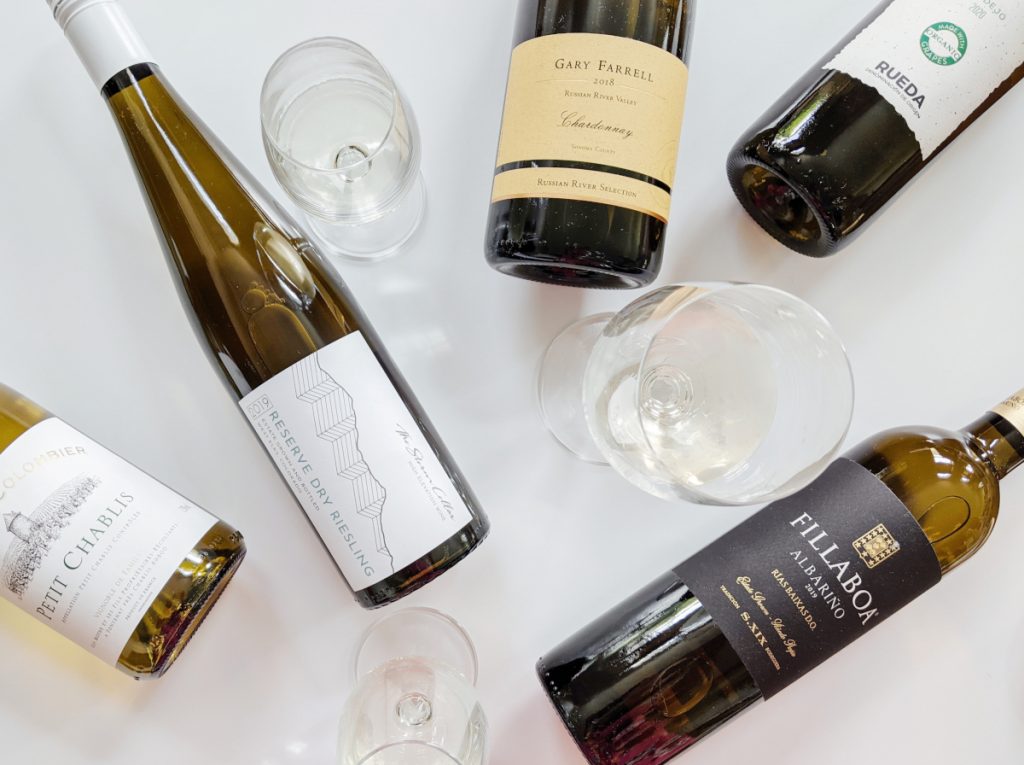 August 4th is National White Wine Day – the day we can all raise a glass of white wine, dry or sweet, and enjoy it together. No matter where you may be, I hope that you'll find a white wine that is enticing, refreshing, and perhaps even new!

Even if you can't join us in celebration on August 4th, I wanted to share three different white wine grape varieties that I simply love. There's lots of ways I enjoy a good glass of white wine, and you can too!
At the end of a long summer day. Spend some time on your patio or in your back yard, sipping a cool glass of white wine and enjoying the sights and sounds around you.
During 'Happy Hour.' Whether your 'Happy Hours' are spent at home making dinner or watching your child(ren)'s favorite TV show, or you're actually able to attend 'Happy Hours' with colleagues again, elevate the experience with a white wine that goes beyond the common Chardonnay, Pinot Grigio, or Riesling selections!
With dinners that feature a bit of spice. White wines are great compliments to many types of cuisine, including dishes that can be a bit spicy. Think curries, noodle bowls, or even fish tacos. These wines are great selections for those meals!
During a beach or pool day. Nothing couples with the sound of crashing waves and scent of sea air like a freshly chilled glass of white wine. Pro-tip: Use plastic wine tumblers to keep your wine protected while you sip away and enjoy some waterfront R&R.
As a cocktail! Read below for my tips on using any of the wines featured this month in a vibrant, fruity white wine Summer Sangria!
There are TONS of different white wine varieties, regions, and blends to explore. But most people get stuck in the white wine rut of drinking the three common varieties we see everywhere: Chardonnay, Pinot Grigio, and Riesling.

If you're ready to venture outside of these traditional white wines, I have three different white varieties to suggest for you!
Albariño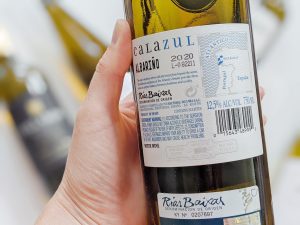 Wine Variety or Region? Wine Grape Variety
You Will Love This If You Already Enjoy…

Wines: Aromatic Whites, Viognier, Dry Riesling, Sauvignon Blanc
Other Beverages: Tropical Flavored Beverages, Piña Coladas, Earl Gray Tea

Where Can I Find It? In the Spain section of your wine store. Look for the sub-region Rías Baixas (shown in the picture) within Spain. Also found in the Portugal section, under the sub-region, Vinho Verde. But the wines here will be labeled as "Alvarinho" on the front label. You can also find this wine variety listed by the varietal name, "Albariño," in the California, U.S. region of California.
Dry or Sweet? Typically dry
Why I love this style of wine…
The term "aromatic" describes the intensity of aromas, or smells, that exude from a freshly poured glass of wine. Varieties like Chardonnay or Pinot Grigio are often classified as "neutral" white wine varieties, as their aromas are faint and often reminiscent of what many people would describe as "smelling like white wine." In contrast, aromatic white wine varieties burst with a plethora of floral or fruity aromas and flavors. Some common aromatic wine varieties include Riesling and Moscato (Muscat).
Albariño is an aromatic white wine variety in which the wines encompass a floral and fruity flavor combination that captures the essence of summer in a wine. Imagine the aromatic essence of wildflower blossoms in the background as you walk through an orchard carrying a box of freshly picked citrus. That's Albariño.
Depending on the region and winemaking style used to produce the Albariño wine, this wine can range in its flavor profile. The flavor usually includes a floral hint with ranging fruit descriptors like peach, apple, lemon, grapefruit, and orange. For those that love Earl Gray Tea, some wines capture a hint of bergamot (but just a hint!).
It's refreshing, light, and a delightful wine to pair with seafood or light, white pasta dishes. Side note: There's a perfect excuse to try Albariño this month as August 7th is International Albariño Day. Let's all raise a glass together!
Gewürztraminer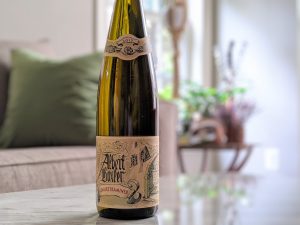 Wine Variety or Region? Wine Grape Variety
You Will Love This If You Already Enjoy…

Wines: Riesling, Traminette, Aromatic Whites, Floral Tasting Wines
Other Beverages: Rose Water or Rose Flavored Beverages, Floral Cocktails

Where Can I Find It? The Alsace sub-region of France. You can also find this sprinkled throughout the German regions. The biggest and boldest Gewürztraminer wines are likely found in the California, Oregon, and Washington white wine sections.
Dry or Sweet? Usually sweet, but can vary in sweetness intensity
Why I love this style of wine…
Gewürztraminer is another aromatic white wine grape variety that many people shy away from simply because the name can be difficult to say. It's not too hard, and this 22 second YouTube video can teach you a good pronunciation quickly!
The Gewürztraminer variety is one you will either love or hate because it has such a strong personality. The wines tend to have an elevated aroma or flavor that is reminiscent of fresh roses. For some, it can be overpowering. But the aroma is usually less intense by its close relative, Traminette. (If you love, love, love the smell of roses, you'll love Traminette wines.)
Gewürztraminer wines usually have a lot going on: strong aromatic punches of roses, spice that tickles the nose, lychee fruit, and freshly peeled citrus coupled with a very intense mouthfeel. Sometimes, the wines can also take on the scent of fresh wax, which may even get described as oily. The wines are typically higher in alcohol (13 – 15% ABV) and often coupled with a touch of sweetness in the finish (that portion of wine you taste last, as it is swallowed). The sweetness intensity can range from light to very sweet depending on the region in which the wine was produced, as well as the brand itself.
In reality, the intensity of the wine ranges based on where and how it's produced. I think if you want to ease into trying Gewürztraminer wines, the best place to start is from those produced in Alsace, France or from one of our Hidden Wine Gem producers like Galen Glen Winery (previously featured in the October 2020 Sip & Swirl). These tend to pack less of a punch in flavor intensity and mouthfeel, but still capture the style associated with Gewürztraminer.
Many of the German produced Gewürztraminers that I have had are on the sweeter side and may also carry a heavier wax or oily flavor. If you tend to like sweeter wines, perhaps start with this region for a Gewürztraminer pick. Newer vintages (those closer to the year that we are currently in) are likely a good place to start. I know the terminology on German wine labels can be confusing, but I would encourage you to just pick a bottle and give it a sip!
And finally, for big, bold Gewürztraminers, try those produced from the western part of the U.S. in states like California, Oregon, and Washington. I realize there is a lot of variation in what the wines could taste like here, but you're bound to get higher alcohol and bold flavors from many wines produced in these regions.
Viognier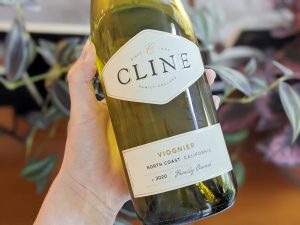 Wine Variety or Region? Wine Grape Variety
You Will Love This If You Already Enjoy…

Wines: Unoaked (Steel, Naked) Chardonnay (Fruit-Focused Viognier) or Oaked Chardonnay (Oaked Viognier)
Other Beverages: Lemonade (Fruit-Focused Viognier), Peach or Citrus Flavored Seltzers (Fruit-Focused Viognier)

Where Can I Find It? In the U.S. sections. Look for Viognier within California sub-regions like Paso Robles or in white wine sections of Washington or Oregon state. You can also find Viognier produced in the state of Virginia (and it's yummy!). There is a whole list of some of my favorite Virginia Viognier producers in the June 2021 Sip & Swirl!
Dry or Sweet? Typically dry. Viognier can be produced to emphasize its fruit-focused flavors or can be aged in oak to mimic an oaked Chardonnay style of wine. Check the brand's website before purchasing!
Why I love this style of wine…
Viognier is another aromatic white wine variety that has been made famous from its production in the Rhone region of France. In truth, I've been on the hunt for a perfumed, easy-to-drink Viognier that I can classify as an "Affordable" ($20 or less) from France, and I have yet to find a bottle that I love and want to share with all of you.
Viognier has a characteristic aroma that is very fruity, usually capturing the essence of peaches, oranges, apricots, and pineapple. Many also carry a creamy or vanilla flavor that supplements the fruitiness well. Some will also exude a small floral component that some may describe as smelling like "honeysuckle." In general, though, this wine variety leans towards fruity.
Hidden Wine Gem – The Storm Cellar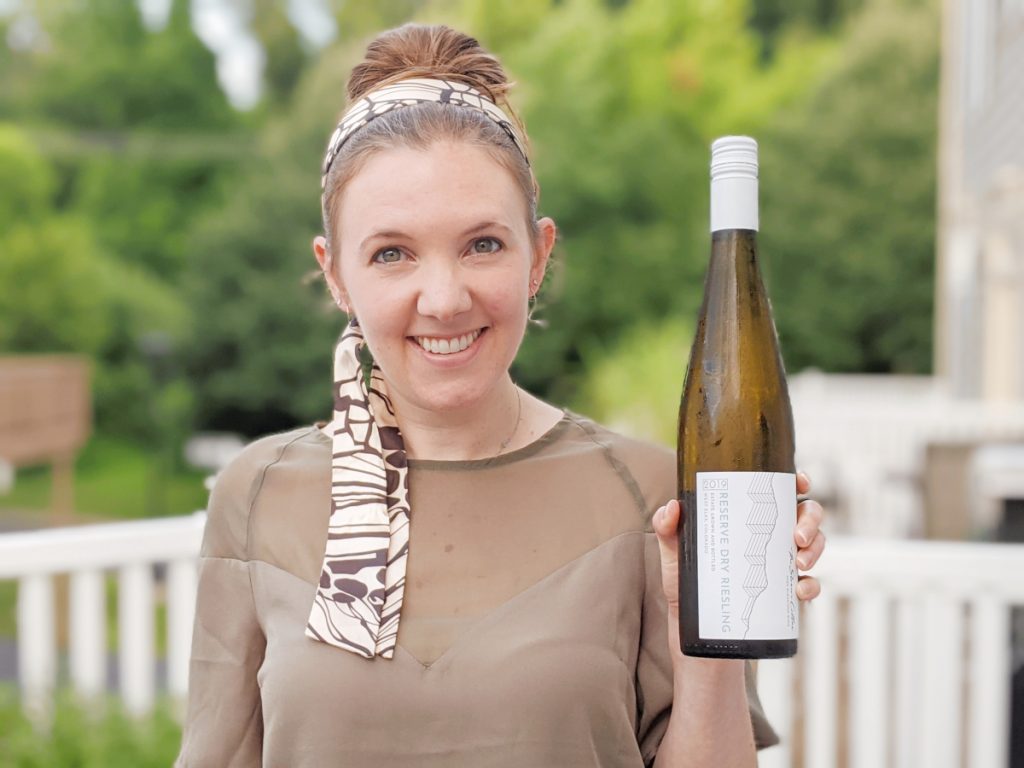 White wines, known for their refreshing, fruity, and floral characters, are fantastically grown in cooler climatic regions and high elevation sites around the globe. Wines from The Storm Cellar in Colorado are certainly no exception to how site selection can impact wine quality. If you want to be dazzled by a vineyard rebirth story, and inspiration for enjoying delicious white wines, look no further than The Storm Cellar's Instagram page. Over the past year, some of my favorite white wines that I've had the pleasure of tasting have been produced by the husband-and-wife team at The Storm Cellar, Steve and Jayme. In June 2021, I featured their M+M wine, which was a beautifully floral white wine blend. Other appetizing white wines include the Dry Riesling Reserve, a late harvest style of Riesling with a golden yellow color and concentrated honey-like flavor, and the Chardonnay, produced in a stainless-steel style. I'm currently looking forward to sipping a bottle of All the Flowers. Find out more about these and other white wines at The Storm Cellar's website.
LINK >>
Make A White Wine Summer Sangria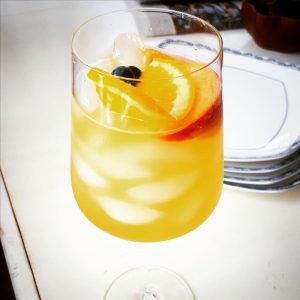 We're still in the folds of summer, and I think it's a perfectly acceptable time to enjoy a glass or two of Summer Sangria during these hot days. Using any of the white wines above (as long as they don't have any oak flavor), you can make one of my favorite white wine Summer Sangria recipes! This recipe makes a full pitcher, but you can always scale down if you need less.
Ingredients:
2 Bottles of White Wine
1/3 cup of White Rum
1/4 cup of Triple Sec
1/4 cup of Ginger Brandy
1/4 cup of Amaretto
1/2 cup of Orange Juice
1 Can Ginger Ale
Directions:
Mix all ingredients in a large pitcher. Add ice cubes and your favorite fresh fruit. I tend to include peaches, blueberries, and orange slices.