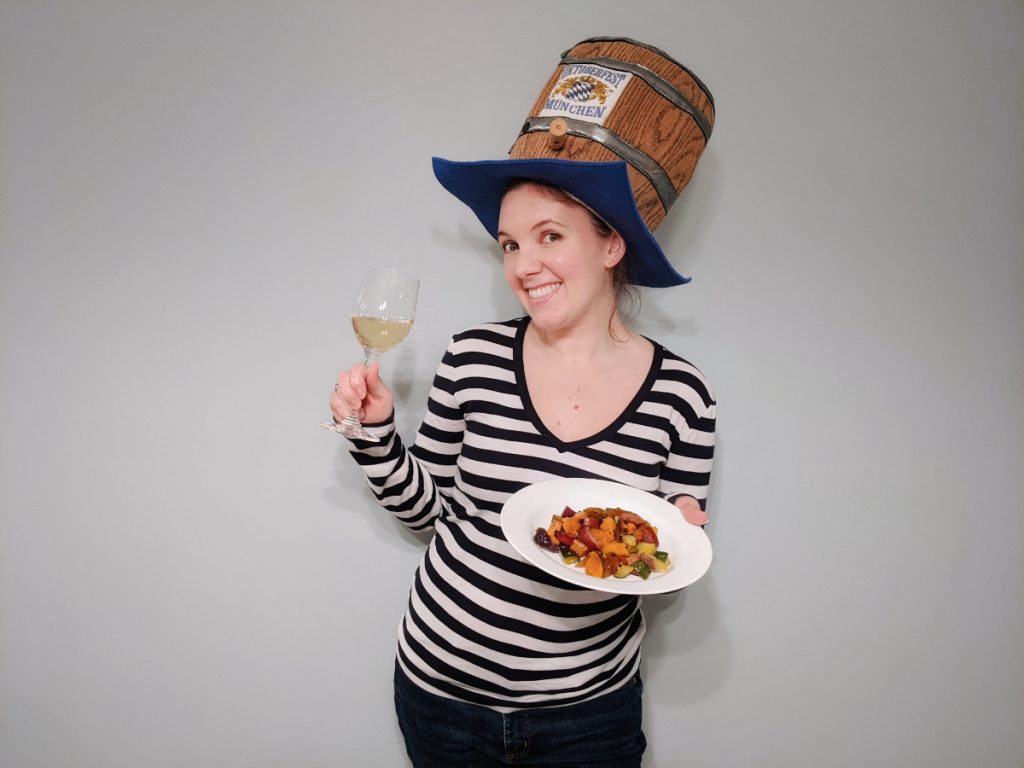 The lack of 2020 Oktoberfest celebrations is going to be tough for me this year. With a large German component to my heritage, I have to admit that I've come to love Oktoberfest celebrations throughout the U.S. The annual biergartens, the meat-based dishes, the music, the potatoes… It's commonly another reminder that Fall is in full-swing.

On a good Fall day, I'm not denying that it may be our gut reaction to reach for a great brew: Oktoberfests, Hefeweizens, and, nowadays, Pumpkin Ales fill the beer lists.

However, Oktoberfest meals are actually great wine-pairing opportunities! Many of the traditional dishes we see served for Oktoberfest are not only easy to make at home, but also a perfect excuse to try new, refreshing white wines.

Here's some good news: we can have Oktoberfest meals in our home this year. Over the years, I've collected a few recipes that feature Oktoberfest-themed foods that can easily turn into a themed dinner:
Once your food selection is made, then I'd invite you to try pairing it with an elegant, refreshing, chilled white wine.

Why?

White wine grape varieties tend to have a higher acidity compared to many red wines. Since many of the varieties listed below see little to no time in contact with oak during their production, they are very fruity and refreshing.

From a wine and food pairing perspective, the acidity helps to cut the fattiness associated with several of the foods listed above. With the foods that have a strong salt-ingredient, the salt actually helps cut down the perception of sourness – or acidity – in the wines. All of those rules aside, the aromatic nature of these white wines is simply, well, alluring. Here's some of my favorite varieties to drink in October that may encourage you to try something new:
Riesling: While Riesling can be a very serious wine varietal among enthusiasts, it can also be flat out fun to consume. Common flavors associated with Riesling include citrus fruits, peaches, apples, pears, wildflowers, fresh grapes, and tropical fruits like pineapples, melons, and mangoes. Riesling can come either dry (no sweet taste) or sweet and every level of sweetness in between. It's typically acidic (think sour like a lemonade). There are SO many different types of Riesling on the market and I would encourage you to try some fun German Rieslings even if the labels may scare you. They are delicious!
Gewürztraminer (aka Gewürz): If you're a fan of Riesling, Gewürztraminer is like a friendly cousin. Also incredibly aromatic, exploding with floral flavors, Gewürztraminer is typically fuller-bodied compared to Riesling. Most Gewürztraminers tend to have a touch of sweetness in the finish to balance out the bold punch during the initial sip and light bitterness. It's definitely a love-it-or-hate-it wine variety, but if you enjoy IPA beers or like floral flavored foods, then I recommend trying a Gewürztraminer this month! Below, I feature one of my favorite Alsace producers if you want to purchase something special in the near future.
Grüner Veltliner (aka Grüner, Gruvee or GV): A staple in the country of Austria, Grüner is a refreshing, citrus-focused aromatic white wine variety. Flavors are a little different than Rieslings, concentrating around citrus fruits, citrus zest, and many "green" flavors like fresh cut grass, freshly picked green beans (it works in this wine, I swear), wildflowers, and sometimes a little white or black pepper spice. Unlike Riesling and Gewürztraminer, Grüner wines tend to be dry with noticeable sourness (acidity). Again, this makes a great pairing with fried and fatty foods. Check out this month's Hidden Wine Gem for some delicious Grüner wines.
If you're one of those people that absolutely wants to drink a red wine for your Oktoberfest, then I have some fun selections for you as well. I'd encourage you try some of these lesser known red varieties:
Zweigelt: Another Austrian variety that has substantial fresh red raspberry, red currant, cherry, and spicy flavors. These wines can also carry some smoky or toasted vanilla flavors that generate from oak contact during production. This red wine works with the meal suggestions listed above because it tends to be lighter-bodied and has some retained sourness. This variety just screams 'Fall' to me, so if you want to try something new this season, give it a go! This month's Hidden Wine Gem usually has some American Zweigelt for sale that I find delightful.
Lemberger (aka Limberger or Blaufränkish): The names of this Germanic and Austrian wine grape variety can often turn people off, but if you like medium-bodied, dry red wines that often get described as tasting like "red wine," then I think this variety could be a selection for you. I think Lemberger has a noticeable red fruit flavor, but with essences of earthiness: fresh tree bark, toasted bread, dried savory herbs, and black pepper. For me, this variety is a food wine; I almost always consume it with food. I really like the idea of this wine with the German potato salad or some fluffy, soft pretzels and dipping sauces.
Are you going to embark in an at-home Oktoberfest meal or day? Join the Sip & Swirl newsletter to get an invitation to our Sip & Swirl Community Facebook Page so you can share your pictures and wine selections in real time.

Until next month, cheers!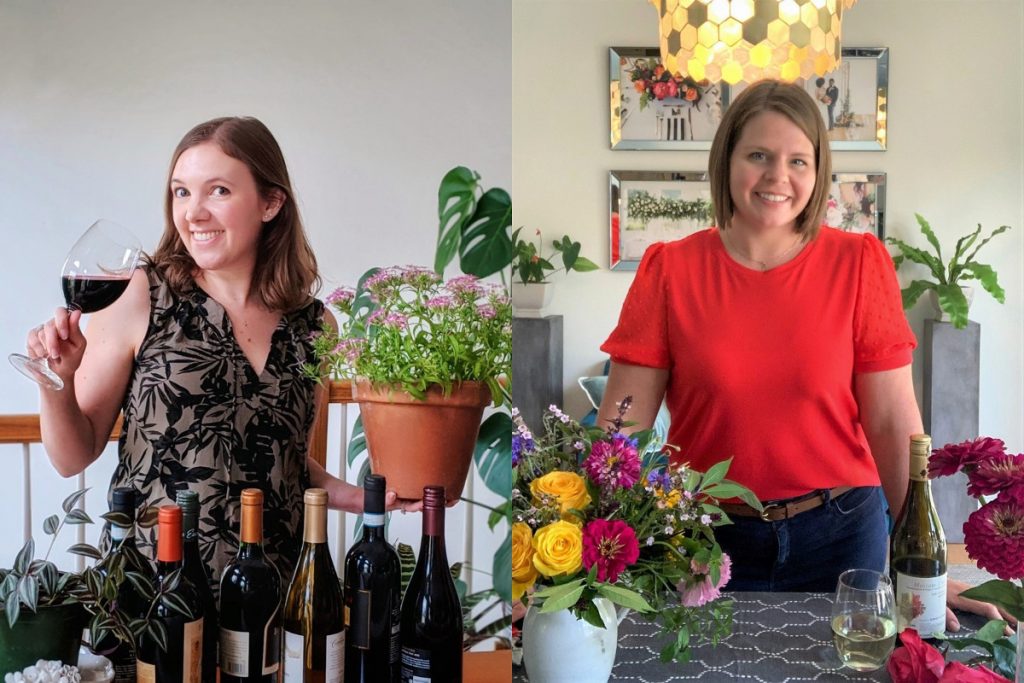 REGISTRATION IS NOW OPEN!
BOTTLES & BLOOMS
Transforming Your Everyday with Wine and Flowers
These classes bring the joy of wine and flowers even over spending more time at home.
Registration is now open for our virtual class series, Bottles & Blooms, co-hosted by Denise Gardner Winemaking and The Blue Daisy Floral Designs.
We have 3 classes starting November 2020 that are seasonally themed, bringing you unique ways to incorporate joy and elegance into your everday life.
You can have memorable, enjoyable moments with wine and flowers even over pandemic restrictions!
Who are these classes for?
Anyone staying at home more regularly these days that wants to spice up their surroundings.
Those who want more enjoyment out of their home wine drinking experiences.
Those interested in floral design with a desire to bring plants into their home.
Someone with interest in a fun, home-friendly date or friends' night.
Want to try out our classes first to see if it's for you?
You're in luck! We have one more FREE introductory, virtual class with open registration:
Thursday, October 15, 2020 at 7:00 PM (EST)
Want to add a touch of creativity to your daily life with wine and flowers?
Need an idea for a date night? Or a virtual hang-out with friends?
Join us from the comfort of your home to learn more about embracing wine culture and adding the joy of floral blooms to your everyday life.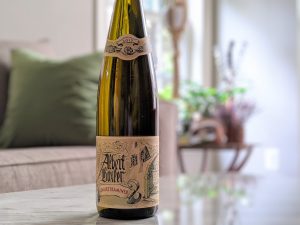 Albert Boxler: A Special Wine Brand for October
I was first introduced to Domaine Albert Boxler wines by two of my winemaking (and wine appreciating) mentors. In fact, in the regular occasions in which we would gather for together afternoons over food and wine, there were several moments when an Albert Boxler emerged from one of their wine bags. These have become some of my favorite Rieslings and Gewürztraminers that I've ever tasted, and they happen to be from the Alsace region in France. The famous wine merchant, Kermit Lynch, has previously written about Albert Boxler's history, which is fascinating if you're into WWII history. These wines are meant to last, and finding old vintages is a treasure. Filled with honeyed flavors and delicate floral and fruity nuances, there's nothing more beautiful on your taste buds. Check out the link to this wine, below.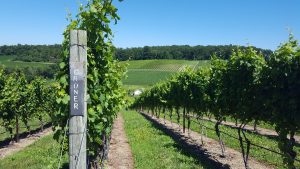 A New Hidden Wine Gem
If you haven't tasted some of the varieties listed above, one of my favorite Pennsylvania wineries, Galen Glen Winery, produces many of them. Galen Glen Winery specializes in Austrian and Germanic varieties like Grüner Veltliner, Riesling, Gewürztraminer, and Zweigelt. This family owned operation celebrates generational farming, sustainability, and gratitude… and the quality of their wines is simply out of the park. My favorite part about Galen Glen is being immersed in the vineyards while standing in their tasting room. It's truly a magical location within Pennsylvania's agricultural land. If you order online, you can separate the wine selections by dry, semi-dry, or sweet to make sure you receive wines to your preference. Enjoy these. They're wonderful! Cheers!