Corkscrews can be a little quirky.  (Get it?)

While one is almost always needed to open a bottle of wine, corkscrews can create many issues for the individual opening a bottle of wine.

I recently experienced my own set of difficulty getting a synthetic cork out of a bottle of wine and ended up trying to remove the closure with three different corkscrews before the closure popped out of the bottle. In that same week, I broke a natural cork while trying to remove it from the bottle. I think that is only the 3rd or 4th time I've done that in my life, and yet, I found it frustrating, nonetheless.

The reality is wine closures are tricky! If you consider how few beverage products are sealed with a piece of bark (or plastic in the case of synthetic corks), it's a little weird to think about how wine is still packaged this way.

Unless you're dealing with a screw capped wine, the act of removing a closure from a glass bottle of wine can be challenging. This doesn't even touch upon how difficult (and hazardous) opening a bottle of bubbly can be.

It wasn't until a past trip to the Musée du Vin in Paris, France, that I realized there have been countless models of corkscrews created over the centuries. The photo of me, above, is me enjoying a glass of Gaillac red wine as I was wondering through the caves at the Musée du Vin, reading all about wine history, including that of our everyday wine opener: the corkscrew. And while so many different models have been forged and used for as long as there has been wine, today the corkscrew remains an elusive (sometimes frustrating) piece of wine equipment for many wine consumers.
The Closure – Is it a cork?
There are multiple types of "corks," more broadly called "closures," that can be used to seal a bottle of wine. This includes:
Natural cork: what consumers are most familiar with as this looks like a full, single piece of cork.
Synthetic cork: a plasticized version of a cork.
Cork pieces glued and molded into the size/shape of a cork. There are many variations of this type of closure. These are often referred to as agglomerated corks or micro-agglomerated corks when they contain super small pieces of cork secured together.
Screw Caps: not corks at all! These are often metal based with an internal plastic liner that comes in contact with the wine. They, obviously, screw onto the bottle of wine.
T-Corks and Variations: There are a few different types of closures in this group including the traditional Port T-cork closure (a natural cork attached to a plastic cap), glass T-corks, and even something like a Zork.
Winemakers often choose a closure type based on the style of the wine, the expected longevity of the wine, and the cost of the closure.

In my opinion, one closure is not superior to another in terms of how it affects the wine since the style of the wine is often considered when selecting the appropriate closure for that wine. This is also true for many screw capped wines. While at one point it was assumed wines sealed with a screw cap were inexpensive or lower quality, today's screw cap technology has advanced to a point where it may be the most appropriate closure selection for the wine in the bottle.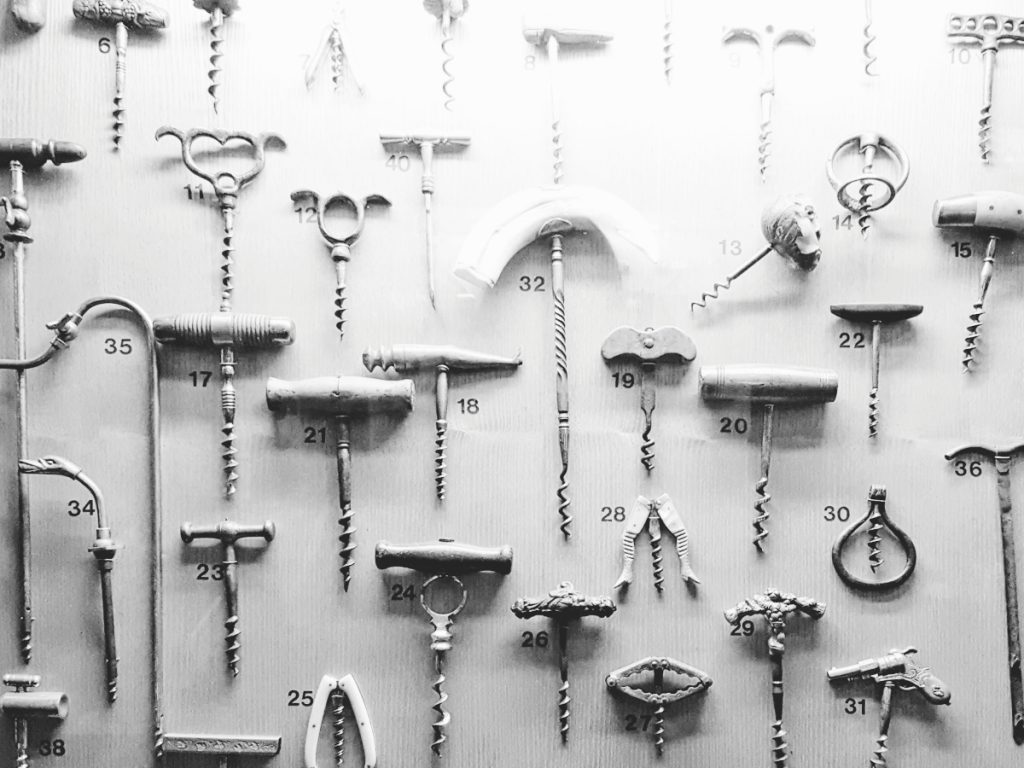 What's that covering on top of the wine bottle?
Many wine bottles are additionally sealed with a foil or plastic covering, called a capsule. The makeup and quality of the capsule can also vary. Some capsules are plastic-based while others are made from a type of aluminum foil. While the capsule provides some protection over the closure, it also enhances the aesthetic of the bottle.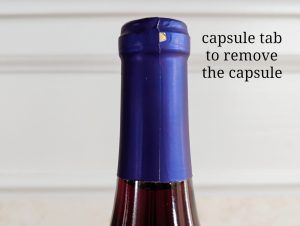 The material used as the capsule can influence how difficult or easy it is to open the bottle. Many capsules often have a tab (see photo, right) that can be used to tear open the top part of the capsule, allowing easy access to the closure. Foil capsules often require cutting, which is what the knife-like end on a corkscrew is for: it is a foil cutter.
Choosing a corkscrew
When it comes to selecting a corkscrew, the first thing to look at is the actual screw itself, known as the worm. The worm should have a solid twist – or an obvious helix shape – and lack a bar through the center that the helix is attached to (refer to the image, below: the corkscrew on the left has a shallow helix). Typically, the better the twist, the easier it will be to remove the closure from inside the bottle.
Many winged corkscrews tend to include a bar through the center of the helix, which shallows the helix. This shallower twist does not always stay securely in the cork when pressure is applied on the wings to remove the closure. In this situation, it's possible that the corkscrew can come right out of the closure before the closure moves from the bottle. It can be quite annoying!
Bartender's or waiter's corkscrews contain a handle and a lever. However, the best ones will contain a hinge in the center of the lever which provides an easier removal of most wine closures. In these models, known as a double hinge waiter's corkscrew, the lever towards the top of the corkscrew is used to slightly pull the closure out initially, only exposing up to the top half of the closure. Then, the individual uses the second hinge to pull the cork out completely.
Many consumers tend to prefer a winged corkscrew because it provides the illusion that it will be easier to use compared to a waiter's corkscrew. You get to use two hands instead of one! However, the ease of any corkscrew tends to rely on the worm shape, and if it lacks a deep helix, it can end up being useless. Thus, when a bottle contains a synthetic closure, a corkscrew with a shallow worm tends to slip right out of the closure, making the bottle difficult to open.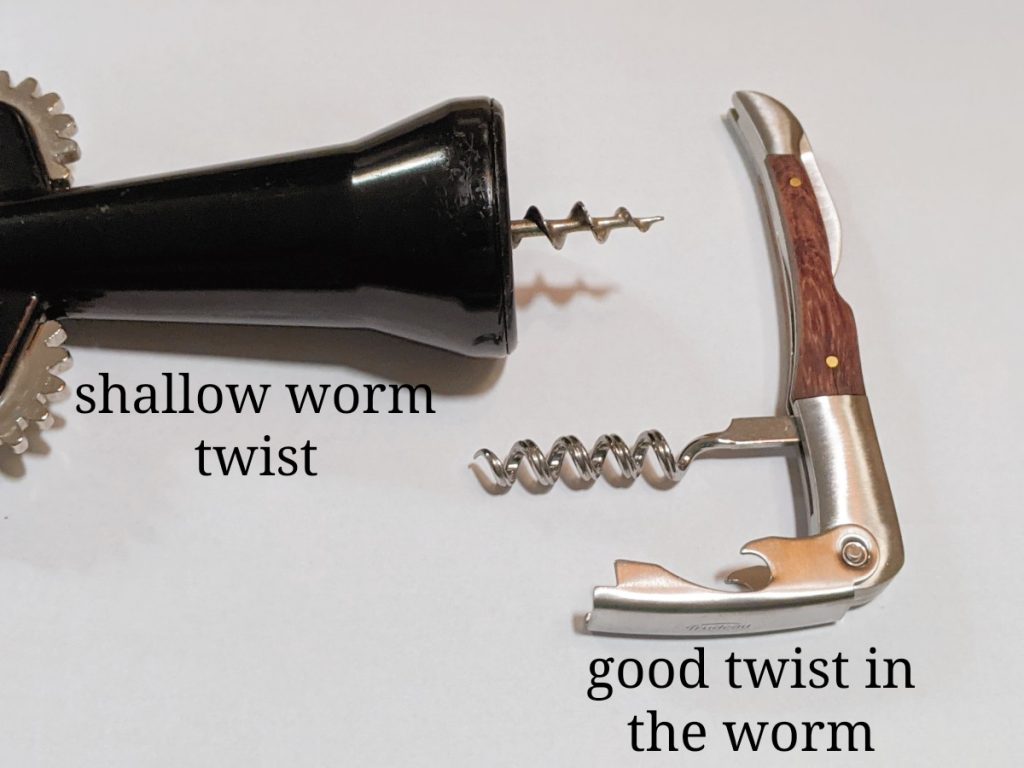 Denise's Corkscrew Preferences
For the most part, I used a double hinged waiter's corkscrew with a short or shallow foil cutter knife as opposed to a curved knife. It tends to be the most reliable when faced with multiple types of capsules and closures, and it's easiest for my smaller hands to use this style. Plus, there is a lip at the top part of the lever – where the lever meets the handle – that can be used to open bottle caps. There's an example of my preference, here. 
While Pulltap is one of the most recommended brands for waiter's corkscrews, I have been on the hunt to find a stainless steel-only corkscrew as many of the worms are Teflon coated. While the Teflon coat helps keep the corkscrew from slipping, for those that prefer to reduce their use of Teflon, a stainless steel option would be appropriate. I'm going to try this one out in the months to come, though it is bulkier than Pulltap's corkscrew and it contains a curved knife, which I find more difficult to use.
For arthritic hands or for those individuals that may find it challenging to provide force to open a bottle of wine (and it's perfectly okay if that is you!), I also like the electric corkscrews. You don't really need to get anything fancy, and I've used this one in the past on multiple occasions.
What's great about this set is that it comes with a foil cutter. The foil cutter simply wraps around the top part of the bottle. As the foil cutter is squeezed and rotated, it smoothly cuts up part of the foil, which can be easily removed. This allows you to directly insert the corkscrew into the closure.
If you don't like using the foil cutting knife on a waiter's corkscrew, you can always buy easy-to-use foil cutters separately. There's an example of a foil cutter here and here, which shows two different styles.
Mounted corkscrews are also very handy and effective. However, I do not find that many people incorporate these into their homes. Nonetheless, if the mounted style is your preference, these are typically very effective corkscrews.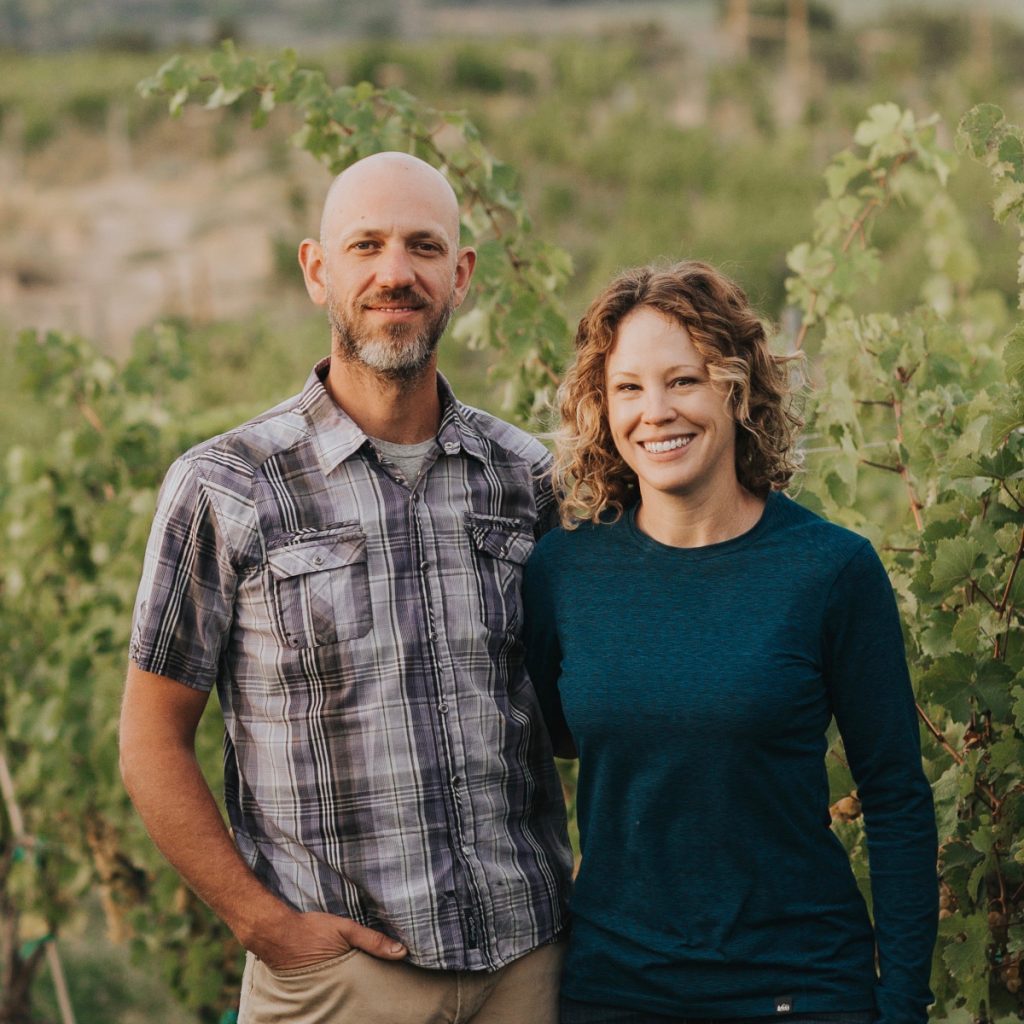 Let's Connect Over a Bottle of Colorado Riesling
On Sunday, March 20th at 7:30 PM, EST (5:30 PM, MST) I'll be virtually tasting alongside owners and winemakers, Jayme Henderson and Steve Steese, of the Colorado winemaking operation, The Storm Cellar. I've previously highlighted The Storm Cellar in past Sip & Swirl editions (here and here) because they make the most charming white wines. Later this month – on the first day of Spring to be exact – I'll be tasting their Dry Riesling with them during an Instagram Live session!
Guess what? You're welcome to join us! No registration necessary (details below).
Just come and share a good glass of wine with us on Instagram! (If you would like to, you could order a bottle of The Storm Cellar wine to taste alongside us. You can check out The Storm Cellar's available wines for purchase, here.)
I personally LOVE what this husband-wife team is doing to progress the conversation forward about wines produced from emerging wine regions. Not only have their wines received notable accolades including several double-gold medals in the 2020 American Fine Wine Competition and the 2020 San Francisco International Wine Competition, but they also have a profound appreciation for the land and value the exquisite nature of wines produced in Colorado. Both Jayme and Steve are distinguished wine and culinary professionals. Jayme has an amazing voice in the culinary world and is notably recognized through her beautifully detailed botanically inspired cocktail blog, holly + flora. If you love wine, cocktails, gardening, and beautiful photography, you will want to click on that link! Steve has also rocked the wine world throughout his career. Previously a sommelier from Shanahan's Steakhouse in Denver, Steve has been selected twice as one of fifteen "Sommelier Stars" for Sonoma County Wine Weekend.
Today, they dedicate their lives to the development of fine Colorado wine, preserving farmland, supporting regional businesses, and telling the story of their journey through the wine industry. On March 20th, we'll come together on Instagram to talk about their Dry Riesling, discuss some technical differences between their Riesling and a Mosel Riesling, and dive into our love for, well, wine! Join us, ask your questions, raise a glass with us and discover more about this Hidden Wine Gem by following @dgwinemaking or @stormcellarwine to participate.