The Red Wine Edition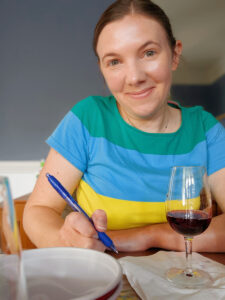 We previously discussed Old World and New World wine styles in relation to white wines back in the Sip and Swirl April 2022 edition.
Now it's time to jump into red wine exploration!
While most American wine consumers understand wines by their varietal names, "Cabernet Sauvignon," "Merlot," "Zinfandel," or "Pinot Noir," for example, the same wine grape variety can actually taste differently depending on where it was grown. This is due to the influence of terroir, the macro- and microclimates on the wine grape variety's taste and flavor profile.
Terroir can include something as big as the region or country in which the grape is grown all the way down to the details associated with soil structure and topography of a given site. The regional identity of the wine on a label is an indication of the grape's terroir, and this is often what many wine writers or experts will discuss in detail when describing a wine.
Nonetheless, I find it easier to compare Old World and New World white wines compared to red wines. This is because many regions are limited by which red wine grape varieties can grow in that area. While this is also true of white wines, I find it exacerbated with reds. Some grape varieties simply grow better in certain climates or locations compared to others.
There are 3 different worldly classifications for red wines:
Old World
New World
International Style
We previously discussed the International Style of Red Wine at length in the Sip and Swirl February 2023 edition. In my opinion, the International Style of Red Wine is a New World style with greater intensity and some sweetness.
Thus, for this edition, let's focus on an Old World to New World red wine comparison!
Often, the direct variety-to-variety comparisons lie with French to American (Californian) wines for Old World to New World tastings. However, I've found this can be tricky.
Thus, I'm going to take you on a little tasting journey in which we do not taste apples-to-apples (or Cabernet Sauvignon to Cabernet Sauvignon), and instead focus on the style, Old World wine style vs. New World wine style. Because, this, I believe, illustrates the key sensory differences associated with the styles themselves.
And besides, why not?
Afterall, it's just wine.
Let's make it fun.
A Review on Old World and New World Wine Styles
The Old World wine style is often associated with wines produced in European countries like France, Italy, and Spain. These countries have provided the foundation of wine production for hundreds of years. Thus, many of the practices to both grow and make the wines are outlined by regulatory agencies in that country.
Wines produced in an Old World style generally contain the following characteristics:
Lower alcohol (<13.5% ABV).
Higher acidity (tastes more sour).
Greater sensory emphasis on complexity. This is a fancy way of saying it may be difficult to grasp terms to describe what the wine tastes like as it isn't always overly fruity.
Wine production is based on tradition.
The wine is often regionally designated on the label.
In contrast, New World style wines are typically produced in newer, younger, emerging wine regions like the United States, New Zealand, and Australia. Wines from these countries contain the following commonalities:
Higher alcohol (>13.0%).
Lower acidity (tastes less sour).
Greater sensory emphasis on fruit forward components (and sometimes oak or bouquet flavors). This is a fancy way of saying the wine tastes fruity and oaky.
Wine production is based on science and technology.
The wine is often designated by grape variety on the label.
Whether a wine is considered Old World or New World style does not make the wine good or bad. It simply indicates growing and winemaking differences that then correlate into sensory differences for a given wine grape variety. This is why Cabernet Sauvignon produced in California can taste so very different from a Cabernet Sauvignon in France.
The difference between these two styles of wine is illustrated in the figure, below. On this image, I have provided the Old World and New World styles on the spectrum, anchoring the typical characteristics associated with each style at each end of the spectrum. Within that spectrum, I have noted where very large wine regions (a country or region within a country) generally seem to fall on that spectrum. Note that these are generalities and exceptions to these generalities can be found in every region.
Nonetheless, I find that imagining this spectrum provides a starting point for wine lovers to not only identify which style of wines they generally turn to, but also provides an indication for exploring new wine regions that produce similar styles of wine.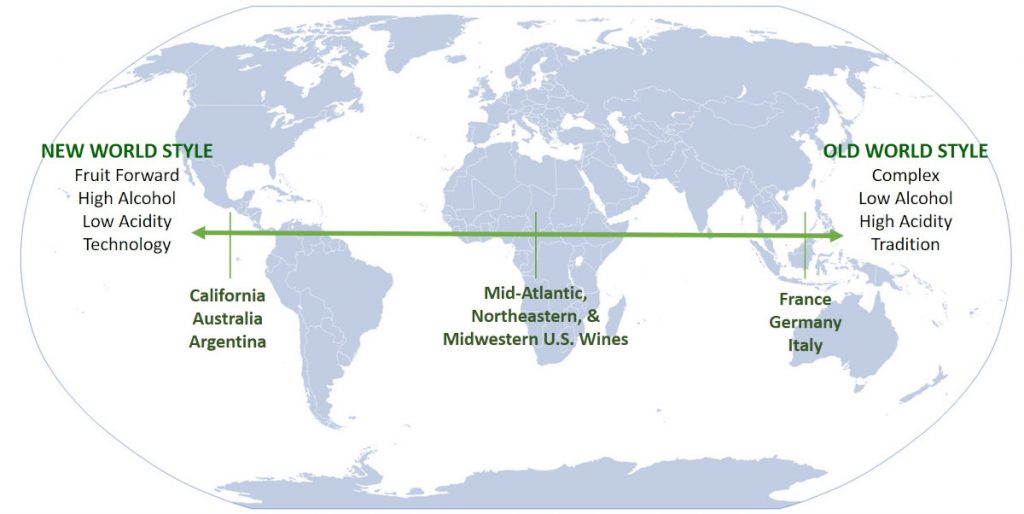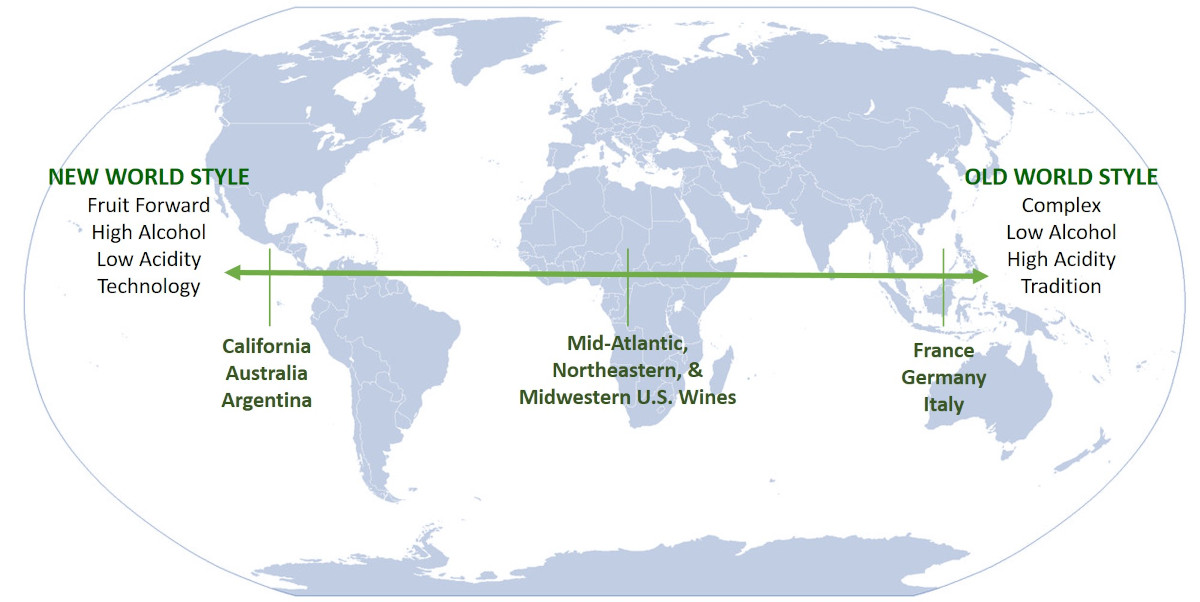 With these generalities aside, it's important to note that almost all of the wine regions of the world can now find examples of both style within them.
For example, the emergence of Super Tuscans from Italy are distinguishable in their taste profile, categorizing those wines within the "New World style" classification.
Another great example is the many smaller or more specific wine regions within the United States (think regions within the states of Colorado, Texas, Virginia, New York, etc.) fall somewhere on the Old World – New World Spectrum, lending attributes to both sides of the spectrum. A Cabernet Sauvignon from Pennsylvania, for example, tends to contain fruitier flavors than wines of a similar variety produced in France. However, that same wine is generally less fruity than a Cabernet Sauvignon produced from California. Nonetheless, the way the wine was made falls on the New World style portion of the spectrum, but with sensory (taste and flavor) characteristics that lean towards an Old World style.
And then there is the International Style of Red Wines, which is basically the New World style, but with amplified intensity, with bursting flavors and a touch of sweetness. Read the Sip and Swirl January 2023 edition to find out more about this style of wine!
The takeaway: there are exceptions to all of these general style classifications of wine, but don't get lost in the details. Simply determine where your preferences lie among the three primary wine styles.
Determine Your Old World – New World Preference
If you are new to the concept of Old World or New World wine styles, then this may be a fun place to expand your wine loving horizons. Today we are going to focus on the sensory characteristics – tastes and flavors – associated with each wine. Again, this following example is not considered "apples-to-apples" as the wine grape varieties that make up the wines are different. However, I believe both provide excellent examples for the wine styles.
To set up your tasting:
Glass size and shape should be the same for both wines.
The volume poured into each glass should be the same.
Label or mark the glasses so you do not get confused. You can always use a little masking tape and write the name of the wine on the glass base.
Taste the Old World wine style first.
I've listed the Old World style wine first in the tasting, so start there and then taste the New World style. While it's fine to go back-and-forth between the two wines, note how the taste of each changes due to the influence of the previous wine.
And most importantly, have fun exploring.
Château Les Gravettes 2016 Bordeaux Supérieur (Bordeaux, France) vs. H3 2018 Cabernet Sauvignon (Washington, U.S.)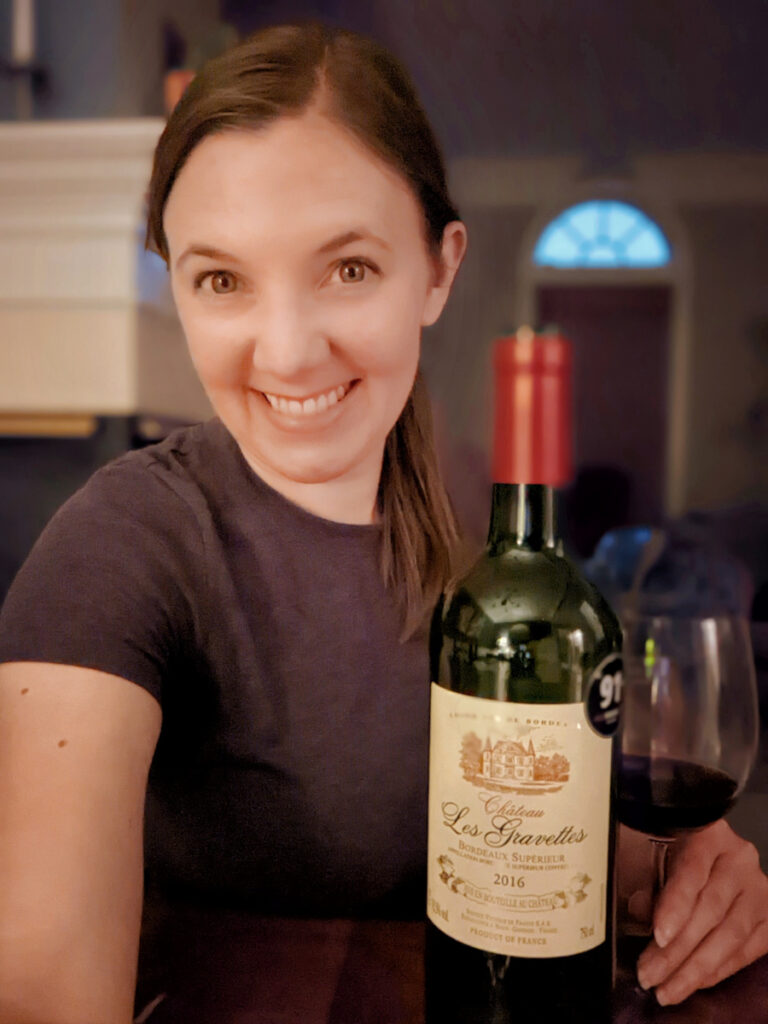 Links to: Château Les Gravettes 2016 Bordeaux Supérieur and H3 2018 Cabernet Sauvignon
This is not an "apples-to-apples" comparison because it's likely the Bordeaux Supérieur blend is a combination of Cabernet Franc and Merlot, while the H3 wine is a dominant Cabernet Sauvignon wine with Merlot and other red varieties making up a small percentage of the blend. (Yes, in the U.S. a wine can be labeled by the primary variety as long as it makes up a minimum of 75% or more of the red blend, depending on the regional allocation, or American Viticulture Area (AVA), that is designated on the label.)
However, let's forget that for a moment. Because what is apparent in this match-up is the difference in wine style: the Old World red wine style vs. the New World red wine style. The Bordeaux is the Old World selection and the Washington wine is the New World selection.
The Bordeaux red wine grape varieties – Cabernet Sauvignon, Cabernet Franc, Merlot, Malbec, Petit Verdot, and Carmenère – are great varieties to look for Old World and New World variations in a paired tasting.
A note if you have a problem finding my specific Bordeaux example… You can choose a different Bordeaux wine here. I purchased this one because it had the "Bordeaux Supérieur" designation, which is supposed to designate slightly higher quality than when you just see "Bordeaux" on the label. But that designation is not a necessity. Also, the name of the chateau (brand) does not have to be the same as the one I selected. You can substitute this Bordeaux wine for another Bordeaux or Bordeaux Supérieur wine that fits your budget and is available where you live. Here are some other examples:
All of these wines will fall somewhere in the $15 – $25 price point. My point is that you don't have to know what you are buying in the French wine section. Just look for key terms like "Bordeaux" or "Bordeaux Supérieur" on the front wine label.
It's very likely that when you match a Bordeaux (French) wine against an American wine of the same or similar variety, you'll find some stark differences. The Old World style, illustrated in the Bordeaux wine, is going to taste more acidic than the American wine. It is also likely the Bordeaux wine will be of lower alcohol, though there have been increases in alcohol for Bordeaux red wines in the past decade or so. Thus, it's possible the alcohol concentrations may be similar. The biggest difference will likely be in the flavors. To me, Bordeaux wines are less fruity and contribute more complex flavors associated with the wines. I think of this like tasting Scotch against Bourbon: the Scotch has so many complex, savory driven flavors contributed by the peat moss while the Bourbon is full of vanilla and spice flavors contributed by the charred oak barrels. An Old World red wine and New World red wine pairing is similar to me. The Old World (Bordeaux wine) is likely filled with complex, savory or woodsy flavors while the New World (Washington wine) is fruity, jammy and complemented with a lot of toasty oak flavors. This difference should be obvious regardless of which Old World and New World wines you select for a tasting.
What should you "look" for in this tasting? The primary differences to note:
The Bordeaux wine has a more obvious acidity compared to the Washington wine. The Bordeaux wine tastes more sour.
The Washington wine has very obvious oak-based flavors and taste contributions: lots of sweet vanilla and toasted oak flavors. There are also some dusty tannins that you can feel on the tongue. For the Bordeaux, the oak is more subtle and may be difficult to identify as tasting oaky.
In fact, the Bordeaux wine may be difficult to describe. Generically, I would say it has a base "red fruit" flavor. Many wine writers may use the term "red currant," which is a French descriptor because currant fruits are quite prevalent in France. The complexity of the Bordeaux can also be challenging to describe. For me, it was a bit woodsy and savory. To be more descriptive, I would say it had some dried tobacco, fresh earth (think walking into a pristine forest), cedar wood, and light Worcestershire character. But if you find it difficult to put terms to this wine, then that is the point: it's pretty complex and the fruity flavors associated with the New World red wine style simply are not there in a dynamic intensity.
The Bordeaux wine, while tannic, was still rather soft and easy to drink compared to the Washington wine. If you pay attention to the wine while it is in your mouth, the Washington wine can taste "dusty" or it can allude to making your mouth feel dry. That's some big tannin there! Again, that tannin contribution is just much more powerful in the New World example.
Wasn't this tasting intriguing?
There are some key differences between these wines, and it's interesting to note that different people have different preferences associated with their red wines. If you ended up preferring the Bordeaux selection, you may enjoy Old World red wine styles more so than New World styles. If you ended up preferring the Washington wine, it's likely you are more into New World styles of red wine, and may even gravitate to the International Style of Red Wine.
Want more wine suggestions in your preferred red wine style? Follow me on Instagram (@dgwinemaking) as I typically designate whether a red wine is in the Old World, New World, or International Style of Red Wine!