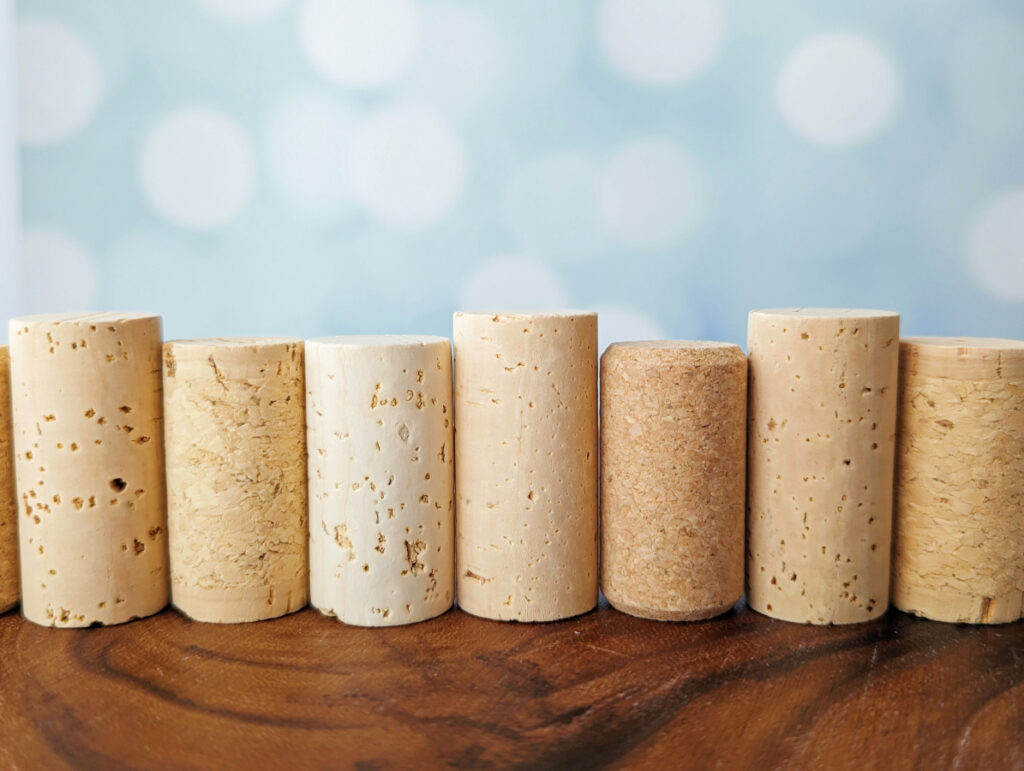 Have you ever wondered what those people are doing at a restaurant when the waiter (or sommelier) asks them to evaluate the first pour of the wine?
Have you ever been in this experience and gotten nervous about it?
Have no fear, I'm here to share with you exactly what's going on, and how you can evaluate that wine with confidence!
First, what's going on?
The evaluation pour – that first pour – is primarily used to evaluate if the wine is corked.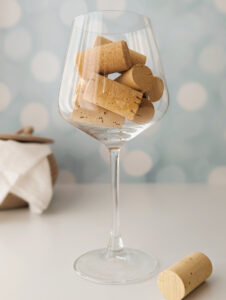 Corked wines typically smell and/or taste like how a wet basement smells. If you haven't been introduced to a musty basement in the past, some people will say it also smells like wet dogs or wet, musty cardboard. This smell or flavor isn't harmful to you in wine, but it is a flavor contaminant of wine.
The primary source of this smell or flavor is from corks. Thus, any time you see a wine that contains anything that resembles cork, it's possible the wine could be corked.
Additionally, any wine that was stored in oak barrels could also, potentially, be corked. However, when corked barrels occur, the wine is usually caught at the cellar and discarded. Thus, the most likely culprit of corked wine occurs after bottling when you're handed that first pour.
The reason many in the restaurant industry allow for this evaluation is because no one has any idea whether or not the wine could be corked…
…Until they open the bottle.
It's a complete guessing game.
The transfer of the flavor occurred after the wine was bottled. To some degree, a corked wine is random. Thus, it's fully possible that you receive a bottle that is corked, but the next bottle pulled by the waiter or sommelier may not be corked.
Plus, any type of wine can get corked.
As long as cork is used to seal the wine bottle, that wine has the potential to be corked. Most industry experts estimate that somewhere between 1 – 10% of all wines bottled with cork are corked.
Usually people want to return corked wines with confidence because the presence of the corked flavor diminishes the fruity flavors associated with the wine naturally.
Now, in addition to evaluating whether the wine is corked, you could also screen the wine for other noticeable flavor flaws: things like reduction (in which the wine smells like hard boiled eggs or canned vegetables) or an elevated volatile acidity (in which the wine smells like vinegar or nail polish). But many people are blissfully unaware of these quality flaws associated with wines.
What to do during that first pour evaluation?
Contrary to what you may have seen on TV or in the movies, do not sniff the cork!
Most corks, I think, smell a little bit musty. And truthfully, sniffing the cork is not where the actual assessment is made. Now, some wine experts may evaluate the cork visually. But that's a little bit different.
In a visual cork evaluation, experts are looking for things like the number of holes in the cork, whether it's a natural cork or a technical cork that's made up of many cork pieces glued together. They also look for things like wicking in which the wine wicks up the side of the cork that hits the bottle. And they may also look for cracks or breakage.
Whether or not those things lead to corked wine is all somewhat debated.
It's likely the waiter will hand you the cork. In this case, simply look it over. See what you notice. But don't sniff it.
Trust me!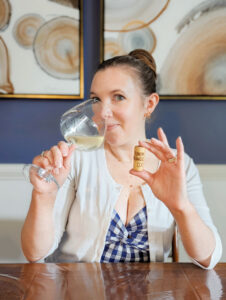 What you should do is take a deliberate and mindful sniff of the wine that is poured. After the sniff, you may want to taste it.
I will admit that the corked aroma and flavor is fleeting. Often, you have to trust your gut on that first sniff or that first taste. Our senses become so quickly adapted to the flavor compound associated with the corked flavor that our second sniff or taste may not pick it up.
Do not be embarrassed if it takes you awhile to get used to trusting your first evaluation. In my professional experience, I spent about 2 years running regular cork screens to sniff for that corked flavor. Two years! Thus, it's easier for someone like me who has been regularly exposed to this flavor, to trust my instinct in recognizing a wine is corked. And there have been a few times when I have had to give a wine back:
One time I was out with a friend and ordered us a bottle of Gruner Veltliner from Austria. The first bottle that we got was corked. In this situation, the wine was cold and I doubted my perception. As the wine warmed up, I noticed the corked flavor was stronger. Since we had not finished the first glass, I did end up asking the waiter for a second bottle. This came at no extra cost to us.
During an industry meeting, we had a tasting set up for educational purposes. One of the tastings was on German Rieslings. Since I had the most experience with identifying corked wines, I had to pour a small one-to-two ounce pour from each of about 10 bottles (of the same wine) and found one of those bottles was, indeed, corked. Thus, we eliminated that bottle from getting served to the guests.
While my husband and I were out picking up wines from a local winery, we made a day out of it and shared a freshly opened bottle of Viognier. I didn't immediately evaluate the wine. Instead, I went outside, set up our snacks, and then took my first sip of the wine. I knew instantly it was corked and had to go back into the tasting room to tell the tasting room staff that the bottle was corked. The second bottle was fine.
Recently, I bought a series of Chablis (from France) and the very first bottle I opened was corked. Similar to the first scenario, the wine was chilled and I doubted my initial evaluation. But as the wine sat in the glass, I definitely knew the wine was corked. In this case, I did not have a way of returning the bottle to the retailer so I lost on the price of the bottle since I did not keep the wine.
There in lies the underlying lesson: in most cases, you can return the bottle or exchange it for an alternative bottle. It's likely, if you do send the bottle back, that the second bottle will not be corked.
I know a lot of people feel at odds with confidently telling a waiter or wine professional that the wine is corked. Nonetheless, being polite is always in your favor. Simply tell the waiter or sommelier that you believe the wine is corked and would appreciate an alternative bottle.
What causes the corked flavor?
The corked flavor, or cork taint, is primarily caused by the presence of a flavor compound called 2,4,6-trichloroanisole, or TCA. TCA is not a natural flavor associated with wine. Thus, whenever it is present in wine, it always extracted from something (usually wood or cork) that contained the flavor compound.
The funny part is, you may be more familiar with TCA than you know!
TCA is a common water contaminant, providing the same musty, wet basement flavor in water sources. Thus, you can find this flavor in things that had some contact with water and wood. One of the most common places I smell TCA is in the grocery store, in the produce section that is getting misted with water. It's especially common near root vegetables that get misted! If you ever walk through a nursery or an irrigated landscape, you can also often find the smell of TCA in the air near the mister or irrigation drip.
Ironically, in wine, this flavor exists in extremely low concentrations. It's usually about 10 ppt or less. This is equivalent to a dime sized drop in an Olympic sized swimming pool!
It's okay to send back that bottle
It's pretty incredible how such a small amount can alter wine flavor. But hopefully you'll feel more confident in sending back a bottle should you ever get presented with the corked flavor. After all, it's what these individual assessments are for!