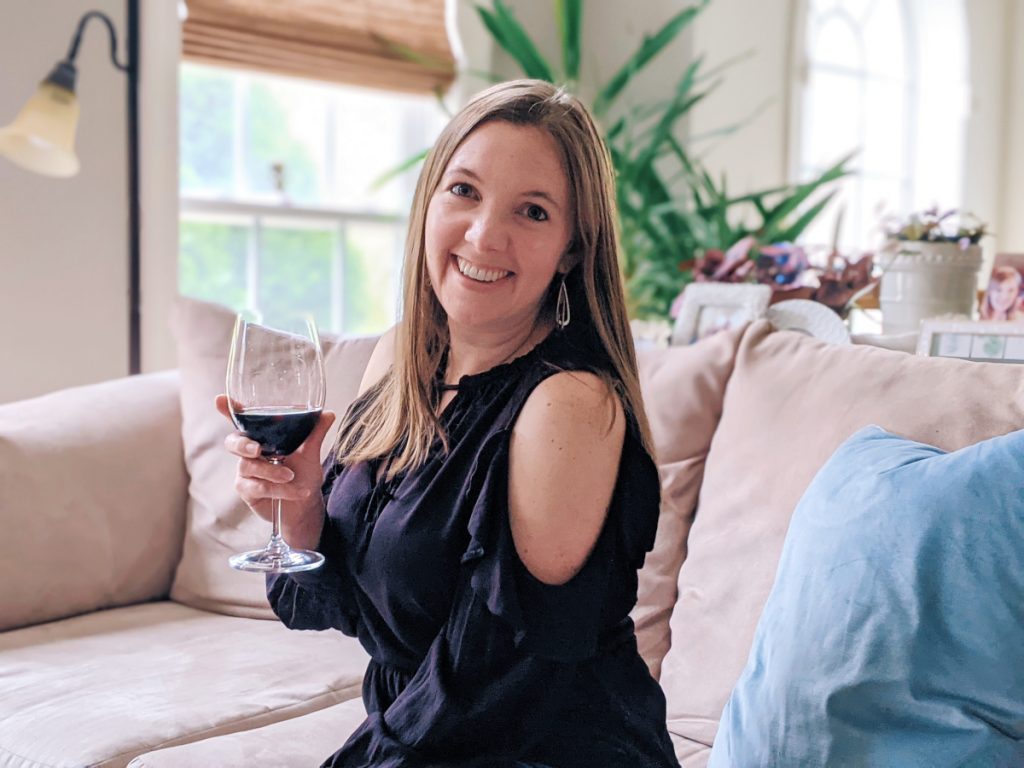 The relative obsession with Cabernet (a shorthand used often to describe wines made primarily of the Cabernet Sauvignon wine grape variety) wines would have you thinking you have to like this wine style or wine variety to be an official wine lover.
Author's Note: Hopefully, if you have been reading the Sip and Swirl for a while now, you know you can be a Wine Lover and love any style or variety of wine.
But since September 2nd is International Cabernet Day (#CabernetDay), I thought I would dive into some "secret" facts behind the Cabernet wine.
Cabernet Sauvignon is planted ALL over the world, in many grape growing regions. While each planting of Cabernet Sauvignon has similarities, the flavor profile associated with the wine can range based on the annual weather patterns of the region and the growing conditions in which the grapes were grown. There's also significant influence in how the wine tastes based on how the wine is made by the winemaker in the cellar.
This is why not all Cabernet Sauvignons wines taste the same! (Secret #1 revealed!)
With this in mind, let's dive into Cabernet Sauvignon a bit more, shall we? I'll answer a few common questions associated with Cabernet and sneak in a few suggestions for various styles of Cabernet wine along the way. Don't forget to check out this month's Pocket Wine Expert if you feel ready to try a new Cabernet Sauvignon wine this month.
Is Cabernet Sauvignon (Cabernet) a red or white wine?
Cabernet Sauvignon wines, or Cabernet Sauvignon blends, are red wines.
All red wine grape varieties can also get made into rosé wines, too. Thus, it is also possible to find Cabernet Sauvignon rosé.
Are Cabernet wines dry or sweet?
Most Cabernet Sauvignon wines are dry.
However, the Cabernet Sauvignon wine grape variety often takes center stage in a lot of wines that I consider to follow the "International Style" of red wine. "International Style" red wines may have a slight sweetness to them.
I'll list a few Cabernet wines that have a touch of sweetness to them, below. So keep reading!
Woah, woah, woah. Style?
Yes! Wine style is a description that summarizes the overall aroma (smell) and mouthfeel (tastes and taste sensations like astringency) of the wine. While thousands of wine brands exist on the market, most wine can get categorized into one of 10 different styles of wine, shown below.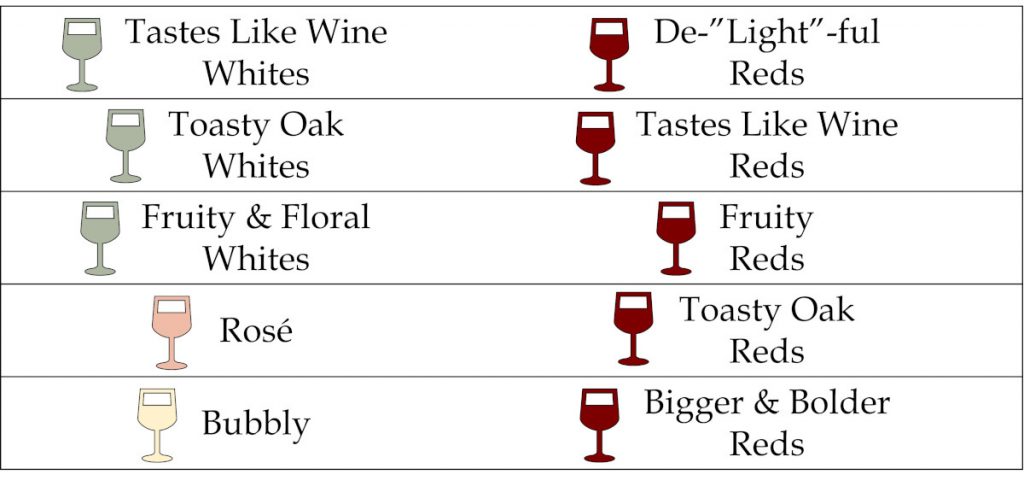 While I have fancified the styles for easy remembrance, it certainly simplifies wine a bit. For example, if you know you love "Fruity and Floral Whites," a wine expert like me can make hundreds of recommendations simply within this style of wine. This allows you to explore new wines with more confidence and reassurance in finding something new that you like.
On the red wine side of the table, as you move from the top to bottom of the table, the mouthfeel of the wine gets bigger and bolder.
The "International Style" of red wine has concentrated aroma and flavor with a smooth mouthfeel that makes it an easy-to-drink form of red wine. I classify the "International Style" within the "Fruity Red Wines" group as its own sub-category. This is due to the fact that many "International Style" red wines contain a hint of sweetness that "Fruity Red Wines" do not necessarily have.
Cabernet Sauvignon wines often fit into five of the styles listed above, plus the possibility of fitting into the International Style of Red Wine. These include:
Rosé
Tastes Like Wine Reds
Fruity Reds

International Style of Red Wine

Toasty Oak Reds
Bigger and Bolder Reds
Again, what the Cabernet wine tastes like often depends on the region from where the grapes were grown, how the grapes were grown, and how the wine was made.
This means that if you had a Cabernet Sauvignon wine and hated it, there's a possibility you could like another Cabernet Sauvignon wine that fits within a different wine style. Point of this story: Don't give up on the name of the wine! Just identify the wine style that appeals to you and use that as your wine-trying compass.
But what about the flavor of Cabernet Sauvignon wines?
On top of how the wine tastes and what it feels like when you drink it (dry/sweet, astringent/smooth, flavorful/not flavorful), there's also the nuanced aromas (smells) and flavors that make up the wine.
The wine grape variety, Cabernet Sauvignon, can produce wines that have a combination of subtle aromas and flavors that characteristically identify it as a Cabernet Sauvignon wine. The variety can contain some fruity, some floral, and some herbaceous flavors. Or it may omit one or two of those groups from its aroma and flavor combination. These subtle flavors include anything on this spectrum: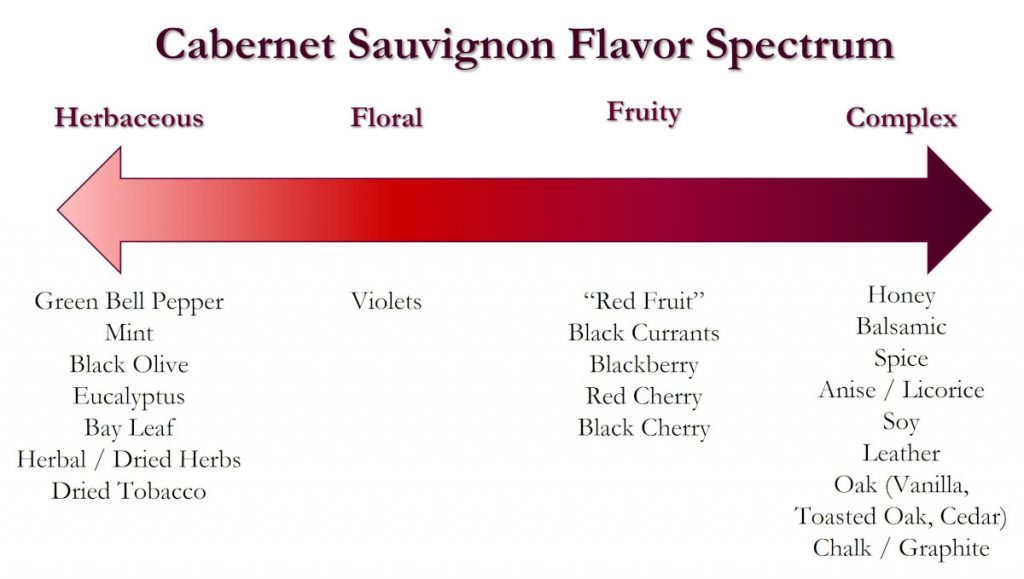 Likely what makes wine so confusing is that a single variety, in this case Cabernet Sauvignon, can range in flavor and mouthfeel depending on where it is grown. Additionally, there can be slight differences among producers or wine brands.
Thus, I recommend trying wines labeled by their grape variety name at least three times from three different regions before deciding you dislike the variety. The reason for this is due to the variation in flavor and mouthfeel caused by the number of different brands out on the market!
So where should I start?
A good question.
You don't have to know every good brand of Cabernet Sauvignon wine out there to be wine savvy. Use the headings, below, that describe red wine styles to begin your exploration of Cabernet Sauvignon wine.
Like Sweet? Try the International Style
If you lean towards sweeter wines, then starting at the "International Style" of red wine (a subset of the Fruity Reds) is the way to go. Wine brands like Apothic Red or Cupcake are good starting brands if you haven't previously ventured into the Cabernet Sauvignon realm. The lower priced Cabernets from Yellow Tail (Australia) also emphasize this style of wine.
Most Cabernets that are in the $10 price range will be in this style. Although, I have found some expensive brands to also be in this style. We recently had a Cabernet from Caymus that tasted very "International Style" to me.
Most Approachable: Fruity Reds & Toasty Oak Reds
It can be splitting hairs between these two styles of Cabernet Sauvignon wines because most varietal wines contain some fruit and some oak flavors to them.
If you are looking for more complexity compared to the "International Style" of red wine (read: enjoy more nuance to the aromas and flavors), I tend to look towards some pricier Cabernets from within sub-regions of Napa Valley (California). Brands like Frog's Leap and J. Moss are two Cabernets I tasted recently with more fruit and oak flavors that complement the other within the wine's flavor profile.
If you think you'll like the herbal flavors associated with this variety, Ring Bolt (Australia) makes a relatively minty and eucalyptus centric Cabernet.
If you are feeling adventurous, try wines from Priorat (Spain). While the blends of these wines can include other varieties beyond Cabernet Sauvignon, many of the wines fall in line with Cabernet styles. I've found that wines from this region can be higher in alcohol, but lend a focus towards the "Fruity Reds" style capturing more intense fruit flavors over the oak flavors.
Bigger & Bolder Reds
Many Cabernets produced outside of the Western U.S. have significant tannin that contributes to a drying mouthfeel in their Cabernets. While the flavors and intensity of the tannin can vary from producer to producer, these wineries tend to capture a nice harmony between two very different ends of the spectrum in terms of Cabernet Sauvignon style and flavor. If you enjoy Bordeaux reds or Malbec wines, trying some of these wine brands may be delightful for you. There are many more excellent wines from these states, but here are a few that I've enjoyed in recent years. Note: you may have to purchase direct from the winery.
What do I do if I end up disliking all of my Cabernet Sauvignon wine purchases?
Ask yourself why you dislike it.
Is it too dry (lacks sweetness)?
Does it lack flavor (tastes too much like alcohol without any fruit flavor)?
Once you identify what it is that you don't like, you can move up and down the scale featuring the 5 red wine styles. For example, if you attempted a "Bigger and Bolder" Cabernet, but didn't prefer it, move up a level to the "Fruity Reds" or "Toasty Oak Reds" when you try your next Cabernet.
Finally, don't worry about not finding your preferred style right away. Just take note of what you like and don't like to find where your preferences lie.
And, don't be afraid to return to a wine style you didn't like after a year or two of wine exploration passes. As you begin to explore new styles of wine, your taste preferences change. You may find in a year or two, you'll prefer some of those "Bigger and Bolder" you didn't previously enjoy!
Side Story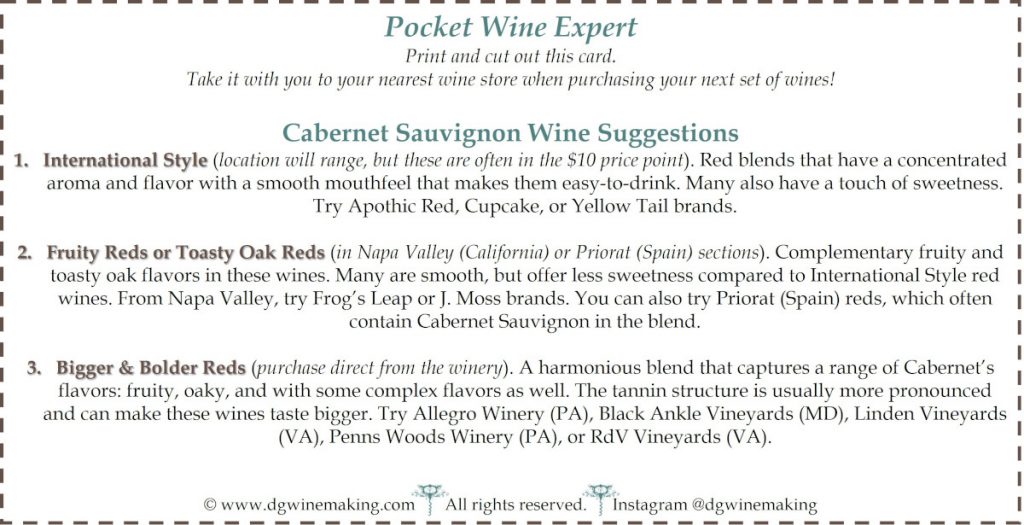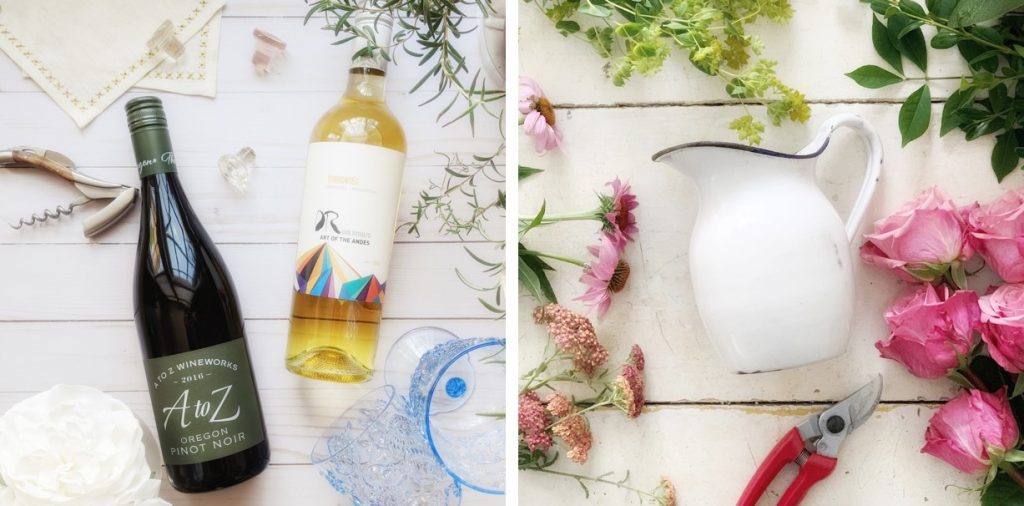 Want to Sip on Wine and Create Beautiful Things?
Whether you need something to do on a Sunday afternoon with your friends or are just looking to spice up your interior, the FREE Bottles & Blooms workshop, Transform Your Everyday with Wine and Flowers features blooms available through the months of August and September.
Thus, blooms featured during this instruction are easily found through the next month.
Stephanie Kirby from The Blue Daisy Floral Design provides step-by-step video and written instruction on how to put together a beautiful table centerpiece arrangement using a pitcher and some fresh blooms. If you ever wanted to learn how to arrange flowers, now is the time to try!
But wait! Each Bottles & Blooms workshop always ties flowers and wine together with a harmonious theme!
Also featured during this workshop is instruction on creating a set of House Wines for your home while improving the moments you curate with the wines you purchase. I show you three ways to be more present with the wines you're tasting and enhance the wine enjoyment experience.
What are House Wines? These are the wines you keep in stock that you know you'll love. I provide some tips on selecting the wines and provide three different styles that usually please most people.
Check out the Bottles & Blooms: Transform Your Everyday virtual workshop for free today. Give it a try: it's free and fun!