Bottles & Blooms
Transforming Your Everyday with Wine and Flowers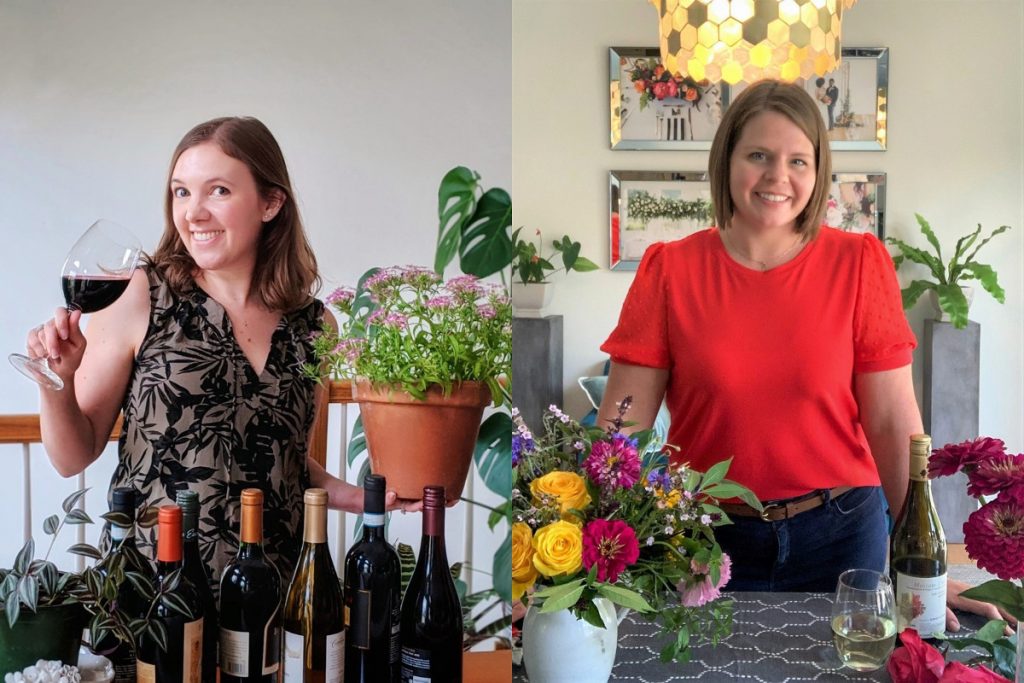 Bottles & Blooms courses are taught in collaboration by floral designer, Stephanie Kirby, from TheBlue Daisy Floral Designs, and Denise Gardner, winemaking expert from Denise Gardner Winemaking.
How Bottles & Blooms Works

Register for a Bottles & Blooms virtual class.
You will receive a workbook with several wine suggestions, flower types to create an arrangement, & any additional supplies for the up-coming glass.
Gather your supplies!
Bring them to class. Flowers can be purchased from a local florist or, if you live in the Pittsburgh area, from Stephanie herself!
Tune into class!
Denise will review all of the wine suggestions provided to you & give help you curate more wine variation in your home. Use the "Wine Purchasing Card" in the workbook to select your next wine!
Build your flower arrangement!
Stephanie will provide step-by-step instruction on how to build your floral arrangement. You can use the workbook instructions to supplement her in-person instruction.
Enjoy your work!
Sip on some wine you may have not tasted before & enjoy the lovely florals that are now integrated into your home.
Use the workbook to re-create what you learned in class in your own time: purchasing a wine later or make another floral arrangement.
What You Take Away
~ How to choose unique wine selections.
~ Enhance your wine experiences at home with little extras.
~ Create joyful moments around wine, food, and flowers.
~ Integrate flowers and plants into your everyday life at home.
~ How to arrange flowers or add the right plants to your home.
~ A lot of encouragement, a virtual room full of lovely people, & an hour of fun without having to leave your home.
Enhance Your Bottles & Blooms Experience
~ Bring a friend! Take the class together with roommates or friends.
OR
~ Connect with loved ones far away. Register for the class and join each other during the live class.
Note: Most courses include the option for Pittsburgh, PA attendees to purchase flowers from The Blue Daisy Floral Designs prior to the class date. Visit here for more information after registering for a class.
For those attendees that do not live in the Pittsburgh area, we recommend using homegrown flowers or purchasing flowers from a local florist.
Details for floral recommendations are provided for each class as the start time nears.
Hear What Others Are Saying
"This is my creative escape once a month. I love this class."
Showing all 6 results