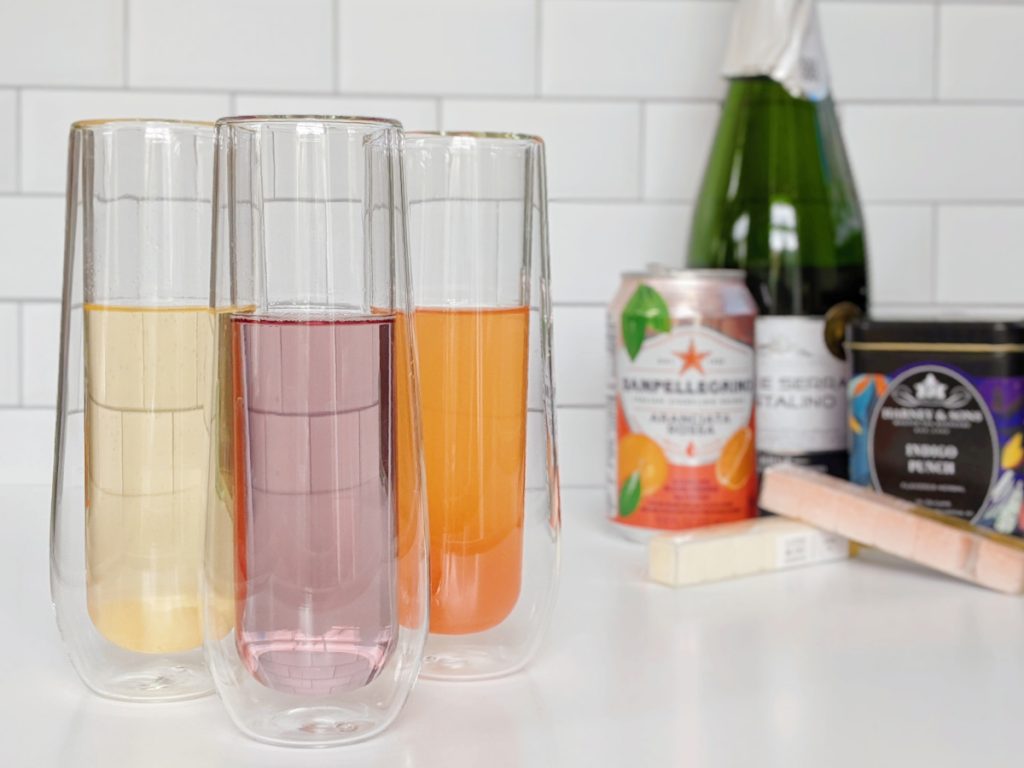 One of the classic wine cocktails of all times must be the mimosa: a mixture of fresh orange juice and sparkling wine. If you're creative, a little curl of orange rind is added to adorn the glass.
But there is no reason to get stuck in the rut of making the same old mimosa time after time!
Changing the mixer can add some variability – and color – to your mimosa experiences! Follow some of my suggestions, below, to explore some simple variations on this delightful, easy-to-make, always-a-crowd-pleaser wine cocktail.
The Sparkling Wine
For all of my recipes, I used a drier sparkling wine labeled as a "Brut." This is simply my preference as I enjoy less sweet mimosas. If you prefer a sweeter mimosa, there are two ways to get more sweetness.
The first is to make a simple syrup that can get added directly to the mimosa. To make a simple syrup, take 1 cup of table sugar and add to 1 cup of water. Warm the mixture over medium-low to medium heat on a stove until the sugar has fully dissolved. It does not need to boil. Then let the simple syrup cool down to room temperature and store in the refrigerator for up to 5 days after it is made.
When added to your mimosa, simple syrup immediately dissolves into the cocktail. I recommend adding the simple syrup to the glass first and topping with sparkling wine for a natural mix. If the simple syrup is added second, you'll need to give the mixture a bit of stir, which will expel some of the bubbles.
Another option to get a sweeter wine cocktail is to use a sweeter sparkling wine. An "Extra Dry" sparkling wine is sweeter than a "Brut" sparkling wine. (Yes, I know, that makes very little sense.) Or, simply opt for a sparkling wine that is labeled as being "sweet."
Need some sparkling wine recommendations? No problem!
I'd first like to highlight an excellent sparkling producer out of the state of Michigan, Mawby Sparkling, that you can purchase directly from their online shop. If you want to try something new, fresh, and delicious, try these sparkling recommendations (made by the winemaker!) with your mimosas!
If you want a sparkling wine you can find anywhere, have no fear. I have a few recommendations here, with some purchasing tips.
If you like dry sparkling wines: Aim for Prosecco if you like drier (less sweet) sparkling wines. The term "Prosecco" will be found on the front of the label and describes a style of wine that can usually be found in the sparkling section of the wine store and occasionally in the Italian wine section. Common Prosecco examples include Lamarca (the blue label) and Mionetto (the orange label). These are typically found anywhere.
If you like sweet sparkling wines: Look for Moscato. "Moscato" is a term that you will find on the front of the wine label and describes the style of sparkling wine. Moscatos are usually sweet and lower in alcohol content, but they can vary in how sweet they taste. I gravitate towards Italian Moscato's because I find them more refreshing than California Moscato's. However, you can find Moscato wine in either the California or Italian wine sections. A good go-to selection includes the Cupcake Moscato D'Asti or Paolo Saracoo Moscato.
If you want middle-of-the-road sweetness: Search in the sparkling wine section for sparkling wines with the terms "Extra Dry" on the front label. Again, it's counter intuitive, but these wines are sweeter than "Brut" sparkling wines. These can be from any region because the terminology describes the amount of sugar in the sparkling wine, but are most likely found in the sparkling wine section of a wine story. The Cavicchioli 1928 Prosecco DOC Spumante 'Extra Dry' or the Korbel 'Extra Dry' wines are two yummy selections.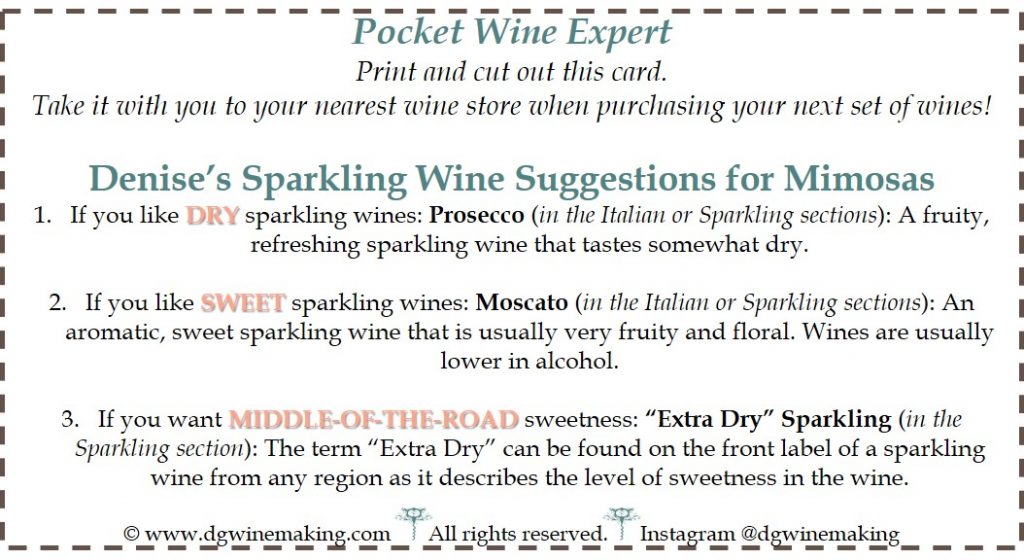 Mimosa Additions
I tried three variations on a classic mimosa that were simple and easy to make. These are three combinations anyone can try at home or while hosting a small gathering.
A Juicy Spin on the Classic Mimosa
Switching out orange juice for a sparkling Sanpellagrino was a quick way to combine two beverages I love: sparkling wine and Sanpellogrino fruit beverages. These are carbonate juice beverages, which contain a small percentage of real fruit juice. The Sanpellagrinos are not as sweet as orange juice so if you like your mimosa very sweet, consider one of the two options, above, to enhance the sweetness.
You can find Sanpellagrino sparkling fruit beverages in a few different flavors, and all would make a great mimosa mixer: Blood Orange (Aranciata Rossa), Clementine (Clementina), Grapefruit (Pompelmo), Orange and Prickly Pear (Arancia and Fico D'India), Lemon (Limonata), Lime and Mint (Limone and Menta), Orange (Aranciata), and Pomegranate and Orange (Melograno and Arancia)
Recipe
1 ounce juice
3 ounces sparkling wine
Optional: simple syrup
Add juice and the optional simple syrup to a sparkling wine flute (glass). Top with sparkling wine.
A Tasty Effortless Mimosa
(And, it's fun!)
My second spin on the classic mimosa was to use Instant Mimosa Cocktail LUXE Sugar Cubes by Teaspressa. These sugar cubes were an instant hit. They are packed with flavor and a touch of sweetness. I used two sugar cubes into my full serving of sparkling wine, but for a sweeter beverage, drop in three cubes!
They're easy to use and also quite fun. I appreciated how pure the orange flavor was in the mimosa sugar cubes and the sweetness was not overpowering.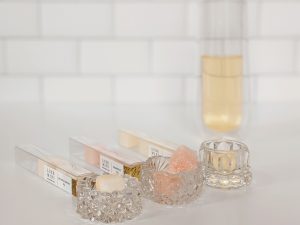 It's possible you may need to give these cubes an extra stir to get them fully dissolved.
For some extra fun, set up a sugar cube mimosa bar! Allow people to pick their favorite flavor combinations, as LUXE Sugar Cubes come in a whole range of flavors.
Recipe
Add 2 – 3 LUXE Sugar Cubes to a sparkling wine flute (glass). Top with sparkling wine. Or, follow the directions on the Teaspressa box, which includes pre-melting the sugar cubes for a more even distribution of sweetness.
[Herbal] Tea-Mosa
And finally, an herbal tea mimosa. I recently purchased some delightfully beautiful (and delicious) herbal tea blends from Harney and Sons. When I tried the Indigo Punch I immediately considered blending this with some sparkling wine for a fun twist on the mimosa.
The lemongrass-berry flavors from the Indigo Punch tea marry well with a sparkling wine. The flavors are more subtle compared to the other combinations discussed in this month's edition of the Sip and Swirl, but the nuances from this mixture make for a lovely beverage. If you know tea lovers in your life, this could be a delightful wine cocktail for them.
Plus, has anyone seen a purple mimosa before?!
I blended the tea and sparkling wine into a dry-style mimosa, but I can see the appeal in making this blend sweet. Use some simple syrup or a sweet sparkling wine to make this combination pop! You can also infuse the tea into the simple syrup while the simple syrup is getting heated or immediately after all of the sugar has dissolved. It will give you a brilliant purple simple syrup to add directly to the sparkling wine.
Recipe
1 ounce herbal tea (for more flavor, go up to 2 ounces and cut back the sparkling wine to 2 ounces)
3 ounces sparkling wine
Optional: simple syrup
Add tea and the optional simple syrup to a sparkling wine glass. Top with sparkling wine.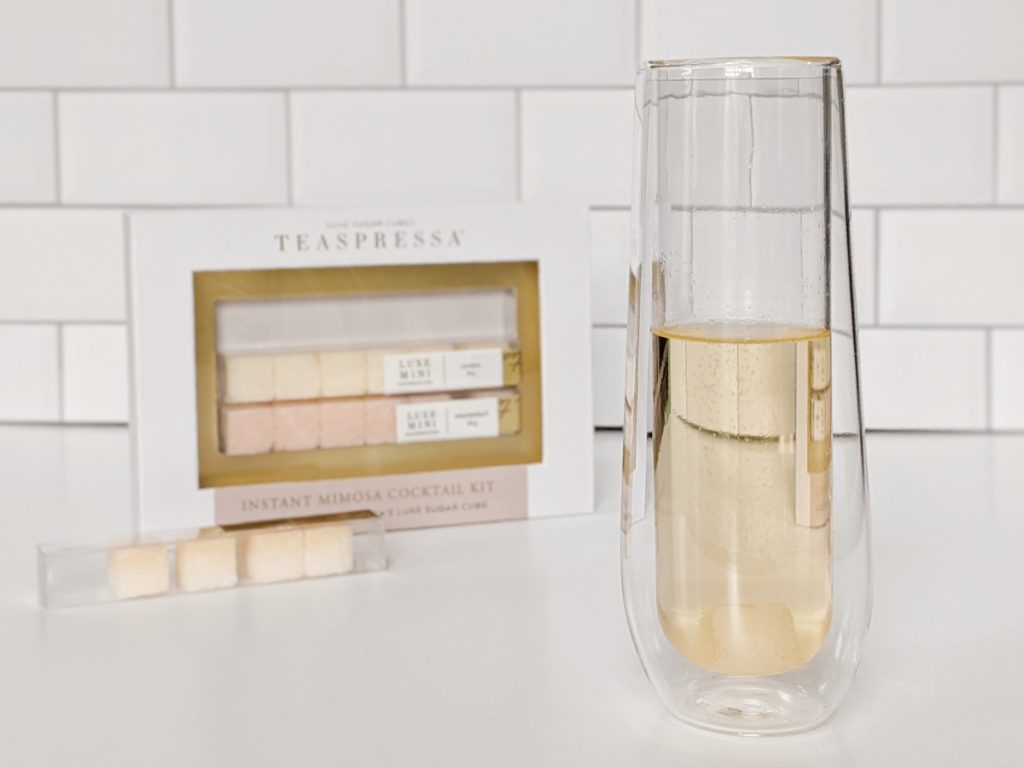 Until next month, cheers!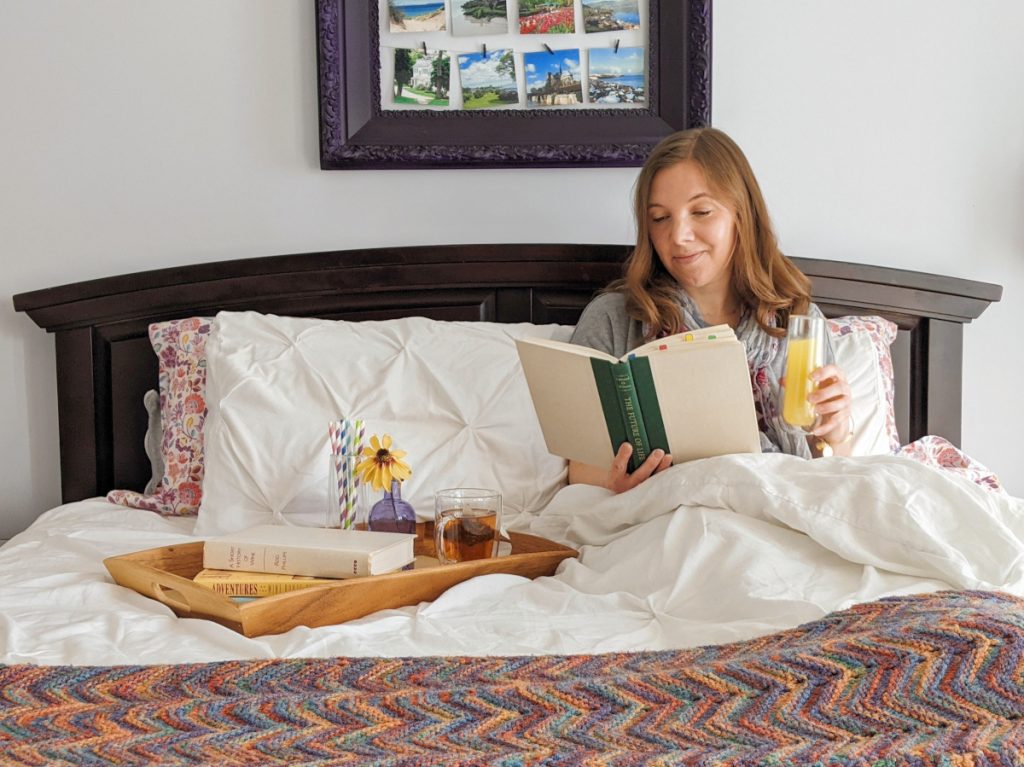 A Mimosa Inspired Mother's Day
Still looking for something special this Mother's Day?
If you know Mom could use a little R&R these days, give her the thoughtful gift combination of her favorite sparkling wine, LUXE Sugar Cubes by Teaspressa, and a little quiet time to herself. Top with a thoughtful card, and some easy instructions for creating her own joyful cocktail. Sounds like the Mother's Day every mom out there is looking for!
For the mom that loves wine, plants, and socializing, register Mom for the May Bottles & Blooms virtual class, Shades of Pink. The class falls on Thursday, May 20th at 6:30 PM (EST). Purchasing two tickets to the class using the BOGO-half off coupon, WINEANDFLOWERTIME allows Mom (and a friend or family member) to do something together that is relaxing and fun! Plus, mom will walk away with her very own floral arrangement she makes during the class. See the Bottles & Blooms section for more details.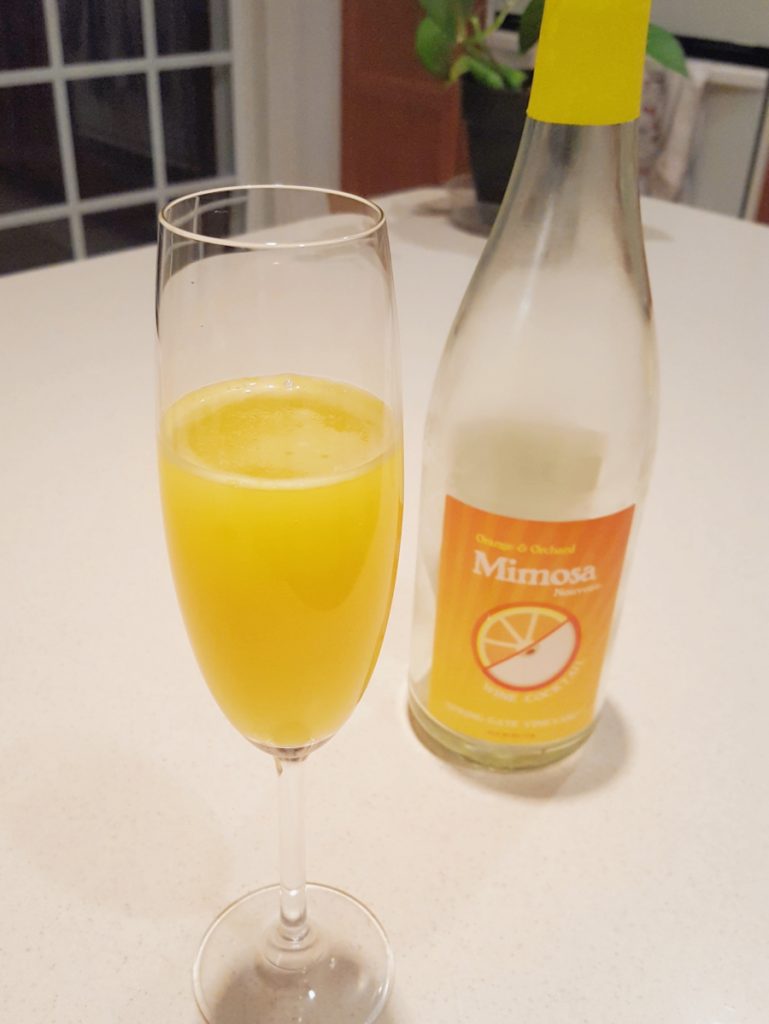 A New Hidden Wine Gem: Spring Gate Vineyard & Winery Orange & Orchard Mimosa
If you are the type of person that is looking for a no fuss pre-made, ready-to-drink mimosa, then Spring Gate Vineyard & Winery (PA) has exactly what you are looking for! Their mimosa wine cocktails are pre-mixed and provide an instant ready-to-pour option. No fuss. No mess. Simply chill and serve! And they come in a variety of flavor options. If you want something other than the orange flavored mimosa, then take a look at their other offerings. Like a deep colored mimosa? Check out the Blood Orange Mimosa. And if it's something tropical you are in the mood for, sip on their Mango Mimosa. These wine cocktails are fun, fruity, and sweet. They provide an easy go-to option for wine lovers that are looking for a quick and fun way to serve mimosas.
Bottles & Blooms: Shades of Pink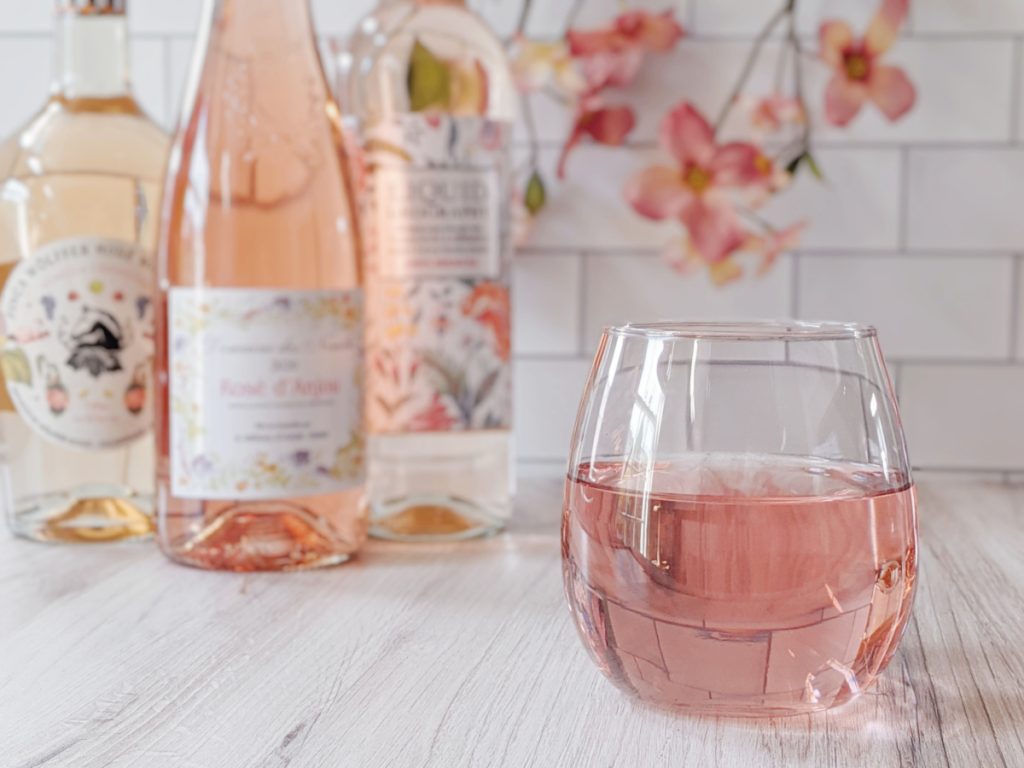 May 20, 2021 at 6:30 – 7:30 PM (EST)
Theme: Shades of Pink
Wine Suggestions: Focused on pink wines with a few of Denise's suggestions for you to try. Plus, she'll share a pink-wine cocktail you're sure to love!
What You'll Make: A pink-themed floral arrangement designed and led by Stephanie from The Blue Daisy Floral Designs.
How it Works:
Register for the 'Bottles & Blooms: Shades of Pink' virtual class.
Gather your supplies!
Tune into class on Thursday, May 20th at 6:30 PM (EST).
Learn about wines and build your flower arrangement during class.
Enjoy your work! Sip on some wines suggested during class, and enjoy viewing your arrangement in your home for days to follow.
Register Today By Clicking, Here!
Unsure if you'll like our Bottles & Blooms classes? Try out a Bottles & Blooms class for free, here!