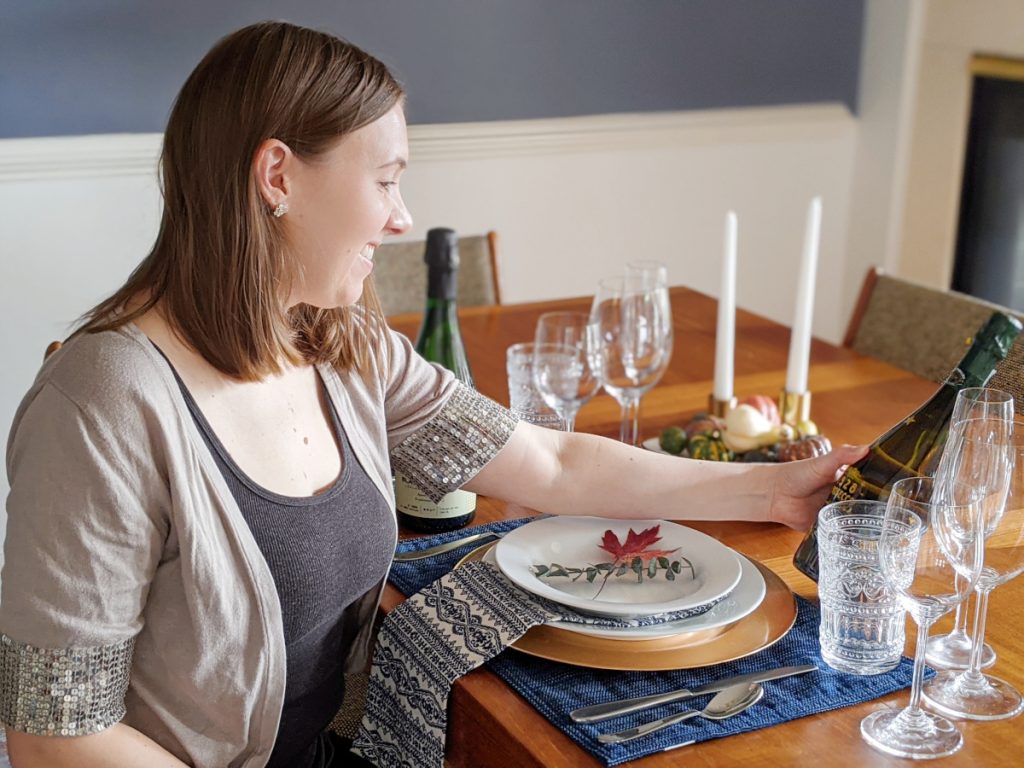 Every year, lots of sommeliers and wine experts talk about what wines to adorn one's Thanksgiving table. And every year, I never buy any of their suggestions.
Why?
Because, I just want to drink what I like. It's a holiday for goodness sake!
Do any of you Wine Lovers also feel this way?
Yes, if I was curating a multi-course Thanksgiving meal, I would take the time to carefully select a wine for each dish. But we NEVER do this.
When I was a kid, I remember taking a lot of time to set and decorate the dining room table for my mom. I was careful to ensure each food had its own placement on the table so that we all could share in a family-style setting. As I got older, and holiday meals got larger in terms of attendance, Thanksgiving became a free-for-all. The food would get prepared and spread out among all available counter space. The family ended up lining up in a buffet-style arrangement and returning to their place setting. Even the wines had their own counter space allocation!
Thus, instead of me telling you which wines to buy, I am going to share how I make wine a more central part of the Thanksgiving, or holiday, festivities. The focus here is on enhancing the wine and meal experience. It's something you can do if you're eating a Thanksgiving meal for one, two, or with an entire family of guests. And quite honestly, you can use these recommendations for ANY holiday that includes food… and wine.
If you don't celebrate Thanksgiving, you may find some of these steps can enhance your culinary or wine experience during other festivities or celebrations.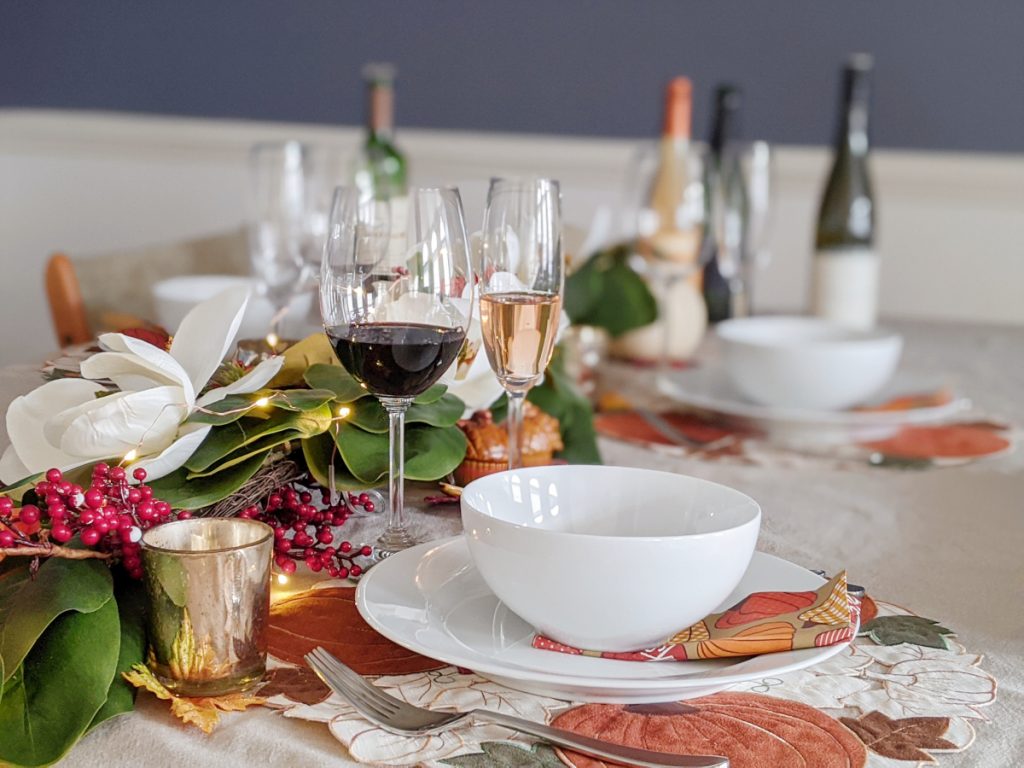 Step One: Plan Your Menu
Over the years, each of our families tend to have a set list of entrées and side dishes that are going to make up the Thanksgiving meal. This almost always includes some combination of turkey, sweet potato casserole or candied sweet potatoes, green beans, stuffing, a squash dish, and cranberry sauce. Since meeting my husband, I've grown particularly fond of my mother-in-law's cranberry salsa: the perfect combination of fruity tart sweetness and spicy heat. Also, I've learned that my mom's candied sweet potatoes are somewhat of an unique side dish that not many people have ever tasted!
Any year I'm in charge of bringing wine to this large meal, I always write out the menu. Whether I am hosting or one of our moms are hosting, looking at all of the food on the menu helps me decide on wines to bring for guests.
Detailing the entire menu provides options in which you can concentrate on one or two parts of the meal, which is an excellent advantage to looking wine savvy. This gives you the ability get more specific on a wine to pair with that portion of the meal, leading us into Step Two.
If making a list of the food that will be served seems too daunting, take my "safe wine bet" approach for holiday gatherings: If you are in charge of bringing the wine, you can always say, "I brought some bubbly because this will go with EVERYTHING!" People will be impressed by your wine savviness and plus, now there is bubbly!
Honestly, who doesn't like bubbly? Lucky for you, I love bubbly, so here are a few I have enjoyed sharing over the years.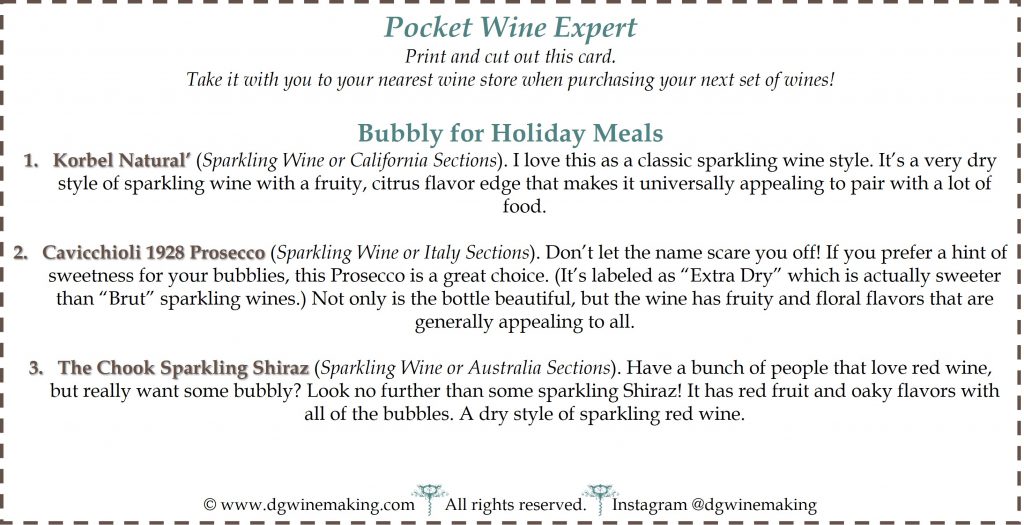 Step Two: Choose One Part of the Meal to Pair with a Wine, OR Pick a Favorite Wine
Thanksgiving is a difficult meal to pair with wines because there are so many flavor combinations and a fine mixture of savory and sweet components that make up the meal. This is why so many wine suggestions focus on neutral and acidic wines: things that are more likely to enhance the taste and flavor of many parts of the meal, but not the entire meal. Thus, many dry white or rosé wines are often suggested in addition to bubbly.
But if these wine styles are not of particular interest to you or your guests, pick a wine you know most people will enjoy. Then, review the menu you created, above, and find the part of the meal that best fits with the wine.
Here's a fun Thanksgiving example:
"The Hubs" (my husband) loves oaky Chardonnays. These wines are difficult to pair with foods due to their dynamic oaky, buttery, vanilla flavors. They are really great sipping wines, but when paired with foods they are often reserved for simple or blander foods, including cheese plates (with A LOT of controversy over which cheeses taste best with this style of Chardonnay). But for Thanksgiving, since I know this wine is so loved, I just pair this with the main dish: The Thanksgiving turkey!
Not one person has ever told me the wine didn't pair well with the turkey.
Always try to keep my perspective in mind: unless you are sitting down with a room full of sommeliers or flavor experts, I think you're safe on your wine and food pairings for Thanksgiving.
Step Three: Adorn the Table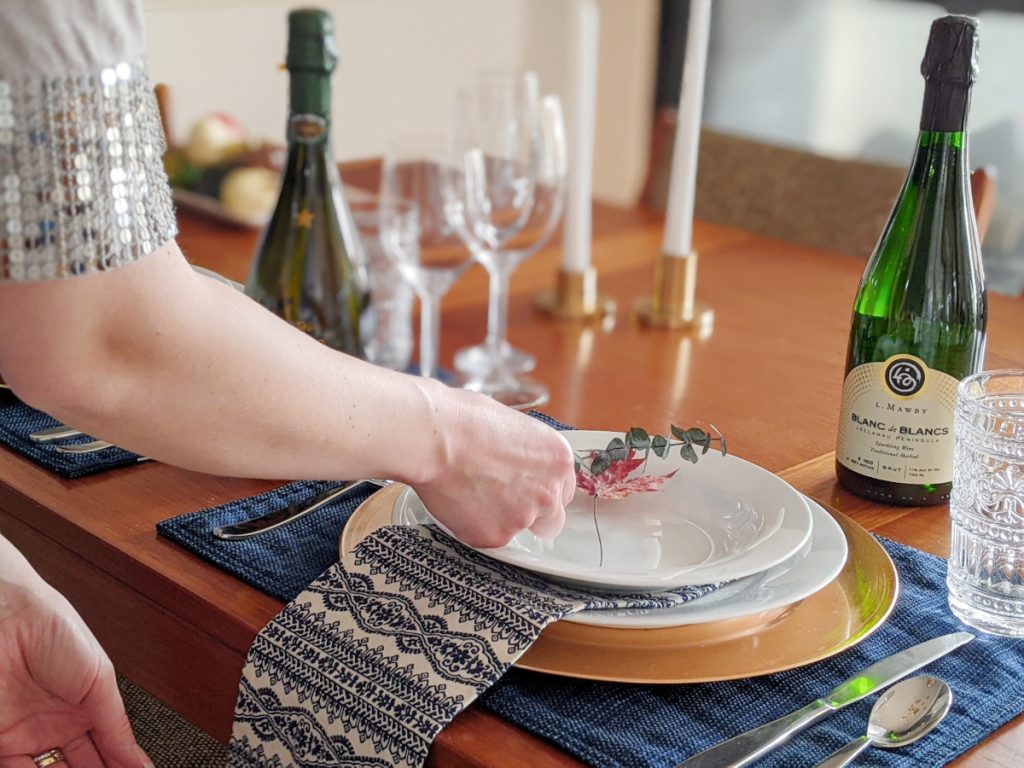 I've previously talked about how dressing a table for holidays and celebrations can really elevate the mood around an event in a Bottles & Blooms workshop.
And it's true!
Taking the time to change the landscape of our table enhances the power of our memory. It marks a special occasion, creating a unique moment for us to remember. You probably have memories of holiday days that are marked by something special: "That was the year it snowed and we all got stuck inside." Or, "That was the year we made all the gourmet recipes!" These small details create lasting memories in our minds. Preparing your holiday table is no exception to building in some detail!
Decorating our table is one of my favorite parts about holidays and celebrations. It feels special every year, and I love mixing up the table with a combination of things I have and new things I've found.
When large meals are involved, I take the time to bring some focus to the wine in a few ways:
Set up multiple glasses to accommodate each style of wine that may get served during the meal.
Place the wines on the table, including putting chilled wines into chill stones or buckets. Having multiple wines on a table makes guests visually see the wine and explore their options. It's a very inviting gesture! Plus, if you have a large table or multiple tables with guests, guests exploring the wine sparks conversations that usually steer away from anything controversial!
Use special wine glasses or colored wine glasses to emphasize how the wine is a special contribution to the meal. It's also just really pretty.
Create a wine tasting menu for each guest. I have done this using a simple template that prints out from my computer. (Etsy printables has been a huge help here!) The menu details each wine available for them to enjoy and which dish may taste the best with that wine.
If You Still Want Wine Suggestions…
Before I started writing the Sip & Swirl, I used to write small posts regarding my wine selections. While the wine suggestions are similar in both posts, each dives into a slightly different component of purchasing wine for holidays. Enjoy!
For additional wines that I'm enjoying right now, please visit me on Instagram: @dgwinemaking.