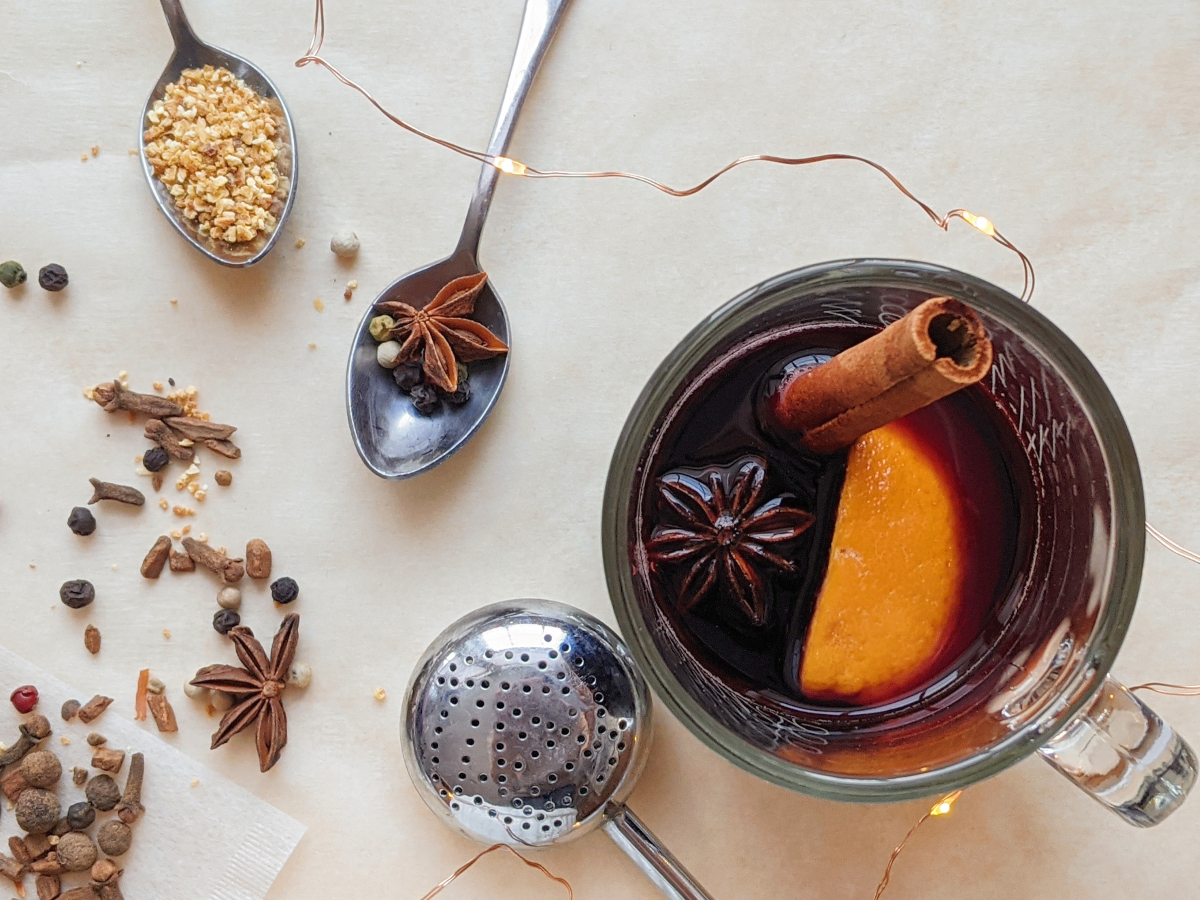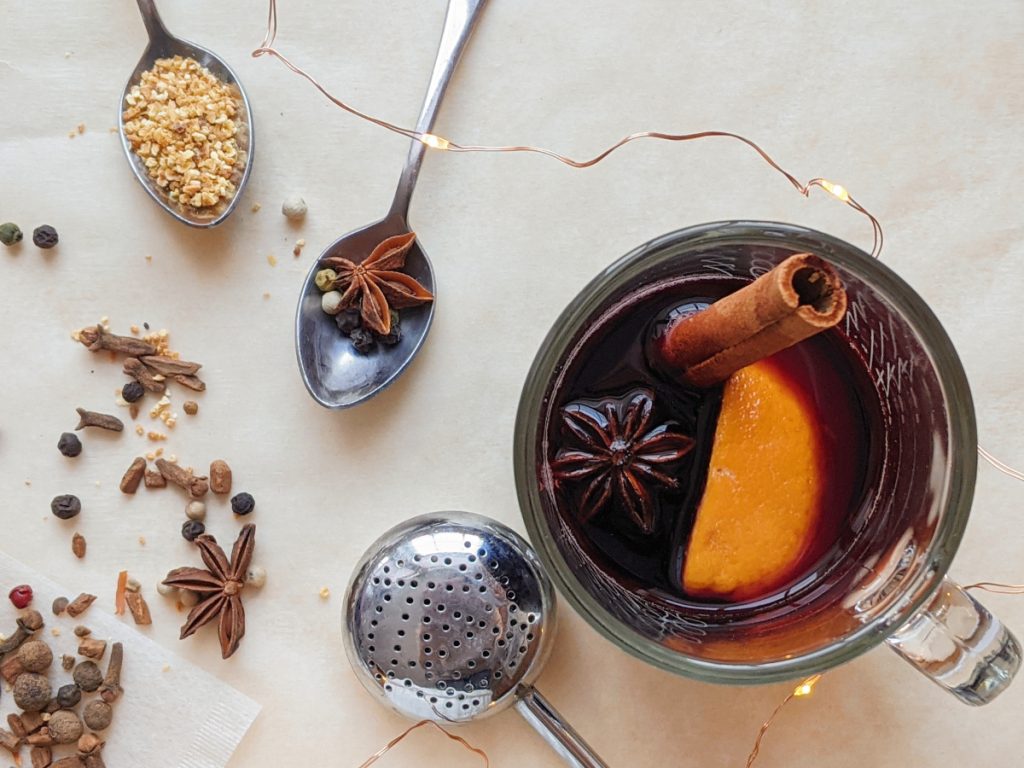 If mulled wine seems like an annual December holiday tradition to you, you are not alone. Many countries throughout the world celebrate the winter holidays with glasses of mulled wine passed around the living room as family members bask in the warm glow of holiday lights. But, March 3rd is National Mulled Wine Day and thus, I want you to get prepared to enjoy this spicy wine cocktail during the month of March!
A heads up: if you live in a warmer state, don't skip this month's Sip and Swirl edition. Check out my recommendations for chilled mulled wine, below!
What is mulled wine?
Mulled wine is a heated spiced wine beverage, and sometimes supplemented with a sweetening agent like honey or Port wine and a spirit like Port wine or brandy. Many countries have their own variation of mulled wine, with alterations in the wine variety used, the types and concentrations of spices that are slowly heated in the wine, or if and what spirit is added to increase the alcohol of this warm treat.
Historically, the addition of sugars and spices to wine is quite common. In Greek and Roman times, addition of these extra ingredients enhanced the flavor of wine, making it more appealing. By the Middle Ages, people added spices to wines to compensate for the poor wine quality.
Today, however, most people consume a version of mulled wine in celebration or as a cozy, comforting treat during the cold winter months.
Making mulled wine at home
Despite the simplicity in ingredients, making the perfect glass of mulled wine can be quite tricky! Some wineries, like the winery featured in this month's Hidden Wine Gem, will sell pre-spiced, sweetened wines in a bottle in which all you must do is warm up and garnish as desired. This is a reasonable option for creating your own mulled wine without all the work of figuring out your favorite spice blend.
The Wine
Otherwise, the basic ingredients for spiced wines include a wine, usually red, mulling spices, some sort of fruit, and a sweetener. Picking out a red wine can be daunting. Honestly, I think you can pick just about anything, keeping in mind that a sweeter red wine will taste a bit sweeter once heated. I have seen warnings about avoiding too tannic of a red wine variety, but it's never caused me to not enjoy the mulled wines we made from them. Some go-to varieties I use for mulled wine include Gamay, Grenache, Merlot, Dornfelder, Chambourcin, Noiret, or a Valpolicello (Italian wine region).
Also, if you prefer a white wine, then do not shy away from making a white mulled wine. Try richer, unoaked wines like Viognier, Chardonnay, or Marsanne or Roussanne (from the Rhone region in France).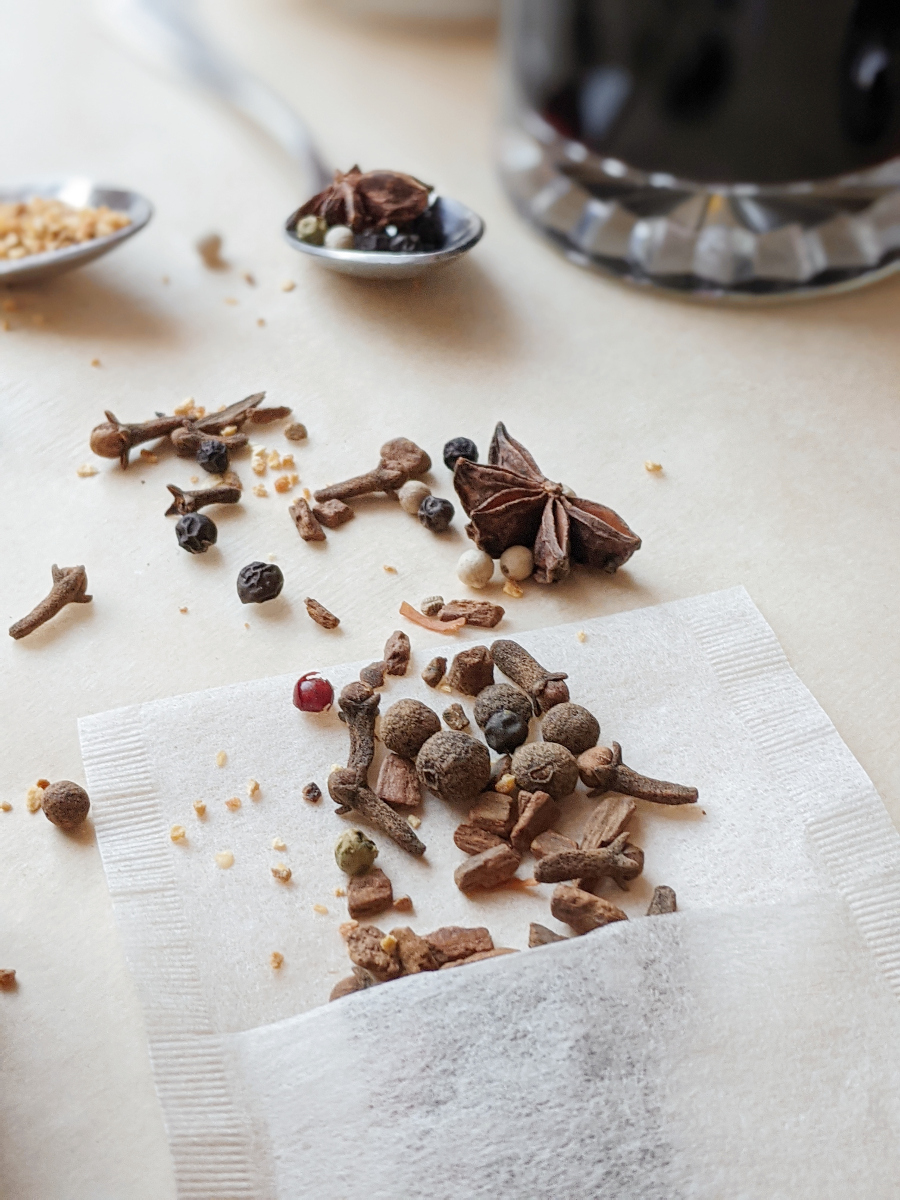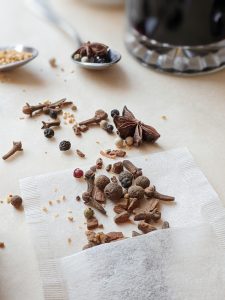 The Spices
As an easier option, look for mulling spice tea bags from your favorite spice or tea company. I recently purchased a set of mulling spices from Penzeys and filled a large tea bag. Once the tea bag was filled, I submerged it into a small pot of red wine that I slowly heated over the stove.
Some companies sell mulling spice tea bags for individual servings, as well. Note that there will be variation in spices used for mulling, so if you have a favorite company, stick with that! The Penzeys spice mixture I purchased included a few types of cinnamon, whole cloves, allspice, cardamon, and mace, for example.
Or, create your own favorite mixture of mulling spices! An easy mulling spice blend, in the simplest form, includes cinnamon sticks and whole cloves. Additional spice options include cardamon, peppercorns, allspice, star anise or fennel seeds, nutmeg, and vanilla. If using whole spices, these can easily float in a simmering pot of wine. Or, purchase some large tea bags to fill and place in the wine during simmering. The tea bag will help reduce any sediment from the spices that otherwise get into the wine.
The Fruit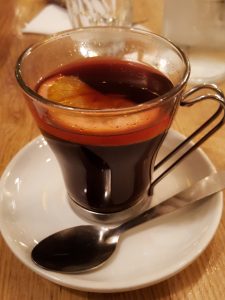 Next, select some fruit. Fresh orange slices and even touches of lemon are go-to selections for spiced wine mixtures. If you are using a more tannic wine variety like Cabernet Sauvignon, Malbec, or even Cabernet Franc, you can reduce how much peel gets added to the wine during heating. This will lower any bitterness that can sometimes form in spiced wine mixtures.
In some countries, it is customary to add raisins or dried fruits. This will not only provide a raisin-like flavor, but also add a touch of sweetness.
Alcohol and Sweetener
Finally, the extra alcohol and sweetener! Adding a touch of Ruby Port, Cognac, brandy, Madeira or even rum can add that extra punch of alcohol you may desire. Both the Port and Madeira will also supplement some sweetness.
Sweeten to taste using any form of sugar you prefer: white table sugar, brown sugar, or even honey.
What To Do
Mix all the ingredients and heat on a low simmer for about 20 minutes to an hour, depending on taste as the wine heats.
The trick with heating is to avoid boiling. Boiling the wine will reduce the alcohol and change some of the flavors.
Try to avoid boiling the wine, which reduces the alcohol concentration and can "burn" the flavors of the wine. Instead, opt for nice, slow simmering heat for about 10 – 20 minutes, getting extraction of all of the flavors into the wine. Or, opt for a low heat setting on a slow cooker.
After heating, remove the mulling spices to inhibit further extraction. You can always store your mulled wine in the refrigerator overnight and then re-heat the following day.
Food and Wine: Pairing Mulled Wine
Having a nice, warm glass while cozied up in your favorite chair and blanket may seem like a fine bit of self-care, especially if there is a steady flow of snowflakes falling from the sky outside. But, if you need some food with that glass of mulled wine, here are some of my favorite go-to's!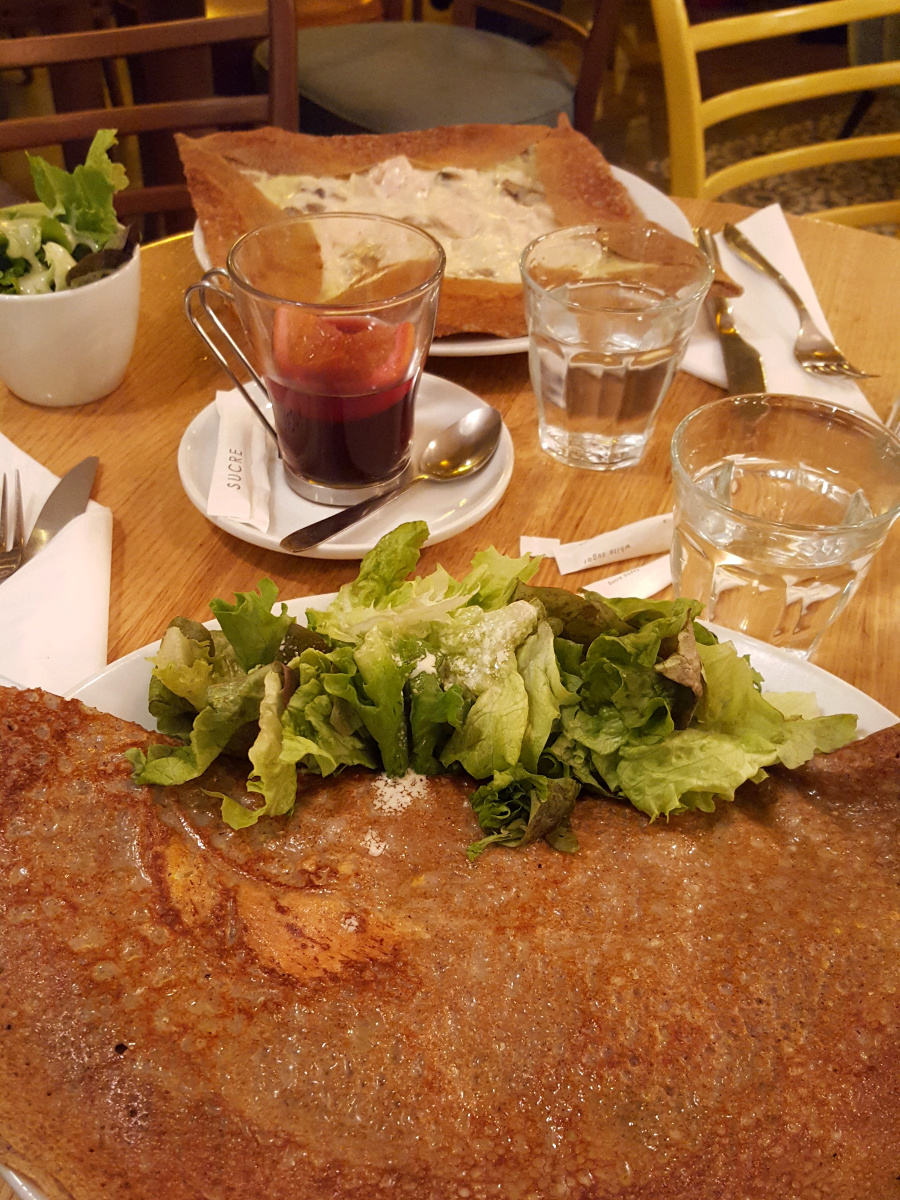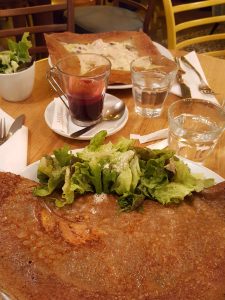 Cheese Plates: Easiest pairing with mulled wine is cheese. Stick to salty, savory cheeses to off-set the sweet and spicy beverage. Parmesan, blue cheese, Feta, Gouda, brie, and cheddar are some of my favorites.
Grilled Cheese Bites: Make your favorite grilled cheese combination and slice into small squares for a quick-and-easy appetizer with a warm glass of mulled wine. One trick I always follow when making grilled cheese sandwiches is to shred the cheese before cooking. This helps make the cheese melt quicker and better.
Mac and Cheese: Are you noticing a theme here? If you are looking for a dinner option, mac and cheese pairs well with mulled wine flavors.
Savory Crepes: When I toured through France during the winter, my mulled wine selection often came next to a delicious savory crepe. Some savory crepe fillings include ham and cheese with or without eggs, smoked salmon with cream cheese and fresh dill, roasted vegetables with chickpeas and feta, chicken and sauteed mushrooms, cooked spinach and mushrooms with bacon, or roasted turkey and pesto. You could also ditch the crepes and use these combinations in a quiche or frittata. Or, add the fillings above onto a sliced, toasted baguette drizzled with fresh olive oil, if preferred.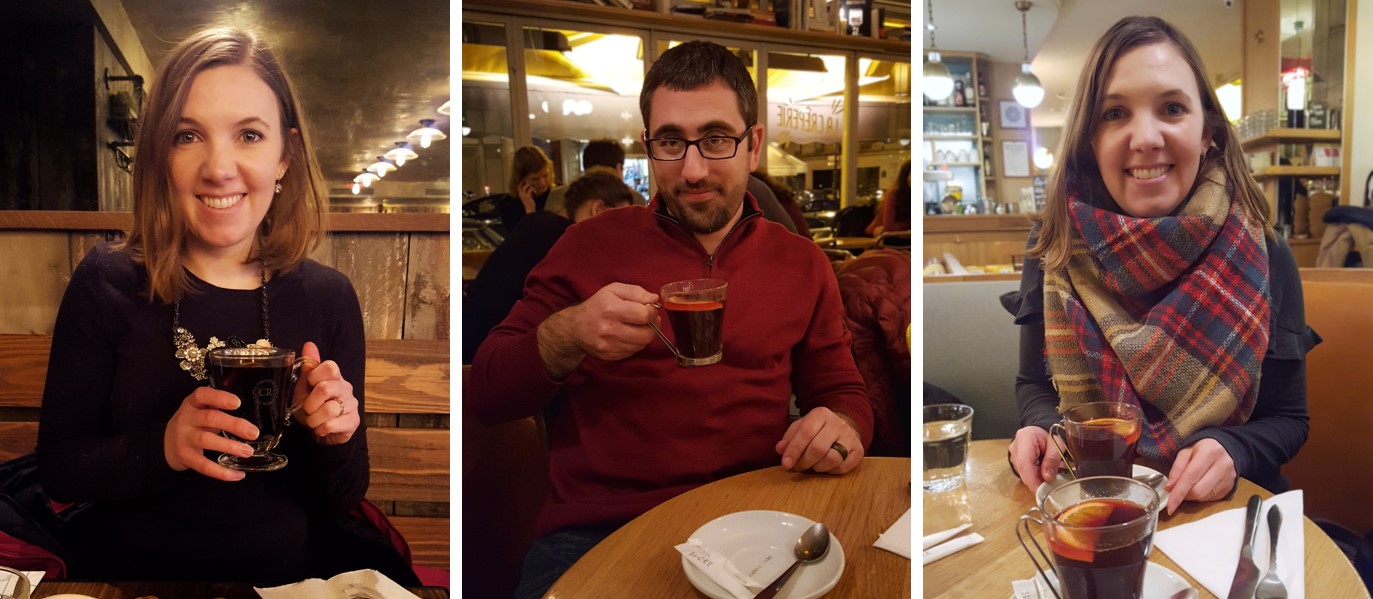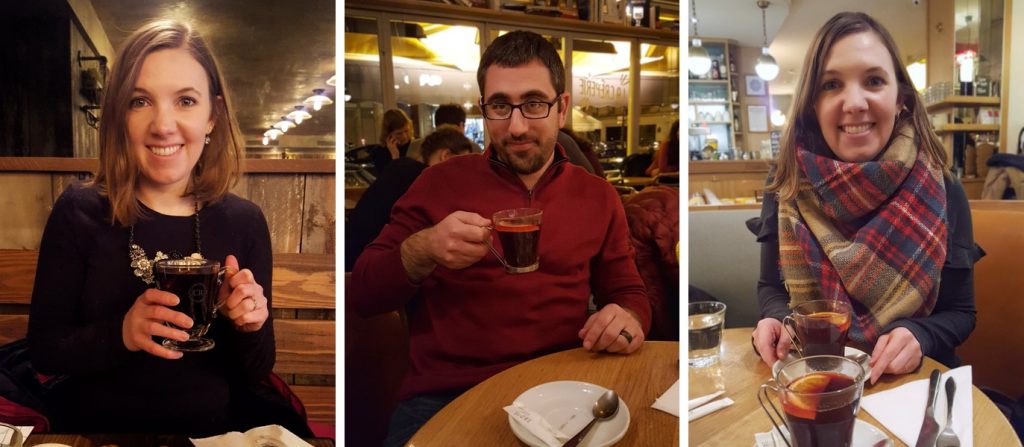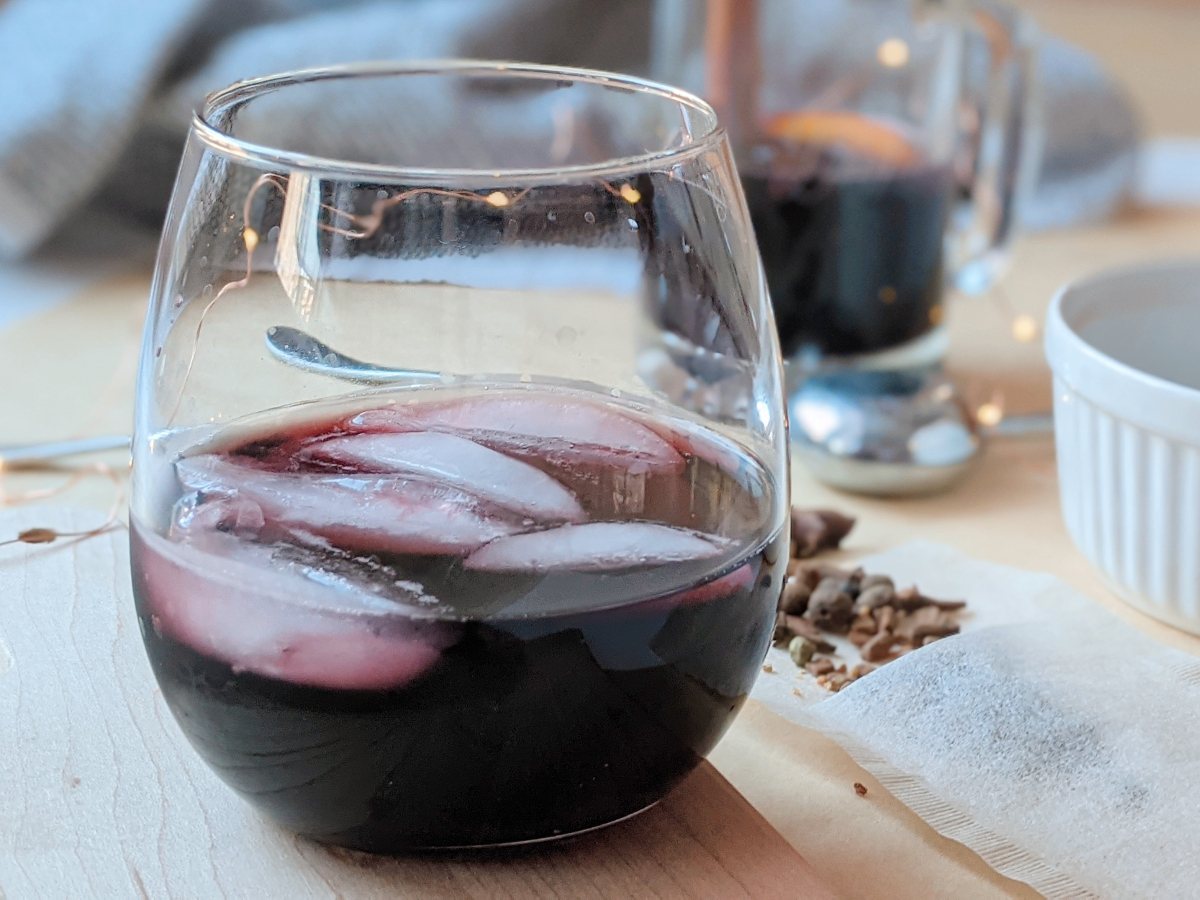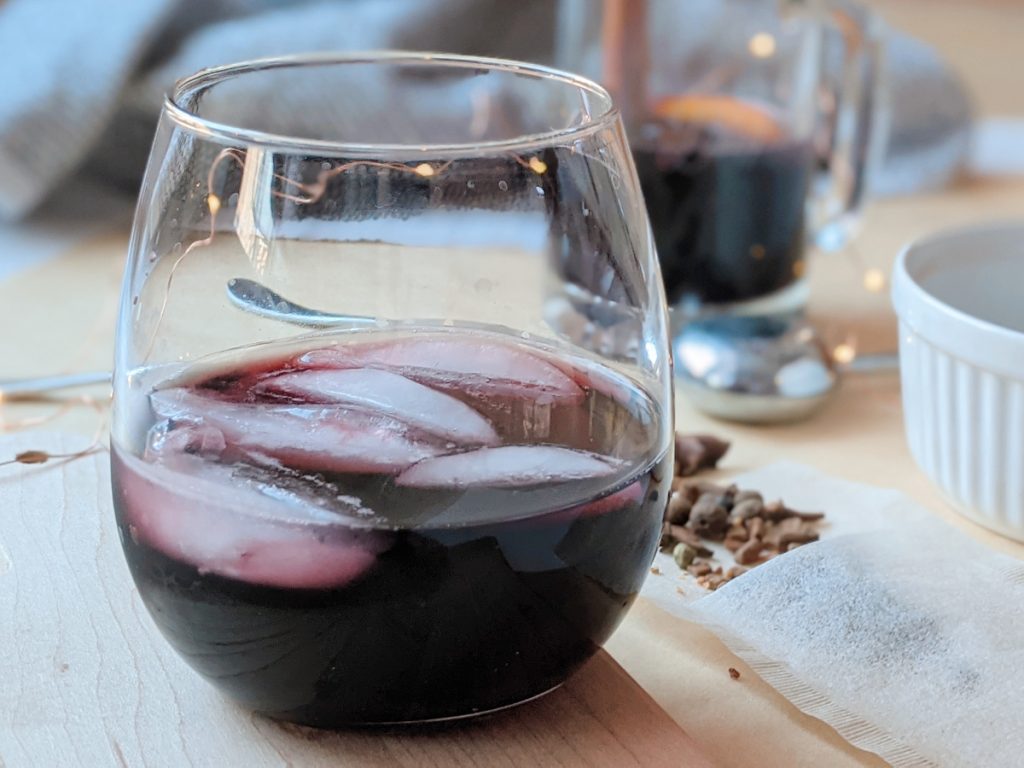 Chilled Spiced Wine
While it may seem like an oxymoron, if you are living in a warmer climate, partaking in a hot glass of mulled wine may not seem fun during the month of March. But you can still join into the fun!
If you are making your own pot of mulled wine, mix all ingredients and heat as described above. Then chill it down. Let the wine come to room temperature naturally or add and strain from a few ice cubes. *Note, adding ice cubes immediately after the heating process will dilute your beverage!
Once the wine reaches room temperature, add a big ice cube to make the beverage more fun! Garnish with your traditional mulled wine garnishes like sliced oranges or whole mulling spices. Serve with a cheese plate, sticking to some of the cheese selections discussed, above.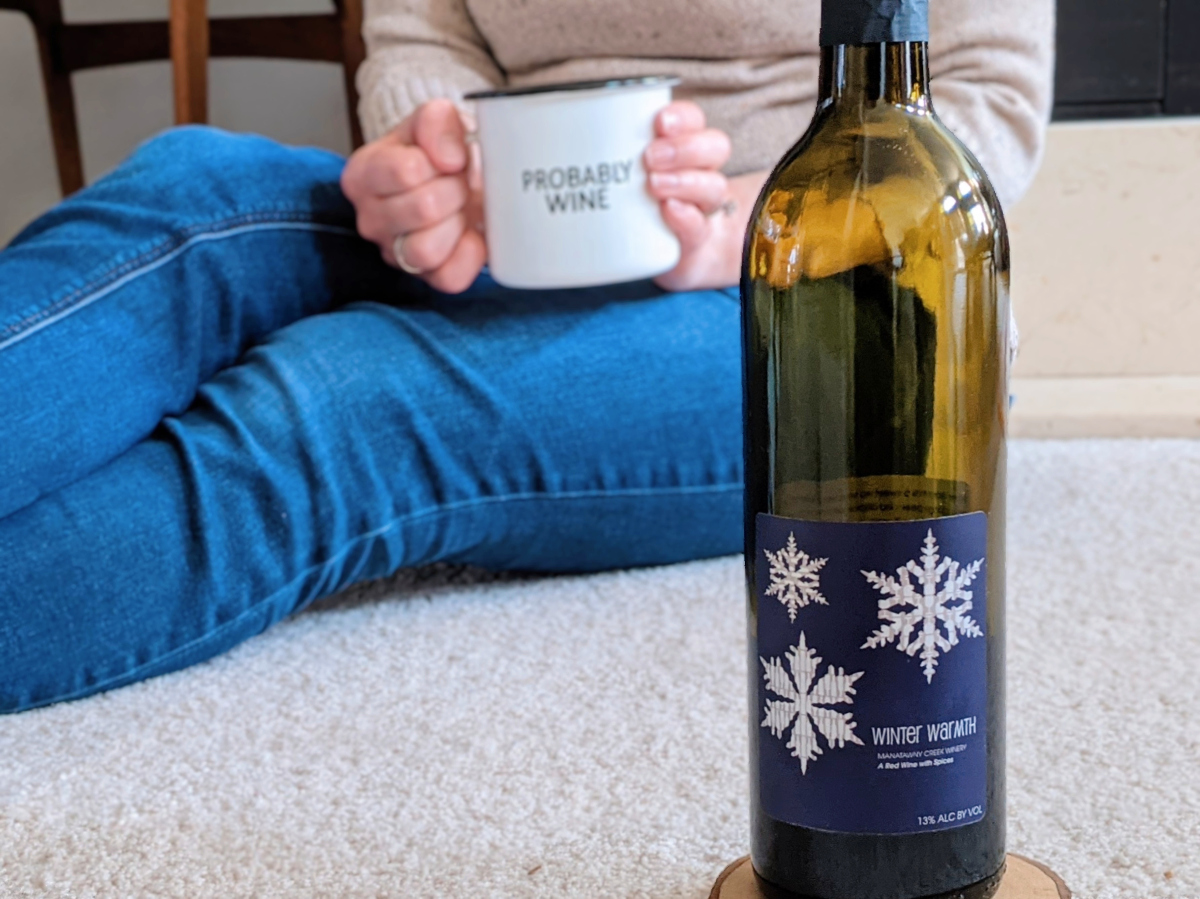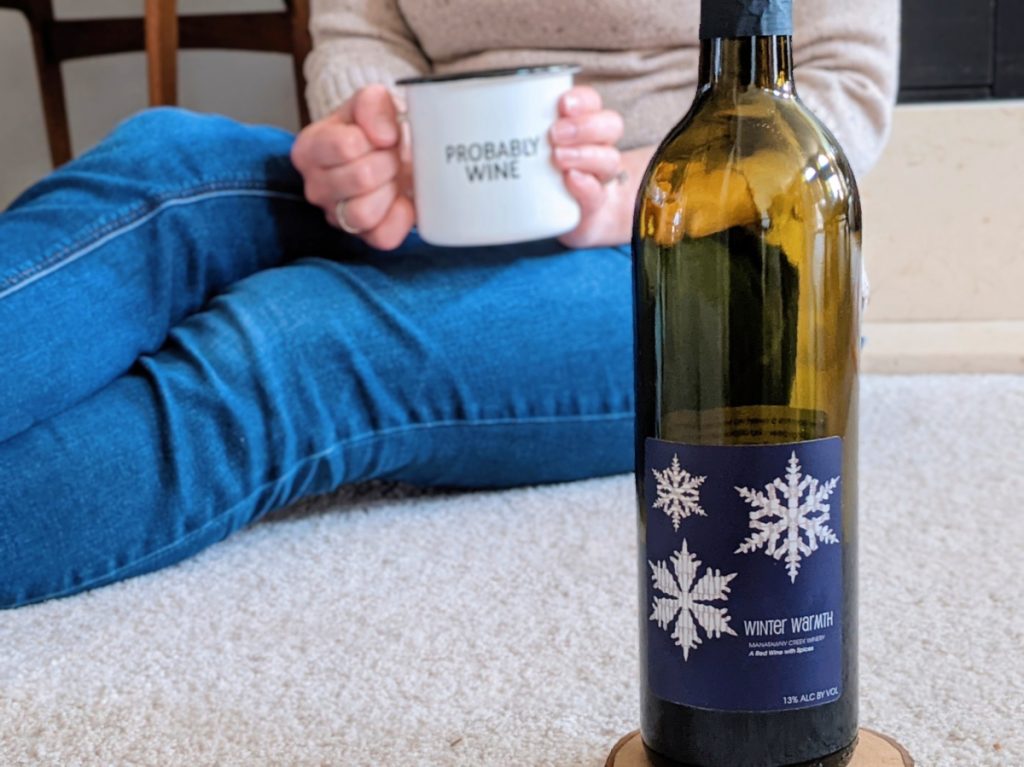 A New Hidden Wine Gem
This month, I selected one of the first wineries that mentored me into the wine industry: Manatawny Creek Winery. As this month's Sip and Swirl features mulled wine, I wanted to highlight one of the first spiced wines I had ever tasted: Winter Warmth. If mulling your own wine seems like a hardship, you are not alone! Try a bottle of Winter Warmth, which contains 12% alcohol and is delicately spiced with an orange essence. Serve warm or chilled, as described here on the Sip and Swirl! I like to add a little extra Ruby Port to this wine to boost the alcohol when it is warmed. Don't hesitate to check out a few other wine selections from Manatawny Creek Winery, as well. Like many of the Hidden Wine Gems featured, there is a wine for everyone's unique taste preference: dry wines, sweet wines, oaky reds and refreshing whites.