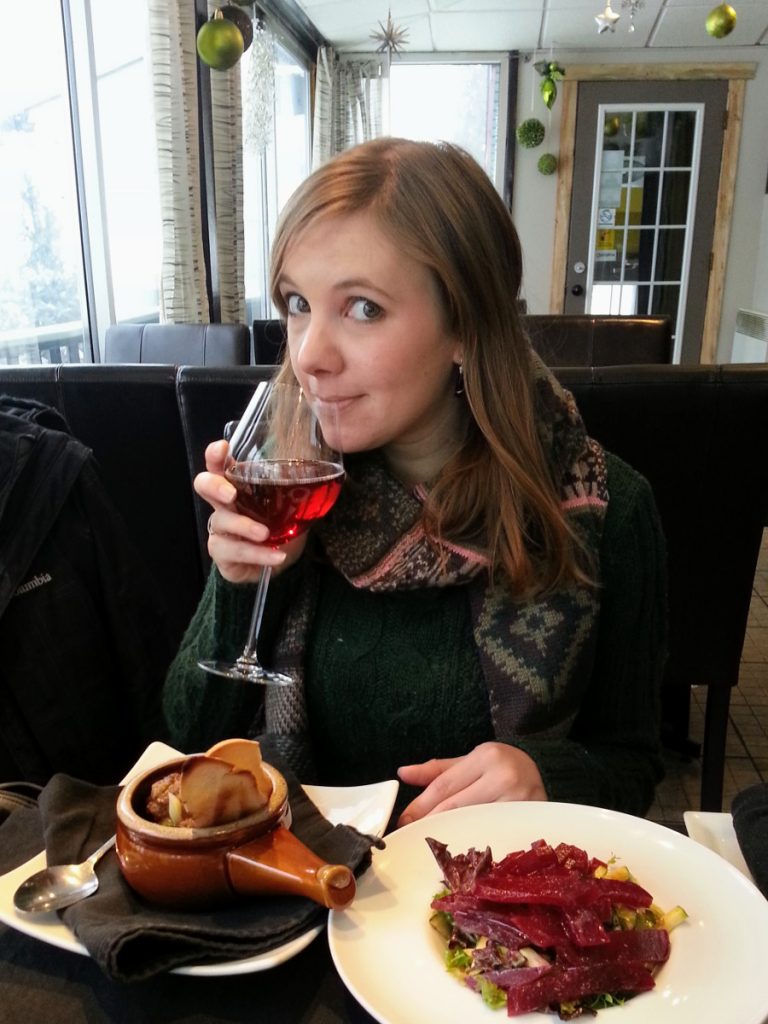 Have you ever had a food or wine moment that you know you will tuck away in your mind for a lifetime?
I used to think I was a little odd this way, being able to nostalgically hold onto memories that involved food and wine. Then, I listened to a recent episode of Every Little Thing and realized that many people have fond memories associated with food and beverages.
One of my most favorite winter memories is arriving in a snowy Mont Tremblant with my now-husband, anticipating a week of skiing and experiencing some of the local Quebec culture. The day we drove from Montreal to Mont Tremblant was snowing furiously. I don't think we saw more than 5 cars attempting to drive that day. The conditions were abysmal. But we made it, the car covered in white fluffy snow upon our arrival. As we had driven slowly from Montreal, we were hungry and asked the woman that checked us into our hotel room if she knew of any of the local restaurants where we could get an early dinner. She kindly guided us to a small restaurant that was an easy walk from the hotel.
The restaurant was truly quaint. It had a house-like appearance and the front of the restaurant was surrounded by long, tall windows where we could watch the snow silently continue to fall. My husband and I were the only two there at that hour, but the sense of accomplishment for making it to this small town was upon us.
I ordered a traditional French cassoulet, and for fun, a kir. Seeing a kir on the beverage menu of this empty restaurant in a small Quebec town made me want to select this modestly fruity wine cocktail. I remember watching the snow fill in the spaces outside, blanketing the town in a sea of white, the steamy warmth of the cassoulet as it got placed in front of me warmed my skin, the quiet that surrounded us felt cozy, and the fruity pop of blackcurrant aroma in my glass that I sipped on through our late lunch provided ample excitement. In my mind, this was a perfect moment.
To this day, every time I have a kir, my mind immediately jumps back to this moment in time like some sort of fantastical time warp.
But what is this magical drink?
A kir is a French wine cocktail consisting of a dry, acidic white wine and crème de cassis (blackcurrant) liqueur. It originated in the Burgundy region as a mixture between the dry, acidic locally produced white wine, Aligoté, and a small addition of crème de cassis, a local blackcurrant liqueur. It was made famous by and named after the late mayor of Dijon, Canon Félix Kir who made the cocktail popular after the close of World War II. The history of kirs is, today, based on both fact and folklore. Some speculate that Canon Kir popularized the kir after World War II because the reserves of expensive Burgundian red wine had been confiscated by the Germans. Other stories speculate that Canon Kir was trying to hide a potentially poor vintage of Aligoté the year he repeatedly recommended the cocktail. What we do know is that, today, the kir has been modernized and popularized by cocktail enthusiasts around the globe.
I am still a traditionalist who loves the original kir because it holds such a strong memory for me: a splash of crème de cassis and topped with dry, white acidic wines. I cannot say I always use the Aligoté wine variety as it can be difficult to find. Some alternative wine varieties include an affordable Chablis, an unoaked Chardonnay from the U.S., and even Pinot Grigio or Pinot Gris. The trick to making this cocktail is to always add the crème de cassis first so that it thoroughly mixes with white wine. The beverage ratio usually consists of 1/5 crème de cassis and 4/5 dry white wine. Keep in mind that this may not turn the cocktail a deep, dark red color.
Other variations of this cocktail exist, including the Kir Royal in which the white wine is substituted for Champagne (or use a more economical selection of sparkling wine). The liqueur can also be changed to your preference. Other fruity variations include raspberry (Chambord liqueur) or peach.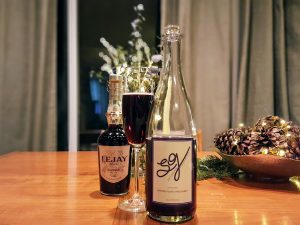 Another variation on the kir includes the use of red wine instead of white wine, which I have pictured, left.
Share your food or wine memory with us by subscribing to the Sip & Swirl newsletter where you'll receive an invitation to join our Sip & Swirl Community Facebook Page. (You must be 21 or older to join.)
Until next month, cheers!
Support Small Businesses This Holiday Season
This year has been tough on small businesses of all kinds. This December, I am making some efforts to allocate more of my gift purchases towards support of small and local businesses. Do you want to join me? When it comes to wine-oriented gifts, I have two suggestions that can help support small businesses this holiday season.
The first is to embrace your local or state wineries. Many wineries across the U.S. are private, family-owned businesses that employ your neighbors and contribute to the culture and taste of the community. Most wineries can now ship through parts of the U.S., and many have online retail stores on their websites that make shopping for wines easier than ever. If you cannot ship from a winery in your home state to a family or friend in another state, go to their state's wineries. Almost all states allow in-state shipping. If you need help or winery suggestions, consider asking us on the Sip & Swirl Community Facebook Page.
The second is in support of local bookshops around the U.S. While Amazon may be the go-to for book purchases, the online retailer Bookshop.org allocates 10% of book purchase profits to all small, privately-owned bookstores that sell the book you select. For small bookstores that do not have their own retail shop online, this is a great help to keeping them in business right now. If you know a wine lover that enjoys reading about wine, here are some of my favorite book selections:
Extreme Wine by Mike Veseth. I previously met wine economist and author, Mike Veseth, at a conference. He and his wife are charming people with an incredible knowledge about the wine industry. They approach the wine industry with such enthusiasm that you wish you could take them with you to the next tasting room you visit. Extreme Wine has been one of my favorite reads by Mike as it highlights grape growing and winemaking situations that push modern day boundaries. It emphasizes the extraordinary in wine, which wine lovers will appreciate through and through.
A Toast to Bargain Wines by George M. Taber. Written by the journalist that reported on the Judgement of Paris, this book is a fascinating read, highlighting parts of the industry that are rarely talked about in such detail. For wine lovers, the best part about this book is the list of inexpensive wines organized by wine grape variety. While some of the lists are a little dated, it provides a great start for exploring the wine industry in a budget-friendly context.
Red, White, and Drunk All Over by Natalie MacLean. This is my suggested introduction to the wine industry. This is an easy read packed with subtle humor and a fun way of learning about how to understand wine. I have really enjoyed Canada's wine author, Natalie MacLean, for years as I think she focuses on making wine more approachable (and enjoyable) for all of us.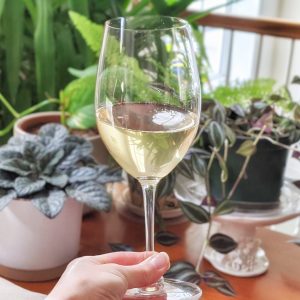 Give the Gift of Wine and Flowers
Many of us are missing the varied experiences that were common in our lives prior to 2020. When Stephanie and I teamed up to create Bottles & Blooms, we had this very thought in mind: provide joy with plants and wine through experiential learning. This holiday season, we invite you to give the gift of an experience provided through our Bottles & Blooms virtual classes. Two classes are currently available for 2021: one that focuses on all things "green" in an effort to melt away the winter blues (January 2021) and the other illustrates the gift of self-appreciation using wine and flowers to provide the warmth and joy we all desire (February 2021). If you or someone you love (or better yet, maybe you can join together), would like to take an hour to yourself to intentionally integrate more joyful experiences into your everyday, we'd like to offer you an additional discount for our virtual classes. Use the code GIVING at checkout for an additional 25% off the current sales price. Registration information in the link, below.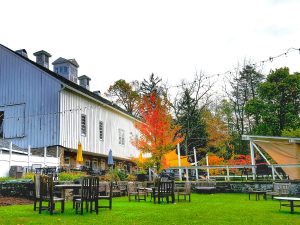 A New Hidden Wine Gem
Spring Gate Winery cultivates both sophistication and fun that can be found in a glass of wine. I've always loved sitting inside the estate tasting rooms, each room or section providing a different "feel" for the visitor. From approachable dry wines to fun cocktail beverages, Spring Gate Winery should be on your "must check out" list! My favorite dry wine is the red Chêne Rouge, which is a perfect selection for anyone that enjoys those serious, tannic, dry red wines. In spirit of the kir cocktails listed above, I have previously used the De Chaunac Frizzante Red Wine mixed with crème de cassis liqueur to make a Cardinal (a kir using red wine instead of white). In contrast to these dry reds, the Orange and Orchard Mimosa is a lovely gift for all the mimosa lovers out there. But the fun doesn't stop with their bottled mimosas! Glitter Wines, Wine Slushies (to make at home), and the Crandy® wines provide options for everyone you know. Check out more about Spring Gate Winery at the link, below.