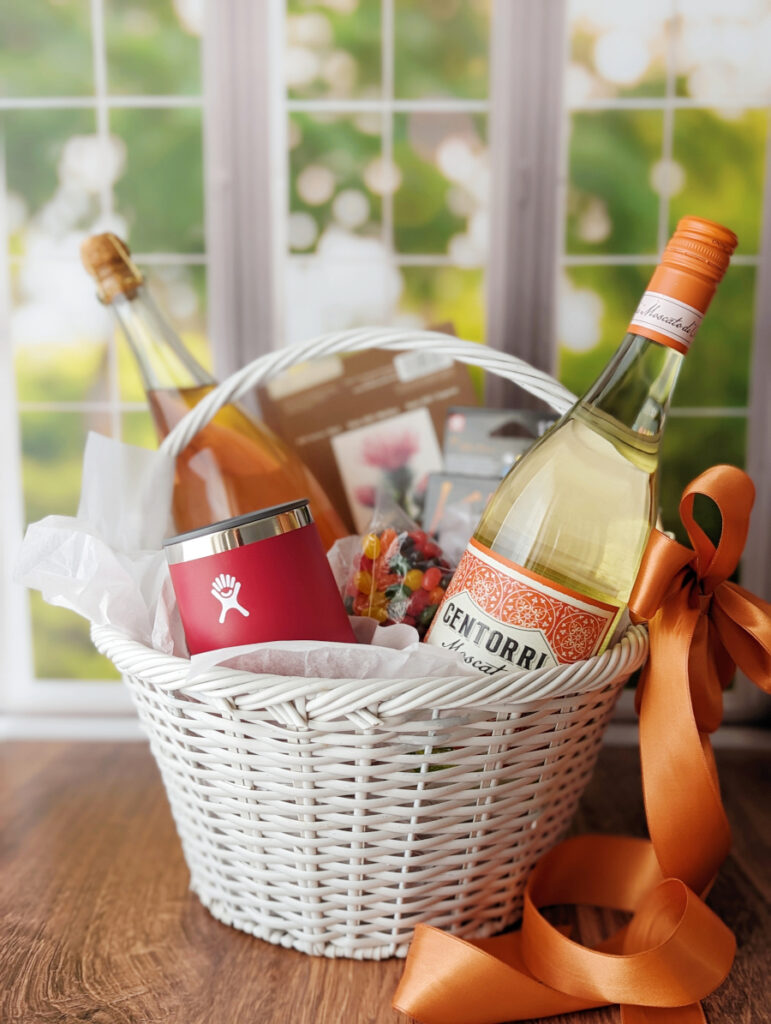 With Easter right around the corner, this wine themed Easter basket is a simple, thoughtful selection for the wine lover in your life. Here are the instructions for what to include in the basket and how to make it.
What you will need:
A basket and tissue paper: Make sure you choose a basket large enough to hold wine bottles. I chose a 12" basket from Target (available in 4 different colors). I used tissue paper as a filler because I had it on hand, but you can also swap this for paper Easter "grass" if you have it available.
Their favorite Easter candy: It is a holiday after all! You don't have to select only one candy, but pick out something that the recipient will enjoy. For this basket, I took a bunch of jelly beans and put them into a plastic Zip-loc bag so they would be easily "seen" in the basket.
A wine for pairing with the Easter Candy: Refer to the past Sip and Swirl edition on pairing Easter candy with wines if you need ideas for wine pairing selections with Easter candies. For this pairing, I ended up using a sweet Moscato to go with the jelly beans because I couldn't find a sweet Vidal Blanc in time for the Easter holiday. It's certainly okay to swap those two wine varieties when creating a jelly bean pairing! Plus, Moscato also goes with Peeps! Find out more, here.
A wine you know they will enjoy: If you want an extra wine in the basket choose something you know they will enjoy. Since a candy pairing often requires a sweeter wine for an enjoyable experience, a drier wine would be a great addition. For this basket, I selected a Brut sparkling wine, Sophia. Since it's Spring, rosés, whites, and sparkling wines are good additions.
A travel wine mug: I added a Hydro Flask Wine Tumbler for this basket, but you can find travel wine glasses or tumblers in all sorts of shapes and sizes at Hallmark stores and even in select grocery stores or stores like Target/Walmart.
Hobby support: In this basket, I added a small travel watercolor kit for the artist in my life. You can really add anything here to make it unique and special to the gift recipient. Some ideas include seed packets and new garden gloves for the individual that loves gardening, micro cloth towels for car detailing, the individual's favorite lotions or shaving creams… the sky is the limit! The trick here is to make it special towards the individual to show how much you care about them.
Assemble in this order: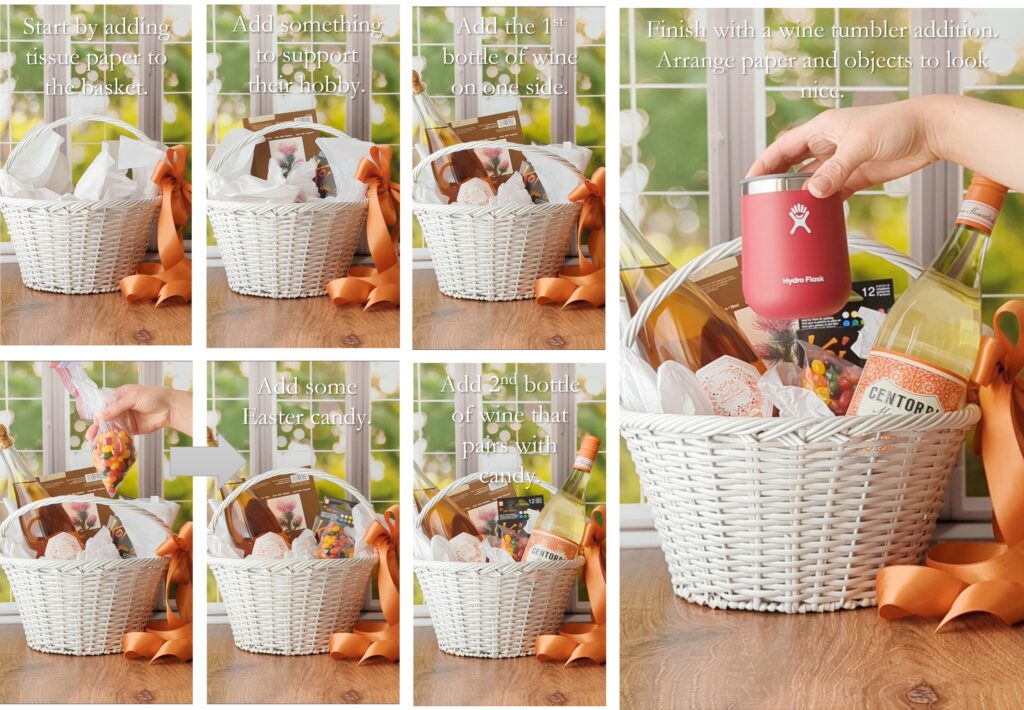 Or, watch my Instagram video (@dgwinemaking) for how I assembled this. Enjoy your holiday!