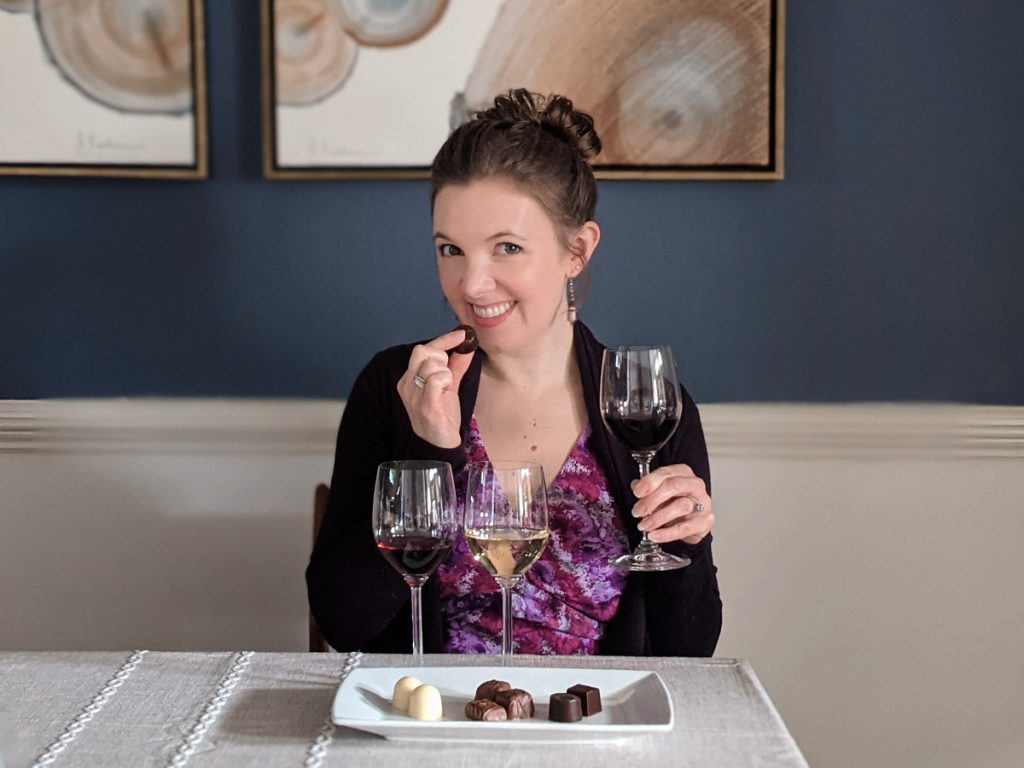 Have you ever had a dessert and wine pairing that left you feeling like the mark was missed?
If so, you are not alone!
While I don't tend to follow all of the "wine pairing rules," when it comes to chocolate and wine, or dessert pairings, I often find myself defaulting to this one pairing rule. With Valentine's Day on the horizon, I thought this was the perfect opportunity to talk about chocolate and wine pairings, as these can be tricky.
Keep the Wine Sweet!
What do I mean by "missing the mark?" When wines are paired with foods, the goal is to elevate the flavor of the food and the wine. But in many dessert and wine pairings, the combination can leave the wine tasting bland, acidic, astringent, dry, and even bitter. When this happens, the pairing of the food selection and wine selection are not elevating one another.
The little secret associated with chocolate and wine pairings is this:
The wine should be sweeter than the chocolate.
If you ever forget the order, just think: I need to add a little extra sweetness to this fine box of chocolates!
While you will see TONS of chocolate-and-wine pairings that pair chocolates with Cabernets, Zinfandels, and other dry wines, the most enjoyable pairings for me have always been with sweet wines.
I'm not a big believer of "wrong" food-and-wine pairings, but I do know in the several occasions I have had chocolates or desserts paired with a dry wine, the pairing often leaves the wine with a bad taste in my mouth. (Literally.)
When the wine is less sweet than the chocolate or dessert, it leaves the wine tasting sour, thin, and less flavorful than if you had skipped the chocolate all together.
Some people may not notice this sensory difference. If you know your sweetie really prefers dry wines, then, of course, always lean towards their preferences. Or, suggest having the dry wine as an aperitif, as a dinner pairing, or as (my personal favorite) a palate cleanser in between dishes to extend the time during a lovely dinner. Some possible wine and food pairings for Valentine's Day:
Cabernet Sauvignon or Zinfandel with a chocolate-rubbed steak.
A fine Pinot Noir with bacon wrapped shrimp.
Chardonnay served alongside a delicious fish fillet.
A glass of Gewürztraminer topped with a floating edible flower also makes for a special surprise.
A yummy sparkling wine at the start of a meal will elevate EVERY dinner.
While having an elegant meal may sound appetizing, this month I want to focus on making a smaller moment a bit more special: cracking open those Valentine's Day chocolates! Go ahead and enjoy some chocolate and wine pairings this year. You deserve it!
White Chocolate or Caramels with Wine
White chocolate or white/milk chocolate caramels tend to be on the sweeter end of the spectrum when it comes to chocolates. That extra pop of sweetness really dictates an overly sweet wine to pair with it.
Traditionally, I will turn to Tawny Ports, the golden-brown Ports produced in the country of Portugal, when pairing white chocolate or chocolate-coated caramels.
Ports, regardless of color, are always sweet. This is because the fermentation is stopped with the addition of a grape spirit, leaving behind sugar from the grapes that was not fermented while also raising the alcohol concentration of the Port.
Tawny Ports, in particular, have a luscious caramel, nutty flavor coupled with underlying dried fruit flavors like dried apricots, figs, or dried plums. They are incredibly divine in the glass. My recommendation: serve slightly chilled for an extra lift with your chocolates.
If Port isn't your thing, you can try a traditional late-harvest dessert wine like a Sauternes from France. I particularly like this pairing if the white chocolate is melted over something that is not as sweet as the white chocolate itself. White chocolate covered pretzels, white chocolate bark filled with a savory nut or even something spicy, or white chocolate covered potato chips are yummy treats to try with a sip of Sauternes.
Milk Chocolate with Wine
Like white chocolate, milk chocolate shares a sweet, milky, creamy characteristic that can also be challenging to pair with wines.
When it comes to milk chocolate, I tend to gravitate towards wines with flavors I could see in a milkshake. The milky essence of the milk chocolate has to go with a flavor that could easily blend with milk.
A White Zinfandel, for example, echoes the strawberry flavoring associated with a strawberry milkshake. The pairing with milk chocolate gives it that strawberry milkshake element. For a wine that has fruity or banana-esque flavors, a sweet Moscato may be a lovely choice. A really sweet Riesling could provide some orange flavors that supplement milk chocolate well.
As many milk chocolates have a little something extra on them or in them, you can choose the wine to match the flavor of the filling. For example a raspberry or cherry filling in a milk chocolate could go well with a White Zinfandel or Moscato wine. If the filling was more citrus flavored, grab the sweet Riesling or Moscato.
If choosing these types of wines proves difficult, try a more traditional pairing between milk chocolates and Cream Sherry. The term "Cream" is important when selecting a Sherry in this case. Unlike Ports, not all Sherries are sweet. However, the "Cream" word on the label indicates a sweetness. To pair well with milk chocolate, reach for the Cream Sherry.
Dark Chocolate with Wine
And then there is dark chocolate. Dark chocolate tastes the least sweet out of these three of these chocolate options. However, when made into a truffle, an extra pop of sweetness can be gained from the fillings and toppings.
I like pairing dark chocolate with rich, fruity Ruby Ports. The red fruit flavors of Ruby Ports are a nice contrast to the roasted, toasty chocolate flavor that is very pronounced in dark chocolates. Ruby Ports are always sweet. Ruby Ports carry a deep, concentrated red fruit flavor hugged with vanilla and spice undertone flavors. Red fruit flavors can include descriptors like ripe red raspberries, strawberry jam, ripe black cherries, or a sugary cranberry sauce.
These deep red fruit flavors are perfect complements to the dark and roasted chocolate flavors of dark chocolates. Enjoy!